Unesco World Heritage Sites are locations that have been designated as having a significant cultural, natural, historical or scientific (or several other designations) impact for the world. Many of these places are unique in the world and have some sort of impact on world history or the like.
Azerbaijan has 3 Culture UNESCO World Heritage Sites that have been designated in the country. Several additional sites have been nominated but have not yet been voted to become UNESCO sites.
Designated as a UNESCO site in 2007, Gobustan Rock Art Cultural Landscape covers several areas of a plateau that preserves thousands or rock engravings. Some of these rock engravings date back over 40,000 years and based on the engravings and the climate many of these are incredibly well preserved. The site features drawings, inhabited caves, shelters, and burials. The site lies about an hour south of the capital of Baku.
Designated a UNESCO site in 2000, the historic walled city of Baku preserves the beautiful old town of the city which dates back to the 12th century. Many of the ancient walls of the city have been preserved from this time period. Additionally the beautiful and historic Maiden Tower also dates back to this time (built over the ruins from the 7th century BC). The more recent 15th century Shirvanshah's Palace showcases some of the best of Azeri architecture.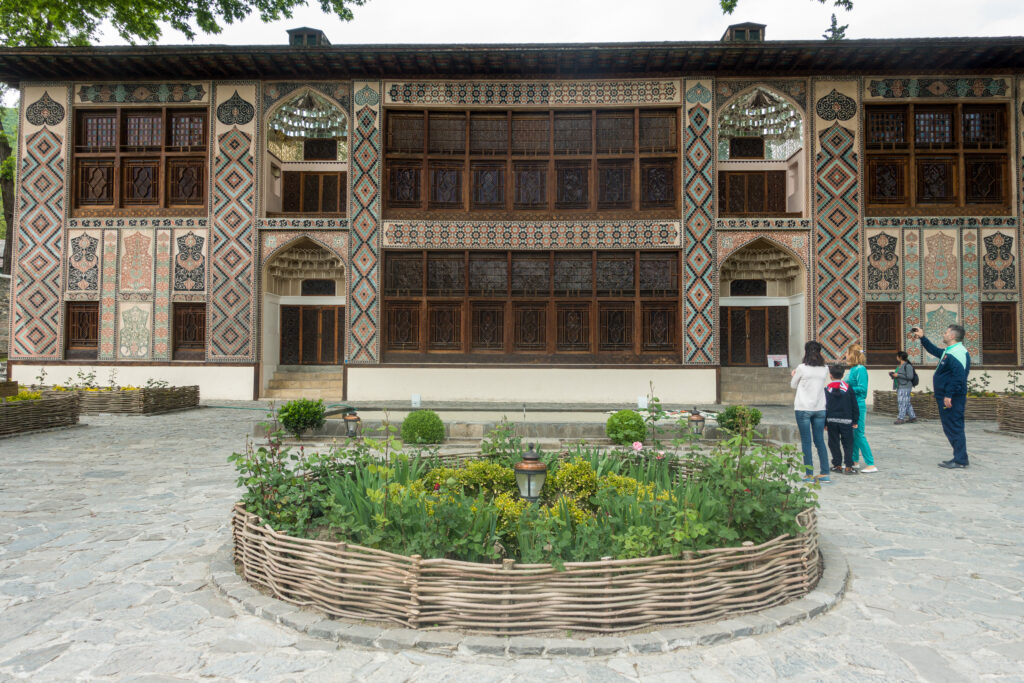 Historic Centre of Sheki with the Khan's Palace
Designated a UNESCO site in 2019, the city of Sheki was an important trading center along trading routes through the Caucasus. You can even visit and stay in Caravanserai's (caravan resting housing) in the city as well. The historic center of the city is well preserved with houses dating back to the 18th century. The well preserved Khan palace and nearby merchant houses showcases the wealth of the city during these time periods.