Updated for 2022
* * * * *
Do you consider yourself an organized person, or a disorganized one?
When it comes to travel, sometimes planning and organization can go a long way in terms of improving the experience. Travel is a stressful endeavor, and packing is probably one of the most stressful parts of it. I know I often worry about having enough space for everything and if I had forgotten things. Keeping lists and repacking seems to have been a regular part of important trips for me.
Packing cubes are one one of the ways I have found that assist in actually reducing the space as well as assist in my preparation for travel.
* * * * *
What are Packing Cubes
Packing cubes are containers of varying size made of fabric or sometimes plastic used to store clothing or other items for travel. The cubes generally come in a rectangle shape and have a zipper top for opening and closing to access the products inside.
These cubes allow you to organize your items within your bag into several smaller bags that then are placed in your suitcase, backpack, or another bag for travel. The benefit of the cubes is that allow you to organize your items as well as provide a level of compression in that you can often fit more into a sack that is then closed into a shape (vs. your items expanding in the bag).
Are packing cubes worth the investment?
This is always a personal decision for any traveler, especially given that packing cubes are a luxury and not a necessity. Packing without packing cubes is certainly doable and I have been doing that for many years. But if you think some organization in your travels is needed, then perhaps trying a few packing cubes might be a worthwhile investment.
Packing Cubes vs. Stuff Sacks
If you are a regular backpacker you probably are very familiar with stuff sacks. "Stuff sacks" are simply bags that were often cloth or a plastic fabric that you could put clothes in for travel and organization. Packing cubes are often seen as an evolutionary step beyond stuff sacks in that they provide more structure to the bag which benefits packing clothing to reduce wrinkles. Also, the rectangular shapes are more beneficial to those packing suitcases as it conforms already to that shape.
So basically there isn't any core difference between the items, so really you could use both. However, if you don't own anything, packing cubes are probably the way to go for most people.
Packing Cubes vs. Compression Bags
Compression bags generally are built to compression and pull out the air from the items that are being packed. This is beneficial in that often items such as clothes have a lot of excess air that can be difficult to pack even if they are below the weight limit. Compression bags allow you to reduce the size of the items being packed so you can get more in the same suitcase.
As these were generally an evolution of stuff sacks, there are actually compression packing cubes, which are often one of my favorite. However many of these compression cubes only allow you to reduce to one specific size (as opposed to most compression bags which have straps to pull down) so you have to take that into account when shopping for compression packing cubes.
Compression Packing Cubes
These are some of my favorites among the packing cube systems. This allows you to not only organize your items but also shrink the overall size down. Be sure though to pick high-quality compression packing cubes however as the compression will put more pressure on the seams and a cheap product won't last very long.
Note as stated above, many of these cubes only allow you to compress to one size. So you have to be careful about "over packing" these cubes. You might then need extra packing cubes overall for all your items. But if space is generally more of a problem than weight, these can greatly assist in your packing and organizing.
* * * * *
Packing cube sizes
If there is anything, packing cubes comes in a huge variety of different sizes. Actually, this can be a big issue of contention for shoppers as they don't know which ones to buy. Often I recommend people buy a variety of different small and medium sized packing cubes. This allows you to organize various things and determine if you might need larger ones in the future. In fact, often the larger ones have more niche uses so you won't be using them as often as the small and medium sized ones. So it's best to start there first!
What are the benefits of packing cubes
We've already covered some of these above, but I think it's important to reiterate some of the benefits of packing cubes.
Packing cubes allow you to easily organize many of your packed items for your trips. You could organize your clothing or items by usage, type, dates, etc. I've been known to organize a few outfits for days I know I need to pack for in one or two cubes and then organize other things in various cubes. Sometimes I will pack things based on types of clothing such as vacation or business if I have a trip with multiple purposes.
The use of the cube shape with the easy open zipper also helps in reduction of wrinkles and other problems with clothing. Things tend to stay better put when they are organized in a packing cube as opposed to the larger suitcase cavity.
Allows easier finding of items in the bag. This has multiple benefits, it allows you to quickly find what you are looking for as you can remove sections of items via the cube they are located in. This allows me often to quickly find what I'm looking for without having to mess up the entire bag.
Reduce overall space in the bag. I along with many people often inefficiently pack items into our bag, especially when we are in a hurry. Since packing cubes can provide a level of compression and organization, you'll end up having an increase in available space in the bag.
Packing cubes can organize more than just clothing. I've used this often to organize cables, hard drives, toiletries, etc. When I'm traveling to certain areas of the world, I'll often pack toilet paper and other necessary amenities into a packing cube.
Reduces the stress of packing overall. I often have issues where I need to access items before I leave or I forget how many of an item I packed (or I need to remove certain items). Packing cubes allow you to do this quickly and efficiently. You can pack all your cubes externally and then at the last minute put them in the bag for travel. This has saved me so many problems than I've felt the cost in purchasing them as more of an investment.
What are the drawbacks of packing cubes
While I think the positives greatly outweigh the negatives, I don't think they are without their own drawbacks.
There is a cost associated with Packing Cubes and they are not always very cheap. You often need several of them for longer trips.
Finding the right size can be a bit of an issue. Sometimes you might have to divide items between bags or you might have spare space. Having spare space can sometimes reduce the value of bags as they don't often fit as tightly as they should.  Additionally, sometimes your items might not fit right in the bags. They are not always the right solution for everything.
They do have their own weight associated with them. While it's not much, if you are trying to go super lightweight, it is a factor. This is probably only really an issue for those ultra-light travelers
Sometimes they can be a hassle for really short trips. If you are going for a few days or a weekend you might find the organization taking too much time. If this is your style of travel, in general, you might not be as happy with the extra work associated with using them.
* * * * *
2022 Best Travel Packing Cubes – Reviews
So if you read this far, you probably are wondering, which packing cubes should I buy? Well, we look at some of the best cubes on the market today to help you find the best for your travel needs.
* * * * *
Amazon Basics 4-Piece Packing Cube Set
For the price, it is often hard to beat the Amazon Basics models of various items. These packing cubes are rather well priced and of reasonable quality as well! You get 4 pieces of varying sizes for the price usually of one of the higher end cubes.
This model has 4 different sizes, but if you know what size you want, Amazon also has 4 pieces of the same size as well. This set includes 1 Large (17.5 x 12.75 x 3.25 inches), 1 Medium (13.75 x 9.75 x 3 inches), 1 Small (11 x 6.75 x 3 inches), and 1 Slim (14 x 5 x 2.8 inches)
The cubes are made of polyester with a mesh exterior for viewing. Overall the quality is average compared to some of the higher end ones, but for the price, you get a lot for what you pay for. If you are looking strictly for value for the cost this could be your best choice.
Check for Price and Availability
* * * * *
eBags Packing Cubes
eBags have been known for building some reasonably good bags and these are definitely good quality for a reasonable price. Constructed of quality Nylon with good quality zippers, these bags do hold up to a fair amount of abuse.  These are not compression cubes but I found they hold their shape rather well when you stuff them with clothes.
The set comes with 4 packing cubes in three sizes: 1 Large (17.5 x 12.75 x 3.25), 1 Medium(13.75 x 9.75 x 3), 1 Small(11 x 6.75 x 3), and 1 Slim(14″ x 5″ x 2.75″)
eBags also offers a lifetime warranty on their products which helps in knowing that they will likely last long into the years. I haven't seen any issue with the bags overall but I haven't tried to abuse them severely yet. I'm confident though they would hold up to reasonably harsh travel.
Check for Price and Availability
* * * * *
Bagail Packing Cube System
Comes with durable fabric and a good amount of sizes this is a good system for those who know they need quite a few packing cubes. This set comes with 6 packing cubes in total, 2 Large (17.5×12.75×4 inches), 2 Medium (13.75×9.75×3.75 inches), and 2 Small (11.5×6.75×3.75 inches).
The fabric is easy to clean, the cubes are durable, and they are a great option for anyone who is in need of a full set of cubes. I found the cubes to be a bit heavier in material than some of the other ones which was a drawback for myself. However, the material is certainly durable so you cannot fault the quality. I'm sure these will last a long time and across a wide-range of travel conditions.
Overall I think you get a good range of various sizes and none that are "too big". Comes in 4 color choices if that is of importance to you.
Check for Price and Availability
* * * * *
Gonex Packing Cubes & Compression Bags Pouches
Another great option in the compression packing cube option. The thing I like about these bags is that they work as a regular packing cube but you also have the option of compressing them down into a smaller form factor. The great thing about the Gonex compression cubes option is that they are similarly priced to other regular packing cubes so you pay about the same for the added benefit.
The way the gonex compression packing cubes work is that you fill them out expanded and then you compress them and zipper them into a smaller height. This is great for items where compression is easy to achieve. This isn't always easy with all items but having the option is very useful. I've saved a lot of space with compression cubes.
The Gonex travel cubes set comes with 3 cubes, sized at a Large at 5.9L, Medium at 3.8L, and a Small at 1.9L. This is a great option for price to value. Made of quality nylon it is durable and water resistant. You also have a choice of 7 different colors
Check for Price and Availability
* * * * *
Eagle Creek Pack-It Specter Cube Set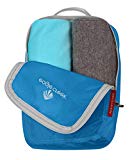 Eagle Creek are one of the leaders in Travel and the Specter cubes are certain a great option for those looking for high-quality Packing Cubes. The set comes with 3 cubes of varying sizes, which is a good range for most people looking for a set to start using.
The Silnylon bags are lightweight and really strong, and they use a stronger nylon than some of the other comparable bags. The bags, however, do not have a mesh see through top which is often useful for seeing what's in a bag before opening it. If that is important to you, then you might want to look at another option.
Price-wise these are a bit on the higher price point. However, the ones that I purchased have held up incredibly well. I'll probably never need to replace them. Set of 3. 14 x 10 x 3 in (cube), 10 x 7 x 3 in (half cube), 7.5 x 4.5 x 2.5 in (quarter cube)
Check for Price and Availability
* * * * *
Tripped Travel Packing Cubes
Made of lightweight but durable Polyurethane, these compression packing cubes are a great choice for those looking for both compression and organization. Tripped Travel is not a big name brand (compared to Eagle Creek or Sea to Summit packing cubes) but they do make a good product for a reasonable price point.
As opposed to the Eagle Creek compression cube set, you get 3 cubes instead of 2 from Eagle Creek. The set comes with 2 Large Sizes ( 14 x 10 x 4 inches (1 inch compressed)) and 1 Small (10 x 7 x 4 inches (1 inch compressed)) . It compresses the same way as the Eagle Creek; where you fill it up expanded and then zipper it down.
Tripped Travel are not see-through, nor do they have a mesh screen so you cannot see the contents inside. The one thing I haven't had to test is the longevity of these cubes, but from what I've seen they will hold up to reasonable wear and tear.
Check for Price and Availability
* * * * *
Eagle Creek Pack-It Specter Compression Cube Set
I really like the high quality of Eagle Creek products so when I learned they had a compression cube set I needed to try it out. I really do like the build and construction of these cubes. They are really high quality and even when they are zipped down they seem to hold together very well.
The way compression cubes works is that you have to expand them and fill them with all your products. Then you compress and zipper these down into a smaller size. This doesn't always work as well in practice as it does in theory depending on the items you put in the bag. Some of the travel cubes I've used appear like they are going to tear when I do this. However, these cubes really do feel like they retain their structure quite well overall in this case too.
These cubes are rather expensive, but they do provide some additional value over the regular travel cubes. I wouldn't get too many of these in particular however. This is great for particularly fluffy clothing or ones that are easily compressed.
Check for Price and Availability
* * * * *
Sea to Summit Traveling Light Garment Mesh Bag
Made of the same ultra-sil nylon that they use for their other bags such as their well respected dry bags. These are really high quality in terms of construction of the packing cubes. One of the drawbacks and positives of this bag is that it only comes in singles so you have to buy them individually. This can add up quickly as they are not cheap, but they are great if you only need 1 more bag of a certain size.
Sea to Summit is one of my favorite brands for products such as this and this is no exception. With the combination of the Ultra-sil material and the mesh it is a great option for a breathable, lightweight, and well constructed packing cube. The cube has great structure when it's full which allows you to fill more into it without warping the structure or size.
Check for Price and Availability
* * * * *
Do you use packing cubes? Do you have other uses for cubes? What do you like or not like about using them or the ones available on the market? Would love to hear from other people's experiences too!  For bags though you might also want to read our post on How to Choose Carry-on Luggage
* * * * *