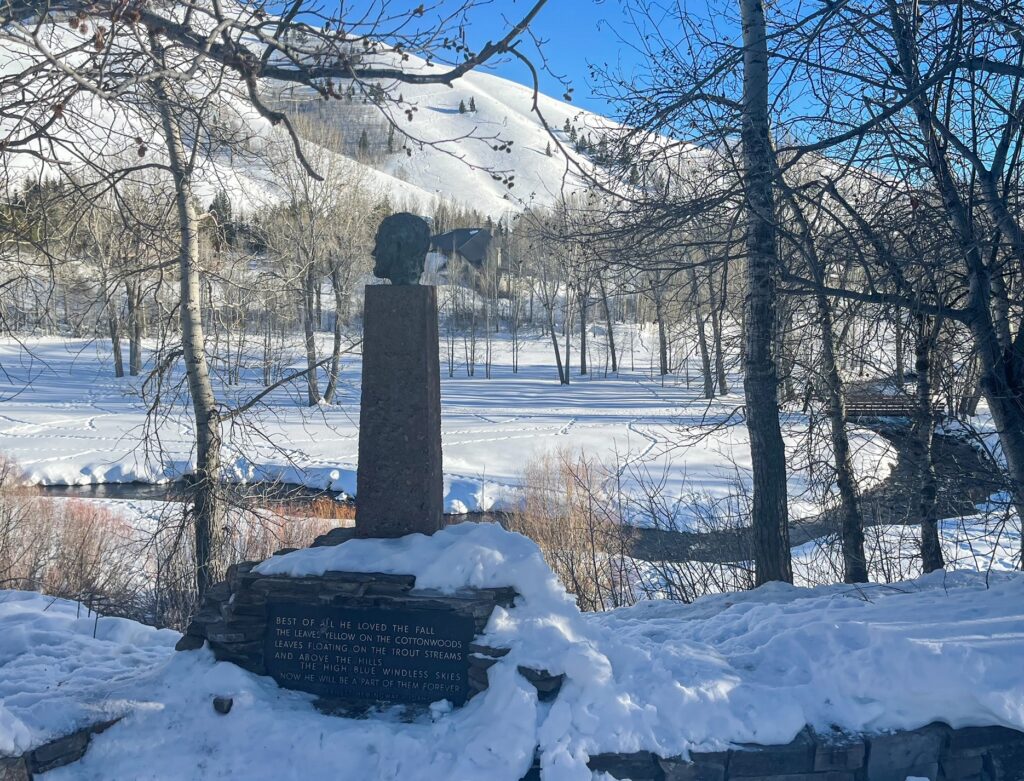 One of the most famous writers in America, Ernest Hemingway is famous for his intense writing, sense of adventure, direct language. He has created some of the most well read books including The Snows of Kilimanjaro, A Farewell to Arms, The Old Man and the Sea, and The Killers. Upon coming to Ketchum myself, I was shocked to learn of it's famous resident. How did Hemingway end up here?
Hemingway in Idaho
Hemingway first came to Sun Valley Idaho in 1939 on an invite that included many other celebrities of the time as well. He stayed at Sun Valley Lodge and in suite 206, and even during his time there he finished the Novel "For Whom the Bell Tolls" in the suite.
Hemingway would come back and forth many years to Sun Valley, making friends, drinking in local establishments, and becoming part of the community. He made his summer home in Ketchum and his winter home in Cuba.
In 1959, Hemingway purchased a home in the overlooking the Big Wood River in Ketchum that would end up being his final years with us. Sadly, dealing with depression late in life, he slid into a depression that was hard for him to recover from. Two years later in July 1961, Hemingway ended his life in his home in Idaho.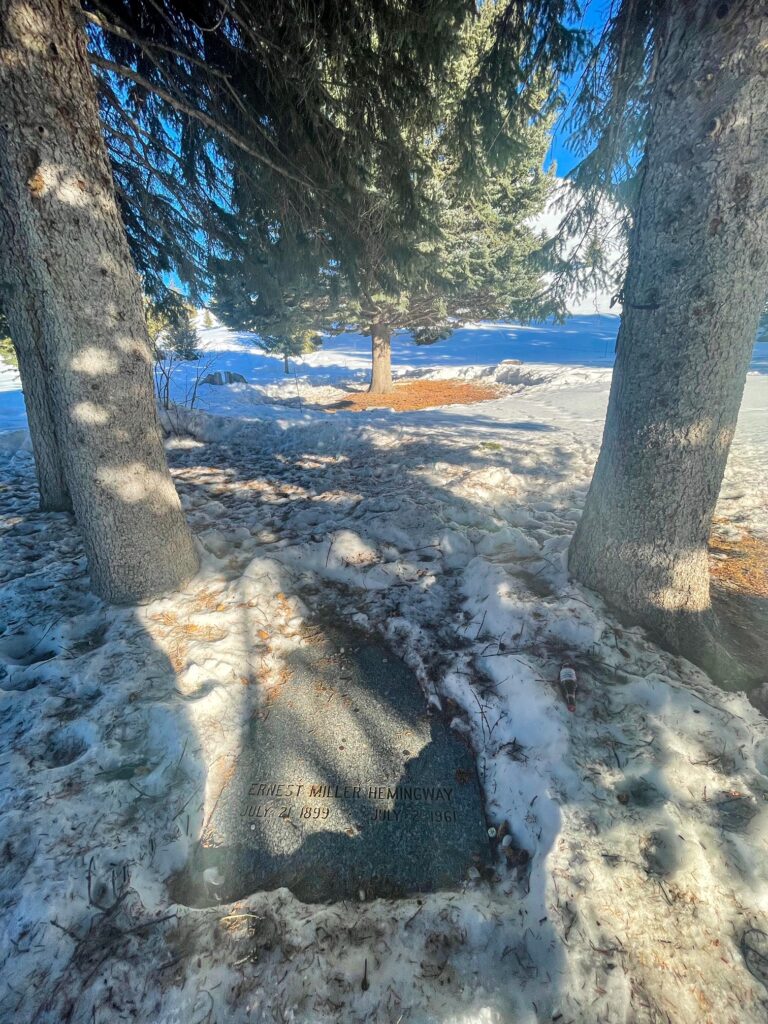 His Final Resting Place
Today, Hemingway is interred in the Ketchum Cemetery in Sun Valley, Idaho. Even though he often considered several places home, it's here in Idaho that he became buried, among his friends and family.
Visiting the Cemetery
Many people choose to visit the legendary writer during their visits through Sun Valley. You can as well, but be sure to tread lightly and considerately on the cemetery.
Address: 1026 North Main Street, Ketchum, ID 83340
Hours: I didn't find any specific hours, but I imagine daylight hours are when you can visit.
Finding Hemingway's grave
The road through the cemetery is an oval. From the entrance. If you go counter-clockwise, after you go around the corner of the oval, about halfway down (before it turns back towards the entrance) is where you want to stop. You'll need to exit your car or walk to the right. The gravesite situated between two spruce trees. Many visitors often leave bottles of alcohol by the grave as well.
Here's the location on google maps.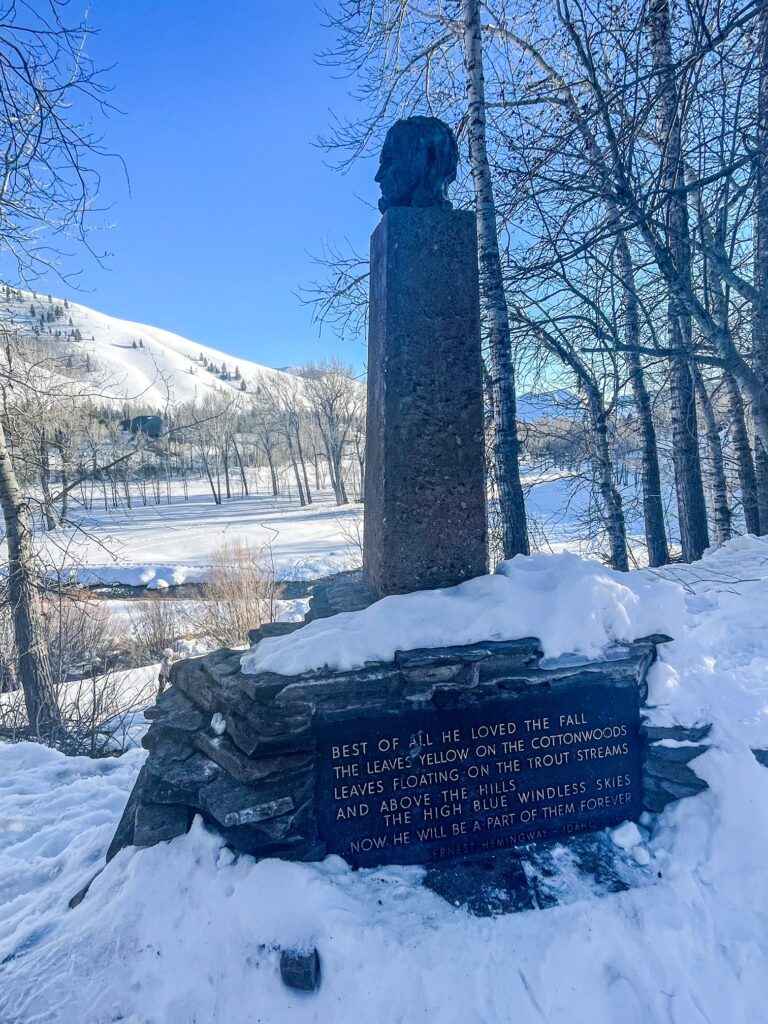 Hemingway Memorial
Beyond the grave site, you can also visit the Hemingway Memorial overlooking Trail Creek. The setting for the memorial is absolutely beautiful and very simple as well.
Address: Hemingway Memorial, Sun Valley Idaho
Getting There: The Hemingway Memorial is located down Trail Creek Road in Sun Valley. The easiest is to use Google Maps. If you are heading North, right before the memorial turn right and you'll see a small parking area on the side of the bike path there. If you are heading South, turn left after the memorial.
Hours: There are no set hours, it's more of a park area.
Sun Valley Lodge
I have not been able to visit the famed Hemingway Suite. However the hotel and suite do still exist in the Sun Valley Lodge. You might be able to get the chance to stay in Room 206 if you plan ahead. If you do, please let me know and share some photos.
Be sure to check out other sites in Idaho