Idaho has 10 National Park Units within it's borders. This includes a small portion of Yellowstone National Park, Several National Monuments, reserves, and national trails.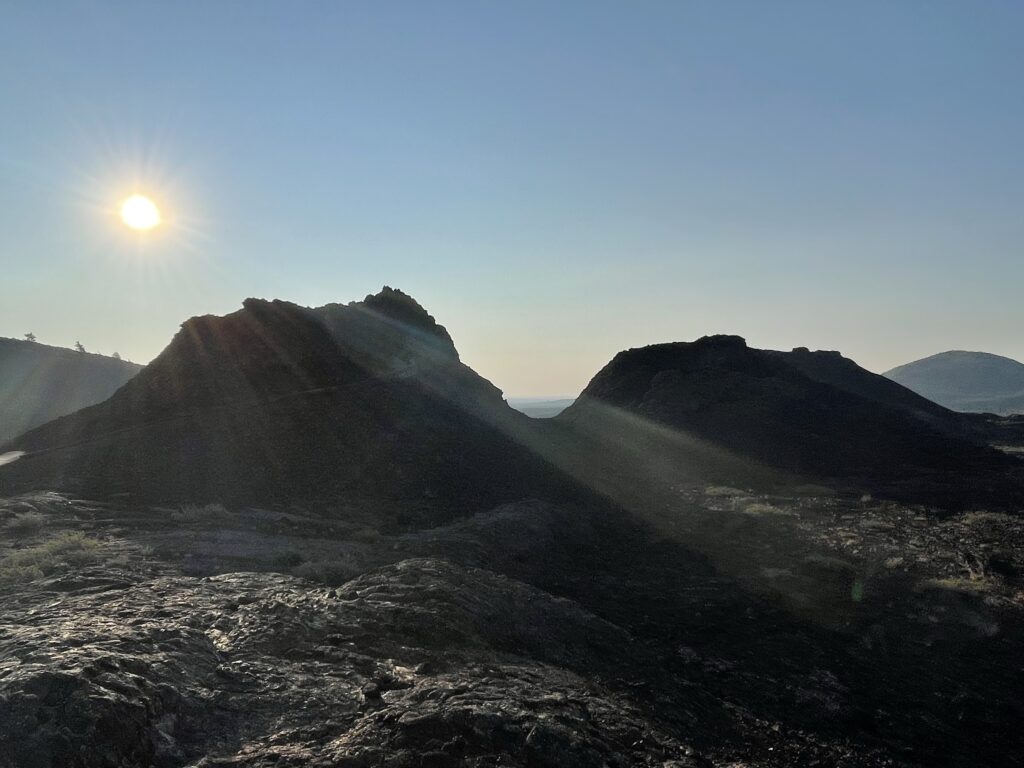 National Parks
There are 63 units in the National Park Service that are called National Parks and among the crown jewels of the National Park System. There is one such site in Idaho which falls into this category with a small sliver of Yellowstone National Park in the state.
Yellowstone National Park
Established in 1872, Yellowstone National Park has the distinction of being not only America's but the world's first National Park. The park covers nearly 3,500 square miles and protects much of what is known as the Yellowstone Caldera. The park is big, like really big, and can take hours of driving to traverse and has portions in 3 different states. Yellowstone is very geothermically active with many various geysers and mud pots. It includes several well known sites including Old Faithful, Grand Prismatic Pond, Grand Canyon of Yellowstone, and Lamar Valley. Only a small section of the park is located in Idaho difficult to reach since it's not accessible by road. The closest entrance to the park on the Idaho side is from West Yellowstone Montana.
Other National Park Units
City of Rocks National Reserve
Established in 1988, City of Rocks National Reserve is famous for its large granite rock formations that were an important stop along the California trail of settlers moving west. Settlers would often stop here along the trail and many signed their name among the rocks that make up the preserve. The amazing rocks feel like a city upon themselves and these days the area is more known for it's incredible rock climbing than its rest stop for travelers.
Craters of the Moon National Monument and Preserve protect the incredible volcanic areas of Idaho. The area is unlike any other part of the state, with a variety of volcanos and areas covered in volcanic rock. Established in 1924, the area comprises over 1,100 square miles, much of it designated wilderness. Visitors can roam among the volcanos and explore wild caverns within the park boundaries.
Hagerman Fossil Beds National Monument
Hagerman Fossil Beds protects an area of Idaho that is rich in plant and ancient animal fossils. Fossils found here include creatures like the saber-toothed cat, mastodon, and ground sloth, as well as animals such as horses, and birds. Actually, Hagerman horses is one of the most known fossils here and only found in an area of the north of the monument. Established in 1988, the monument has a visitor center, exhibits, as well as several areas for hiking around where the fossils were located.
---
Minidoka, the Japanese Internment Camp is a part of one of the saddest chapters of American History. The Camp preserves the remains of Minidoka camp and the Bainbridge Island Memorial. The majority of the park and camp is here in Idaho, with Bainbridge Island Memorial in Washington State. There were 10 sites, with Manzanar, Minidoka, Tule Lake, and Amache managed by the National Park Service.
Nez Perce National Historical Park
Established in 1965, the Nez Perce National Historical Park protects 38 sites across Idaho, Montana, Washington and Oregon that are significant to the Nez Perce across the ancestral lands. The vast majority of the sites including the visitor center are located here in Idaho. You can also visit a site that tells the origin story of the Nez Perce. There are 26 sites within Idaho to designate significant sites for the Nez Perce. Be sure to check out the visitor center and museum when here.
National Trails
National Trails are trails that often span across states for various geological or historical nature. Two of these trails traverse the state of Washington. They are also national park units (with cancellation stamps) but are so diverse and connect across various parks and other sites that its not necessarily just one spot to visit.
California National Historic Trail
California National Historic Trail covers over 5,000 miles of trail (over several branches) and traces the historic emigrants who traveled across the west in search of rich farmland and gold. The trail itself hits portions of 10 different states and yes even Oregon in this instance. Sites in Idaho include Hooper Springs, Massacre Rocks, and Geyser Park. [ CA CO ID KS MO NE NV OR UT WY ]
Ice Age Floods National Geologic Trail
The Ice Age Floods trail covers 16,000 square miles and spans the 4 states (Montana, Idaho, Washington, and Oregon). The trail connects various different national and state park lands and brings visitors through areas that were carved by glaciers and flooding during the last ice age.
Oregon National Historic Trail
Certainly one of the most famous of America's historic trails. The Oregon trail follows more than 2,000 miles and cross states from it's start in Independence Missouri through it's terminus in Astoria Oregon. There are an incredible amount of places to visit along the trail including several other National Park units.
Lewis and Clark National Historic Trail
The Lewis and Clark National Historical Trail runs about 4,900 miles from Pittsburgh Pennsylvania to Astoria Oregon. Along the trail you can visit quite a few National and State Park sites that comprised the journey of the Corps of Discovery. It follows the historical trail of the Corps as well as the preparatory sections between Pennsylvania and Illinois. Sites within Idaho include Smoking Place, Lolo Place, and Colt Killed Creek.
Check out Nearby States National Park Sites
Montana   |    Washington   |     Utah   |   Wyoming   |   Nevada   |   Oregon