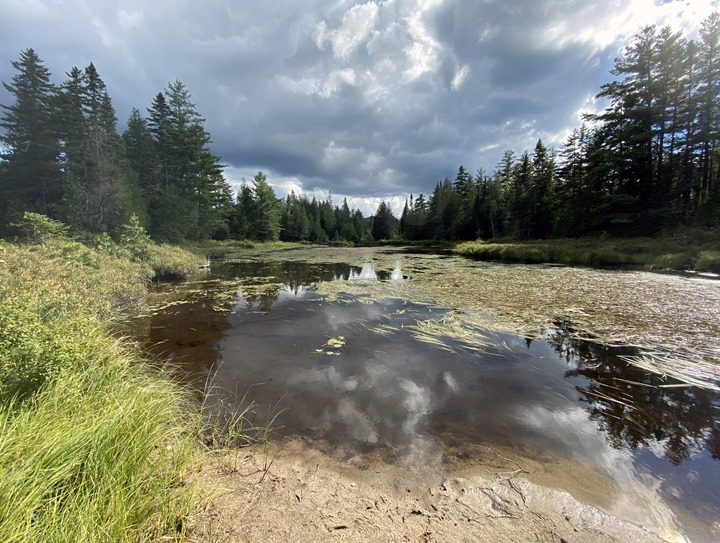 One of the newest National Park administered monuments. Katahdin Woods and Waters National Monument is located in the northern woods of Maine, close to Baxter State Park and Mount Katahdin (the highest mountain in Maine). Mount Katahdin is famed as a terminus for the Appalachian Trail.
This national monument does not have access to that state park or directly to the mountain. The US Appalachian Trail does not traverse this park, but as we learned upon visit, there is an "international Appalachian Trail" that does extend partially through the National Monument. I'm not sure what that is, and apparently according to the Park Ranger, the trail extends all the way to parts of Europe. It seems a bit odd…but what do I know.
Basic Information
Date Founded: August 24, 2016
Size: 87,563 acres
Visitor Center: 200 Penobscot Ave, Millinocket, ME 04462
Cancelation Stamps: Shin Pond Village or Visitor Center
Fees: $0
Location: The National Monument is located off Route 11 near the town of Millinocket Maine. The monument is about 2.5 hours from Acadia National Park and about 1.5 hours North of Bangor Maine.
Katahdin National Monument History
The Park itself has a complicated history. The land was acquired by one of the founder's of the Burt's Bees Company over the last 20 years. About 10 years ago, there was movement to try to make it into a National Monument and late in Obama's Presidency it was officially given National Monument Status. Trump had criticized it's creation and threatened to remove it's status, however today the Monument still stands.
There is definitely some local opposition, particularly the logging industry. As the park sits up against logging areas, you could see a lot of anti-Monument signs and complaints from the logging industry. Also since the park interweaves in parks with logging area, access to some of the area is based on driving through logging areas. You need to be sure to give head to the logging trucks on those roads, as they do have the right of way.
The National Monument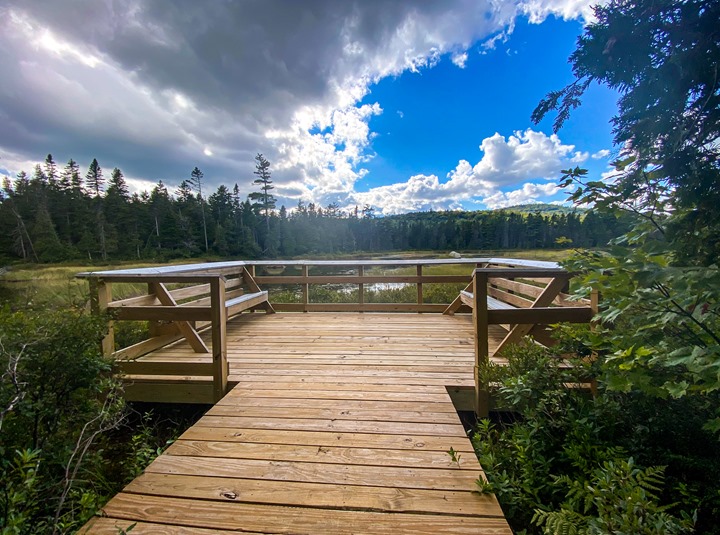 Everything in the park seems new. Or at least still yet to be built up. There are a few viewing areas and some semi-marked trails in the area. A few trail heads are marked very well and the paths and viewing platform look like they were just built recently.
I guess in some ways it's nice to think you may be one of the few people to actually view these areas. Some of the trails are fairly long and we didn't get to do as much during this trip out there (hoping to get back soon). We were always generally unlucky in not getting to see any of the local Moose in the area. We did try at all the areas the Park Ranger recommended
There is a visitor center in the town of Millinocket, which is already well known as a jumping off point for the Appalachian trail. So if you find yourself in the area. A quick stop (and right now you only really need a quick stop) can be worth it. However, only really if you have your own transportation, as transportation in the park is non-existent. I wouldn't necessary recommend making a drive up here from Acadia as the park is definitely lacking in big features. However if you are like me and a National Park completist, you'll need to pop up at the very least to get the stamp and look around.