When people think of ski areas, Philadelphia doesn't always come to mind. But Pennsylvania and other states in the mid-Atlantic and northeast do have some pretty good ski resorts to carve some trails. But if you don't know where to go, then you probably assume nothing is available. So here is our list of the best Ski areas near Philly.
* * * * *
Blue Mountain
Featuring the highest vertical of the mountains listed, Blue is both one of the closets to Philadelphia as well as one of the largest ski resorts in the area. The ticket prices are certainly reasonable in comparison to a lot of other resorts, and the area also features night skiing on many of its trails.
Location: 1660 Blue Mountain Drive
Palmerton, PA
Stats: 39 Trails / 16 Lifts / 1082 ft
Ticket Prices: 50 – 65
Website: Ski Blue Mountain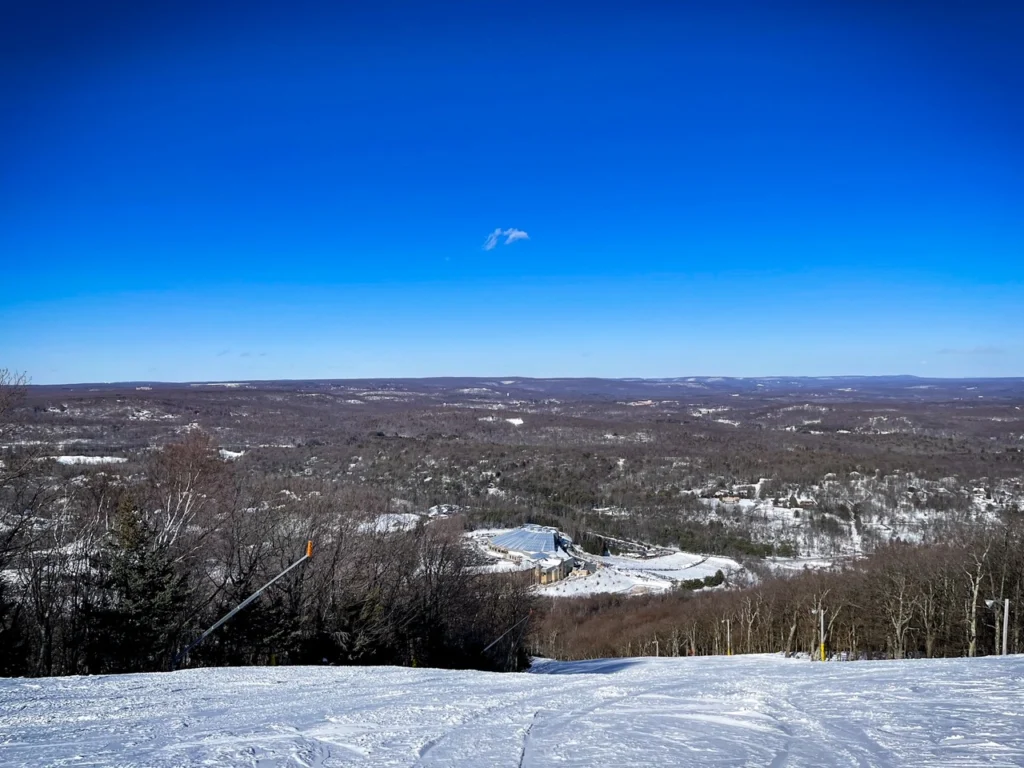 Camelback Ski Area
I may be partial to Camelback as it was my home Mountain for many years in my childhood. But being biased works as it is one of the largest mountains in Poconos and about a 90 minute drive outside of Philadelphia. Featuring 38 trails serviced by 16 lifts, you can get a lot of terrain at Camelback with a good range of difficult from beginner to expert.
Location: 301 Resort Dr. Tannersville, PA
Stats: 39 Trails / 16 Lifts / 800 ft. vertical
Tickets: $40 – $70
Website: Ski Camelback
Shawnee Mountain
Often overlooked for some of its larger neighbors, Shawnee offers a fairly decent amount of terrain diversity with less crowds than some of the nearby mountains. The mountain certainly is great to change up where you go and the longest trail offers nearly a mile of skiing.
Location: 401 Hollow Rd, East Stroudsburg, PA
Stats: 23 Trails / 11 Lifts / 650 ft. Vertical
Tickets: $55 – $65
Website: Shawnee Mountain
* * * * * *
Elk Mountain
Elk is probably one of my favorite mountains but also the furthest from Philly of the mountains listed here. The resort is tucked into the heart of the Endless Mountain Range a bit north of the Pocono Mountains. I find often that the conditions here are a bit better snow wise than some of its other nearby competitors. I also fee that the mountain feels far less corporate too and more locally run and owned.
Location: 344 Elk Mountain Rd, Union Dale, PA
Stats: 27 Trails / 6 Lifts / 1000 ft. Vertical
Tickets: $
Website:
Jack Frost / Big Boulder
Jack Frost and Big Boulder are two separate mountains but both basically together on the same ticket. The great thing is that you get about 36 trails between the two mountains, the bad thing is that it does take a bit of travel to get between them. Big Boulder primarily operates for night skiing so if you still feel like burning some hours after dark the trip is generally a one time thing.
Location: 434 Jack Frost Mountain Rd, White Haven, PA (JF) | 357 Big Boulder Drive Lake Harmony, PA (BB)
Stats: 20 JF | 15 BB Trails / 12 JF|10 BB Lifts / 475ft (BB) | 600 ft (JF) Vertical
Tickets: $ 50 – $65
Website: Jack Frost / Big Boulder
Montage
Montage is a bit further than some of the other mountains listed here (although closer than Elk) but it offers a lot of terrain and some of the best vertical in the area. One of the best things too is that with its proximity to Scranton there's plenty to do and plenty of options if you decide to stay the night (compared to the other mountains listed).
Special Note: They have discount tickets for those who want to ski Monday – Wednesday (non Holiday) which definitely adds to the value here.
Location: 1000 Montage Mountain Rd, Scranton, PA
Stats: 26 Trails / 7 Lifts / 1000 ft Vertical
Tickets: $ 58 – $67
Website: Montage Mountain Resorts
* * * * *
Do you have a favorite ski resort in Pennsylvania or New Jersey that is a short drive from Philadelphia? Any others you'd recommend or any opinions on the above suggestions? Let us know, we'd love to hear from you!