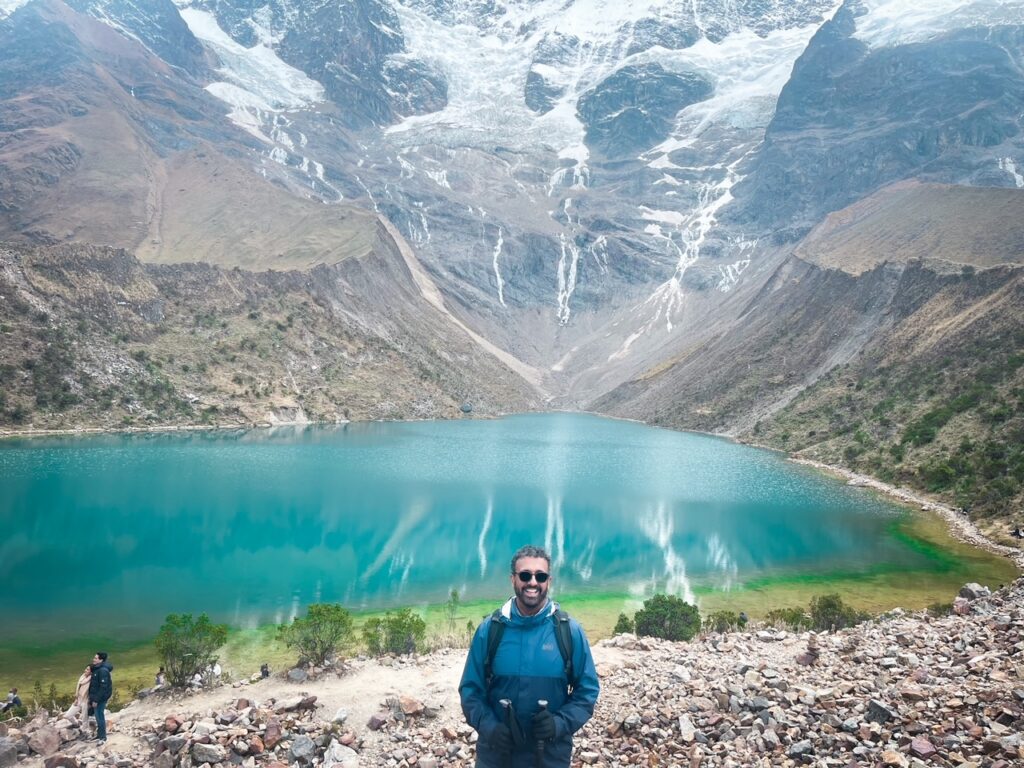 One of the most iconic day hikes in the Cusco area is the Laguna Humantay Hike that takes you hikers up to the glacial Humantay Lake at an elevation of 13,780 feet.
The mountain of Humantay however is even higher. Soaring to 5,473 meters (17,956 feet), which adds to the picturesque nature of the scene. While the place reminded me of a lot of other areas (including some in Glacier National Park like Iceberg Lake), the scale and size of the place was certainly more memorable.
Humantay Lake Elevation and Advice
Laguna Humantay, Peru is located at 4200 meters (13,780 feet) which is in the range that you need to be careful about altitude sickness.
Altitude sickness can certainly strike during this hike. My friends who arrived in Cusco (from sea level) was experiencing some signs of altitude sickness. Thankfully some were more mild than others. But things of note.
Altitude Sickness can strike regardless of your fitness level. You can't train for it unless you are at altitude.

It's important to give yourself time to acclimate to the altitude. It is recommended to spend 48 hours or more at least before heading up to places like Laguna Humantay or Rainbow Mountain (Vinicunca Mountain).
If you are coming from altitude (such as myself from Denver) you may be able to get away without or less acclimation time.

Drink lots of water
You can also consider taking medication if necessary such as diamox to help with altitude sickness. Ibuprofen can help for mild cases as well.
Go slow. You will have a more difficult time breathing at higher altitudes (regardless of your acclimation). Going slower and exerting less will improve your response to altitude
If you get more serious symptoms, very bad headaches, vomiting, dizziness, consider descending. Usually symptoms will subside if you reduce altitude.
Visiting Laguna Humantay
Humantay Lake is located about 3 hr. drive from Cusco close to Salkantay mountain. It's close to where you would also go if you were planning to do the Salkantay trek, the 5 day trek that is the most popular alternative to the classic Inca Trail. You'll actually see folks on the hike heading to the lake (they often do it to help acclimate) and various donkeys and folks portering gear for the hike (there's less restrictions and regulation for the Salkantay hike).
There are plenty of ways to book the trip to Humtantay Lake. Among those are doing it either as a group, organized trip or independently.
There are certainly benefits to doing both. You can certainly save time or money by going independently, but you'll also be responsible for all your own logistics.
Traveling Independently to Humantay Lake
It is possible to travel to Lago Humantay without an organized tour. This could help you save money or allow you to travel on your own schedule to avoid crowds to combine other things.
By Private Vehicle
You can take a taxi from Cusco to Soraypampa and get them to wait and then take the taxi back. This will allow you to control when you get to and from the mountain. You can avoid crowds by going earlier (or later) than most groups go) and this is likely only possible with a taxi (or a private car).
By Local Transportation
There are not local buses from Cusco all the way to the base for the Humantay Lake (Soraypampa). If you are a group, it might be cheaper to do a taxi vs. local transport.
If you want to try to do it more locally you can take a taxi or possibly a bus to Arcopata bus terminal in Cusco.
From here you can take a bus to Mollepata which is about 2hrs-ish from Cusco. It's also the place where many folks and tours stop for breakfast/lunch to/from Laguna Humantay. From here its another hour by van to Soraypampa which is where you'll star the hike.
The Entrance free for Humantay Lake hike is 10 soles (for foreigners).
Laguna Humantay Tour Groups
Group travel definitely has its advantages and also its so much easier logistic wise.
There are plenty of tours that can be booked for the trip via Trip Advisor, Viator, or Get Your Guide.
You can book almost any of these tours in Cusco in person if you prefer. You'll certainly save more money by booking it in person in Cusco. And maybe even negotiate prices if you prefer.
Nearly all of the tours are the same. There might be some slight differences with food, number of guides, etc. But really most of them are pretty similar. If you are concerned about things like oxygen, food choices, etc. you should validate before you book the tour. However, you'll see tons of tours stopping at the same restaurant to/from Laguna Humantay.
Tours also give you an option of meeting new people as well if that's important to you.
Personally if the price isn't too bad, I prefer the tour route. Not having to worry about logistics, food, etc. is nice. I found the restaurants stopped at to be quite good and while I could save a few dollars, overall the price was very reasonable.
Rundown of Group Trips to Humantay Lake
Basically all of the group trips to Lago Humantay are basically a full day affair. Generally about 12 hours from start to finish.
Most outfits will pick you up from your hotel early in the morning. Expect to leave between 330 am – 430am from your hotel in the morning.
After two hours, you'll stop at a restaurant for breakfast. The restaurant we visited was great, the food was good, and the view excellent. Following breakfast you'll continue another hour to the trailhead for Humantay Lake.
Following the hike, you'll basically trace things in reverse. You'll stop generally at the same restaurant (along with a lot of other groups) for lunch (which was also excellent in our visit) and then the two hours back to Cusco. You may or may not be dropped off at your hotel, or often tours may drop you off in the city center due to traffic and time to drop everyone off.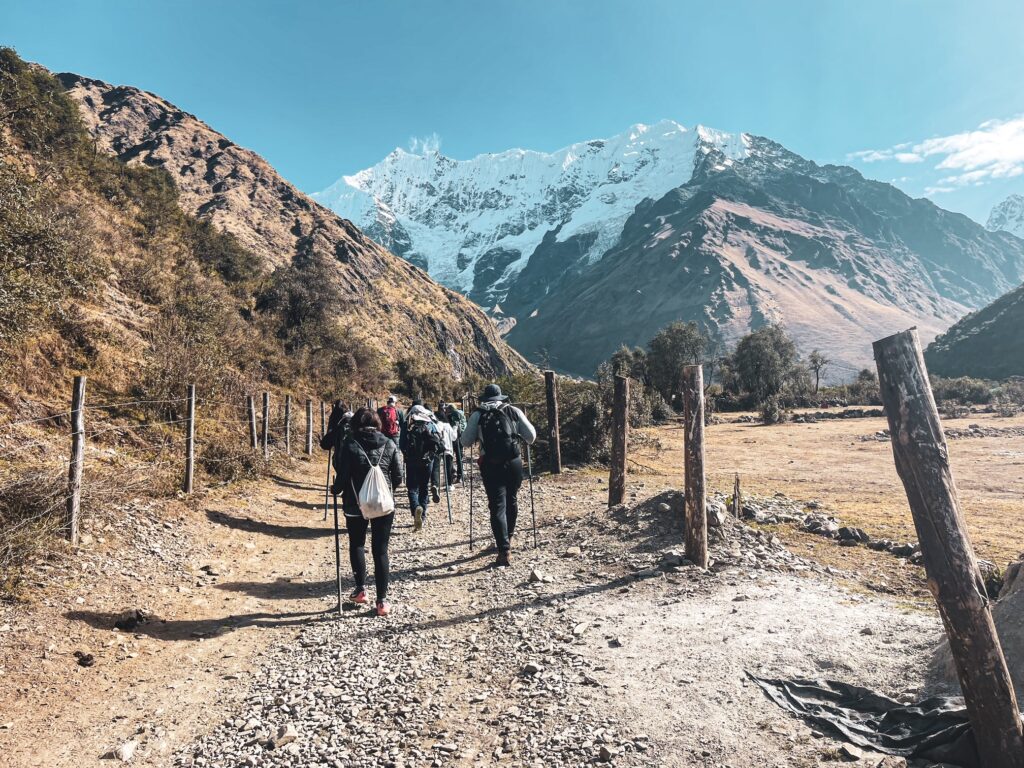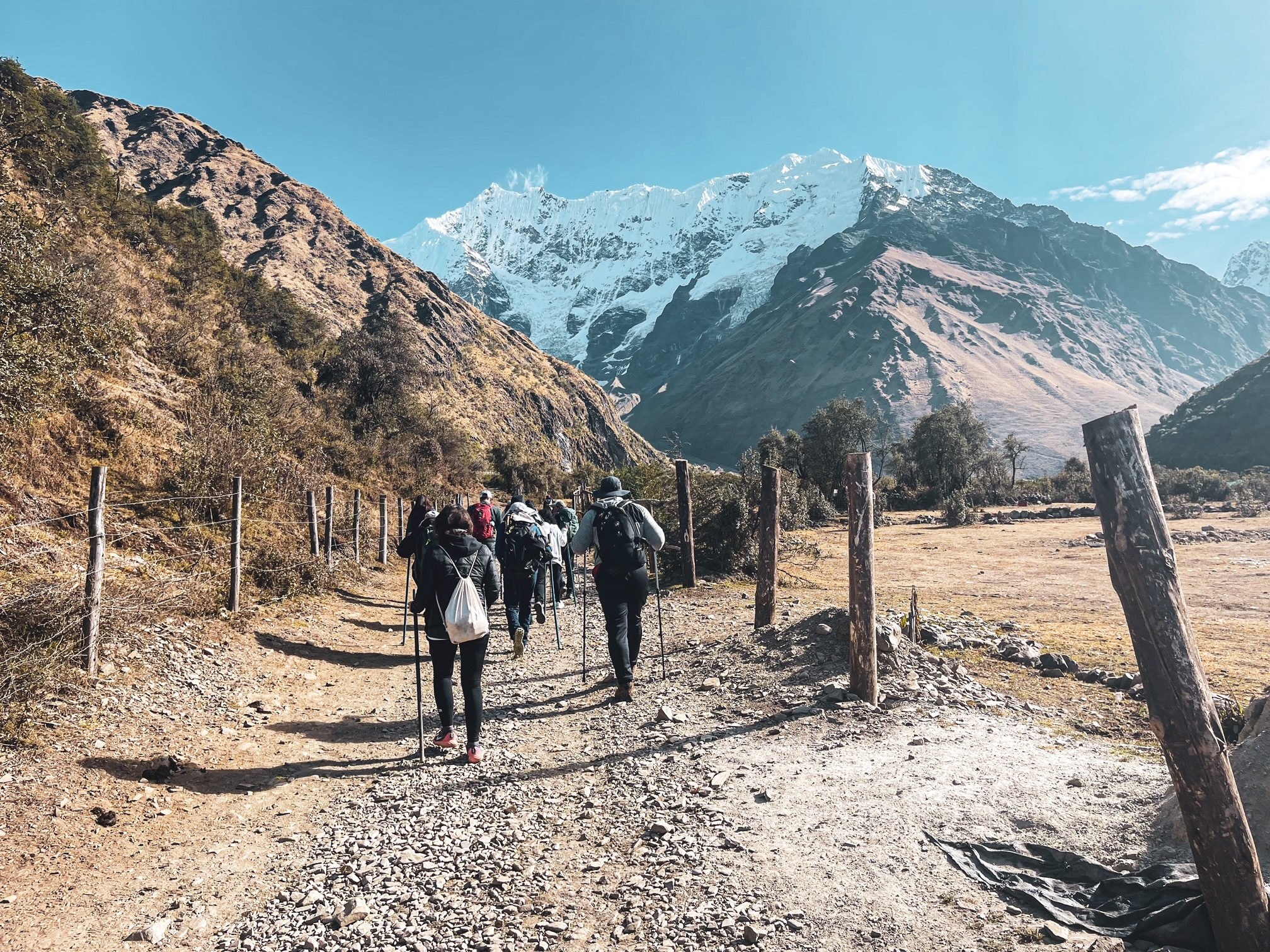 The Hike
The hike is about 3 miles round trip. I would budget about an hour each way for the hike and then for time at the lake itself.
If you are part of a group, you'll likely need to wait until the last person arrives, so you might have additional time if you get there early.
The hike can be pretty tough, I would say about a moderate difficultly level, but with the addition of the altitude it makes it a lot harder. I would definitely breathing harder on this hike.
The late part of the hike is definitely pretty steep, so also budget in for that time and that it's a bit narrower of a path.
If you are feeling up for it and want some better views. There are some higher viewpoints once you reach the lake.. You can either head left (when facing the lake) and climb up the hill for a very high view of the lake or turn the other direction for a slightly higher view of the lake. I recommend doing at least one. Getting some elevation vs. the lake will give you a more pronounced view of the teal color of the lake.
I found the hike to be more difficult than the Rainbow Mountain Hike. While that hike is longer and at a higher elevation, the increased steepness of the trail to me make it feel more difficult.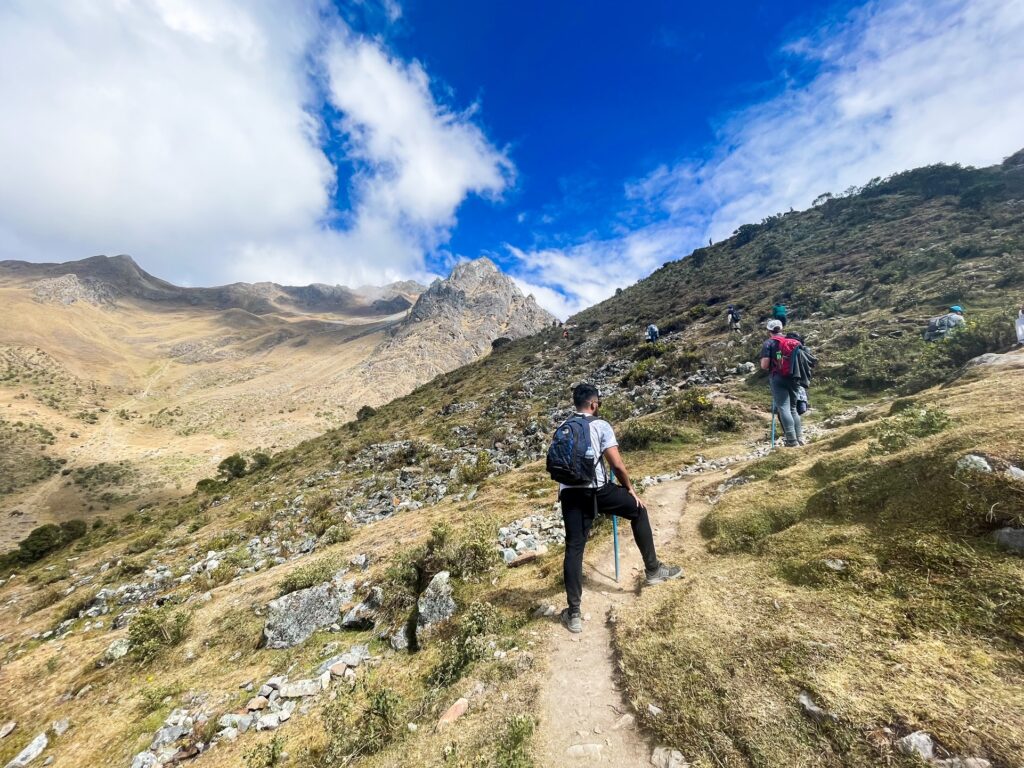 Other Tips For Visiting
Recommended Packing List

Sun Screen (The sun can be more intense at this elevation)
Toilet Paper or Biodegradable Wipes (for bathrooms at the trailhead if you need)
Hiking Poles
Ibuprofen
Snacks (or more substantial food if you are not going on a tour and responsible for your own meals)

Dress in Layers. Especially depending on the season, bring a raincoat. I found I was cold and hot at various times during the hike and layers were necessary
The hike is strenuous. I did both the Rainbow Mountain and Humantay Lake hike and I found the Humantay Lake hike more difficult (even with the higher altitude for Rainbow Mountain). Go slow, pace yourself, and if necessary there are options to take horses.
The trail is pretty exposed. So I recommend using the bathroom before hiking, as finding a place to go on the trail in private will be tough.
You can buy snacks, water, Gatorade, etc. at the trailhead. So if you didn't pack enough you can still get stuff here. Be sure to bring soles.
If you want the Lake to yourself, you'll need to travel independently. Basically all the trips leave and return at the same time (generally 4am – 4pm). Most hikes start around 7-8am. If you arrive at the trailhead later in the day and leave later it's possible to have more of the lake to yourself.
If you are planning to do the Salkantay hike, don't do the Humantay Lake day hike. You'll likely visit it as part of your trip anyway.