Living in New York City, you realize quickly that things are Expensive. However, like many large cities, there are plenty of free or very low cost things to do. I wanted to make this list to help both local and tourists coming to the city to see and experience great things without breaking the bank. So follow along for over 30 of the Best Free Things to do in New York City (and Almost free).
Walking the Highline
I've loved the Highline since they first opened in 2009 and still find it one of my favorite places to visit. The former elevated track was inspired to become a park by a similar project in Paris. And glad they did, the results have been fantastic and walking the near 1.5 mile track is a great way to explore the above and in the neighborhoods it travels through.
The Highline starts at Hudson Yards and travels in nearly a straight line to The Whitney Museum in Chelsea.
If you have time, stopping off in Chelsea Market is a great place to grab a bite, coffee, or shop for local goods and souvenirs. Also monthly there is star viewing from the Highline in the evenings. You can surprisingly see quite a bit with the telescopes people bring.
The Chrysler Building
One of the tallest buildings in New York and with some incredible Iconic Architecture, the Chrysler Building is certainly worth a quick stop when you are in the area.
The Lobby is free to visit and the beautiful architecture and spectacular art deco style make it such a cool experience and place to see.
The lobby is open from 8 am – 6pm weekdays.
If you know someone who works in the building you may be lucky enough to go up the tower as well. I have a friend who formerly worked on the top floor of the building which afforded me sweeping views of the city.
Exploring Central Park
My Favorite part of the city and the lungs of New York. Central Park is worth spending much of a day wandering through the various different sections of the park. You can even get lost here a bit and explore some wooded areas that make you feel like you are not even in the city anymore. If you are looking for some good exercise, biking or running the loop (full loop 6 miles) is a great way to experience the park. My favorite is adding in the reservoir which is one of my favorite places to run around myself.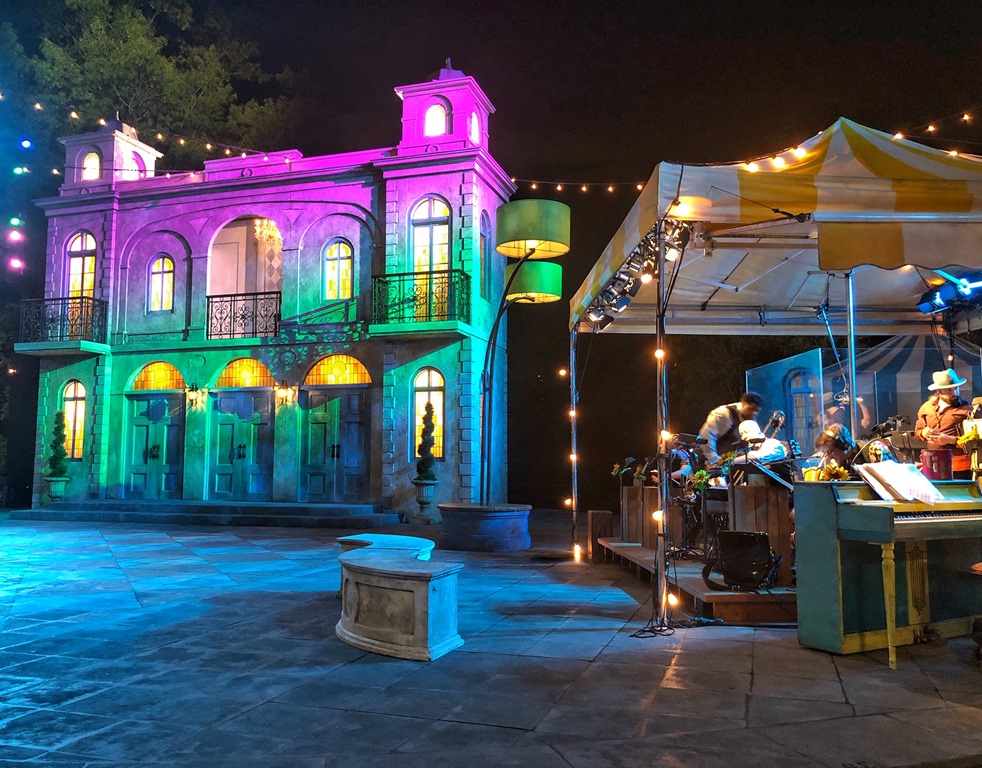 Shakespeare in the Park
One of my favorite summer activities and favorite things to do in the park is catching the free and amazing Shakespeare in the Park plays. They have two plays annually and tickets are free and quite easy to get. I actually have a great post on how to score tickets to Shakespeare in the Park that will help you maximize your chances to see it during your stay.
Be sure to check out the lovely Shakespeare Gardens nearby and also the very interesting Belvedere Castle nearby.
Ride the Staten Island Ferry
Did you know there's a free way to get a view of the Statue of Liberty? Unless you are doing an actual visit of the Statue of Liberty one of the best/free ways of seeing the statue of liberty is from the Staten Island Ferry. You'll also get to explore Staten Island (if you choose) although getting around Staten Island is a bit more difficult than other boroughs without a car.
The Ferry leaves from the Staten Island Ferry Terminal in Southern Manhattan.
Roosevelt Island Tram
I had been wanting to ride the Roosevelt Island Tram since seeing it in Spiderman. It's not free, but it is no more expensive than a regular metro trip at $2.75.
It's a great way to get an aerial view of the New York as well as explore one of my favorite islands. Roosevelt Island while so close to much of the rest of New York feels a world away and you can explore the island, its parks, and its history.
You can also get some great views of Manhattan from the coastline. You can take the tram back to Manhattan or there is also a subway stop on the island if that's easier for you.
Attend a Live Taping of a Show
Some of the best and some of my favorite shows tape in New York City and it's possible to be in the audience of many of these for free! From SNL, The Late Show, the Tonight Show, to the Daily Show and others have regular audiences that you can be part of. For most of these you need to get free tickets which are actually pretty easy to do and often easy to get ahead of time.
I detail a lot of these shows in the post here on attending live tapings in New York.
Riverside Park
One of my favorite parks is Riverside Park that runs up along the Upper West Side of Manhattan. It's great because it's beautiful and its far less touristy than Central Park. You'll see a higher percentage locals wandering, gardening, and relaxing here than you may witness in Central Park. There are actually quite a few things to do from several piers you can wander by (and often have free movies in the summer), to visiting the National Park Site of Grant's Tomb, to grabbing food or even just seeing beautiful sunsets over Manhattan. It's a great way to escape the crowds of other places in the city.
Visit New York's Amazing Museums
There are actually a lot of free museums, ones where you pay what you want, or ones that have free days in New York City. These include the Met, MoMA, Museum of New York, among others. While not all of these may be free during your stay in New York it helps to see if you can save on your trips while here. I also created a post that lists out the various free museums, which days, and other info about them on my post on Free Museums of New York City.
Spend the Day at the Beach
Did you know there are beaches in New York City? There are actually several from Orchard Beach in the Bronx to Coney Island in Brooklyn and Rockaway in Queens. My Favorite of all of these is Fort Tilden that is a former army base that is now part of the Gateway National Recreation Area. So you can visit an old fort, a beautiful beach, and a National Park unit all in one.
Fort Tilden is a bit trickier to get to by public transportation. It is west of Jacob Riis beach in Queens and there isn't good public transportation. You can either drive or walk from Jacob Riis. Orchard Beach requires a bus or car to get to, Rockaway and Coney Island/Brighton can be reached by subway. Orchard Beach charges for parking during high season.
Gawk at the Craziness of Times Square
In full disclosure I loathe Times Square these days. I think that's how you know you've become a local is when you realize you hate it. But also its the place everyone asks me to take them when they visit. And the insanity and craziness of the place does have it's charm. During the height of Covid this place was a ghost town and it was scary/crazy to see it devoid of people. Things have certainly returned to more normal and some of the crazy folks and tourists are back.
I often find myself in Times Square if I'm heading to a Broadway Show. And while Broadway is certainly not free or near free, it is still possible to save significantly on tickets to Broadway shows. If you know the ways. I have a great post on finding cheap tickets to Broadways Shows as well that may help you.
Governor's Island
The 172 acre island off the coast of Manhattan and former military base is one of the best ways to escape the hustle and bustle of the city. The island is open to visitors and has several historic buildings you can visit as well as restaurants, parks, a garden, and other places to explore. Part of the island is also administered by the National Park Service as Governor's Island National Monument.
You can also rent bikes on the island to explore around and it's one of the best ways to get around the island. The island also hosts various events throughout the year, parties, and even has several residents as part of their Governor's Island Residency Program.
So while Governor's Island entrance is free, getting there will cost you a few dollars. But thankfully it's actually pretty cheap from $4 dollars for the Governor's Island trust ferry, to $2.75 for the NYC Ferries. Read on here for more information on getting to the Island.
Prospect Park
Designed by the same folks who did Central Park, Prospect Park has become much the same to Brooklyn as Central Park is to Manhattan. It does feel a bit more intimate and local than Central Park, with certainly less tourists. But it's a wonderful place to walk, run, bike, or spend the afternoon among the various lawns in the park. There are also lots of events in the park from free concerts, Smorgasburg, movies, birdwatching and other nature tours, and more.
Grand Central Terminal
If you build it they will come. It was a bold statement when Vanderbilt commissioned the building of this Grand Train Terminal. The city did eventually expand beyond the the station and it no longer felt on the outskirts of New York City.
It is great that the architecture of the station has been preserved (unlike Pennsylvania Station) and the iconic structure is worth visiting. Be sure to check out the Main Concourse which makes all the photos and is certainly Instagram worthy. One of my favorite things about the hall and the passageways in the arches in the hall that allow you to speak quietly on one end to someone standing at the other.
Tour the United Nations
Located on the eastern side of Manhattan, the United National Headquarters consists on several buildings including the Secretariat, General Assembly Building, and several office and conference buildings. There is another "headquarters" for the UN as well in Geneva, however the main general assembly does take place in New York.
The UN had grander plans for its headquarters, however the location in the US and the land granted for free (from the Rockefellers) gave rise to the headquarters being there. It is however now considered "international land" and some laws of the US and the UN don't coincide.
For those who want to visit, there are regular tours of the place that go through the visitor center, various different halls (where you can see gifts from various nations) as well as some of the famous rooms such as the general assembly hall and security council chamber. Public tours can be found by visiting the UN Visitor website.
Pro Tip: If you know someone who works at the UN, they may be able to give you a more intimate tour of the facility.
Explore the New York Public Library
This Iconic Building with the Beautiful Lions is one of the most incredible pieces of architecture in the city. The Library is a great place to explore with some beautiful rooms and even several museum exhibits within the library as well. Be sure to especially check out the beautiful Rose Main Reading Room, although you'll need to be there to read or study.
It's also a good place to study/read, although if you need internet it can be problematic (as well as finding plugs for your laptop) and hotspotting your phone is also tricky with he thick walls.
Hang out in Bryant Park
Bryant Park is one of my favorite places in the city. The park has so many fun and free activities to do from Trivia nights, to juggling lessons, to Free Concerts and Movies. It's also a great place to just hang out and have a picnic. In the winter the great Christmas Market and ice skating rink take over the park as well.
There are a ton of great places nearby to great food to go for hanging out in the park. It's one of my favorite after work activities is getting together with friends impromptu for a picnic. It's a great central location in the city.
Spending Time in Washington Square Park
Located close to New York University, Washington Square Park is famous for it's iconic arch and fountain. It's an easy place to while away the time just watching the various people, bands, skateboarders, and more. You'll often see people on hot days even jumping in the fountain. While I don't recommend that for health reasons, it's definitely an option for you as well. It's also a cool place when big world events happen as you'll see people gather to celebrate or protest.
There are a lot of cool bars, cafes, and restaurants in the area. And because it's a college area you can certainly find some cheap late night eats as well.
Little Island
The Newest and probably hottest of the new parks in Manhattan is Little Island Park, an artificial island park, built on pot-shaped pylons in the water. The park is free to visit, however they do hold regular events that do require tickets as well. The park when it first opened required visitation tickets, and while, that's no longer the case, you may be turned away if the park reaches capacity.
Definitely visit the official Little Island Website for more information on visiting and when.
Walking the Coney Island Boardwalk
Depending on where you live or are staying the city, Coney Island certainly can be far. Like definitely very far for someone like me living on the Upper West Side. And while I don't come down here often, I do find it a fun activity to definitely walk the boardwalk, wander through Luna park and just enjoy the energy and craziness of the place. I don't think it quite lives up to its heyday when you think of elephants and exhibits (and even my childhood trips to Coney Island) but I still find it a great place to go and certainly one to take people to if they've never been.
There are also some great events in Coney Island from the Mermaid Parade to the Nathan's Annual Hot Dog Eating Content. If you haven't been, you should certainly go and see it at least once.
The Brooklyn Bridge
I love Brooklyn Bridge, it is Iconic and an Engineering Marvel. [Did you know that Decompression sickness (The Bends) was discovered during it's construction?]. The bridge spans over a mile and for a long time it was the largest suspension bridge in the world.
The Bridge is free to walk or bike across and it's a popular and fun activity to do in the city. You can also do it any time of day or night, and I've been with friends walking across the bridge at crazy hours of the night (and it being still popular and safe).
You can get great views of Brooklyn and Lower Manhattan from the bridge and it's great if you add in exploring sites on both sides of the bridge.
Brooklyn Bridge Park
One of my favorite parks in the city, Brooklyn Bridge Park has great views of Manhattan as well as lovely places to walk, picnic and enjoy. You can also check out Jane's Carousel in the park as well (not free) but still fun if that's your thing.
There are a lot of great restaurants nearby the park, and getting take out and sitting and enjoying it as a picnic with friends in the park is the perfect thing to do on a day with great weather.
During the summer you can also check out great movies in the park as well.
Brooklyn Promenade
The Promenade, also called the Esplanade is the 1826 foot long pedestrian walkway over the Brooklyn-Queens Expressway in Brooklyn Heights. The walkway offers beautiful views of Downtown Manhattan, the East River and the Brooklyn Bridge. The Promenade is popular with walkers, joggers, rollerbladers, and families both local and visiting the city. Also a wonderful place to sit, relax, and just watch the world go by. It's part of the historic district of Brooklyn and one of the most lovely places to visit. Especially in the falls when the trees in the area change colors.
The Battery
Located at the Southern End of Manhattan, the Battery is formerly a military fort location for defense of the city. These days its mostly park and walking areas and affords some great views of the statue of liberty and water as well. Actually this is where many of those ferries actually depart from.
You should also try to visit Castle Clinton while you are down here as well, as its one of the National Park Sites and has a history in early defense of the city. The area is great for walking, running, biking, and rollerblading.
The Oculus
In terms of Interesting Things to Do in the City, it's not, it is mostly a transit center and shopping mall. But the architecture of the place is really cool and it's worth taking a stop through on your way to other places. It is also close to the 9/11 memorial which is also worth visiting. There is also a very small Christmas market in the oculus during the winter months.
Hamilton Grange
While not in it's original location, you can visit the Manhattan home of founding father, Alexander Hamilton. I'll have to say, the house has certainly become more popular since the musical however. The house was moved in 2008 and took 38 days to remove and move the house to its current location in St. Nicholas Park. The house is the only house that Alexander Hamilton owned.
There are tours of the house that are available (and free) for those who are interested and the grounds are also open daily. There are also self guided tours that are possible as well though severely limited in terms of people. Check out the NPS Site for Hamilton Grange for more visit information.
Wander NYC Neighborhoods
There's nothing better than wandering through the various neighborhoods of New York. You'll realize that there is so much to see and do in New York City and that the hoods are all actually quite different. My favorite Upper West does look and feel so differently than the Upper East that is just across the park! I really do love wandering through places like Chelsea, Greenwich Village, West Village, Harlem, Brooklyn Heights, Williamsburg, and more. Walking is probably the best way to experience these different places and they are all easily accessible by subway for wherever you are coming from.
See the World's Largest Vault of Gold
Did you know the world's largest concentration of gold is not Fort Knox, but actually the Federal Reserve Bank of New York?
In the basement of the Federal Reserve is a massive vault that sits on the bedrock of Manhattan (you can actually hear trails passing above you when you are in the vault). Built in the 1920's the vault currently holds over 6,000 tons (over $300 billion worth) of gold in it's vault. Interesting note, the vast majority of the gold is actually foreign reserves that store their gold at the Fed (much of it came following World War 2).
Pro Tip: Tickets are Free, and need to be reserved in advance. If you know someone who works for the Federal Reserve Bank of NY it is possible to do a "friend's and family tour" where you'll get to actually hold a gold bar.
The Vessel
Love it or hate it, the Vessel Sculpture in Hudson Yards has both its fans and its detractors. In the City within a city development, Hudson Yards with its office buildings, massive mall, feels like an oasis that exists somewhere else.
My friend calls the Vessel the "kabob" for its likeness to a the ubiquitous fast food spits you can see around the city (or world), and it's hard to think of anything else when you hear that. Tickets are free, but timed and you need to register for a timeslot.
The Structure has 154 flights of stairs, consisting of over 2,500 individual steps and 80 landings. You'll likely not visit all of them but its definitely a pretty Escher-esque kind of place.
Note: The Structure is temporarily closed to visitors. I'll try to update this post when tickets are available again.
Free Movies Around the City
Summers in the city to me mean Free movies at tons of venues across the city. Bryant Park is definitely the most well known example, and you can even borrow a blanket for your viewing of the movies. However, there are also often movies in Central Park, piers along the water and other various parks in the city as well.
Free Concerts
For as expensive as concerts can be and New York City is, there are so many free and fun concerts throughout the city. The biggest time is during the summer where both large and small named bands will perform in the various parks throughout the city.
There are the summer series concert series in Central and Prospect Park. There's performances from opera to classical also in the various band shells, and the incredible Global Citizen concert that attracts huge names and gives away thousands of tickets to those who perform a few activities.
Christmas Activities
Christmas is one of my favorite times in the city. And certainly probably one of the few best times during the winter (afterwards it can get a bit wet, cold, and bleh in NYC). There are a ton of great Christmas activities to do in New York City. Among those are the lights and department store decorations of 5th avenue (Sadly due to closure of stores its not as it once was), the Christmas Tree in Rockefeller Center, as well as the crazy home displays of Dyker Heights.
Free Kayaking in New York City
Did you know that you can go Kayaking for Free in New York City?
There are actually Several Options for Free Kayaking in New York City including:
Kayaking is super fun and very popular. You should make a reservations and generally can do so for about 2 weeks before the date.
This is a seasonal free activity but certainly a fun way to explore and see New York City from the water.
---
Do you have any other favorites that you would add to the list? How many of the above have you done in the city? Comment below or send us an email.
Other Posts You May Like