I unfortunately missed my chance while in Kaikoura to swim with the Dolphins and I thought I would have no other chance to do it. But I arrived in Christchurch I had found at my hostel that there was an opportunity to swim with the Dolphins in Akaroa I knew I didn't want to miss the opportunity. So I booked a tour with Black Cat cruises and took a drive out Akaroa.
Akaroa is a small village about 80 km outside of Christchurch built around a beautiful harbor that was created millions of years ago from volcanic eruptions. The countryside and the drive out there provided phenomenal scenery, but after nearly 2 weeks in New Zealand phenomenal scenery started to become the norm.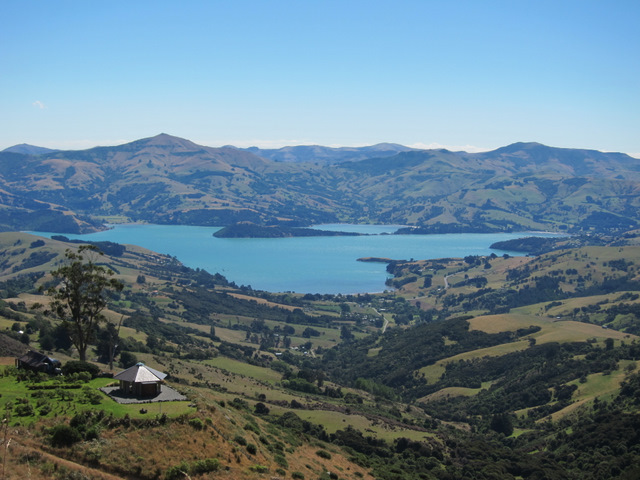 I checked into for my tour and got suited up for the voyage. They gave us a bit of a talk about whether we can swim, etc, etc. They also didn't want me to bring any big cameras on the boat or bags, so sadly I had to leave my stuff all behind back on land (but at least I was able to bring my smaller camera which allowed me to get at least some photos)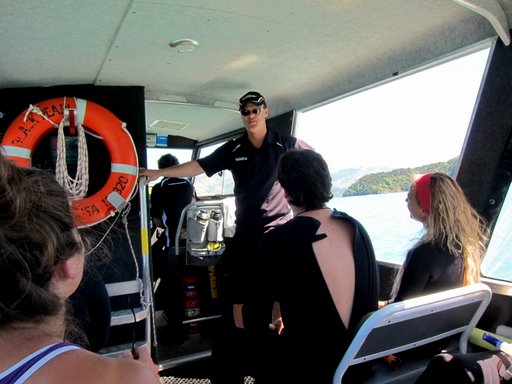 It was a gorgeous day, I'm not sure if I had a more perfect day since being in New Zealand than this. Not too hot, not too cold, and the being out on the water was a perfect way to spend it.
We started heading out checking out some of the wildlife and such and learning about the dolphins were were about to meet. Oh and there were plenty of other wildlife in the area like the little blue penguins swimming around in the water fishing.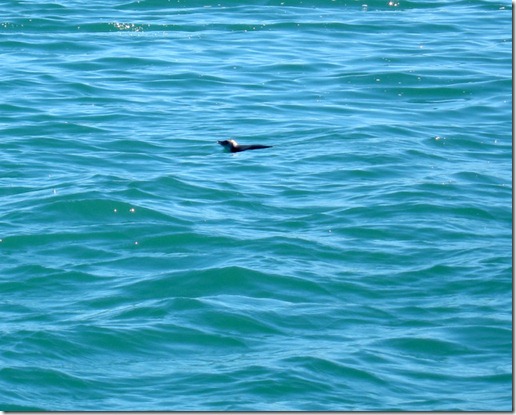 We also learned a bit more about the dolphins we were about to meet. These were not like the dusky dolphins that I would have found out in Kaikoura if I was able to swim out there. These were instead the Hector's dolphins, a very shy species of dolphins and also one of the rarest dolphin in the world. They are only found in this part of New Zealand and they are protected and endangered. If we were going to swim with the dolphins it would be only on their terms (how I'd prefer it), and we had to make sure not to touch the dolphins if they came close. Also just to relax and see if they want to swim with us, they are a bit shy and reluctant sometimes to check out new people in the water. It wasn't long before we spotted a few out in the water though.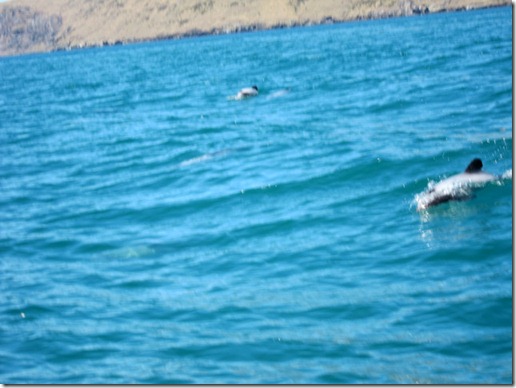 I didn't have a waterproof camera, and honestly I noticed that my point and shoot camera has lately seemed to degrade a bit in quality these days, but I was able to catch a few photos from the boat.  But I will try to do my best to describe being out in the water.  We closed in on a group of dolphins in the water and given instructions on what to do.  We were all in our wetsuits to help keep from freezing in the chilly waters of New Zealand.  They gave me stones to make underwater noise since I was one of the stronger swimmers on our boat. 
We could see dolphins when were getting into the water and a few may have popped out here and there on the outskirts of our group, none seemed to really want to come closer.  So while we were out there in the water trying to swim with the dolphins, the dolphins didn't seem all to keen to swim with us.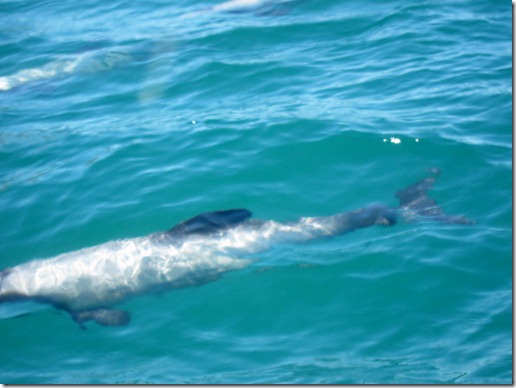 We tried several times to get close to the dolphins and I would like to believe any of them turned out differently. But as soon as we got in the water, the dolphins seemed to wander off to find something else to do. I'd like to blame this on one of my other boat mates as I like to believe I would be quite likeable by a dolphin!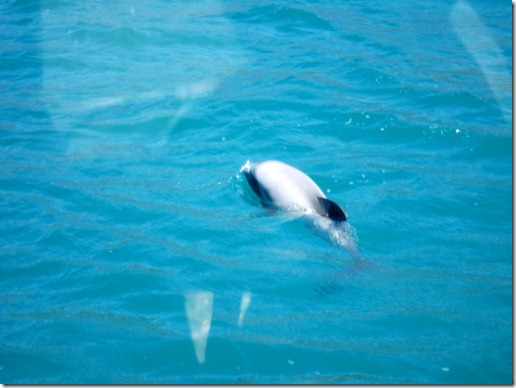 In the end, the dolphins just flirted a bit with our boat but didn't want to come out and play.   Ahh those Hector's Dolphin's are just a bunch of teases. It was a good effort though and still fun to be out there on the water.  We received partial refunds with the option to try again on another trip, but I opted to just head back to Christchurch.  One of the girls there was already on her second trip of the day without luck. While I didn't get the swim I had hoped for, I would recommend black cat cruises.