An old city injury requires an old city solution.
Or at least that sounds like justification enough.
For those who don't know, I'm pretty accident prone. Ok I'm very accident prone; as I've been known to fall down going up stairs, find mysterious wounds on me, or walk into the occasional wall. I've even been told that I'm better on skis than I am at walking.
So it's not completely by surprise that I caught my foot and took a fall on the torn up sidewalk.
On a side note my cousin says that no one uses sidewalks in Hyderabad, so perhaps it was my own fault again in the end.
We headed home, my foot swelling up inside the not so supportive sandal. As I limp into my uncle's house for lunch, everyone reacted in panic to my injury. Suggestions flew in multiple languages as I tried desperately to follow. Thinking to myself, I just needed an elastic bandage, but it seemed they had other plans for me.
You should go to Saleem, I heard someone say and a few others concur in agreement. I of course had no idea what or who that was, and how it wouldn't be simpler to just find a place to buy a bandage. But there was no real point in arguing a problem I didn't understand.
"You should go. It's like a massage. He'll check you out, and you'll get a bandage" – my mom said.
Well I did need a bandage – I thought
"Is he a doctor?" – I asked, partially concerned and partially confused.

"He's a doctor…of sorts." – She replied unconvincingly. "You…probably won't like it. But you should go."
Hmm…really? That doesn't sound assuring at all.
But with everyone pushing me to go, and my curiosity of the situation and the story; I wanted to see what it was actually about.
---
The thing about this doctor was that he was located in Mangalhat. For all the incredible development that has hit India in general and Hyderabad in particular from high tech boom to incredible growth and modernization; Mangalhat…well Mangalhat hasn't changed at all.
It is tucked away in a forgotten part of the old city, a place where it is difficult to convince auto rickshaws to take you. You often have to tell them somewhere else and coax them slowly further until you were back home.
I recall on my previous trip through India as my brother and I waited at Immigration the officer looked perplexed.
"Mangalhat? Really? Why are you going to Mangalhat?" – he honestly asked us reviewing our paperwork.

"Oh our grandfather lives there"

"That makes sense," he laughed, sounding relieved. "Tourists don't go there."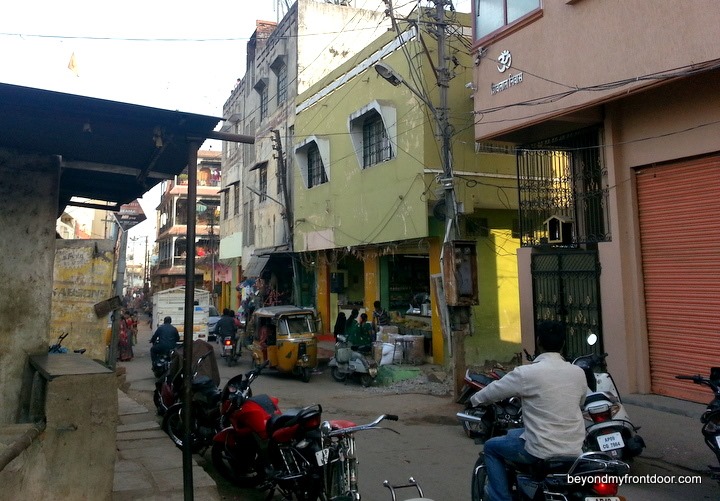 Although, as we weaved through traffic on narrow mud streets, I started to think, why not? This was the India I remember, the one of my grandfather's house. Herds of cows wandering the streets and packs of goats gnawing on yesterday's trash.
We dodged potholes and oxcarts as I attempted to maneuver my legs on the scooter to avoid needing additional treatment. Various shops lined the muddy streets, several kite shops doing brisk business in time for the upcoming kite festival.
We pulled up to a side street a stone's throw from my grandfather's old house. I remember the area from brief fragments of memories, but this specific location was foreign to me. To my left sat a dairy with water buffalo waiting their turn to be milked.
The street was lined with various shops, many since closed at this time of night. Across from the dairy was the place I had come to see. A big sign was fixed on the upper floor of the building.
"Bone Setting Clinic – Since 1935". The name of his son and grandson who has since taken over the business were also included.
The place was still bustling at this time of night. Crowds of people careening their necks trying to watch the doctors practice. Various family members holding hands of nervous patients awaiting their turn.
Standing on my good foot along the road, a nice old man offered me a seat in front of one of the abandoned shops. We sat there chatting in my broken English/Urdu combination while my cousin deftly worked to secure a visit number. As I sat waiting my turn, a man who looked to have had his leg set, hobbled over to a motorcycle with assistance and took off down the bumpy road.
Another satisfied customer.
My number was approaching and my cousin signaled me over. I clumsily maneuvered among the crowd and found a free corner upon the hard laminate wood floor. The room was small, no bigger than a medium sized bedroom.
There was a staircase leading up to an floor unknown. The two doctors sat on the floor with anxious patients in hand. An assistant sat nearby tearing bandages from a large cloth and mixing a bright yellow salve. The medicine that so many came to have applied (and one of reasons I was told I needed to go).
My turn came and I slid across the floor to the doctor. I tried to gesture to my foot and utter any Urdu words I could think of that fit this moment.
Nothing coherent was spoken.
He took my foot in hand and started examining the outside. OK…not so bad. He began to push into different areas of my foot to find the tender areas.
It didn't take long before he found them.
The pain shot through my body as he continued to press. A massage this certainly was not. He pushed hard into a more tender spot and I had to stop myself from screaming out. The sweat building up as I tried desperately to hold my composure.
He took out two blocks, examined them, and lined them up next to my foot. Perplexed, I didn't react as he rested my foot gently on top. This is when the treatment started to go downhill…
He stood up while my foot still rested on the block. I tried to figure out where he was going, but it was only a split second in time. He grabbed my knee and took his foot and stepped on my injured foot with as much force as he seemed able to muster. I could no longer hold from yelling. He took my knee, bending it forward and backward rolling my ankle.
As tried to regain my composure I realized he was seated again and pulling my knee again towards him as I tried unavailingly to not vocalize the pain. He contorted my foot in a few more positions, each as painful as the last.
He held my foot again and I closed my eyes in fear. I was nervous to let him continue, but I really didn't know what else to do in this situation. He examined my foot and said a few words that I can't recall (if i ever did).
He scooped salve from a bowl beside his knee and applied it heavily to my foot as I cringed awaiting more pain. He pulled a bandage from a pile and wrapped it tightly around my foot and motioned me over to his assistant.
I limped over to the assistant and reseated myself while he pulled out a large needle. I don't know why but I feared he was going to stab my foot but instead with a few flicks of his wrist he sewed my bandage in place. I breathed in relief as I stood and paid the cost of treatment.
The price – 120 Rupees or the equivalent of $2 US, a pittance for an American Traveler but a decent sum for working locals who really rely on these places in case of trouble.
We returned home by the same method that we had departed. My cousin made a point to mention I screamed during treatment. I didn't appreciate that, but I certainly couldn't dispute.
"Do you feel better" – they asked as I walked in.
I didn't and I replied in kind.
"At least it's over, and I have a bandage" – I said as I made my way to sit down.

"Oh no…you need to return on Thursday" – the reply came quickly.

"Wait what?"