Denver is one of my favorite towns. Although it's been known to be getting more expensive these days. But, you are also in luck, the city is full of amazing free and cheap things to explore as well. We are always on the look out for the best free things to do in Denver. And we we are here to help you in planning your travels through the city.
Free Museum Days
Address: Multiple
Denver has some pretty great museums. One of my favorites, the Denver Art Museum is really an incredible space. I've been told that it's been remodeled and I have to say they did an absolutely incredible job. Others such as the Denver Museum of Nature & Science are additionally pretty remarkably done. And while I don't discount that they are certainly always worth visiting, I know that cost is sometimes tough for many people especially with families.
Thankfully many of the museums offer several free days throughout the year, with many offering something at least on a monthly basis. It's tough to pull them all here, but be sure to check out our post on Denver free days for more information on when to visit where.
Definitely be sure to keep an eye on free nights for Denver Art Museum, Denver Museum of Nature & Science, Denver Botanic Gardens, and more.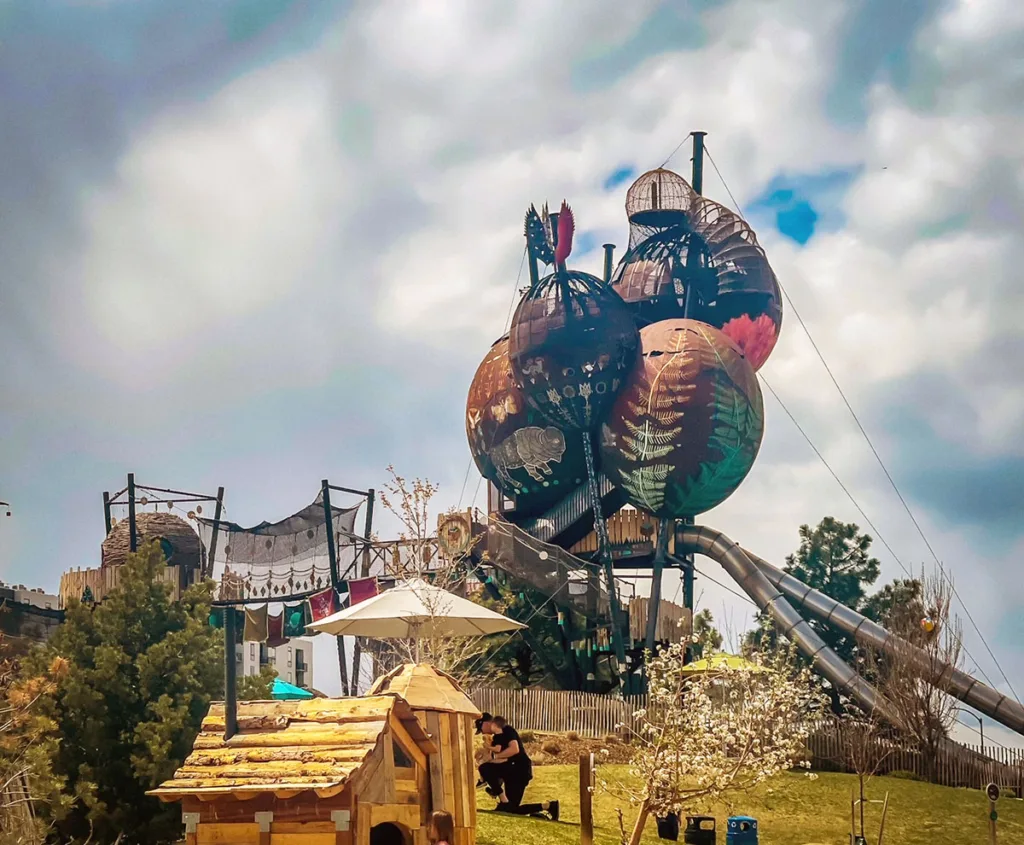 Children's Museum of Denver (Joy Park)
Location: 2121 Children's Museum Dr, Denver, CO 80211
I'm jealous of kids these days! When I see places like the Children's Museum, I wish that we had such facilities when I was a kid. And the playground! It's like the coolest playground in the world I think, and one that must feel so amazing for young explorers.
The Museum is a cost to visit, however on certain evenings Joy Park at the Children's Museum of Denver (the playground) is free for visitors to explore. The park is open 4:30 pm – 8 pm (or dusk) on those days. The museum (other than restrooms) are closed on those evenings.
Free Nights for Joy Park (2023)
May 19
June 16
July 21
August 18
September 15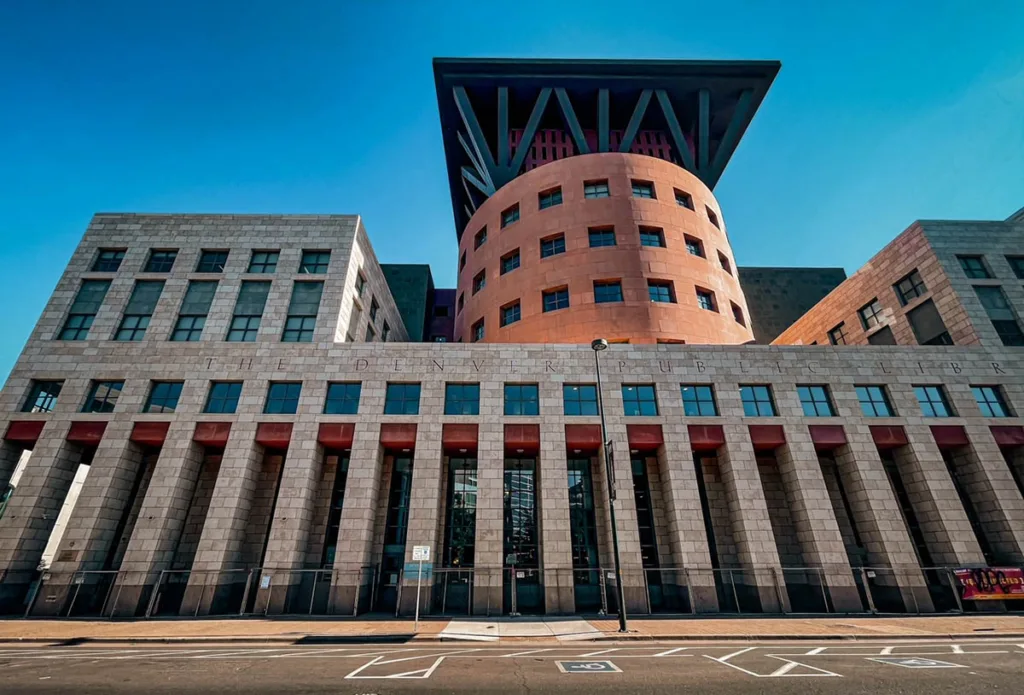 Denver Central Library
Location: 10 W 14th Ave, Denver, CO 80204
Public Libraries have played such an important central role in many folks' lives. From their start in the US from Ben Franklin, the fact that libraries are even public was something that was not something until more recent history.
Denver Library is a system of quite a few branches, however the main branch on Broadway is the most famous (and largest). I love the architecture of the building with its weird mix of modern, and it's a great place to wander around and explore.
The Denver Public Central Library has more than books as well. I love that they have access to maker labs for folks in the area to build and learn. The Library also has events throughout the year, for various holidays, exhibits, and more. It's worth checking both in person and online to find out what's going on at the library.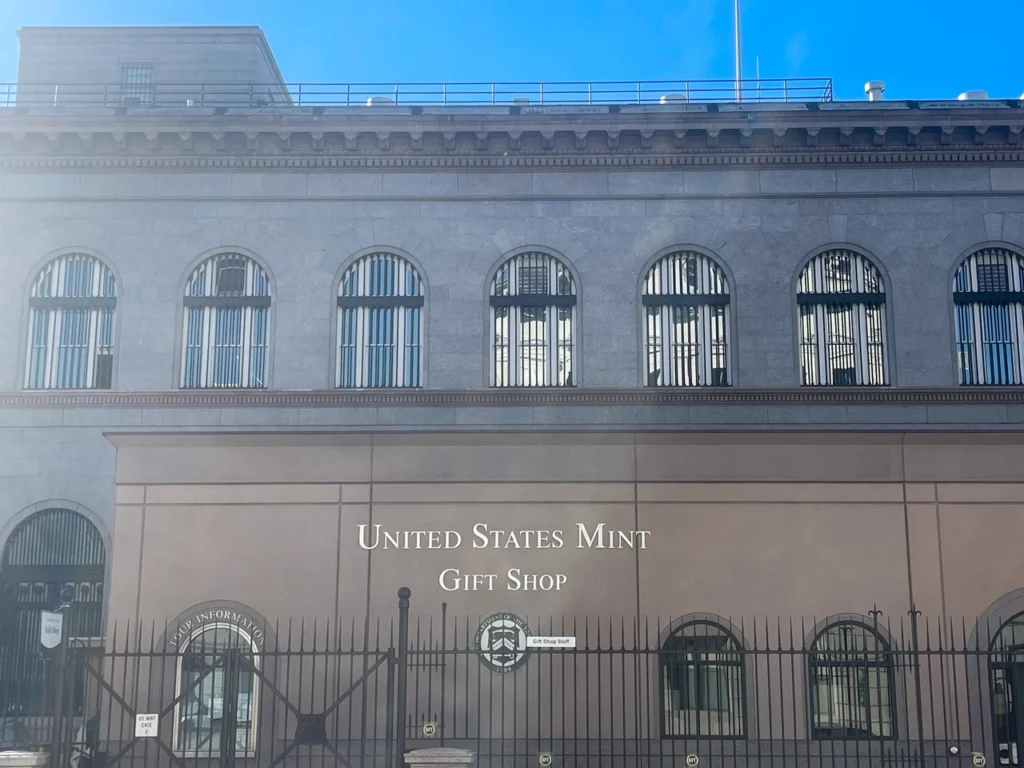 Denver Mint Tour
Location: 1450 Cherokee St, Denver, CO 80204
The US mint has several locations for minting coins in the United States, Philadelphia, San Francisco, West Point, and Denver. Of them, Denver and Philadelphia mint currency for circulation. The Denver Mint has been minting coins since 1906 and still operates as it always has. You can actually find Denver minted coins by looking for the "D" on US currency.
The Denver Mint Tour has daily tours from Monday – Thursday. Tickets can only be reserved in person (starting at 7am) unless you are booking a group tour (15-20 individuals).
Tour times are 8 am, 9:30, 11:00, 12:30pm, 2:00, and 3:30. Tours last approximately 1 hour and 15 minutes. Tickets tend to run out early on busy days, so be sure to arrive early to reserve yours.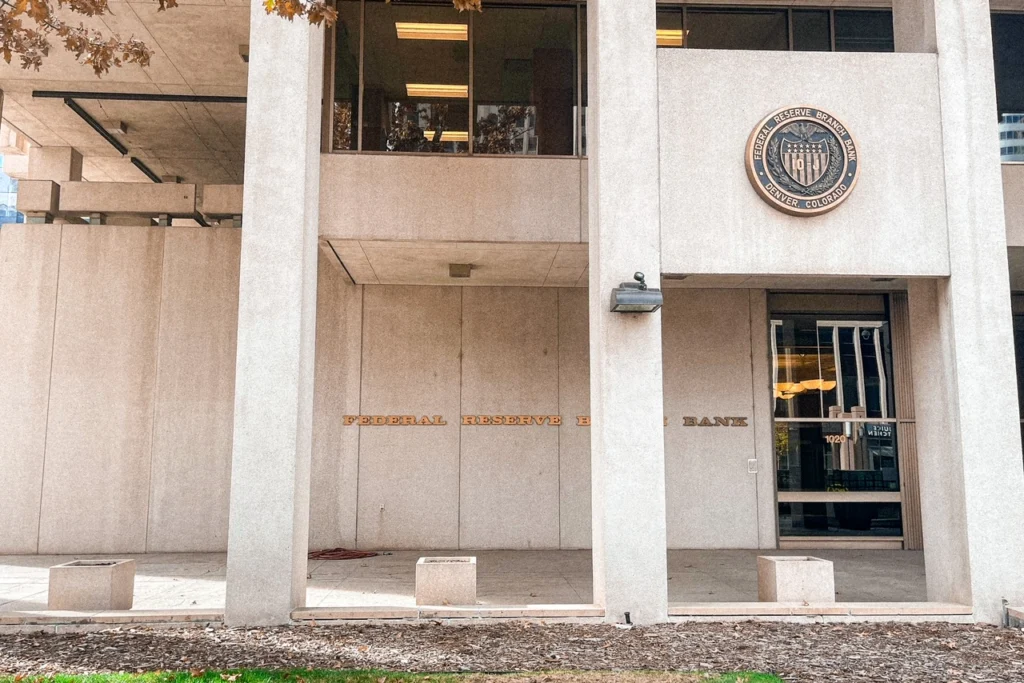 Federal Reserve Money Museum
Location: 1020 16th St Mall, Denver, CO 80202
The Federal Reserve is an association of 12 regional banks that make up the Federal Reserve System. Denver has a branch of the Kansas City Federal Reserve (back when it was founded KC was a more important city than Denver).
While much of the operation is off-limits to tourists, they do have a museum that discusses the federal reserve, monetary history, and other important things about money. Each of the federal reserve branches has their own public outreach and while I feel NY's is the best (since you can see the gold), it is worth visiting the various ones around the country.
One of the best aspects of the museum are the regularly rotating exhibits. They tend to dig into various aspects of money and monetary impacts on different communities, history, and currency in general. Definitely a fun way to learn and a nice stop and informative to those who are interested in these subjects.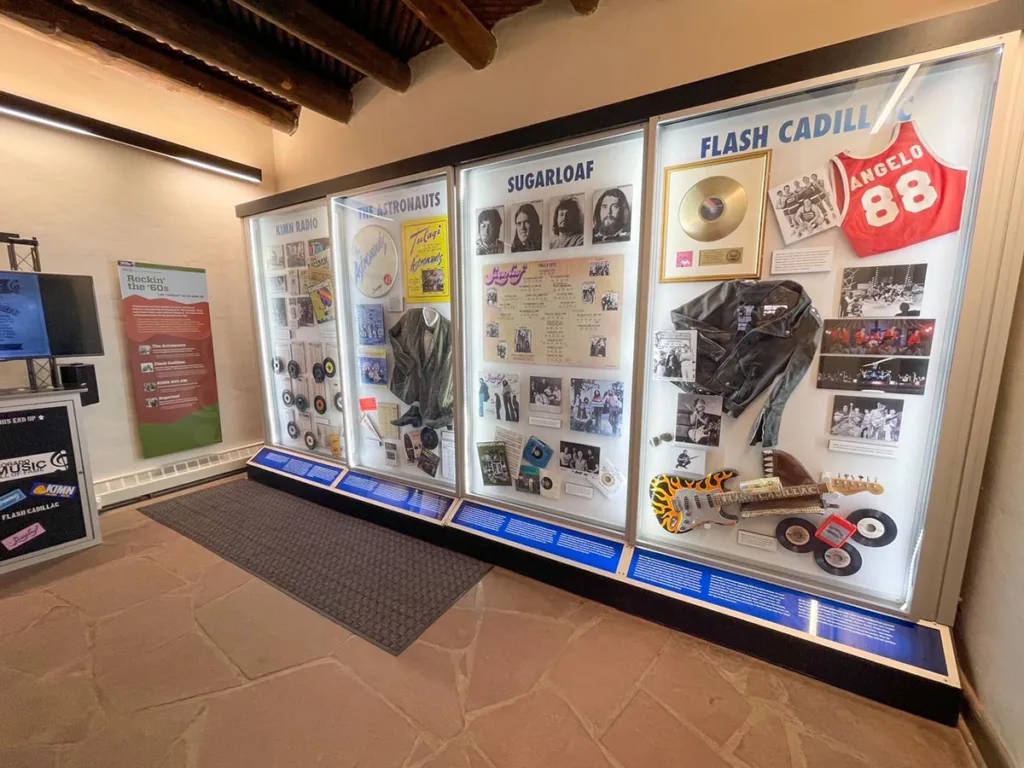 Colorado Music Hall of Fame
Address: 17900 Trading Post Rd, Morrison, CO 80465
Located in the Red Rocks Amphitheatre Trading Post, the Colorado Music Hall of Fame covers the history and influence of Colorado men and women who've shaped both Colorado as well as music world-wide.
The Music Hall of fame has exhibits from some of the biggest locals in the area as well as other history of music in Colorado. You'll find acts such as John Denver, Judy Collins, Earth, Wind, & Fire, Diana Reeves, as well as iconic locations such as the Caribou Ranch (famous for recording some of the biggest acts in music).
The Music Hall of Fame is different from the Red Rocks Performers Hall of Fame which is located in the visitor center of Red Rocks Amphitheatre. You should definitely go visit both! The Red Rocks hall of fame tracks the best performances within the amphitheater itself.
Colorado State Capitol Building
Location: 200 E Colfax Ave, Denver, CO 80203
You can't help but notice the State Capitol in travels through the town. Obviously it's important place in Colorado politics cannot be ignored. Visitors can explore the building both on their own as well as through guided tours. We recommend tours as you'll see so much more.
Opened in 1894, The Colorado State House is one of the most stately buildings in the city. The city was made to be particularly impressive, utilizing some of the best marble in the region to adorn the inside areas of the building. The stained glass was created to represent moments in history from Colorado's important events. And the 15th step of the west steps is noted to be exactly 1 mile above sea-level.
The Capitol welcomes the visitors from 7:30 am to 5:00 pm daily, excluding holidays. Free guided tours are available at 10:00 am, 11:00 am, 12:00 pm, and 1:00 pm, with a limited capacity of 30 people per tour. While self-guided tours are permitted, please note that access to the observation dome requires a guided tour. Tours are closed on Labor Day, Mother Cabrini Day, Veterans Day, Thanksgiving, Black Friday, Christmas (eve/day), New Years (eve/day).
---
Red Rocks Park & Amphitheatre
Address: 18300 W Alameda Pkwy, Morrison, CO 80465
While Red Rocks is most famous for the evening concerts at the Amphitheatre (it's one of the most incredible venues in the US), there is a lot to do both at the theater and outside of concerts.
During the day, the area opens up as a public park, and it's free! If you want to walk something you can see all the folks exercising (some pretty extreme) on the steps of the amphitheater in the mornings. You can even participate or do your own thing if you want!
Beyond that there are several walking trails that traverse the park areas around the theater. These are free, and have both some beautiful scenery and amazing views of the landscape and the city in the distance. We recommend checking out the Trading Post Trail or the Red Rocks Trails if you visit.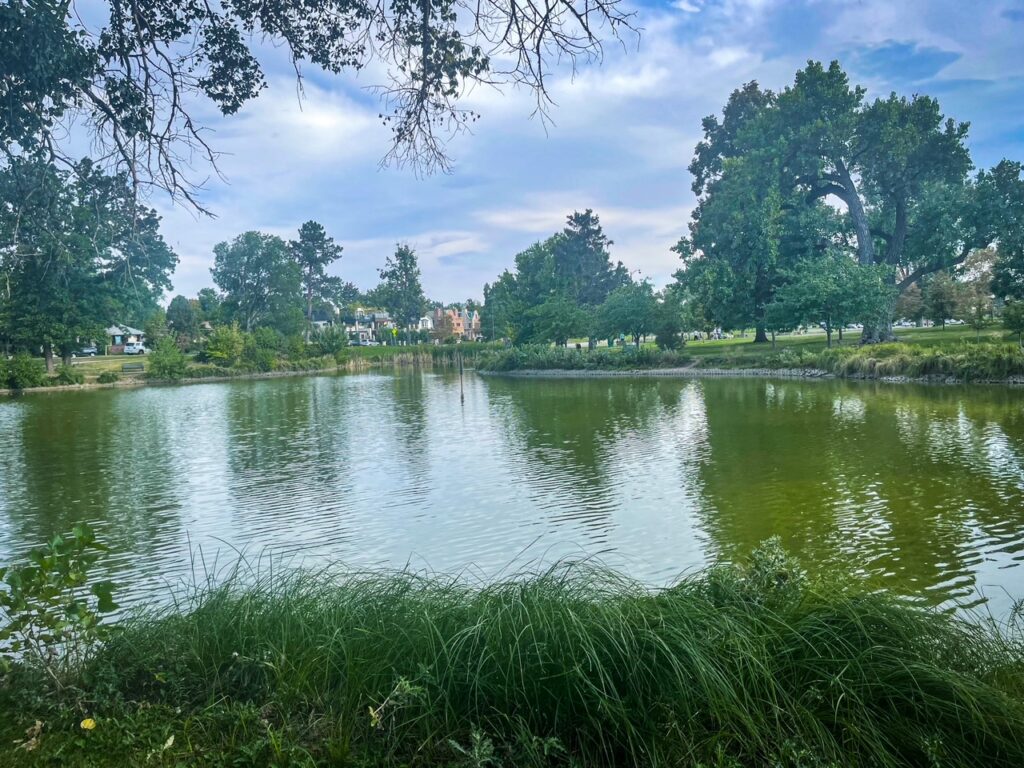 Washington Park
Address: 701 S Franklin St, Denver, CO 80209
The 155 acre park is a perfect meeting spot and place to get out exercise, relax, and just join in with the local Denverites. The park contains several tracks around the park where people can walk, run, and bike as well as two lakes as well. You can even get out of the water and you'll often see folks in boats and paddle boards on the lake. There's even a place to rent within the park as well (although oddly it's been closed a lot).
One of the best parts is there are often activities going on. You can see folks doing lawn bowling on a regular basis in the park and they tend to be super receptive to people coming and trying it out. There's also folks dancing and even lessons there too. So for a fun time grab a coffee or a blanket and have a little picnic in the "wash park" and enjoy your time and experience local Denver.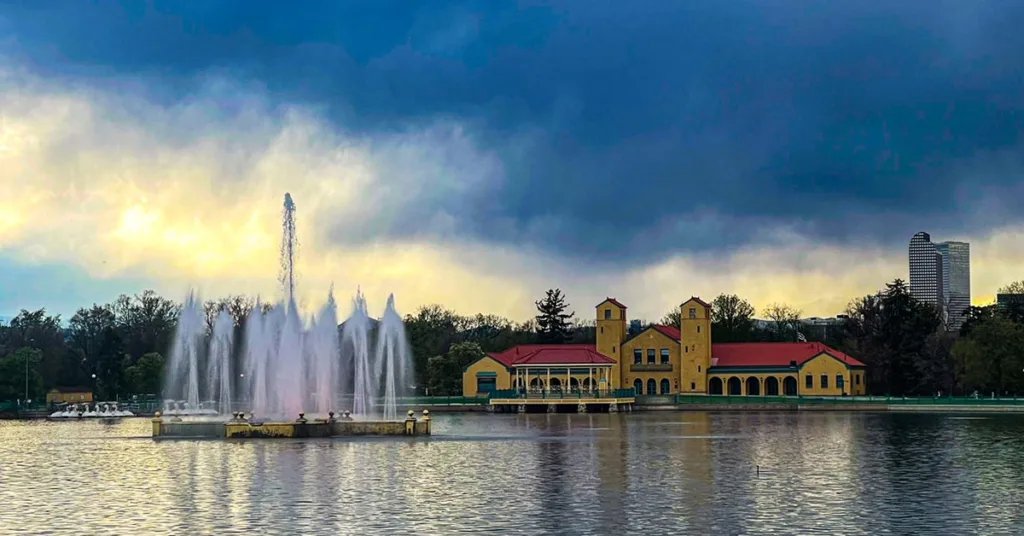 City Park
Address: 2001 Colorado Blvd, Denver, CO 80205
One of the larger parks in Denver and the most centrally located, City Park is a perfect place to explore both some of the other great places in this list (such as the Natural Science Museum and Zoo), as well as get some fun exercise, play games, attend events, and more.
The park has two lakes, quite a few statues and historical markers, tennis courts, boat rentals, walking, running, and bike paths, playgrounds, picnic tables, and lovely fields. The park also has a colored electric fountain that was rededicated in 2008 and provides fun water and light shows to visitors.
There are regular events in the park as well from concerts, art festivals, and more. There are several running races that take place here annually with several 5K races that go through the park including Christmas and Thanksgiving themed ones.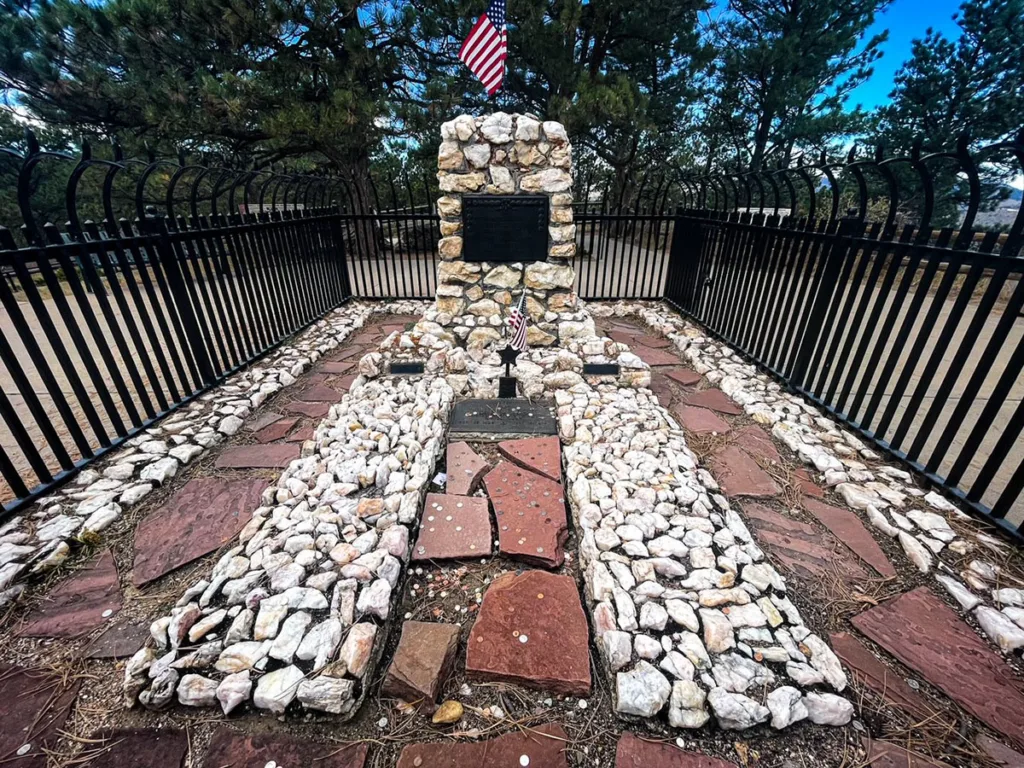 Lookout Mountain
Address: Lookout Mountain Rd, Golden, CO 80401
Located a bit out of town, Lookout Mountain is about 20 minutes outside of downtown Denver. But the mountain is a great place for views over the area, hiking, biking, and more. It also has the graveyard of Buffalo Bill Cody. You can even learn about the controversy of his burial here and whether or not you believe he's here or in Cody WY.
The gravesite and visiting the mountain and trails are free. However, if you want more Buffalo Bill information there is a museum that you can visit for a small fee. But you can certainly still enjoy the site without the museum (If you go to Cody WY you should definitely visit his museum there).
Cherry Creek Trail
Spanning 40 miles from Franktown CO (Southeast of Denver) to Confluence Park (Where Cherry Creek and South Platte River Meet), the Trail is one of the most beloved trails through Denver.
The trail has history that predates Denver, when even pre-settler days, the local Native American populations would use the trail which ran on the east side of the creek. Even during settler days, travelers would take the trail and even various amenities (mile houses) sprang up to provide food and shelter to travelers through the area.
These days the trail is a popular spot for folks to bike, run, and walk through the city. It cuts through many parts of the Denver area including Cherry Creek State, Alamo Placita Park, and close to popular places like Larimer Square, Sculpture Park, and more. You can even witness some of the old history with stops at the 4 Mile House and 17 Mile House, which were old Mile Houses along the trail.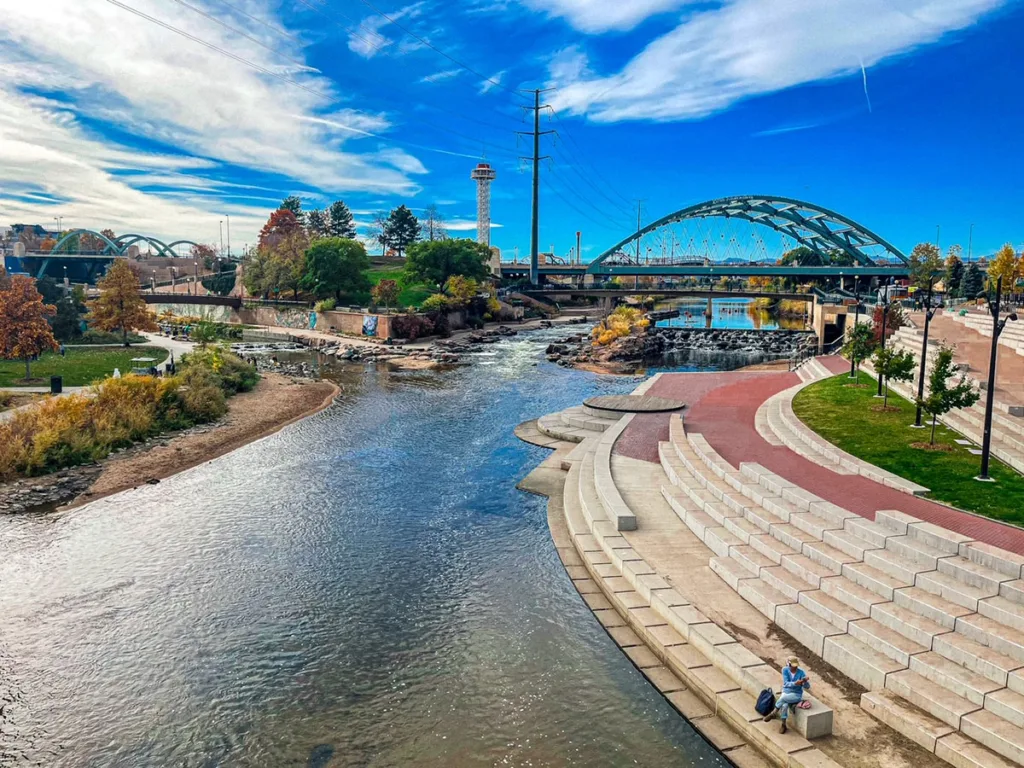 Confluence Park
Address: 2250 15th St, Denver, CO 80202
One of my favorite places in Denver is Confluence Park. Located at the meeting (confluence) of the Platte River and Cherry Creek, the waterway here is one of the most picturesque locations in the city.
You'll often see folks playing in the water with their kids and dogs, and it's a great place to cool down or even just sit and people watch. There's a few small bridges and even greenery areas as well as a nice trail that follows along the river.
For those who want to shop or window shop, there's the REI Denver Flagship Store which is their largest and has an incredible selection of outdoor gear.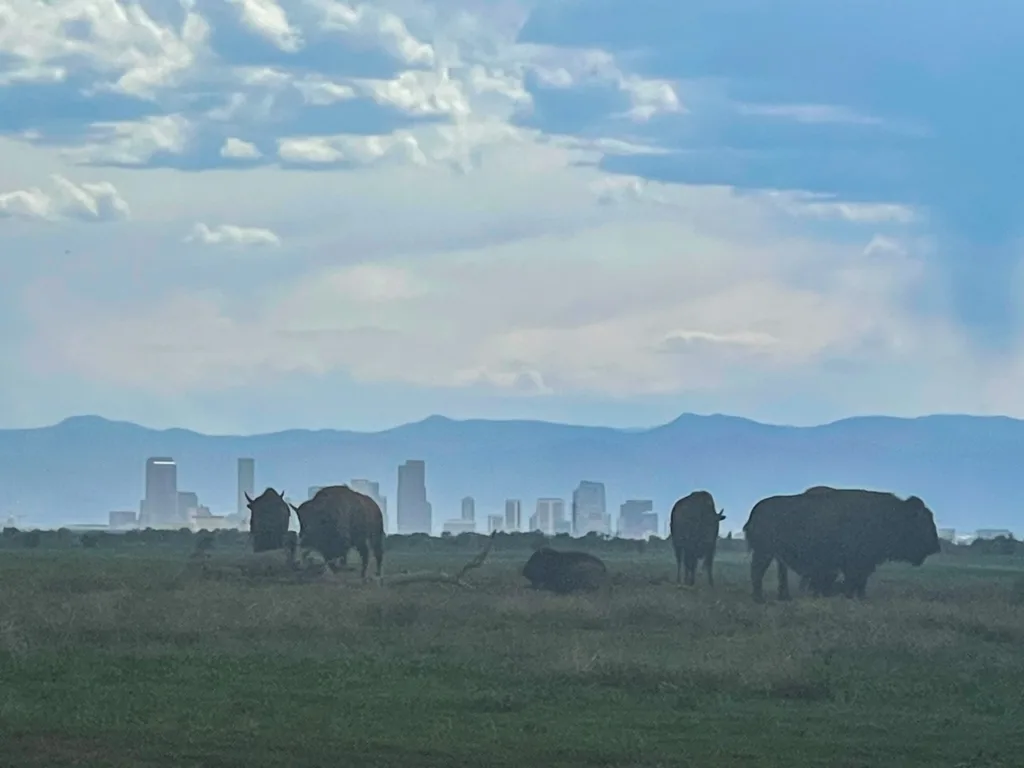 Rocky Mountain Arsenal National Wildlife Refuge
Address: 6550 Gateway Rd, Commerce City, CO 80022
Located 10 miles outside of downtown Denver, Rocky Mountain Arsenal NWR is a former military installation turned into a wildlife refuge. The site contains several old buildings from that time period, but now has several hiking trails, lakes and ponds, and of course the wildlife.
Visitors to the site can explore trails through the park including lake Ladora, Mary, Derby, and others. There are several trails within the park including rattlesnake hill which is the highest point (but really not that high). You can see quite a few animal species including bison, prairie dogs, bald eagles, hawks, coyotes, and more. Seeing Bison with a backdrop of the Denver skyline is an impressive sight.
Most things at the site are free, although fishing and some other activities do require a fee. There is a visitor center that is open Wednesday – Sunday; 9 am – 4 pm. The park is open daily from Sunrise to Sunset.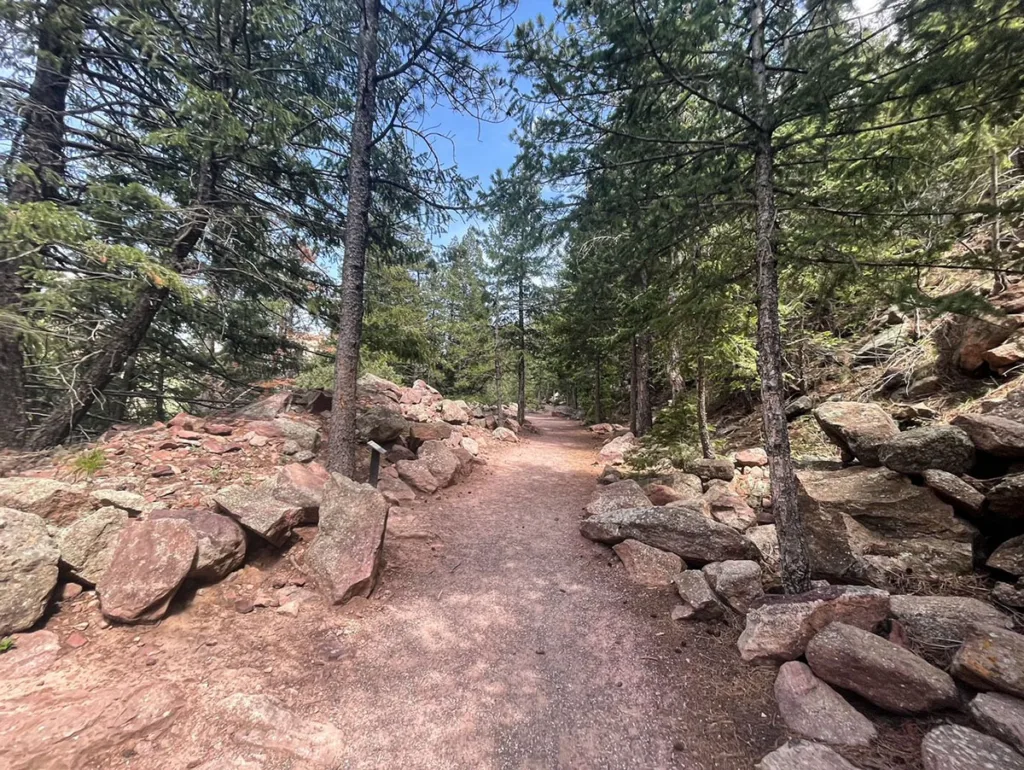 Hiking Near Denver
Address: Multiple
Hiking and Colorado go hand in hand. And there's a lot of free and cheap hiking to do in the area as well. Actually most of the best hiking in the Denver area is free.
There's quite a few great places to check out from. You'll find some amazing places in and around Denver such as Green Mountain (Lakewood), Table Mountain (Golden), Flatirons (Boulder), Deer Creek Canyon (Littleton).
Actually Deer Creek is one of my favorites, having been introduced to it on one of my first business trips to Denver. You'll feel a world away from everywhere, and it's rich in wildlife and amazing views.
Beyond that there are several state parks, many of which are pretty cheap for a day visit and even better if you live locally and have a local state park pass. For busy days one of my favorite Eldorado Canyon has a free shuttle from sites around the area.
---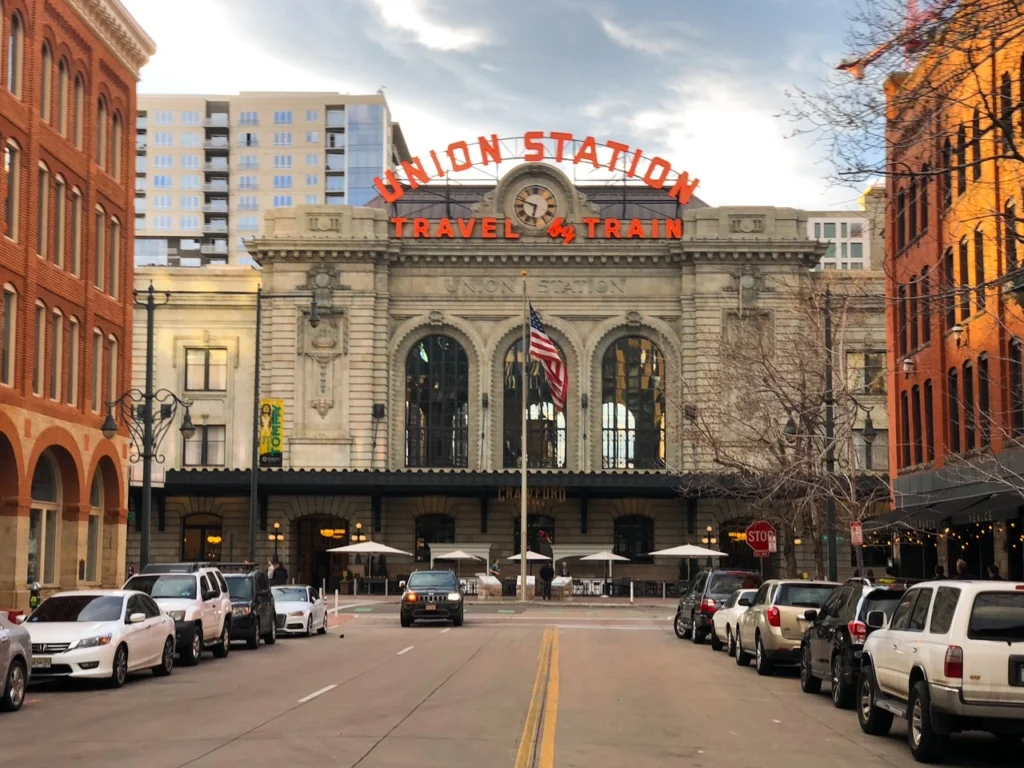 Denver Union Station
Location: 1700 Wewatta St, Denver, CO 80202
I have a special place in my heart for Union Station. The architecture, the lobby, the trains, it's really a coming together of people and it brings up thoughts of old school adventure and travel in the west.

The Station is obviously an important transport hub, with buses, and trains to all parts of the area and across the United States as well. Beyond that the architecture of the station is beautiful. There's also some great restaurants and stores to explore either for those traveling and even for those who are staying in Denver. There's an outpost of Tattered Covers, delis, a Snooze location, and more!
Also they have a good farmers market on weekends, as well as regular activities in and around the station as well.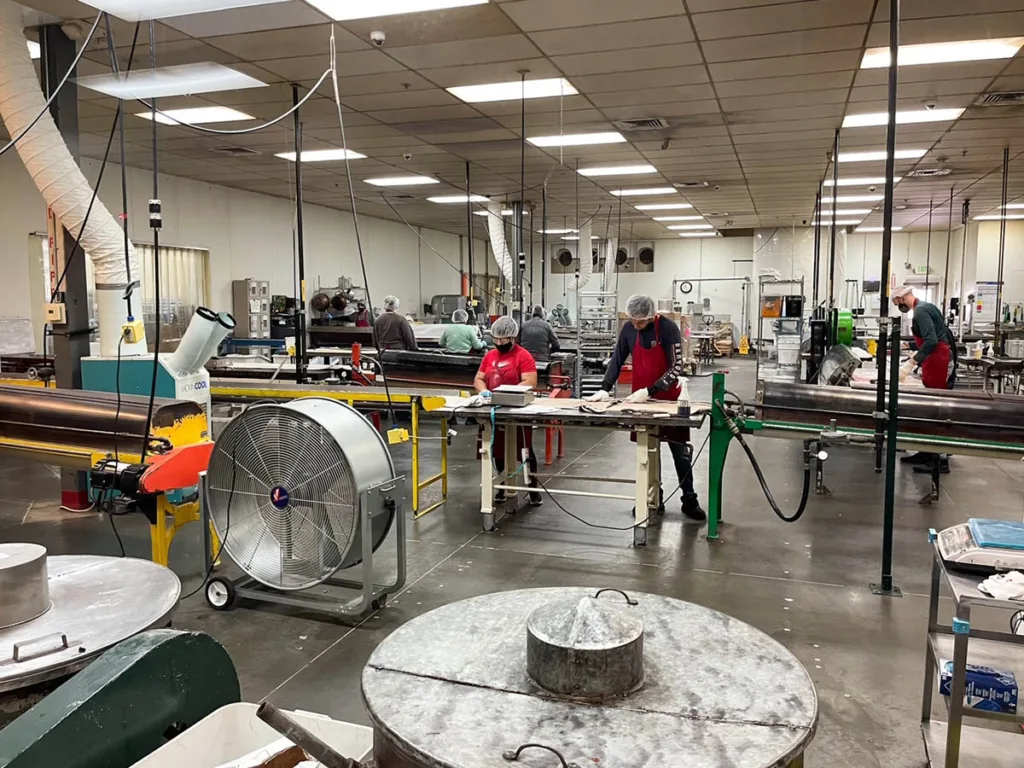 Hammond's Candy Factory Tour
Address: 5735 Washington St, Denver, CO 80216
Founded in 1920, Hammond's Candies has been a mainstay of the Denver industry. The factory has been creating candies the old fashioned way since then as well. You can see them pulling candies along cold tables within the factory as they've been doing since the original recipes. While the factory is no longer owned by the Hammond family the new owners have worked hard to maintain the same process and family ideals.
While they have chocolate it's not what they are famous for (this came much later). They have a large array of different candy types as well as other treats (such as popcorn). Especially their hard candies such as candy canes and lollipops.
The tour is about 30 minutes and free. Although tickets do book fast, we found that tours are not always full so you can always try stopping by as well to see. The tour consists of a 10 minute movie about the history of the factory (and some trivia). Following this you'll be taken to the factory to see what they are making that day (it does switch regularly) as well as another room usually for packaging.
Finally you'll get a small treat of your own as a souvenir from the tour and of course dropped off in the factory store for any additional souvenirs you may want. You can actually find some good deals among the candies here (especially the non-perfect ones).
Food Halls
Address: Multiple
Food halls are one of my favorite places to go. They are fun and generally full of energy. Some of my favorites in the area include Denver Central Market, Stanley Market, and Edgewater. There's generally a fun mix of restaurants and shops in the various food halls.
Beyond that some of the halls will also have various different shows, events, or artwork that passes through. Some of these will be paid, but quite a few are free. Plus if you've got to eat, you can sometimes find some of the best food and deals at the food halls. They even have regular popups. Such as the Zeppelin Station having a regularly changing themed bar.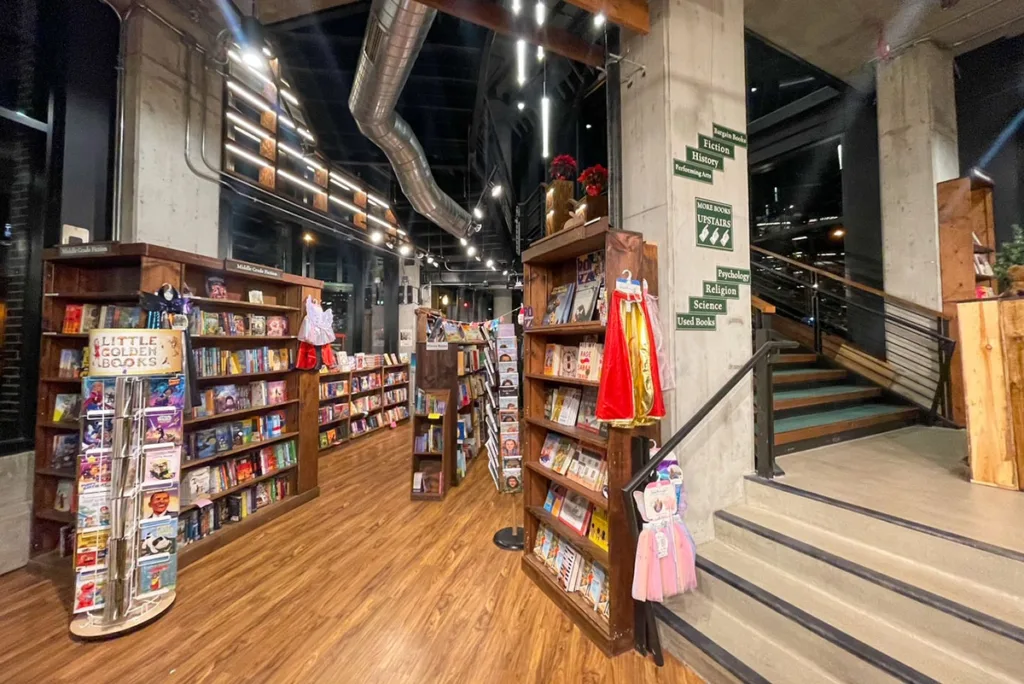 Tattered Cover Book Store
Address: Multiple
Website: Tattered Cover
One of my favorite bookstores around, Tattered Cover has several branches throughout Denver. The largest one is located on Colfax and my favorite, but the one at McGregor Square is a good spot to just relax and browse.
The original bookstore opened in 1971 in Cherry Creek. While that location no longer exists the bookstore has expanded now to cover 6 locations in Denver and one in Colorado Springs. The bookstore has a great selection of new and used books. They also have occasional events, book signings, and other programs.
16th Street Mall
Address: 16st. Denver Colorado
I will have to say this area is not as fun since Covid. However, there is definitely some fun walking around the 16th Street Mall and there's even a free bus that takes you along the area as well.
There are quite a few good restaurants along the pedestrian mall, including both some expensive (such as STK Steakhouse) or cheap (like Liang's Thai) in the area which are great choices to grab food. Also some of the best hotels in the city and even some great shops are located in this part of town.
Regardless, it's an interesting place to wander, and several of the other great free (and non-free) sites are located in this part of town as well.
Night Markets
Address: Multiple
One of the things I recently discovered as new to Denver are the night markets within the city. Held on various schedules, Denver Bazaar hosts several night markets in various parts of the city.
The markets are primarily related to vendors of goods, with some food vendors as well. You can find quite a few goods, crafts, music, and more from local Denver businesses which is a great way to learn what's going on in the city and what businesses are about! It's really a perfect way to support local artisans, many of whom only sell at fairs such as these.
Below is the schedule and location for the various markets.
RiNo Night Market: 2424 Larimer St.
Times: Every Friday: 5pm – 9pm (May 26 – Sept 1)
Lowry Night Market: 7070 E. Lowry Blvd.
Times: 4pm – 8pm (June 15, July 20, Aug. 17)
Platt St. Night Market: 1553 Platte St.
Times: 5pm – 9pm (June 3, July 1, Aug. 5)
Sloan Lake Night Market: 16th Ave & Raleigh St.
Times: 4pm – 8pm (June 10, July 8, Aug. 12)
Farmers Market
Address: Multiple
There are a lot of Farmers Markets all around the Denver area. Most of them are held on Saturday and Sunday although a few do have some weekday options as well (such as Wednesdays for Cherry Creek).
The one thing I love about the farmers markets is the amount of local vendors that you'll come across. They often have pretty good parking too. The one weird aspect of the markets is the low amount of actual produce. I'm not really sure why that is, but it seems to be lacking in this category.
However, there's plenty of good meat, dairy, snacks, food, and other goods to explore and wander and sample and see. I found some great cookies, hummus, chocolate and more through my visits.
Denver Christkindlmarket (Christmas Market)
Address: 101 W 14th Ave, Denver, CO 80204
Held annually in December, the Denver Christmas Market is one of the most popular Christmas traditions in the city. The market comes alive each year in the Civic Center Park not far from the Denver State Capitol and close to the McNichols Civic Center Building.
The market has such a great selection of food, drinks, and gifts for those in your life as well as quite a few christmas decorations. I love all the light up areas to walk through even if I'm not in the mood (or financial mindset) to shop at the stores. They have lots of great Bavarian Christmas traditional items to try such as mulled wine, eggnog, pretzels, and more. I also love just the assortment of Christmas gift ideas you can find among the local vendors.
Beyond that you can also get lots of other fun foods, hot chocolate, coffee, and more. There are tents with bands playing on certain nights that adds to the festive atmosphere. And additionally there's a seasonal skating rink that's free (rentals extra).
The market is generally open annually from mid-November until December 23rd. The market is generally open Sun – Wed. 11am – 7pm and Thur – Sat. 11am – 9pm. The market has been a tradition for over 20 years in Denver and still going strong.
---
Art Walk in RiNo
One of my favorite neighborhoods in the city, RiNo (River North) is one of the hippest parts of the city. The neighborhood, part of the larger Five Points neighborhood, is famous for its copious amount of street art.
Wandering the streets, you'll see some really cool artwork. One of my favorite things is that even though I'm living here, I still find new pieces of art during my walks through town. Some of my favorites include the large rhino which is such a fun homage to the RiNo name. It's a fun way to explore some cool art, cool streets, and also some fun shops and restaurants in the area.
There are even a few folks doing walking tours of the neighborhoods. While I haven't done any, I've overheard a few and they give some great background information on the artwork and artists.
First Fridays Art Walks (Santa Fe & RiNo Arts District)
Held on the first Friday of every month, the various art galleries in on Santa Fe Dr and within RiNo open their doors for visitors to come in and see their work. Many of them have the artists on hand for talks, sales, and demonstrations as well. And even better, a lot of the galleries and areas will have free food and beverages to enjoy.
First Friday Art Walks were originally started in Washington DC and have since expanded to many cities including Denver. It's such a fun way to get out and wander some of these great neighborhoods. Also probably one of the few times the public gets to see many of these galleries. One note is that it tends to be popular so finding parking can be tricky at times.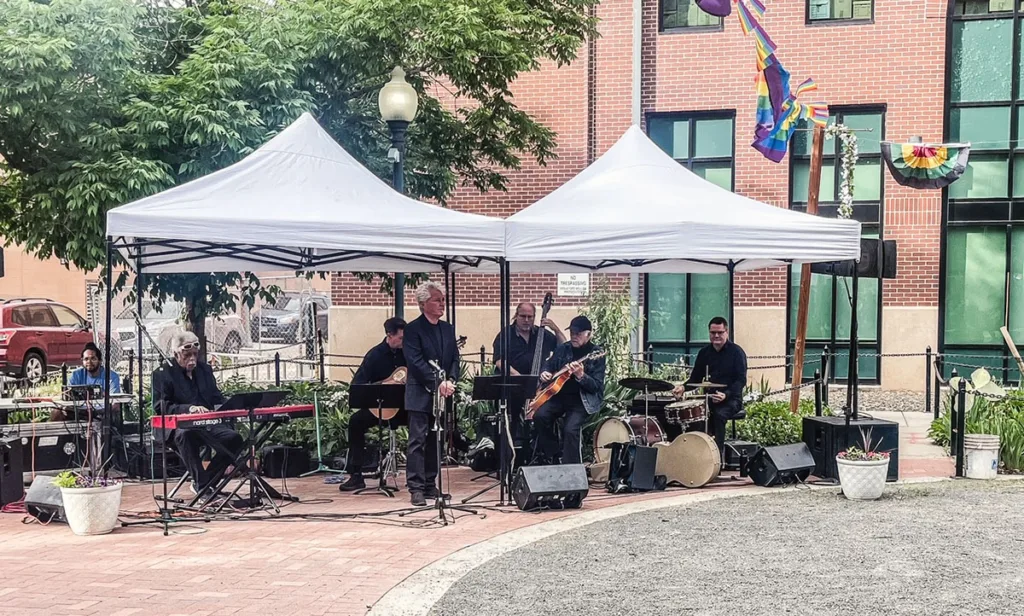 Jazz Concerts
I decided to separate this one out from the various items because I was surprised by how many of these events there are around. Quite a few of the neighborhoods hold jazz related events throughout the summer months in Denver.
Probably the largest is the five points Jazz festival which is held annually in the summer. The concert takes over several blocks of the historic neighborhood which does have a lot of connection to African American settlement in Denver and with lots of jazz history as well. Beyond that this neighborhood has several jazz concerts in parks in the area. Additionally, City Park holds regular jazz concerts in the park held on 10 Sundays throughout the summer.
Free Concerts / Events
Address: Multiple
There seems to always be something going on around Denver. There are often free street festivals, concerts, and more throughout the city. They recently had a Juneteenth concert in my neighborhood which was a fun way to see artists, grab some food, and just wander with fellow locals in the area.
There's also free events with the chalk art festival, park concerts, fringe festivals, and more. Some of the activities have paid parts but there are still most of them with free activities you can explore while wandering and enjoying some time through all these events.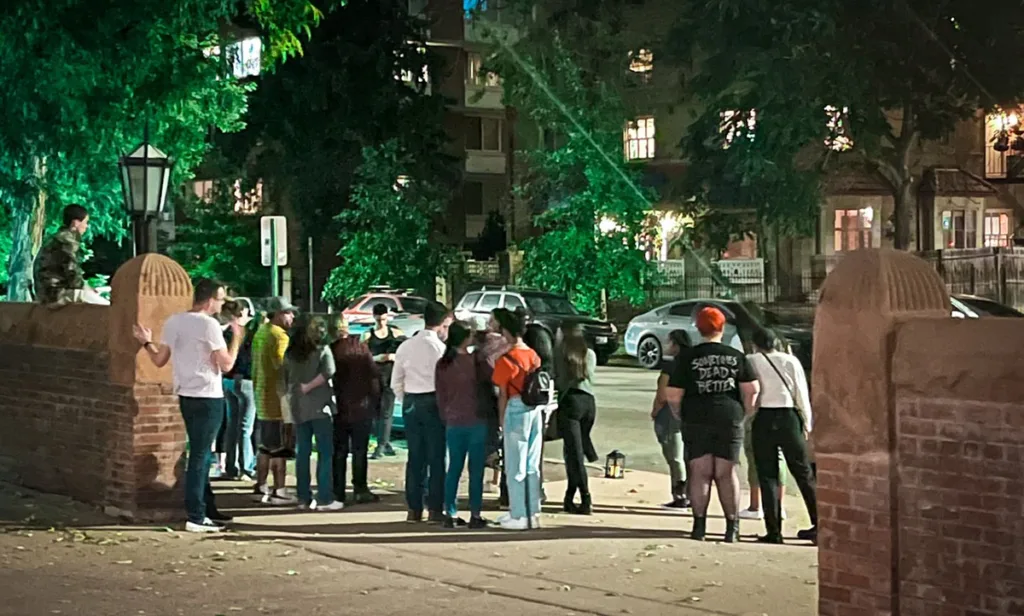 What About Free Walking Tours?
I generally don't recommend free walking tours for ways to save money. Mostly because free walking tours are really not free. In theory you could not tip, but really I would recommend against that. Tipping is the main way that tour guides make money, the expectation is that they'll get paid through tips. This isn't inherently a bad thing, but it creates a weird dynamic between the guide and visitor.
And at the end of the day, guides should get paid. It's a job, and the best ones are really good at their job. I recommend checking out many of the great tours that do crisscross the city from ghost tours, to street art, food tours, and more. I really enjoyed some of those I took, but they were always paid and I think better for it.
Other Posts You May Like