You know if there is one thing I cannot live without whether I'm home or away is coffee. Yes the illustrious "wine of the arabs" that has alerted people's minds over the centuries.
Now if you are serious about your coffee as I or we are here, you know that the best way to preserve it's freshness is to grind your own coffee. So we love to do that ourselves and in doing so looked to find the best burr coffee grinder around.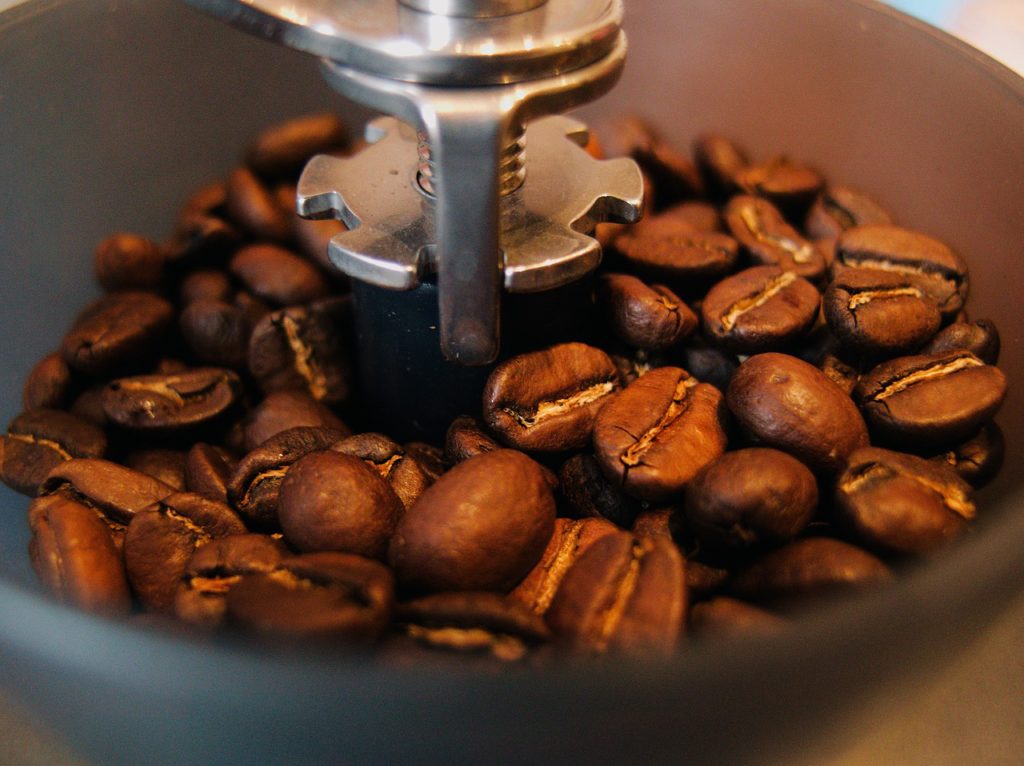 * * * * *
Quick Buyer's Guide
* * * * *
Why a Burr Coffee Grinder?
The regular blade coffee grinders in my opinion are just too messy and too inconsistent in getting a good grind. You want uniform sizes of your grounds to get the best possible coffee as well as control over the ground size depending on the cup you are trying to make.
No that is very true. You need a different size depending on whether say you are making Turkish Coffee or a drip coffee blend. Burr grinders can do this a lot more consistently then the old spinning blade style (and with a lot less mess in my opinion). You can also use your burr grinder for a grinding other spices as well.
Why Grind your Coffee?
There are a lot of things you can do probably to make your coffee better. But one of the best and probably simplest changes is to grind your own coffee. Coffee can last months in bean form (even roasted) but it tends to go stale within days or weeks if its already ground. Sure you can get air tight bags and other such methods but they are only really band-aids to the real problem.
Conical Burr Grinder vs. Flat Burr Grinder
There's a lot of discussion here in terms of whether you want to get a Conical Burr Grinder vs. a Flat Burr Grinder. The first thing you'll notice is that conical burr grinders tend to be pricier. You will usually only find these in the higher end models and for good reason. They do a more consistent grind and can run at a higher variety of speeds to get the grinds you want (often imparting less heat into the beans).
The lower ends grinders tend to use a flat grinder. And even here there is a lot of differences. You'll notice that some are a bit more flat and tend to break the bean while others do more cutting. A high quality espresso grinder tends to do more cutting here and produce a more consistent and fine grind quality.
A lot of the quality in your grind will come from the type of grinder you get.
Criteria
I think as with anything it is important to understand, what to look for in any device you are evaluating. And so we here do the same with any of our reviews.
Grinder Size
Honestly you generally don't need or want something too big in terms of grinder device size. You want to grind coffee as close to brew time as possible and if you are single or even a family you really don't need something very large. You may need to grind something a few batches for a large pot however for some of the smaller grinders. It depends how much of a hassle this will be for you in your coffee brewing needs. If you are brewing for an office, you might want something bigger and easier to manage.
Control over grounds
Ground size matters a lot here. You want slightly more coarse grounds if you want to use a french press for your coffee. You don't necessarily want it very very coarse but it will be far more coarse than say something that is used in an espresso machine. Turkish coffee uses very fine grounds, and the more control you have here the better the options and coffee will be for your preparation preferences
Manual Burr Grinder vs. Automatic Burr Grinder
Why would anyone go with a manual burr grinder when automatic burr grinders exist? Easy, the manual ones are definitely easier for travel and smaller and more compact. I do love a good manual grinder in my bag if I want to make coffee in a hostel or in a AirBnB when I'm traveling. Automatics are almost always less portable and often so many of them don't convert between voltages (come-on companies, why is this still a problem!?). The other downside of manual burr grinders beyond just a bit of elbow grease is that its harder to get consistent ground sizes with a manual vs. an automatic burr grinder.
Cost
As with anything cost is always a factor. However more expensive does not always mean better. We look at trying to find the best value for the cost. We look especially for features that add value to the cost and not just make the machine more expensive.
* * * * *
Burr Coffee Grinder Reviews
We scoured the internet, stores, our friends, coffee experts to help figure out the best burr coffee grinders around. We mostly looked for ones that you would probably want in your home or in your bag for on the go.
The Krups GX5000 burr grinder is definitely one of the most popular out there. Especially given the price compared to the features it is easy to see why it is one of the most bought burr grinders out there. But is it worth it? Overall I think for the price it is a good investment. It is definitely not the best and especially not the higher build quality (plastic compared to metal in other grinders). It has 9 different settings which to me was good until you realize that its not as big of a difference in a few of the grounds as the setting may indicate.
Features
9 grind levels
Weight: 3.2 lbs
Plastic Casing
2-12 cup grinding option
Disc burr grinding
Pros
A reasonable size for home or office use
Good quality grinding of various different coarseness
Lighter than other similar options
Cons
Not compact for travel
Plastic casing
120V only (Not for international use)
Not as well built as other options
Overall Score: 4 / 5
Check Prices and Availability on Amazon
* * * * *
Cuisinart is one of those brands that I generally trust among a lot of the home good brands and the DBM-8 is no exception. Overall its a great option for a burr grinder and one of the most popular ones out there too (for good reasons). It has about as many options for grinding and as much space as you probably would need. It is definitely bigger than I would like myself (especially living in a small city apartment) but it can work for you depending on your home.
Features
Grind enough coffee to make 4-18 cups
18 grind selector – from ultra-fine to extra-coarse
Grounded coffee chamber holds up to 32 cups
scoop/cleaning brush
Stainless steel construction
Disc burr grinding
Pros
Stainless steel construction
Large hopper / grind chamber
18 position grind selector
Cons
A lot of the positions are nearly identical
Not portable
Not 220V
Overall Score: 4.2 / 5
Check Prices and Availability on Amazon
* * * * *
For those who really love their coffee. I was a bit amazed at how lovely this thing was. However you know for someone like me who loves there coffee, I still find the idea of spending a couple hundred on a grinder a bit crazy. However you might think differently. The only nice thing is, you can expect this one to last the long haul. It is also a conical grinder as opposed to the cheaper disc based grinders.
Features
Built in timer for grinding
40 grind settings
5 oz – ground bin capacity
8 oz – coffee hopper
Conical Grinder
Pros
Stainless steel construction
High quality construction
40 Grind Settings
Cons
Price
Smaller hopper / chamber than expected
Not 220V
Overall Score: 4.5 / 5
Check Prices and Availability on Amazon
* * * * *
What would a travel blog be if it didn't also review manual burr coffee grinders. I love the little JavaPresse one and I keep one with me on a lot of my trips. Why? Well I tend to be in a lot of hotels and AirBnBs on my trips and often you'll have a coffee machine handy. I love the quality of the construction and the size and the fact that I can use it anywhere. However it is a bit pricier compared to other hand grinders, but I feel the quality is definitely pretty good for the price.
Features
18 grind settings
Manual Grinder
Ceramic burr parts
Conical Grinder
2-3 cup size
Pros
Stainless steel construction
High quality construction
18 Grind Settings
Cons
Not cheap
harder to get consistent grounds than automatic grinders
Overall Score: 4.4 / 5
Check Prices and Availability on Amazon
* * * * *
We figured we needed to look at more than just the 1 manual burr coffee grinder when we saw the hensen. Overall it is very similar to the JavaPresse in terms of features, but it has a plastic build instead of a stainless steel build (which contributes to its lower price). It is definitely easy and small to travel with. We like the clear feature of the model to see what's inside. Beyond this, it isn't that much different than the JavaPresse. So if you want a manual grinder, this could be an option for you as well.
Features
18 grind settings
Manual Grinder
Ceramic burr parts
Plastic Casing
Conical Grinder
2-3 cup size
Pros
High quality construction
18 Grind Settings
Cons
Plastic construction
harder to get consistent grounds than automatic grinders
Overall Score: 4 / 5
Check Prices and Availability on Amazon
* * * * *
We loved the Capresso Infinity Conical Burr Grinder.  Easily one of the better options in its price point. It has a good quality burr grinder with a lot of settings (or at least as many as are practical anyway). We don't like the plastic construction but knew they had to cut areas to keep the price as competitive as it is. For this price point it is really hard to beat this one. We had to struggle to find cons here.
Features
16 grind settings
Hopper: 8-1/2 oz
Ground Bin: 4 oz
Built in Timer
Pros
16 Grind Settings
Solid conical steel burrs
Good for the price
Cons
Not as easy to clean as some others
Plastic Construction
Overall Score:  4.6 / 5
Check Prices and Availability on Amazon
* * * * *
I generally do like most OXO products and I wanted to love this grinder. And while it was good, it wasn't great in my opinion. The price is definitely in the higher end and you'd expect full metal and perfect operation, but it seems to miss the mark a bit here. It certainly in my opinion is not worth the higher price just for an integrated scale either (although that is handy). The grinder can tend to throw some grounds during operation which is a bit messier than I'd like and the static shock from the plastic is a pain (but that's a problem with a lot of plastic grinders anyway). Just would expect a bit more for something this expensive
Features
Integrated Scale
38 Grind Settings
Hopper: 16 oz
Ground Bin: 125 grams
Stainless Steel Burrs
Pros
38 Grind Settings
Solid conical steel burrs
Integrated Scale
Cons
Price
A bit bigger than I expected
Can leak grounds
Overall Score:  3.8 / 5
Check Prices and Availability on Amazon
* * * * *
Best Travel Burr Coffee Grinder
Finding the best Travel Burr Grinder is probably the hardest category to judge for but one of the most important for our readers. In our opinion our favorite was the JavaPresse Manual Burr Coffee Grinder. Too many of the automatics are big and don't convert voltages (which is a travel deal-breaker for me). I love how compact and how easy it is to clean and carry along with me. The parts seem to be high quality and its not that difficult to get a few decent cups out of it. Along with an Aeropress or another French Press, you can have quality coffee anywhere you go.
Check Prices and Availability on Amazon
* * * * *
Best Home Burr Coffee Grinder
This was definitely the hardest for us to think of a winner here. So many of them are just really good. You know we didn't want to just go with the most expensive or the "best" because it was the priciest or had the most features. For most people that we asked, they preferred the Capresse 560.04 over the other ones? Why mostly because it produced a good consistent ground at a good price. Its hard to find a better burr grinder without having to go to a much more expensive model here.
Check Prices and Availability on Amazon
* * * * *
Do you have any other ones you like or want us to review? Drop us a line and let us know!