Warning…Use of Deadly Force Authorized…
It's Classified…
Or at least it used to be. These Minuteman Missiles, numbering over 1,000 were placed in silos all across the Midwest. Always on Alert, Always manned 24 hours a day 7 days a week.
You may have mixed feelings about these sentinels standing watch. For sure the people who's land and lived in the area loved and hated them equally. Sometimes at the same time. Minuteman Missile National Historic Site traces history and the sentiment on the sites.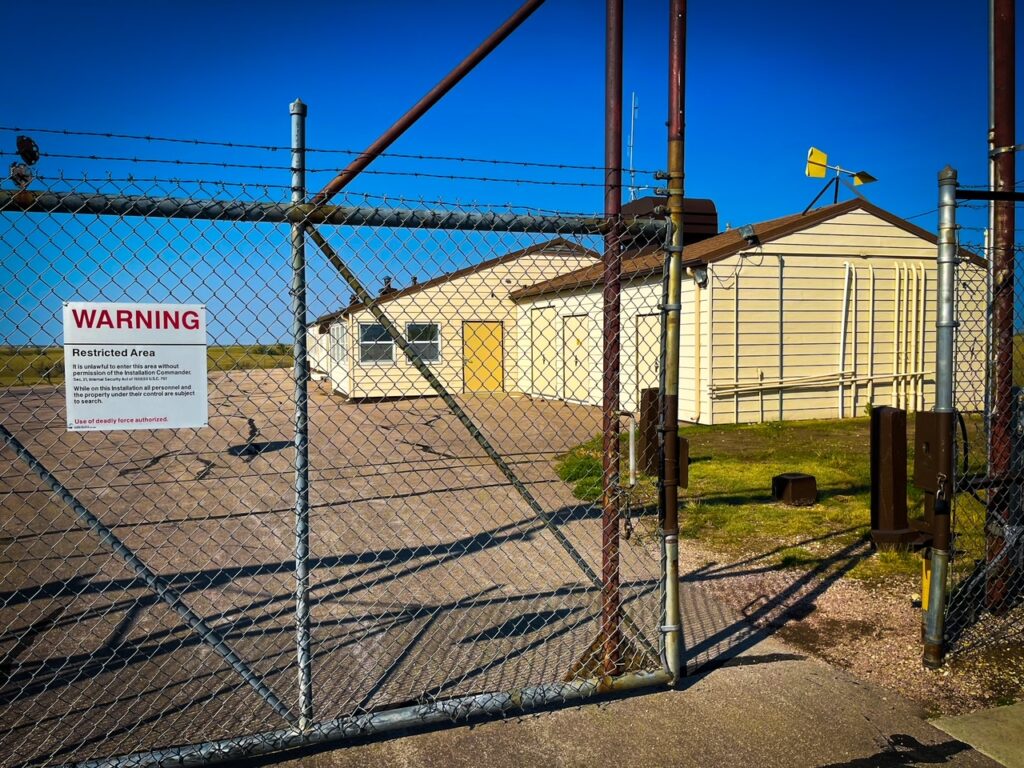 History of the Site
Following the Manhattan project and of course the end of World War II, tensions between the US,UK and the Soviets began to heighten. The US continued to work on their Nuclear Bomb programs and the Soviets worked in earnest to improve there.
Through lots of spying and other works, the Soviets managed to also develop a nuclear bomb, and the race was on between the various super powers. Their continued to improve and build their arsenals as they fought and tried to gain influence in various parts of the world. There was this plan of "mutually assured" destruction which caused both sides to continue to stockpile weapons.
There is this concept of the Nuclear Triad, which consists of land-launched nuclear missiles, nuclear-missile-armed submarines, and strategic aircraft with nuclear bombs and missiles. These land-based Missiles were one of those three "prongs". At it's peak over 1,000 of these missiles dotted the Midwest landscape, ready to launch, and capable of striking anywhere within 30minutes.
Scarily there were several close calls over history, such as a mistaken "test tape" used in NORAD, or Submariner not launching on orders that almost caused the world to end. These moments are frightening and tragic for the whole planet.
Through various treaties for nuclear non-proliferation many of these missiles and sites have been decommissioned. This Delta Facility is one of those decommissioned sites. There are still hundreds, both standing watch as well as concerning if a mistake may lead to a potentially nuclear end.
Places to Visit
Exhibits and Movie
Located within the Visitor Center. This should be your first stop on your visit to the Minuteman Missile National Historic Site. The exhibits are really interesting and focus a lot on the missiles and the cold war. This is really where the facility came about, during the cold war tensions between the Soviets and Americans. If anyone is old enough to recall the cold war, I'm sure you remember the true concern of Nuclear War. Something that certainly has risen more lately as well.
Delta-01 Launch Control Facility
A small building hidden generally away but also within plain site. These facilities were where the Missileers and support personnel would stay during their watch duties. They had bunch, kitchen, various entertainment facilities as well as the alert site buried underground. There were always 8 enlisted personnel topside and 2 officers underground. The topside folks work 3 days on and 3 days off and the folks in the alert capsules (always officers) work 24hrs shifts.
Delta-09 Missile Launch Site
Unlike the Peacekeepers where the missiles need to be co-located, Minuteman missiles could be located miles away from the launch center. There were about 150 of these missiles spread across South Dakota during the height of the cold war. During operation this site contained a live missile always ready to launch at a moment's notice. Visiting here gives a rare glimpse into a missile launch silo that until recently was live.
Delta-01 Tours
As of September 13, 2021, Delta-01 Tours are currently on Hiatus. This is due to ongoing renovations. Currently there is no posted date for tour resumption. I'll try to update once more information is known.
While anyone can go and look at see the outside of the facility (and you should regardless). For those who want to get a more in-depth look, tours are available to explore the facility itself.
The tours take visitors through the topside as well as the underground alert facility. Visitors will see where personnel lived, worked, and ate during their shifts at the Delta-01 Facility.
Note: Everything in the facility is considered historic. (Apparently even the trash). So you must take caution not to touch or disturb anything.
For visiting: Since it's an Airforce facility, it really it's not the best in terms of ADA accessible. These were designed for war and not the general public. Therefore there are requirements for visitors in terms of physical needs:
Be physically capable of climbing two 15 foot ladders unassisted. (in case of Elevator Failure)
Children must be at least 40" tall, six years of age, and be able to climb the ladder unassisted.
Children must be Accompanied by an Adult
Be comfortable in a small elevator in close proximity to six other adults.
Be comfortable with heights (The Elevator is an open Grate)
Tour Tickets
Tours are limited to 6 people. The area in the facility is really small (it was meant mostly for 2 officers), therefore they cannot accommodate more folks. Tours do fill up ahead of time, especially during summer months. It is necessary to book a ticket ahead of time.
Tour Fees
$12.00 – Adult age 17 & over
$8.00 – Youth ages 6-16 All youth must be accompanied by an adult.
Booking Options
Tours can be booked either by calling 605-717-7629 or online at the NP Reservation Site.
I highly recommend booking online. Tickets can be booked from 90days ahead up until 24 hrs. before.
If You Cannot Book a Delta-01 Tour
Visiting the Delta-01 Facility was certainly the highlight of the visit to Minuteman Missile NHS. So not being able to go in is tough. So there might be other things you can do.
If you'll be at the Minuteman Missile NHS anyway. It can't hurt to ask Rangers if anyone canceled. It does happen.
I would check by the Delta-01 Facility (you should stop and see it regardless). You might get lucky and someone may have canceled. This actually is how I was able to get to visit the site.
Those two are certainly longshots. Although it does happen as it was how I was able to visit the site w/o a ticket.
Other Options:
Visit the nearby South Dakota Air and Space Museum at Ellsworth Air Force Base in Rapid City. They have info on Minuteman's history and a launch control simulator identical to the equipment at Minuteman Missile NHS. Also the nearby Airpark displays a Minuteman Missile.
If you are heading to Wyoming, Visit the Quebec-01 Peacekeeper Museum/Facility. It is not exactly the same as the Minuteman but it'll give you a similar view into these types of sites. And it's far less visited (and easier to get tickets same-day). Price is $8 Adults | $7 Military | $4 Children (12-17) | Under 12 Free
What's it Like to Visit?
Regardless of what your feelings are on Nuclear weapons, the cold war, missiles, etc. The site is a very interesting and important historical site. These places did and still do exist and it is interesting to learn what they are and not are.
I was also lucky in that the tour I was on, we had folks who were actual Missileers who lived in another nearby state. So they actually work in facilities such as these. That insight was also really cool as well.
Seeing the boredom of the daily life of these folks is interesting. Lots of board games, cards, watching TV. Kitchen facilities.
The newer sites have had some upgrades from now, but they often had a cruddy television to watch to wile away many hours in these sites. Many folks, especially the officers worked on advanced degrees while they sat for their hours in the capsules below. Locked in awaiting the end of their shifts. I have a friend who worked in a similar facility who worked on his Master's during his years there.
I tired to read the signatures of the Missileers who worked in the Alert Facility below and some that signed the elevator shaft. It is interesting, the areas are so cramped and really are built for one purpose, but even some of the Military humor and trying to make the most of the space.
I'm really glad I was able to actually go below since I had basically planned nothing to go. And having the best tour in the world by having folks who work in these places actually on my tour as well. I hope if you manage to go you get something similar.
Basic Information
Address
224545 Cottonwood Road Philip, SD 57567
Visitor Center
Address: 24545 Cottonwood Road Philip, SD 57567
The Minuteman Missile NHS Visitor Center has information on the site, information about booking tours, exhibits on the cold war, the missile sites, as well as a movie. If you plan to visit the site, you need to reserve ahead of time below. You won't find day-of tickets likely.
Hours: Open Wednesday – Friday 8:00 am – 4:00 pm
Closed: New Year's Day, MLK Day, President's Day, Memorial Day, Independence Day, Labor Day, Columbus Day, Thanksgiving, Christmas
Currently Tours are on Hiatus. Otherwise book via NP Reservation Site.
National Park Passport Stamp
There is one location for passport stamps at Minuteman Missile National Historic Site at the main visitor center. You cannot get the stamp at Delta-01 or other sites.
Travel Logistics
The Visitor Center is located right off Exit 131 on I-90 on Cottonwood Road
Delta-01 is located about 4.5 miles from the Visitor Center. The fastest way is to take I-90 to Exit 127
Delta -09 is located about 12 miles from Delta-01 or 15miles from the Visitor Center. Take I-90 to Exit 116
Not all of the roads and accesses to the sites are paved. Although the roads are fine for any vehicle. Please be sure to park in designated areas and to close gates as you go through.
Other Posts You May Find Interesting