Bahir Dar…the cute little town on the southern shores of Lake Tana. It was meant to be my first real destination in Ethiopia after having spent but only a few hours running errands in Addis Ababa
Like most people I came here mostly to see the Blue Nile Falls and the Monasteries on/around the lake. Ok actually I didn't know why I really came here, having only planned my travels a few days prior, I mostly came to meet up with a friend and sort of tag along with another's itinerary.
Regardless I think that is the reason most come anyway.
* * * * *
The first thing we noticed that as soon as we checked in the night before a local person was already on top of us trying to sell us a tour of both of these places. His price was absurd hovering around $320 USD for the two of us. Which is quite a small fortune for this place. He didn't want to take no and he also thought we were pretty stupid as well.
He even found me the next morning, coming to my room early in the day. I thought it was my friend when I announced to come in and was rather annoyed to find he showed back up. Seriously you can't try to scam me and then be upset when I don't want to hire you. The gall of some people!
The town itself is fairly navigable and rather small. Our hotel was near the water as well which made for easy access to various places. So we opted to just take our chances look around and book something ourselves. It seemed people were happy to quote similarly ridiculous prices. We did eventually find someone who we were able to negotiate down to about 100 USD for the two of us. Which is far more reasonable surely.
Blue Nile Falls
The falls are one of the best known attractions in Ethiopia and one that many visitors to Bahir Dar arrive to see. During the dry season however they can be nothing more than a trickle due to the hydropower plant upstream. Although it seems recently due to the state of emergency and issues with the plant the falls were far closer to their full power. As our tour guide explained "Bad for Ethiopia but good for tourists". It's hard to know whether to be happy or not about such a situation.
The way to the falls was among the worst roads I have traveled on. You could even see at points areas that they were digging up, in what I assume was the process to actually make it better. Although they seemed a long way until that.
This was also a view of the more rural and less wealthy areas of the Ethiopia I have yet to see. Granted I just arrived in the country but seeing these small villages along the path was my first sight of a village here.
We also noticed at one point several trucks full of soldiers, our first sight of military personnel during this trip and the first notification that this place was under a state of emergency. In general our interaction with security personnel was minimal and certainly far less than I've seen in some nearby countries I have visited. Perhaps at least now the situation has reduced in intensity.
There were two paths to the falls. One by hiking and another by boat. And for many people you can easily navigate both and a good tour guide will allow you the chance to do both too it seems. We opted for hiking out and then taking the boat back which seemed to be the best option.
The hike to the falls was gorgeous and not difficult at all actually. This is good for those who may be looking for a more leisurely walk to some of the destinations. On the walk you do see quite a lot of locals as well going through various daily business things (whether out with livestock or trying to sell you goods). This was also our first real view of the landscape and nature in Ethiopia and it didn't disappoint at all.
The falls themselves did not disappoint. They were roaring and far more than I was lead to believe they would be by other travelers through Ethiopia. During the dry season as I previously stated they can often be reduced to a small trickle and these were definitely not a small trickle. The area around it though was really muddy in fact and my shoes and clothing were not set up for such types of hiking so I kept my distance a bit. I'm not afraid of mud perhaps but I certainly did not want to travel the next few weeks with all my stuff caked in mud!
The last aspect of the travels revolved around the water and a boat towards the falls. You could see we were not the only people taking boats here and it seemed the locals also used boats to cross the water here as well. I couldn't figure out if these were school age children on the way to or from school for the day.  Being out on the water was rather lovely though. A bit murky but rather quiet and serene.
Lake Tana and Monasteries
There are about a dozen monasteries on the Lake Tana on the shores and islands and only the most diehard of fans will decide to try to visit them all. Realistically after about 2 or 3 you probably have seen as much as you really want to see. But don't get me wrong they are impressive and its worth visiting for sure. Especially being out there on the lake and the water.
One of the other main things to do that we did was see the beginning of the blue Nile, where the waters of Lake Tana depart. The other highlight of this area is that it is a popular spot to see hippopotami which is something I had been dying to do.
Thankfully our trip did not disappoint and one of them did make a short appearance.
As much as I wish I was closer to get a better shot, it was probably also safer to be further away. Granted we were probably safe in our boat but hippos certainly did not get their reputation for being friendly! Even if it was unlikely I would find myself between him and water.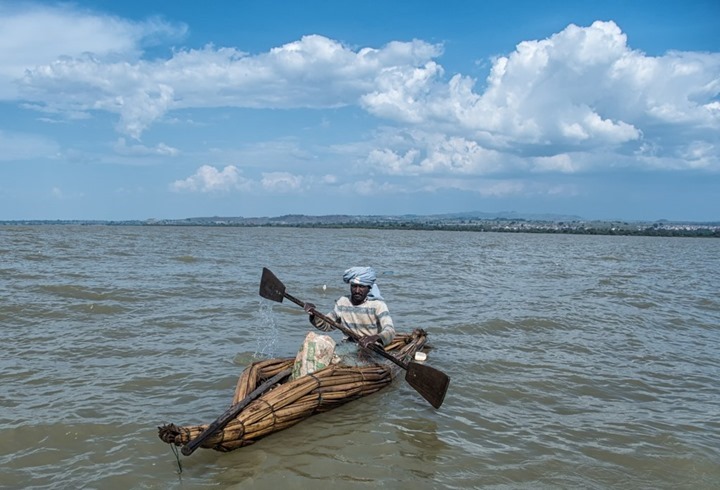 We also were not the only boats on the water. There were these incredible canoes that we saw folks paddling around within the lake. Our guide even mentioned that they were study enough that they could even carry livestock along with them. Nearly unsinkable they described them!
We ended up seeing a couple of the monasteries. You do realize that they start to look fairly similar the more that you end up seeing. One of the monasteries seemed to have a service going on while we were there. One of the things you'll notice in Ethiopia is that many of the churches and monasteries have regular services, sometimes multiples per day.
There was a large group of locals gathering in the hall all listening intently to the priest giving his sermon. Sadly our knowledge of Amharic precluded us from learning much of what was going on, but we were still warmly welcomed to sit and listen.
The people at the monasteries were generally rather friendly and helpful in terms of things to see and showing around the places. They were obviously very proud of their heritage and places and loved to show it off to visitors. It especially helped if you had a tour guide though who could show you the area as well as facilitate and show you what gifts each of the monasteries held. Although this guy seemed to really just want to smile at the friend I was with. I was strangely starting to get used to being seen as a bit invisible (I didn't stand out as much as the normal tourist, oddly some people thought I could have been Ethiopian).
Practical Information
Getting to Bahir Dar is fairly straightforward from some of the nearby cities such as Gondar where it is easily accessible by road. You can also fly here from many of the major cities although a lot of the flights will require you to change in Addis (we flew here from Addis). Internal flights are reasonable if you arrived in Ethiopia internationally via Ethiopian Airlines.
If you are looking for a place to stay we ended up at the Rahnile Hotel. Overall it was a good hotel and a great location. Centrally located and easy distance to the water and other restaurants nearby. They included mosquito nets which was highly necessary with the amount of mosquitos here due to the lake nearby.
There are a couple good places to eat locally in Bahir Dar as well. One of our surprising favorites was Wawi Pizza which is located downtown and up a precarious staircase. They have quite good pizza and some good local dishes too. Try the local fish, it was delicious.
Prices depend a lot on the number of people who are booked with the boats and vans to the various attractions. You should negotiate as you can expect them to overcharge you significantly if you let them. For the two things we found reasonable prices seemed to hover between 800 – 1100 Birr (about 40-50USD). Expect them to quote you prices in USD but you'd do yourself better if you can get them to quote you in local birr.
You can get them to include the prices of admission for the various sites but don't. They will seriously overcharge you for that convenience as most of the prices are 100 – 200 birr (they tagged on nearly an extra 100 or more USD for this "benefit").
You also don't need tour guides for the monasteries if you don't want them no matter what they insist. You might want one however especially to see some of the additional treasures the monastery may have.
You'll probably be just fine with a half day tour of the monasteries unless you really want to see a lot of them or you want to see some of the further away ones. I think a half day was just fine and doing the falls in the morning and the monasteries in the afternoon worked very well for us. Although be sure to note that later in the day the waters of the lake are choppier if that would be difficult for you.