My first trip to Naples I hated, back over a decade or so ago. However, the city and region grew on me and I do really love the area now.
And while I love spending time exploring and eating my way around Naples, there's SO MUCH to do in the region. You'd be doing yourself a disservice to not explore and do some great trips if you are in town.
So here we help you break down some wonderful day trips from Naples in the region. Some are even great as overnights. If you have extra time, we recommend a spot to stay in town if you are there longer.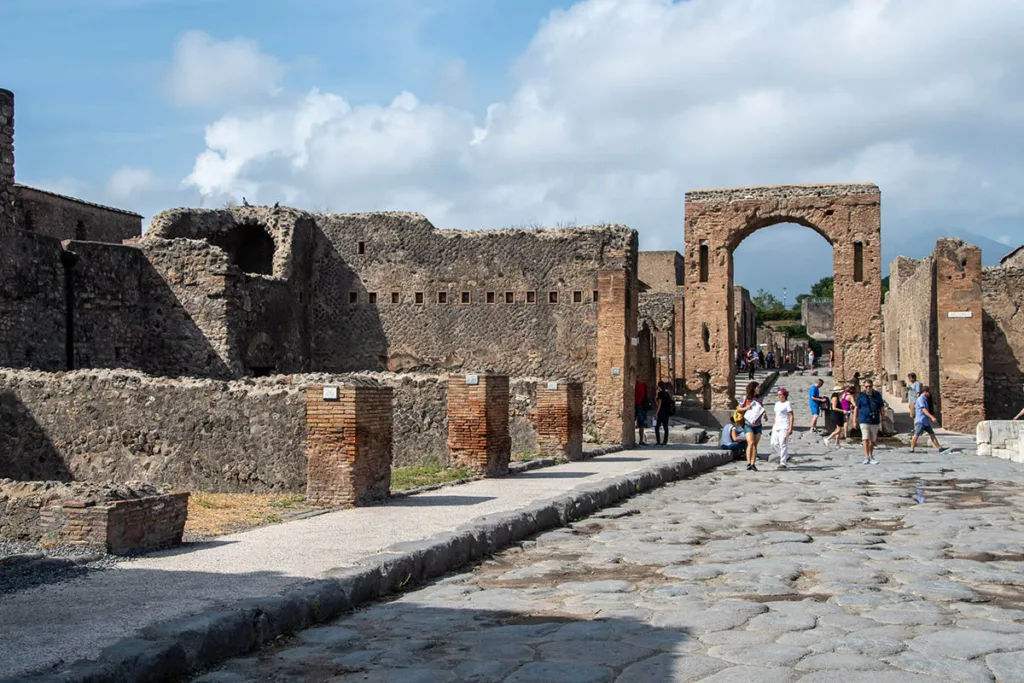 Pompeii
There's really few ruins in the world as famous as Pompeii. The town, buried after the 79 AD eruption of nearby Mount Vesuvius. The once thriving and important Roman city, covered in meters of ash and pumice which shockingly preserved so much of it for future generations.
It's pretty incredible when you can see and experience this town. It's so large and so diverse that it's pretty incredible in its scale. There's such a diversity of buildings here from an amphitheater, forum, temples, baths, homes, and more. There's way more than can be seen in a day.
I've had the opportunity to explore this incredible ruin twice now and each time I got to see many new things and learn more. If you haven't been this should be high on your list of day trips to explore.
Amalfi
Another town on the Amalfi coast, the town of Amalfi is one of the most beautiful towns on the coast. The town used to be the haunt of the upper echelon and these days they still are here, and it's got an air of sophistication to it.
One thing I did find and recommend is that while it was popular, it was not swarmed like other places such as Positano. It felt busy but not overly so. It's also got some great restaurants, shops, a beach, and a nice avenue to walk around in the center.
The town has seen quite a lot of history over its lifespan from being a Byzantine vassal, an independent republic, Norman city, under the Pisans and then as today the Italian Republic. Its history can be seen in its architecture and its important trade network that spanned the Mediterranean.
There's quite a lot to see in the town from the beautiful cathedrals, cloisters, museums (recommend checking out the Museum of Handmade Paper), great restaurants, and shopping. We also did a very fun sea kayaking trip from this area which is worth trying as well if you have the time and desire.
Overnight: We ended up staying here in Amalfi. I really liked the hotel, breakfast, and service, but it was a bit of a walk to/from the center. If you stay overnight you can do a few of the other day trips together in a small trip out of Naples.
Atrani
Atrani feels like a hidden village on the Amalfi Coast. It's a nice walk to visit Atrani from Amalfi and one of my favorite coastal walks in the area. It feels like a hidden gem! And there were some great restaurants too. One of my favorite meals in the area, at Restaurante Savo, was here in Atrani.
The town is also where we ended up after a beautiful hike from Ravello to Atrani (via Valle Del Dragone). This was a perfect way to go and explore the area between these two cities. And both of which I recommend as day trips.
The town itself is the highlight of a visit here. The architecture and even the walk to Atrani from Amalfi was incredible. Be sure to check out some of the beautiful churches, including Church of San Salvatore de' Birecto, Immaculate Conception, St. Mary Magdalene Penitent among others. There's even a fortress to see, but even just going up and down the various stairs through the town is an amazing way to explore.
You can also do Ravello, Atrani and Amalfi in the same day trip if you have time. Or as separate ones. Or better yet with an overnight stay in one of the cities.
Mount Vesuvius
Probably one of the most famous (or infamous?) volcanoes in history, Mount Vesuvius looms over the horizon of the area. Known especially for its impact on the town of Pompei, it's an incredible history and something that has such lore in Italian history.
These days you can take tours and explore the Mountain. You can hike it yourself or find a tour guide to take you. I do recommend the guide, I found the information valuable, learning both about the history as well as the area now too.
Note that the weather can be unpredictable. My friends on their hike had a real scare with lightning near the summit. So take care and head weather warnings if you can.
You don't need a guide but you need an entrance ticket to the park. You must purchase this online. Here's the official site. If you are doing a tour, check to make sure ticket prices are included.
Herculaneum
Pompei gets all the headlines, but if you ask me Herculaneum is the more impressive one to see. While it is smaller than Pompei, it is far better preserved and it looks like it.
It's also incredibly far less visited. It gets a handful of visitors in comparison to Pompei. When I visited it was a rainy morning and I was the ONLY person in the ruins. It felt like I had discovered some abandoned city from centuries ago. Wandering through ancient houses and having the whole place to myself.
While it's unlikely you'll have it to yourself, you'll likely have a better experience than the mob-scene of Pompei. Don't get me wrong, you SHOULD visit Pompei too as the scale is just impressive. But do yourself a favor and take a detour here, you won't regret it.
Salerno
One of the bigger and still beautiful places on this list. Salerno has been an important city for centuries, under the Normans as well as following kingdoms. These days you can see both the remains of its ancient history and many modern aspects as well.
Salerno is also an important port and a ferry port for travel to islands and a gateway to the Amalfi coast. Visitors should definitely explore the town, beaches, and coastline. Other important sites include the Salerno's Duomo (Cathedral), Arechi Castle, Archaeological Museum and more. Be sure to check out the tombs of St. Matthew and Pope Gregory VII in the Cathedral (it's also one of the most stunning cathedrals in the world).
The historic center of the city as well as the Lungomare Trieste (coastal walkway in Salerno) are my favorites in the town.
Sorrento
Sorrento is a great small city on the Bay of Naples. It's a popular jumping off point to various other places including ferries to islands and the Amalfi coast. Many people find themselves in Sorrento to catch ferries and never really think of the place as a destination itself.
Don't do that. It's worth a day (or even longer) and it's a beautiful city to explore and wander. It was my first real spot in this part of Italy that I got to explore.
There's quite a few things to do. One of my favorites was exploring the coastline. There's a lot of spots you can take steps down to the beach and even some restaurants there to explore. The whole coastline is incredible to really just hop around and the views from the terraces amazing.
Also be sure to check out some of the old piazzas in town as well. Wandering around the streets of Sorrento was one of my favorite activities. I got some of my favorite photos in Italy from this town. Be sure to wander through some of the old churches and the cloisters in the area as well. Also it's a great place for food and shopping. I got quite a few of my souvenirs for my family at home in the area and stuffed myself full of pasta, pizza, and gelato.
Overnight: I loved staying here with my friends in Sorrento. What I didn't love was how much taxis charged me to get here. Somehow it was one of the priciest rides I experienced.
Ischia
Located off the coast of Naples in the Gulf of Naples, Ischia feels like a "hidden gem" in comparison to busier Capri. The volcanic island has beautiful towns, architecture, as well as a Castle.
The Castello Aragonese d'Ischia is viewable from many places and sits on a small islet on the edge of the greater island. The views from the castle and island are even greater and one of my favorite views from the island as well. It's also just lovely to wander around and see the ancient architecture and learn the history.
The main town of Ischia has some great hotels, restaurants and shops. You can do it as a day or even an overnight trip (highly recommended). Access to the island is via ferries from Naples or Salerno. It takes about 1 hour via fast ferry to the island.
Overnight: We stayed at this hotel that was well situated to many attractions.
Capri
One of the most beautiful islands I have visited, Capri is something special indeed. It has been important since Roman times. Emperor Augustus and Tiberius built villas here and you can see why! It's such an incredible place.
There's a lot to do on the Island. We recommend checking out the various Jovial Archaeological Site (Emperor Tiberius's Palace), the Blue Grotto, Shopping and wandering Anacapri, Funicular, Villa Lysis, and more. Just exploring along the coastline was a highlight for me during my time. A day trip is great but a day is definitely just scratching the surface.
Overnight: I've been blessed to visit Capri multiple times. My first trip to the island, I stayed at this incredible hotel, which I would recommend for anyone. The friendliness of the owners/staff was hard to beat.
Agerola
Agerola is a hidden gem in the Amalfi coast area. Located high up in the hills above the coast, it does have a pretty spectacular perch over the coast and waters.
Most folks end up in Agerola for the Path of the Gods, the amazing 5 mile (8km) trek with just heart-stopping views of the Amalfi coast region. The path is definitely the highlight and we recommend it for anyone who's in the region as a "Must Do". It was my favorite hike of the trip and we even had an incredible lunch partway through the hike as well.
Beyond the hike, you should spend some time in the town as well. It has some great views over the coastline and was a perfect spot to view sunrises and sunsets over the area. It had a very quaint and calming feel. I found evenings in the city particularly magical as it was quieter than many of the other towns in the region. Truly a hidden gem.
We also did a great cooking class in Agerola. It was a fun evening making pasta and tiramisu.
Overnight: We ended up staying here in a bigger hostel/hotel place. It turned out to be perfect for our needs and close to some great places to explore.
Ravello
Set above the cliffs of the Amalfi coast, Ravello is a breathtakingly beautiful place with beautiful views over the coast and water. While being on the coast was incredible, I found Ravello even better!
There's a lot to explore and some beautiful places to see. We spent an afternoon at Villa Cimbrone which has some of the best gardens we saw on our trip. The views from here were pretty spectacular to behold.
For those visiting, be sure to explore the center of town, the beautiful town square, Villa Ruffalo, and the Duomo Di Ravello. It's also a great town to shop, eat, and savor coffee in a perfect setting.
If you have time it's also possible to walk from Ravello to Atrani down along the coast. This path with lots of stairs and coastal views was one of our best walks during our time in Campania.
Positano
It's hard to pick anywhere in the Amalfi coast as my favorite and I mention a few towns as places to explore. Positano is one of the most striking places in the world with the various levels of the town climbing up the cliff all around you.
Positano is such a beautiful place. My first time here was amazing, and we were off-season and got to meet locals and it was still "warm-ish" enough to swim in the waters. We had some really great experiences walking through town and up and down the hills.
More recently the town felt way too touristy and it was a slog sometimes getting through the crowds. However, it's hard to not recommend Positano as it's such a beautiful place and one that is still worth seeing (and one that many folks dream of).
Getting to the Amalfi coast is an adventure itself, with buses and cars clinging to the roads along the cliff-side. Positano is linked by either road or ferry from various locations including other Amalfi towns, Sorrento, Salerno and Naples.
Overnight: We had a perfect set of nights here in Positano. Oddly, this is my first and best memory of Positano and the city felt serene (unlike more recent trips). But it was a perfect respite from the city.
---
Have you visited the region? Any places you recommend or have been wanting to explore as well? Always looking for new places to go on my next trip through the region! Or if you've been to any towns mentioned your impressions too!