For most people, flying into Salt Lake City is just an exercise in saving money compared to closer flights to Yellowstone. However, road tripping between Salt Lake City and Yellowstone can be the best part of the journey.
I've done the drive between the cities several times, and here to help you plan the most for this road trip. Following along for help in planning your voyage.
Table of Contents
How far is it from Salt Lake City to Yellowstone NP?
There are actually two main routes to go between Salt Lake City and Yellowstone.
via Idaho
Salt Lake City to Yellowstone via Idaho: This route will take you I-15N to Idaho Falls, ID then to US-20E to West Yellowstone Entrance of Yellowstone. This route is the fastest and will take you 321 miles and 5 hours.
If you have time, there's places you can stop along the way as well although the best stops will add to your trip. We'll cover both in the post.
via Wyoming
Salt Lake City to Yellowstone via Wyoming, Grand Tetons: This route will take you via 80E to UT-30E to WY-89 North. You'll pass through Jackson Wyoming, and then on Grand Tetons and Yellowstone. At its most direct to Yellowstone it will take you 332 miles and over 6 hours.
However, its best to make stops to get the most of the road trip.
Overall the best way to do this trip is via a loop, going up one direction and then returning the other.
Recommend Route
This guide for interest in brevity is going to examine doing the route going from Salt Lake City to Jackson to Yellowstone (via Wyoming) and then returning via Idaho.
You can do the route in either direction, and it's just as easy to plan the route in the opposite direction.
Closest Airports to Yellowstone National Park
There are several airports within driving distance of Yellowstone National Park. The following are the airports with commercial service and distance to Yellowstone. Distances are listed to the closest entrance.
Given distances in Yellowstone, some entrances are several hours drive to other parts of the park.
Cody Airport (YRA): 55 miles (1 hour)
Bozeman Airport (BZN): 88 miles (90 minutes)
Idaho Falls (IDA): 109 miles (2 hours)
Jackson Hole Airport (JAC): 49 miles (1 hour)
Billings Airport (BIL): 158 miles (3 hours)
Missoula Airport (MSO): 271 miles (4 hours)
It's worth checking the various airports for travel to Yellowstone. I would recommend checking both flight as well as rental car prices. Some of the rental car prices in options such as Jackson can be incredibly expensive.
Why Start in Salt Lake City
If you look at the above list of airports that are "reasonable" distance from Yellowstone National Park, Salt Lake City is by far larger than them.
This means, More Connections, More Deals, and likely better chance for Lower Priced and Greater Car Selection.
Also, the trip between Salt Lake City and Yellowstone has a lot of places to see. It's a fun road trip if you are up for doing it.
When is the Best Time to Do the Road Trip
Late Spring to Mid-Autumn are the best times to visit these sites and National Parks. During the winter, a lot of places in this itinerary will be closed.
Spring
Spring can be a great option for travel to the area, but its also a tricky time weather wise. Melting snow, rain, falling snow can all occur during spring and make things difficult. Roads may still be closed as some roads don't open until the summer. Floods can occur in areas.
Not all services will be open yet and crowds will be lower (until schools let up generally).
Summer
Summers are the times with the longest days and the biggest crowds. This means sometimes long wait times on the roads through the park. As well as higher prices and less availability for accommodations and rental cars.
Generally in summer everything is open which makes it easier logistic wise as well as seeing the various sites.
Winter
In the winter, some roads of Grand Tetons will be open as well as some of the side trips. Many of the roads in Yellowstone will be closed during the winter. However, areas are still accessed, you'll need alternative methods to explore. In some areas, you'll have access to snowmobiles (although very limited permits), and in most others, skis or snowshoeing is available.
Roads also in between sites may be difficult to travel with weather. So you'll certainly need to be prepared and/or account for likely longer transit times. Winter is the best time to get solitude in the parks and locations along the way. Winter in Salt Lake City and Jackson can be expensive however and busy due to the ski season. However, I noticed prices in Jackson to be lower in the winter still than the summer.
Fall
Autumn can be a great time to see the parks. The weather is cooler which in many ways is good for some of the parks. Trees will change color, the animals are very active with the elk and bison ruts.
However, due to the colors and animals, this can be one of the most expensive and busiest times as well. While school kids leave, naturalists and photographers descend on the parks. Services are still pretty good, but things will start to shut after October.
Early Fall
My favorite time to visit is one of the best times to be in the parks. The two weeks following labor day are surprisingly quite in the parks as well as areas along the routes between the parks and cities.
If you can swing the time, labor day is when many of the kids return to school and it's prior to when photographers arrive for the run/fall colors. If available to you, this is a good option to visit the parks for lower crowds while still having full services and great weather.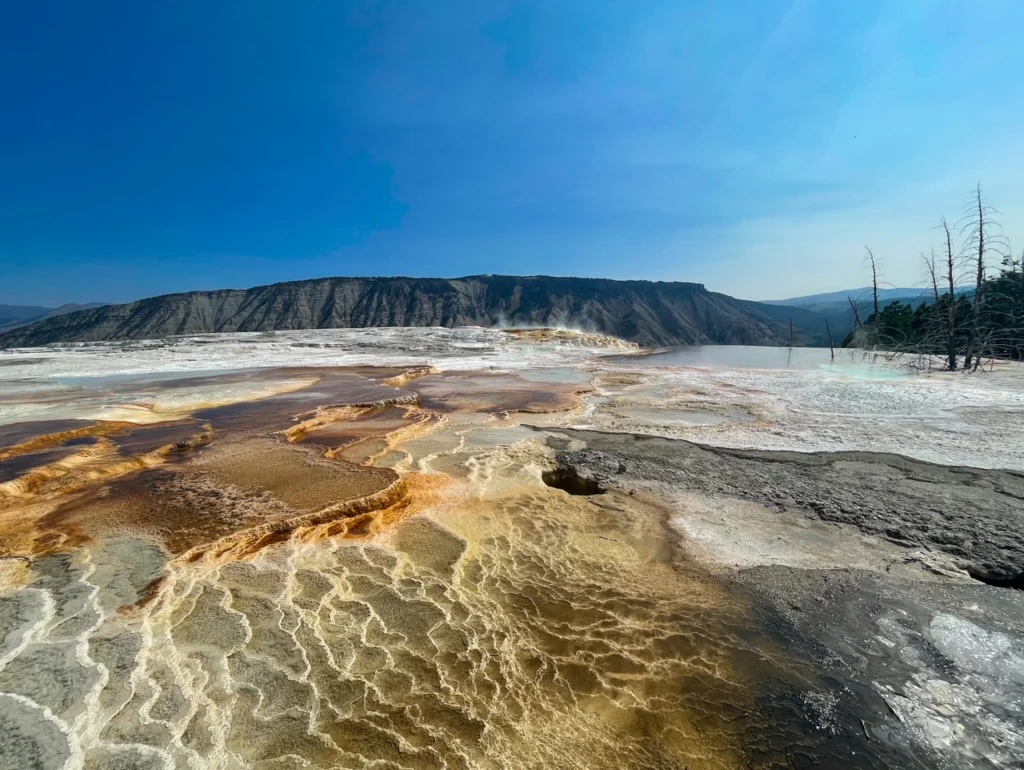 How Many Days for the Road Trip between SLC and Yellowstone National Park
You could certainly spend a lot of time in between the locations. If you have very little time, 4-5 days is certainly doable. However, you'll be really rushing to get places and see things. It will be a lot of driving and very long days.
I would recommend 8+ days. 10-12 would be better. You can certainly extend any of the options of the following, but these are recommendations for seeing the highlights of the different places.
Salt Lake City: 1 – 2+ days
Grand Tetons National Park: 1 – 2+ days
Yellowstone: 3 – 5+ days
Transit: 1 – 3+ days
Recommended Itineraries
Below are recommendations on several proposed locations by day. Feel free to extend in any location you prefer. The sections after will recommend lodging, food, and activities in each location.
Fastest
This is for those who are shortest on time.
Day 1: Salt Lake City
Day 2: Salt Lake City to Jackson, WY
Day 3: Grand Tetons NP
Day 4: Yellowstone NP
Day 5: Yellowstone NP
Day 6: Yellowstone to Salt Lake City
Recommended
This is for those who can spare a few more days. You won't see everything in each place but you'll hit the highlights.
Day 1: Salt Lake City
Day 2: Salt Lake City to Jackson Wyoming
Day 3: Grand Teton National Park
Day 4: Grant Teton National Park
Day 5: Yellowstone National Park
Day 6: Yellowstone National Park
Day 7: Yellowstone National Park
Day 8: Yellowstone to Craters of the Moon NM to Twin Falls
Day 9: Twin Falls to Salt Lake City
For those with more time, you can extend any portion of the trip. This will slow things down as well as allow you to see more things in certain areas.
Extended
Day 1: Salt Lake City
Day 2: Salt Lake City
Day 3: Salt Lake City to Jackson
Day 4: Jackson, WY
Day 5: Grand Tetons NP
Day 6: Grand Tetons NP
Day 7: Yellowstone NP
Day 8: Yellowstone NP
Day 9: Yellowstone NP
Day 10: Yellowstone NP
Day 11: Yellowstone, Idaho Falls, Craters of the Moon NM
Day 12: Craters of the Moon, Shoshone Falls, Minidoka NHS
Day 13: City of Rocks NR, Golden Spike NHS, Salt Lake City
Salt Lake City
I would recommend checking out my post on Best Things to do in Salt Lake City. However, this will give you several of the things to do based on the day. You can obviously do any of the items below, but just our suggestions on what to prioritize.
What to Do
The following suggestions are ordered in how I recommend the items. If you have additional time you can do way more.
Temple Square: For a first visit to Salt Lake City, checking out the center of the city and Temple Square is a must. The Mormon Church has shaped SLC and there's lots to see within the square. Check out the Church (if its open), Conference Center, Tabernacle, Beehive House, and more.
Natural History Museum: Has an extensive collection of fossils and other natural artifacts. It's owned and operated by the University of Utah.
Hiking in the Wasatch Mountains: You can't miss the mountains that are just outside of the city to the east. The beautiful Wasatch Mountains contain amazing places to explore and hike. If you are here in winter, world class skiing is available too. Some of the passes do close during the winter however.
If you have time for a second day, there's a lot more things you can do in the area. In particular some of the great outdoor activities.
Antelope Island: One of my favorite little excursions, Antelope Island State Park is a great place to get out, see the lake as well as hike, see wildlife and more. You can see wild bison, explore an old ranch, and really get away from the city.
Red Butte Garden: If you have the time and interest, Red Butte Garden is a lovely place to wander around. It is also located right next to the Natural History Museum. Contains lots of both exotic and local flora.
Utah Capitol Building: You can explore the Utah Capitol and grounds. There are regular tours or self guided options available. Also in the area are cafes as well as other museums like the Pioneer Memorial Museum.
If you find yourself with even more time either at the beginning or end of your trip. There are several other places you can explore. Some are further away and require driving.
Timpanogos Cave National Monument: The nearby cave system is pretty impressive and also a NPS Unit. Visiting the cave does require 1.5 miles of hiking up hill, so visitors must be reasonably fit for the visit. Also, your clothes and gear must not have entered any other cave system.
Bonneville Salt Flats: The beautiful Bonneville Salt Flats are really cool to see and even more fun to drive on. You won't break any speed records, but you can still can just and explore.
Park City: Host to some great ski areas and the Sundance Film Festival. Park City is a great little town with a nice downtown area, shops, and restaurants. You could also potentially visit this on your way north, although it is not directly on the way.
Where to Stay
There's certainly no shortage of places to stay in Salt Lake City. Some recommendations are below.
Where to Eat
There's a lot of options for food in Salt Lake City being a major metropolitan area. One thing I noticed in Utah and SLC specifically was the portion sizes are quite large.
Red Iguana: Red Iguana and its sister restaurant Red Iguana 2 are famous in Utah for their Mexican food. They are both the same, just for additional space, however, my friends seem to prefer #2. Be sure to try their famous moles, there's even a mole sampler.
MakanMakan: Located south of SLC in Sandy, this Malaysian restaurant brings the flavor. This turned out to be my favorite spot and one of the more flavorful dishes in SLC.
Pretty Bird: If you are craving fried Chicken, Pretty Bird may be your spot. There's just really tenders and a thigh in various configurations.
Settebello: By far the best pizza we had in SLC or Utah in general. It's Neapolitan style, well prepared and quite delicious.
Drive from Salt Lake City to Jackson, Wyoming
Starting your trip north, take I-80 to WY-89 North. This way you'll pass by a lot of small towns along the way. Make sure you pay attention to your gas gauge along the way. Expect to take one day along this drive.
Stops
Guardsman Pass: If its summer and you have the time. Consider Driving through Guardsman pass vs. going along 80. The drive will add an hour to your trip. It's beautiful scenic and you'll get some incredible views. There's also options for hiking trails along the way.
Fossil Butte National Monument: One of the National Monuments in Wyoming. Fossil Butte has fossils of fish, reptiles, mammals that were discovered here. Worth a quick stop to see the exhibits and the visitor center. There are hiking trails and ORV (off road vehicle) trails here, however none that have fossils to see.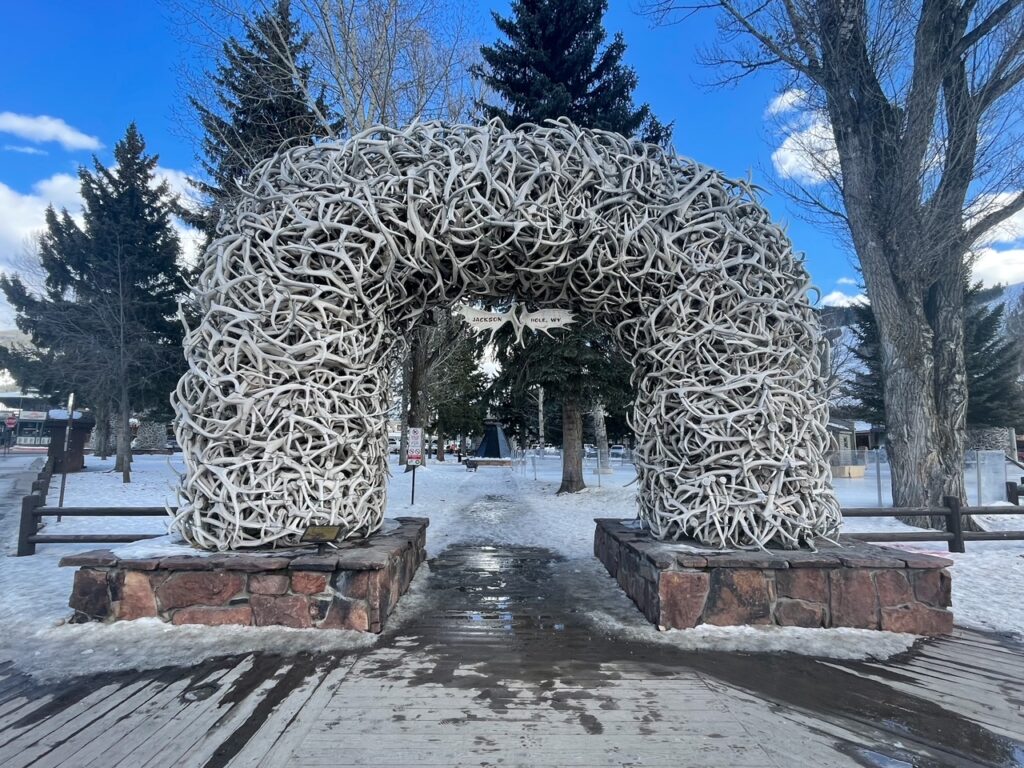 Jackson, WY
The town of Jackson is worth stopping and visiting on your way. It's also close to Grand Tetons which we'll also cover. Jackson can be a destination to explore a bit, or just a jumping off point for the National Park.
One thing of note, Jackson is rather pricey. Lodging and Food can be expensive. We'll try to share places for different budgets.
Where to Eat
Things to Do
Grand Teton's is probably the Top thing to do in the area. We will cover that in the next section however.
Where to Stay
Lodging in Jackson, WY can be very expensive. In particular during high season times for tourist (summer / winter).
For those who can't find accommodations in Jackson or don't want to pay the price. Bridger-Teton National Forest offers several campsites as well as free dispersed camping. A good option for those who want to or are willing to camp.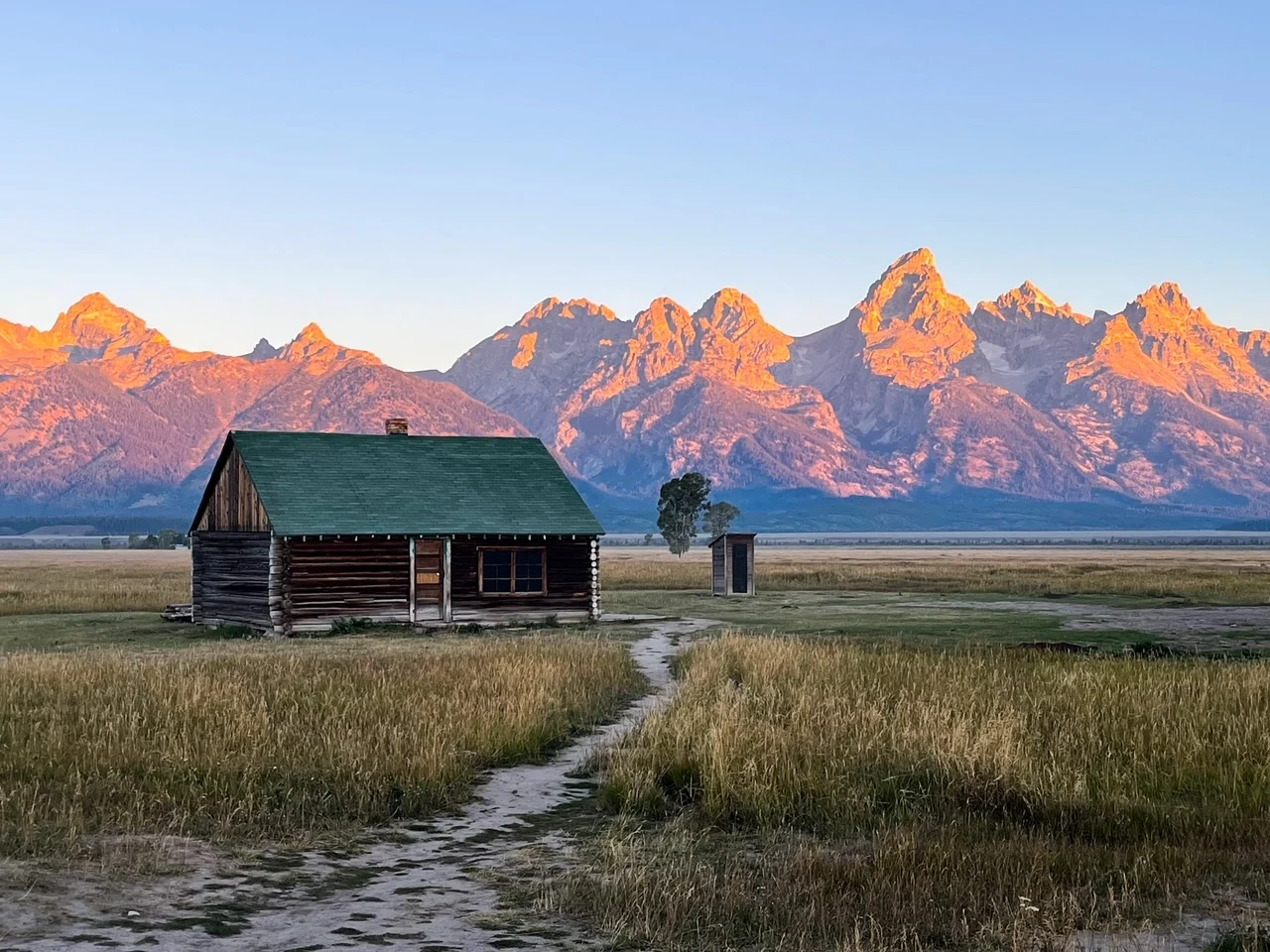 Grand Teton National Park
By far one of my favorite National Parks. Its fairly compact in comparison to Yellowstone. You should plan to spend at least 1 to 2 days exploring Grand Teton. If are are short for time you can certainly see the highlights.
What to Do
Drive the 42-mile loop. You definitely should drive the entire loop of the park. We recommend stopping at various overlooks, including some of those listed below.
Catch Sunrise at Mormon Row. It is one of the most popular sunrise spots, so you'll see no shortage of photographers.
Stop at the Craig Thomas Discovery and Visitor Center on your way into the park. A great place to get info on conditions in the park, closures, as well as get your National Park Stamp!
Visit Jenny Lake. Take the ferry across Jenny Lake to the Cascade Canyon trailhead. I recommend hiking to at least hidden falls, but even better up to Inspiration Point.
Snake River Overlook. Worth stopping as its where Ansel Adams got his famous photograph. However, its not easy to replicate with the current parking lot and area.
Schwabacher Landing: My favorite place to stop. The road is a rough to the parking lot. I recommend AWD, but plenty of FWD sedans seem to make it. Be sure to walk around the area, also a popular place to see moose. FYI: My car is a Subaru Outback and it got down fine.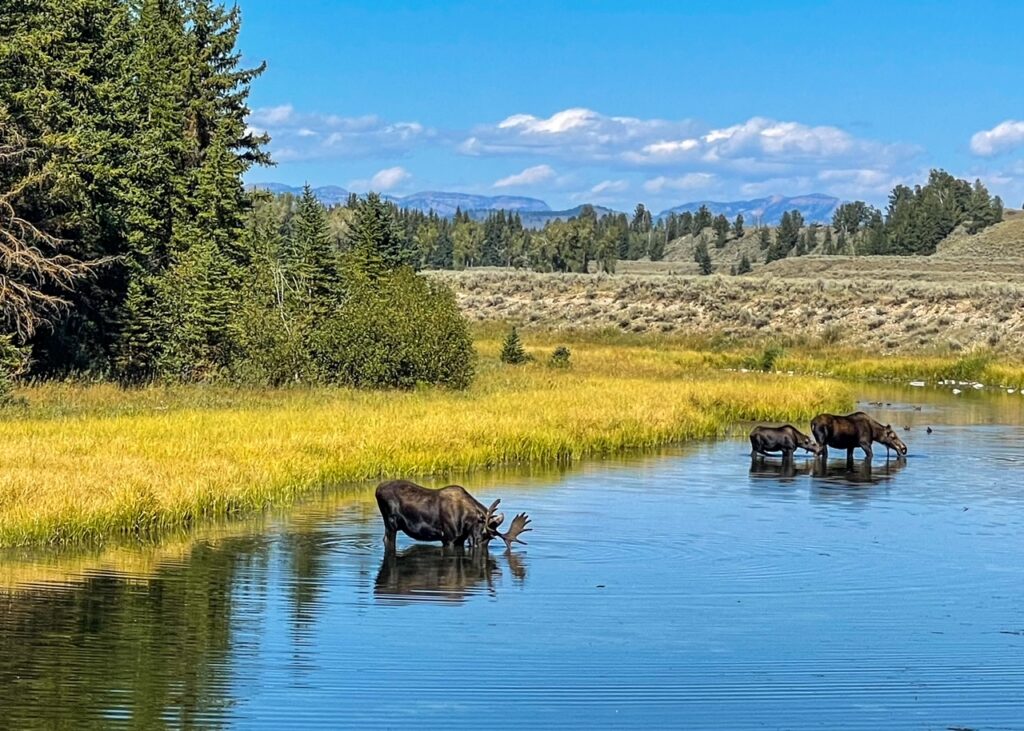 Where to Stay
Staying in the park is an amazing experience with views of the beautiful Tetons and nature from the lodging grounds. However, places are pricey and can book up well in advance.
For those who can't book within the park, Jackson is a good option.
Jenny Lake Lodge: Beautiful and expensive private lodge on the shores of Jenny Lake. Has a rustic feel yet surprisingly luxurious with gourmet meals.
Jackson Lake Lodge: 348 cottage rooms, 37 main lodge guest rooms. Located adjacent to Jackson Lake with stunning views of the mountains.
Colter Bay Cabins: 208 Cabins as well as several tent-cabins by the shores of Jackson Lake. Beautiful location within the park, simple accommodations.
Yellowstone National Park
The oldest National Park, you'll understand why they choose this place as the first to protect.
Yellowstone National Park is massive. It covers an area of 3,471 mi² and takes hours to drive from one end to the other. It's only surpassed in size by 3 other parks and the 2nd largest in the lower 48 to Death Valley.
I recommend a minimum of 3 days to explore the park. For those with more time, there's certainly more you can do.
What to Do in Yellowstone National Park
I'd recommend focusing one of your days around the geyser basins. There's a ton to see in the area, and while its tempting to try to do everything, save driving and exploring those parts for other days.
Visit Old Faithful: It's a bit touristy for sure. However, it's the most famous site for a reason. One thing you'll learn is how rare a regular geyser is. There's both long and short eruptions that tend to go on slightly different time schedules. I recommend going early in the day to avoid crowds.
Upper Geyser Basin: Even more impressive is all the other various geysers that are in this high geothermal area. A highlight for me was watching the Lion Geyser group erupt. It's hard to predict though.
Midway Geyser Basin: Some of the other famous features are in Midway, such as Grand Prismatic Spring. Worth walking the boardwalks but for best views check the Overlook Trail.
Fairy Falls: One of my favorite Trails in the park. It's also the best way to see Grand Prismatic Spring from the overlook. Continue on after to the waterfall. In spring/fall the best views of the spring tend to be late in the day when the temperature is warmer so there's less steam.
Artist Paint Pots: Colorful mud pots on a nice hiking trail. Gets you pretty close to various different colored waters and mud pots. There's also Fountain Paint pots as well.
Steamboat Geyser: There's a warning about your car in the parking lot. You probably won't be there for a major eruption, but as the largest geyser it can send water over 300 feet in the air.
Mammoth Hot Springs: Amazing set of hot springs and travertine fountains. You can hike up and around the springs and explore the boardwalk and trails around the fountains.
Fort Yellowstone: Old fort established in 1891. Most of its now taken up with National Park administrative structures. The fort has a museum and visitor center. It's also a good place to check out the various shops and restaurants. I saw lots of elk in this area as well.
Grand Canyon of Yellowstone: I scoffed when I first heard the name, but it is really impressive to see. There's two parts to the waterfalls and I'd recommend taking the trails to both. The lower falls are the more impressive. Be sure to also drive to Artist Point, Inspiration Point, Lookout Point, and Uncle Tom's Trail.
Hayden Valley: The closer of the valleys to the items we discussed so far. Hayden valley is a great place to catch various wildlife. There was high bear and wolf activity during my time here. I saw wolves but missed the bears unfortunately.
Lamar Valley: Definitely worth visiting if you have time and especially if you are traveling on to places east of the park. Lamar valley is the premier place to see wildlife in the park. I saw wolves, bears, bison, elk and more in my drive through the area. Keep an eye out for wildlife spotters with scopes to know where animals are being found. Some will even let you look through as well.
Where To Stay in Yellowstone National Park
If possible, I recommend not booking your accommodations for the entire time in one location. Distances are far in the park and you'll say yourself time and gas. I'd recommend in the central/southern part of the park. And another in the northern portion of the park.
Inside the Park
Lodging in Yellowstone Park can be difficult to book. I've seen places available a week before my trip but generally hotels and campgrounds in the park are booked months ahead of time.
You can book the sites up to 13 months before your visit.
Outside the Park
I'd recommend looking for housing close to the area you want to explore. Gardiner is a good option as is West Yellowstone. Silver gate for those exploring Lamar valley.
Camping
Camping in Yellowstone was one of my favorite things. The vast size of the park makes it one of the best places to see stars. Be sure to reserve campgrounds in Yellowstone as they book up.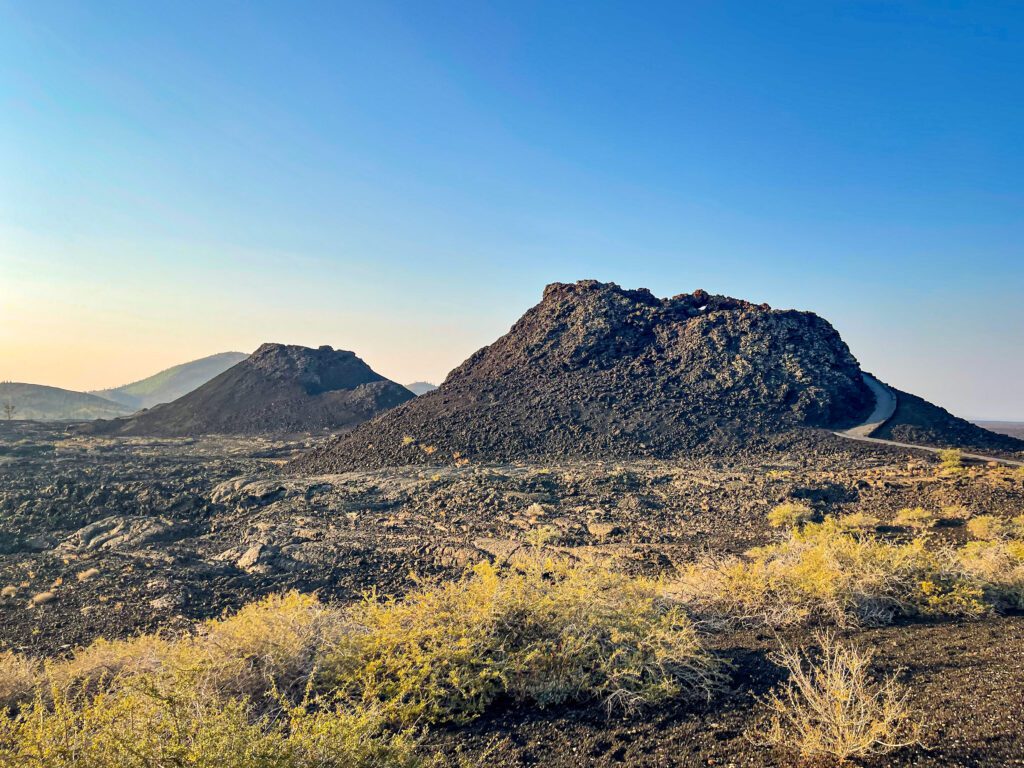 Yellowstone National Park to Salt Lake City
I left this route for the end because there's a lot that can be done on this route. However, it will add significantly to the drive.
So, if you want, you can do the drive straight and it will take you 5 hours from Yellowstone to Salt Lake City through Idaho. But if you have 1-2 days, following along for my recommendations of things to do.
Note: If you can manage any side trip, I'd highly recommend Craters of the Moon National Monument. By far one of my favorite stops on all my western road trips.
Things to Do
Grab Breakfast or Lunch and Explore Idaho Falls, ID. Tour along the river walk downtown. Idaho Falls is also a great place to stock up if you are stopping here on the way to Yellowstone.
Explore quirky Arco, Idaho. The First city to be powered by nuclear energy. There's even a historic reactor you can visit.
Stop at my favorite Idaho Spot. Craters of the Moon National Monument & Preserve. This volcanic wilderness is infrequently visited but one of the most incredible national monuments. You can even explore lava tubes in the park that are open to enter.
Stop at the impressive Shoshone falls in Twin Falls Idaho. The largest waterfalls in Idaho and called the "Niagara of the West".
Explore the tragic legacy of Minidoka National Historic Site.
Explore, admire, and climb the rock formations of City of Rocks National Reserve. Famous as a landmark for settlers and now for world class rock climbing.
Visit Golden Spike National Monument in Corinne Utah. It's the location of Promontory Point where the east and west railroads met. Watching the historic train is fun to do. The auto tour I consider skippable.
If you didn't do it while in Salt Lake City. Check out Antelope Island State Park. It's a beautiful preserve and a great way to see both the salt lake and the wilderness of the area.
Where to Eat
Idaho Falls: Copper Rill: Expensive but really good. Maybe the best restaurant in Idaho Falls.
Idaho Falls: Snakebite: Good mix of choices at this family run joint. Can recommend the burgers and fish tacos.
Arco: Pickle's Place: A good diner with breakfast, burgers, and more. Food's definitely pretty good.
Twin Falls: Elevation 486: Has good options both for lunch and dinner. Dinner has some really great choices and delicious pastas and meat.
Corinne UT, Golden Spike Burgers: One of the best restaurants near Golden Spike NHS. Great for a quick bite en route to other places.
Where to Stay
Tips & FAQs
Lodging is very difficult in Jackson, Grand Tetons, and Yellowstone. Book early if you can.
There's also free dispersed camping available in the National Forests. It's worth taking a look if you can't find lodging or its crazy expensive (such as in Jackson). I camped in Bridger-Teton National Forest and it was good choice.
Wildlife is Dangerous. Yellowstone and Grand Teton have moose, wolves, bears, and bison that can cause serious injury. I feel I shouldn't have to say this, but I saw LOTS of people making bad decisions around wildlife. Don't reach out of your car, don't walk towards animals, etc.
Carry Bear Spray: It's just smart to be prepared. You can buy bear spray in many places. I recommend checking Costco if you can on your way. Some carry bear spray and much cheaper than tourist areas.
Overestimate the amount of time you'll need. Distances take longer than advertised. In particular in National Parks. Traffic and parking in Yellowstone can really slow you down and limit when you can visit certain places.
Start Early: Mid-day is the busiest times, but you'll get the best photos early in the morning or even late in the day (people tend to head out early from the parks to catch dinner). When you go early, prioritize the busier places. You'll get in before the crowds and then can visit your other choices that are less popular mid-day or later.
Other Posts you May Like