Visiting Saudi Arabia is a pretty tough place. Well its not really that different honestly from home. Sure there are restrictions on certain things like the lack of movie theaters and closings of businesses during prayer times, but overall life moves as it does in other parts of the world as well. One of the toughest things in Saudi though is that there is a general lack of good public transportation. In some big cities there is a movement to fix this, such as in Riyadh with the construction of the new metro system. But generally without a car you really do feel quite isolated.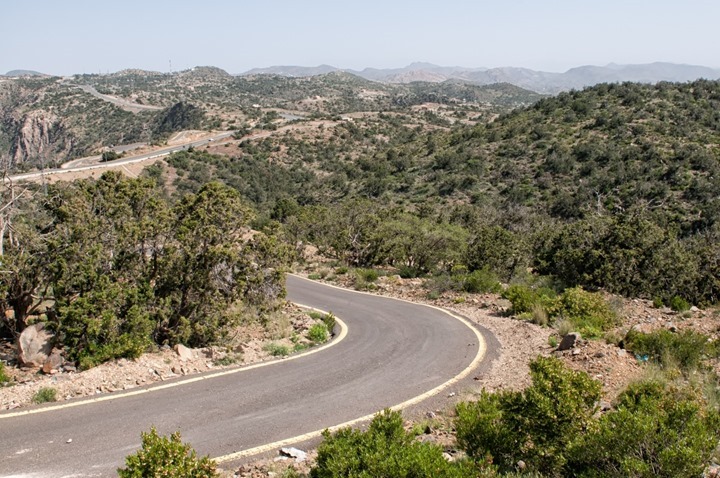 My work was pretty adamant against us having our own transportation. Well at least in regards to our general work life there. This seemed to be mostly for liability reasons and probably because driving in Saudi Arabia is not for the feint of heart.
Overall this has been a problem but not an insurmountable one. My work paid for taxis from the hotel to most of the local area. However outside of this region though things got problematic. I decided though on a trip to Abha I would try to take on getting a car rental. How bad could it be right? Plus I was experiencing extreme "cabin fever" by not having my own means of transportation.
However I learned that renting a car in Saudi was the surest way to quickly cure yourself of the desire to do so.
* * * * *
Visiting Abha is all about nature. If you thought that the lack of transportation in big cities was bad, in Abha it is basically non-existent. Without a car I might as well have just stayed home in Al-Khobar and forgot trying to see more of this fascinating country.
I spent the money and effort to try to book a reasonable car with as much insurance as I possibly could. Insurance is a bit of a tricky thing here though. Most of it seems to be done through third party booking companies such as rentalcars.com which is what I ended up using. Many of the actual car rental companies are small and most of the insurance revolves around a 1000 Riyal deposit that you forfeit it seems if you have an issue.
I showed up late in Abha and proceeded to pick up my car. They seemed to only have a brand new Hyundai Accent on the lot. And when I say brand new, I mean brand new. It had 36km on the odometer and the floor mats were still wrapped in plastic in trunk. Actually basically everything was wrapped in plastic and I was a bit nervous to both take it out and remove any of the plastic wrapping. Not sure if they left that on to help preserve things or something. But it was certainly easy to see that I was the first person to actually drive this car anywhere.
Even at this late hour the roads were busier than I had expected. There seemed to be no rhyme or reason in how traffic patterns emerged. Well perhaps there was some reason but it was certainly not apparent to me. I quickly recognized how little I noticed as a passenger compared to an operator in a vehicle. It is so easy to miss the small details of traffic when someone else is doing the driving.
For a 15 minute trip from the airport it seemed to take me quite nearly an hour. I basically was panicked to not have an issue. Even with insurance I didn't want to learn what happens if you actually have any issues. Getting to the hotel was difficult and strangely even more so was finding reasonable parking. The hotel's parking sucked and most things on the street seemed to be at your own risk. But I figured what's the worst that could happen in a few hours?
By morning when I finally emerged I had noticed my car was already hit. The back driver side of the bumper was pushed forward and scraped and dented along the side.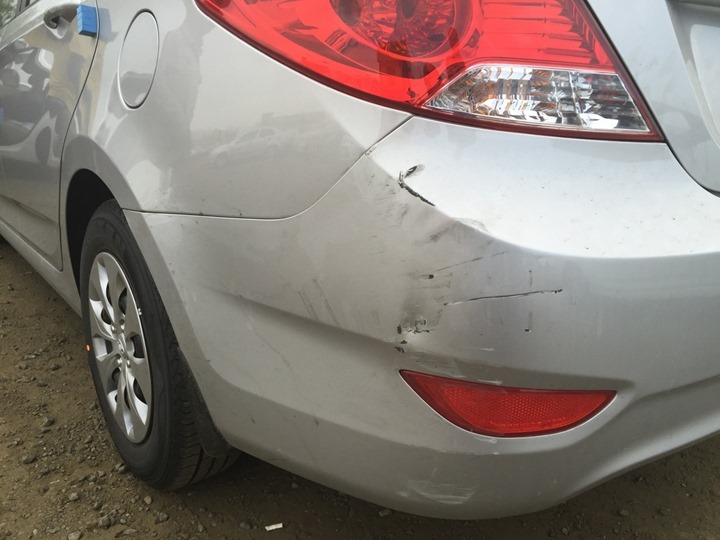 Seriously Saudi!?  It doesn't matter how careful you are really, I suppose things happen anyway.
I don't know if this made me more careful afterwards or less. I tried to figure out if this was something to deal with right away or to wait until the end of my rental. I figured to wait, if this could happen day one, I might as well deal with any additional issues all at the same time anyway. Plus if I returned it and they decided against giving me another car I would be stranded and what an expensive waste this trip would become.
* * * * *
Things I noticed while driving:
Basically everyone drives here as if they are the only one on the road. Merging, turning, passing seems to be sudden and unexpected. I found that people just run through intersections or cross lanes regardless of traffic around them. Also stopping on the side of roads, traffic circles or heck sometimes in the middle of them seemed way too commonplace.
I could never figure out the rules for traffic circles / roundabouts here. Do people yield to those in the circle or to those entering? It seemed that there was quite a bit of both going on. I had people stop for me while I was trying to enter the circle and other times expect me to yield. I figured that perhaps the right of way was determined by the person who had the least to lose. Way too often someone would just be gunning it through and you better stop if you cared about the safety of your own vehicle. Actually on a few roundabouts they installed massive speed bumps so if you didn't slow down your car would certainly end up damaged. I'd be afraid to check the undercarriage of a lot of these cars.
Speaking of undercarriage, there were a lot of speed bumps dispersed along the roadways. Some but not all of them were marked. And even the marked ones were not always well marked. Having a car with low clearance meant there were a few times I had to get out of my car to make sure I didn't actually damage anything further when I didn't see the speed bump before it was too late. I'm reminded back to a time in Jordan when we hit a speed bump on the highway at full speed and it actually caused our car to shut off! Is this a middle east thing?
There was this odd thing that on quite a few multi-lane roadways they opted to forgo actually marking the lanes. Not that lane markings seemed to mean a whole lot here as people tended to ignore them more often than not. However when they disappeared I found that people were far more aggressive about passing and driving close to cars next to them. It was probably among the scariest moments during my time driving.
Don't feed the wildlife. I didn't do so, but I watched all those idiots in other cars trying to feed or harass baboons in the area. Generally a bad idea.
As in probably a lot of places, outside the city driving was fine. Actually it was really quite enjoyable. I loved seeing bits of the countryside and being able to stop where I pleased. One of the things I hated most about the restrictions my company placed on me in Dammam / Al-Khobar.
The return and the reckoning
This is the part I was dreading for the entire weekend. Having the accident early meant I had to spend the entire time just running through what to do when I returned the car. I really didn't know what was going to happen. Looking at the damage I knew that in the US this would be several hundreds of dollars worth of repairs. Now I know I bought the insurance, but who knows how long such a claim is going to take. Particularly in terms of making sure you have the right documents and if the online company has people that can read the documents from the local language. You don't really think about all this until you actually have to deal with the claim process.
Plus would they know the damage cost while I was there? Or were they going to bill me again later for more costs? Ugh…
I brought my previously brand new car back to them and pointed out the damage. Nothing like getting your first dent (or dents) on your car! The people seemed to just kinda look it up and down and chat among themselves. I'm sure with it being Saudi they are probably more than used to car damage (traffic accidents are fairly high in this country).
I made sure to definitely down play the fact that I was American. I don't know if they thought I could afford more if that would affect how much they would charge me. I heard various figures being thrown around but it was hard to determine what exactly they were all in reference to. Basically after some discussion it came to the conclusion that the damage could be repaired for about 200 Riyal (about 60 US dollars).
I was in shock. Really that's it? I later learned that I probably could have negotiated some, but really 200 was far less than I would have imagined the damage would be and probably less than the deductible for the insurance would be too. I quickly paid it and made sure to see if they charged me anything more for it (they didn't and they actually refunded the 1000 riyal hold that was placed on my credit card as well).
Actually that is one of the better things about renting in countries like this. Unlike the US there is no "negotiation" and there certainly are less breaks given. Here things seem to run a bit more informally and you are able to work out a situation that is less impactful. I know in the US, they would have made me paid far more for the same situation and certainly would not have worked out a similar "deal" with me.
Perhaps renting a car here wasn't so bad?  Now if only my nerves could agree!