Did you know, the largest sand dunes in North America are in Colorado? Yes, Great Sand Dunes National Park feels like a place that shouldn't exist. Incredible field of dunes set among high Colorado peaks. But it's this that makes it such a magical place. If you are looking to explore, this guide should help you get started.
About Great Sand Dunes National Park
Established in 1932, Great Sand Dunes National Park and Preserve protects the largest sand dunes in North America. The park was originally designated as a National Monument in 1932, and then a National Park in 2004.
Sediment has built up here over millennia in the area, getting blown and moved from other areas and then trapped within the area around the mountains. The park seems surreal to think of such large sand dunes in what feels like a random area. The park protects the dunes, some of the mountain areas, the creek and more. It really feels a world away from anything else in Colorado.
Things do in Great Sand Dunes NP
Dune Field
The Dune field is the highlight of any visit to Great Sand Dunes National Park. Access to the dunes is the road to the left after the visitor center. The Dunes allow you access to wander and explore the sand dunes. Be sure to wear good eyewear as it really is quite windy and you want to avoid sand in your eyes. There's lots to do, including hiking, and sandboarding/sledding. You'll need to rent boards from outside the park however.
Star Dune
One of the two highest dunes in the park . Star Dune was always known as the highest dune in the park (741 feet), however recently it has tied with another dune (Hidden Dune) to be the two highest dunes in the park. Since, dunes are very transitory, these do change over time. However, it is still cool to hike to one of these places. Hiking to Star Dune usually takes about 6 hours (6 miles | 9.6 kilometers), although can be longer and sometimes trail apps are no longer accurate due to dune movement.
Hidden Dune
Tied for the highest with Star Dune (741 feet), hidden dune is harder to locate and see in terms of knowing its the highest in the park. Its not the easiest of ones to hike. To be honest I didn't go out here, since I didn't know it was also the highest in the park. It's further than the other hikes, 7 miles (11 kilometers) and requiring 6 or more hours for a round trip.
High Dune
The highest dune (693 feet (211 m)) you can see from the parking lot. I like how it's called high dune even though its not the highest dune, but its pretty close! However, it's a good dune to try to climb if you are limited on time as well. Round trip usually takes about 2 hours (2.5 miles | 4 kilometers).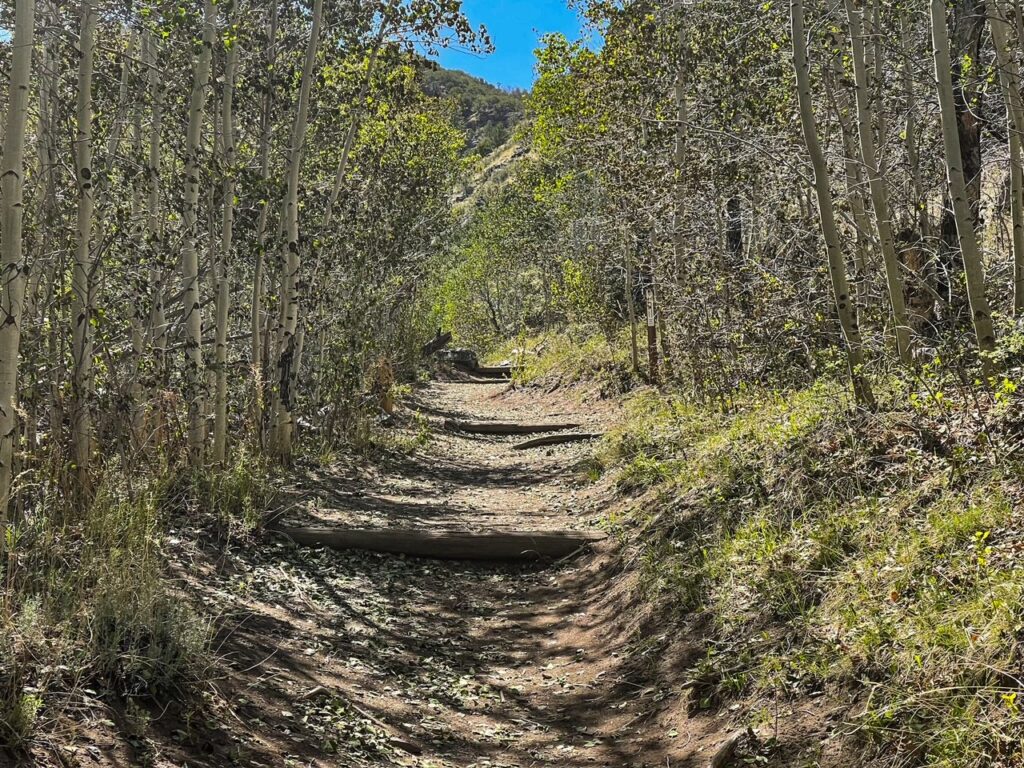 Non-Dune Hiking
There's actually several trails outside of the dune field within Great Sand Dunes National Park. Actually given that almost everyone is there for the dunes you'll very likely have some of the areas all to yourself. Hikes include Mosca Pass Trail and Montville Nature Trail. These take you closer to the mountains area and has some info on the nature of the area. I would say that wildlife is higher in this area, with signs such as those warning of mountain lions definitely freaking me out a bit.
Stargazing
The remoteness of Great Sand Dunes National Park is perfect for stargazing. You really are pretty far away from major metropolitan areas in the park and getting out on the dunes or in some of the remote campsites allow for some gorgeous views of the sky. You can even see the milky way during certain times of the year as well (looks a bit like a milky cloud in the sky for those who haven't witnessed it). The park also does summer ranger programs as well.
Medano Pass 4WD Road
If you want to get to some of the more remote areas of the park, there is a 4WD only road that goes south after the main Piñon Flats Campground. The first part of the road is accessible to AWD vehicles, however once you get past "point of no return" about 1.1 miles into the road you'll need a 4WD high-clearance vehicle. Road is very sandy at time and there are areas you'll need to cross Medano creek as well.
Where to Stay
There are quite a few options of places to stay in the park or within the area. Unlike some National Park, there are no hotel-type lodgings within the National Park. However, there is camping available both for car camping as well as backcountry camping. Backcountry camping along the dunes is amongst the best national park experiences to have. Below are options both within the park as well as area.
Camping
91 Sites: Piñon Flats Campground is the main campground for the park, and the one that's easiest to access for most vehicles. The site is a drive-up campsite located down the road from the visitor center right before the road turns into the primitive 4WD road. Prices: $20. Reservations Recommended. Reservations only on Recreation.gov.
One of the most incredible aspects of Great Sand Dunes National Park is the ability to camp out under the stars on the sand dunes. Permits are required for dune camping and only available on recreation.gov. There are designated and "non-designated" camping areas in the park and all of them are outside of the "day use" area, meaning that its at least 1.5 hours or more hiking before you reach them. Checkout the NPS backpacking page on specifics of where to camp. There's a per-day and per-site limit for dune camping.
Price: $6; Permits Required.
Medano Road Camping
21 Designated primitive campgrounds located along the Medano Road. This road requires high-clearance 4WD only to access these parts. The early part of the road may be accessible by AWD and other cars (weather permitting), but you'll need a high clearance vehicle for further exploration. You can only camp within designated campgrounds and you are required to camp close to the provided bear boxes. These can fill up during busy times in the park.
Hotels
There are no hotels located within Great Sand Dunes National Park. But there are several that are a "reasonable" distance away from the park. Located about 30 miles outside of Great Sand Dunes, Alamosa has some of the most options for hotels.
Zapata Ranch: One of the most beautiful locations you can stay close to Great Sand Dunes National Park. The ranch offers experiences within the ranch such as horseback riding, nature programs, and more. Certainly a unique experience. You can book day or overnight stays. However it's certainly pricey if you are only planning to go to Great Sand Dunes.
Holiday Inn Express Alamosa: It's a pretty standard Holiday Inn Express. I like that it's clean, well located and pretty reasonable distance to the dunes. The hotel has a decent pool and an ok breakfast. It's about standard for hotel prices, certainly not cheap though.
Fairfield Inn Alamosa: I tend to default to Marriott whenever possible Although sometimes I also do IHG (Holiday Inns). Hotel is super clean, facilities are pretty good. I would check between this and holiday inn for which is cheaper when booking.
Dunes Inn: If you are looking for clean and basic, Dunes Inn is a good option. Prices tend to be cheaper than the chain hotels which is great. There is a basic included breakfast option as well. Overall if you are planning to use it as a base for exploring the dunes worth checking out.
Where to Eat
The Oasis Restaurant is the only place to eat in and around the park. Otherwise you'll need to travel at least 25-30 mile to find other places to buy food. The restaurant has options for breakfast, lunch, and dinner. Operating hours generally vary by season. Located outside to the main entrance of Great Sand Dunes National Park. They also rent sandboards and sleds.
Where to Rent Sandboards and Sleds
If you are planning to visit Great Sand Dunes National Park, it is worth thinking about renting sandboards or sleds. Both are really fun, however if you are not familiar with snowboarding or similar sports, sandboarding can be difficult to master. Do not bring your own home snowboard and expect it to work. You'll need special wax, etc. You'll likely ruin it.
Recommend calling ahead to reserve your board.
Great Sand Dunes Lodge: The closest place to rent to Great Sand Dunes National Park. They rent sandboards and sand sleds for a pretty reasonable price. Definitely worth checking out if you forgot to rent one elsewhere. They do sell-out during high seasons. Phone Number: 719-378-2222.
Spin Drift Sand Board Rentals: Located in Bianca (25 miles from Great Sand Dunes NP). They rent sandboards and sleds and prices are in line with most of the other rental locations. Phone Number: 719-379-4410.
Kristi Mountain Sports: Rents sandboards and sleds for about $20 per/day (standard price). Located in Alamosa (36 miles | 30 minutes). Phone Number: (719) 589-9759
Basic Information
Visitor Center
Address: 11999 State Highway 150 Mosca, CO 81146
Hours: 9:00 am – 4:30 pm
There is one visitor center for the Great Sand Dunes National Park. The visitor center is closed on New Year's Day, Thanksgiving, and Christmas.
The center has general information about the park, hikes, conditions, passport stamp, store, as well as where to pickup or find out information about permits. Water and flush toilets available at the visitor center.
Fees
Private Vehicle: $25.00
Motor Cycle: $20.00
Oversized Vehicle: $15.00 per/person
Annual Pass: $45
The park also accepts the Annual America the Beautiful National Park Pass. Available from prices up to $80.00 a year.
Hours
The Park is open 24 hours a day / 7 days a week. There are times during the winter that some areas of the park do close to vehicle traffic. However, you can still access via foot if possible.
National Park Passport Stamp
There is a passport stamp for Great Sand Dunes National Park & Preserve located at the visitor's center
Website: Official NPS Website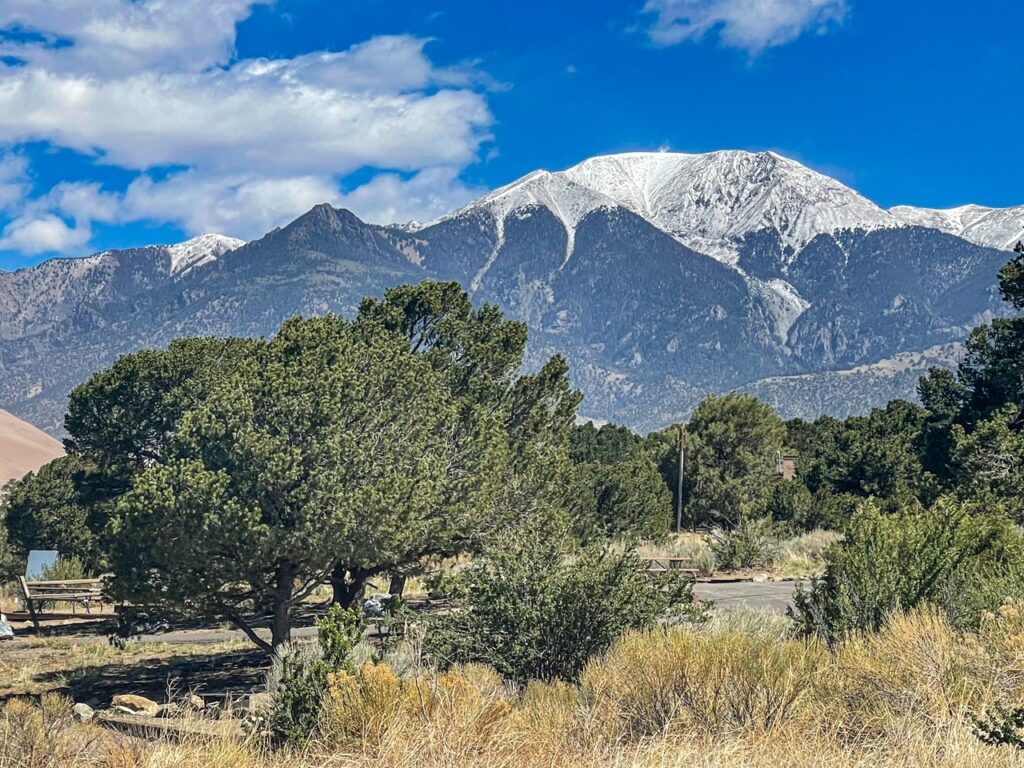 Getting to Great Sand Dunes National Park & Preserve
Regardless of how you go to Great Sand Dunes, you'll need a car once you arrive. Again even getting to the park requires a vehicle as its not really well connected to anywhere.
By Car
Great Sand Dunes is located on CO-150 on the western side of the Sangre de Cristo Range in Colorado.
From most parts of eastern Colorado (Denver, Colorado Springs, etc.) you'll take I-25S to US-160W to CO-150N.
From Denver you also have the option of traveling US-285S to CO-17 to US-160E to CO-150N. This way will take slightly longer than taking 25 but is more scenic.
Distances from different areas:
Alamosa: 30 miles (30 minutes)
Pueblo: 122 miles (2 hours)
Colorado Springs: 165 miles (3 hours)
Durango: 180 miles (3.5 hours)
Albuquerque, NM: 234 miles (4 hours)
Denver: 255 Miles (4.5 hours)
By Air
There are several small regional air carriers in the area of Great Sand Dunes National Park. However, if you are looking for more further commercial services you'll need to drive more as well.
Pueblo: Pueblo Memorial Airport (PUB) is a small regional airport that does have service from United Express. Distance: 131 miles | 2 hours
Colorado Springs: The largest that is closest to Great Sand Dunes. Colorado Springs Airport (COS) offers flights from a variety of commercial carriers including United, Frontier, Southwest, Delta and American. Distance: 161 miles | 2.5 hours
Denver: Denver International Airport is an option for many people although the drive is definitely longer. However, you'll get more frequent service and likely cheaper flights (and car rentals). Distance: 250 miles | 4 hours
Tips & FAQs
Summers can be very hot and winters very cold. Wear appropriate clothing for the season. Also temperatures and such can change so dress in layers
Wear sunscreen. It's bright and hot and exposes on the sand dunes. You'll likely burn.
Bring eyewear. The wind was moving the sand very quickly and blowing it in my face into my clothes etc. You want to protect your eyes from sand.
Add extra time into your calculations for hikes. Moving on sand and such is harder than you think. It can take way longer to get somewhere than expected.
Bring lots of water. Sand hiking is exhausting. You'll likely need more water than similar length hikes elsewhere.
Be wildlife aware. Especially if you stay the evenings. There are bears and mountain lions in the area. Stay safe, protect your food and keep things safe and not within your tent.
Book Early. Permits, campsite, etc. book early. If these are part of your plans you'll need to plan well ahead. Expect that things will be booked up if you wait.
Rent your equipment before coming. There are no rentals for sandboards, etc within the park. There is one option close, but it can sell out. Distances from the park are far to other towns. Plan ahead will save you time and disappointment.
Other Posts you May Like