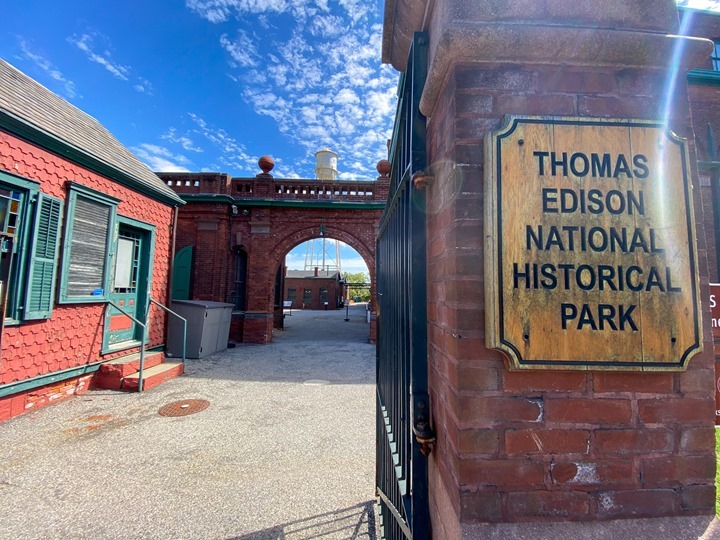 Going to school for engineering, it was not possible to not know the name Thomas Edison.
Certainly even if you are not an engineer you have heard the name of one of the world's most famous inventors. And if you know a bit more about the man and the legend, you know that he did much of his best work in New Jersey.
Thomas Edison's Laboratory was designated as a National Monument in 1956 and became a national historic site in 1962.
Visiting Thomas Edison's Laboratory in West Orange
The laboratory itself was built under Edison's guidance for his experiments and manufacturing in 1887. He had a novel way of compartmentalizing various different works in the labs by separating them by buildings as well as darkened glass so others couldn't look in who did have access to the facilities. Edison knew that he needed to protect his intellectual property from others.
Of note Edison is not the original inventor of the Lightbulb; which he gets the most credit for. However, he invented a better and more economically viable bulb which is why he gets the lion's share of the credit.
But one of the most significant inventions of Thomas Edison is the Movie Camera and he is certainly the father of the movie industry in that regard. If you got to the park you can see a replica of the Black Maria, the original movie studio. The studio itself could move to get the best light for filming. The original Black Maria is gone, but they have a replica built to the same specifications for a movie.
The site is the largest collection of Edison artifacts in one place. It has many original inventions and tools used by the inventor and his staff. The Edison Laboratories operated for 40 years as a lab and manufacturing site. So it's amazing to be here and see the place where these things actually were created.
Visitor Information
Note: Many of the buildings are still currently closed for Covid-19. So be sure to verify if going inside the exhibits and buildings is important for you. Much of the area around the buildings is still open for visitors.
Location: 211 Main Street, West Orange, NJ 07052
Operating Hours: Currently 11-4pm Friday – Sunday (Winter Covid Hours)
Fees: $15 adults (free currently during Covid since most of the buildings are closed)
Visitor Center: (Currently closed for Covid, but there is an outdoor visitor center open Friday – Sunday (11 – 4pm))
Cancelation Stamp: At the Visitor Center or Outside Booth
Website: Official NPS Website
Other Posts to Check Out