The best part of visiting Mesa Verde National Park is exploring and touring the cliff dwellings throughout the park.
Mesa Verde is home to 600 cliff dwellings across the 81.25 mi² of the park. That's a lot of cliff dwellings and a lot of park. In addition there are many pit houses, mesa top houses, and more throughout the park. It is likely impossible (or at least impractical to visit all the cliff dwellings in Mesa Verde NP. However, some of the best preserved ones can be visited on cliff dwelling tours.
Due to popularity and to protect the sites, many years ago the National Park Service made several of them only available via a ranger led tour. The following three are only available to be visited via a ticketed ranger led tour.
Tours run generally from May 1st to October 22nd annually. There are no tours during the winter, and most of the roads are closed seasonally (although you can access certain areas of the park by snowshoeing or cross-country skiing at that time).
Table of Contents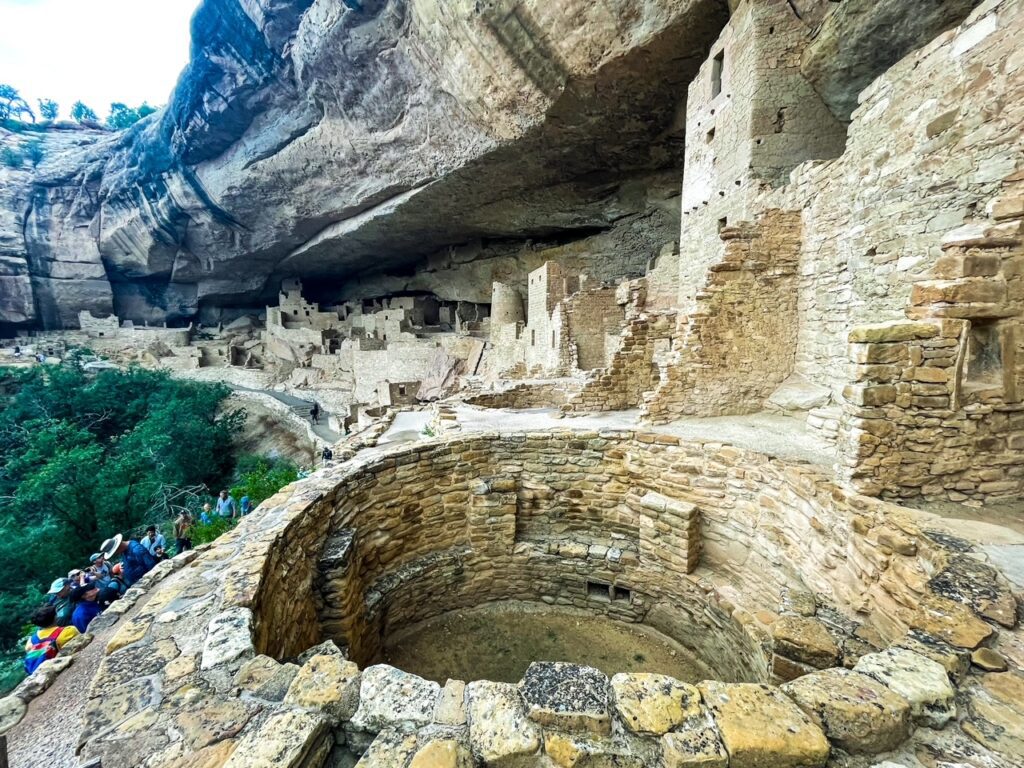 Cliff Palace
Cliff Palace is the largest (and most well-known) of the Cliff Dwellings in Mesa Verde National Park. The site boasts 150 rooms, 23 Kivas, and over 100 people lived in the area. Kivas were ancient Puebloan buildings that were used for religious rituals as well as daily life. They were build underground and Kiva is the Hopi word for 'underground room'.
One of the most incredible parts of the area, is the various rooms and history of the place. Many of the rooms were actually used for storage, and with all the Kivas and size of the area it may have served additional regional functions. If you visit, be sure to check out the small doorways. While locals were regular height for the era, it still is impressive to see what looks like a window is actually a doorway!
They know when the buildings were built in the 1100s and abandoned in the 1300s. There is belief that that this site among the other cliff dwellings was abandoned at this time due to droughts. However, given the lack of records its not 100% certain this is the only reason, but it is the prevailing theory.
Parts of Cliff Palace have been rebuilt unlike Long House, which is did not undergo any rebuilding.
You can view Cliff Palace from the overlook near where the tours meet.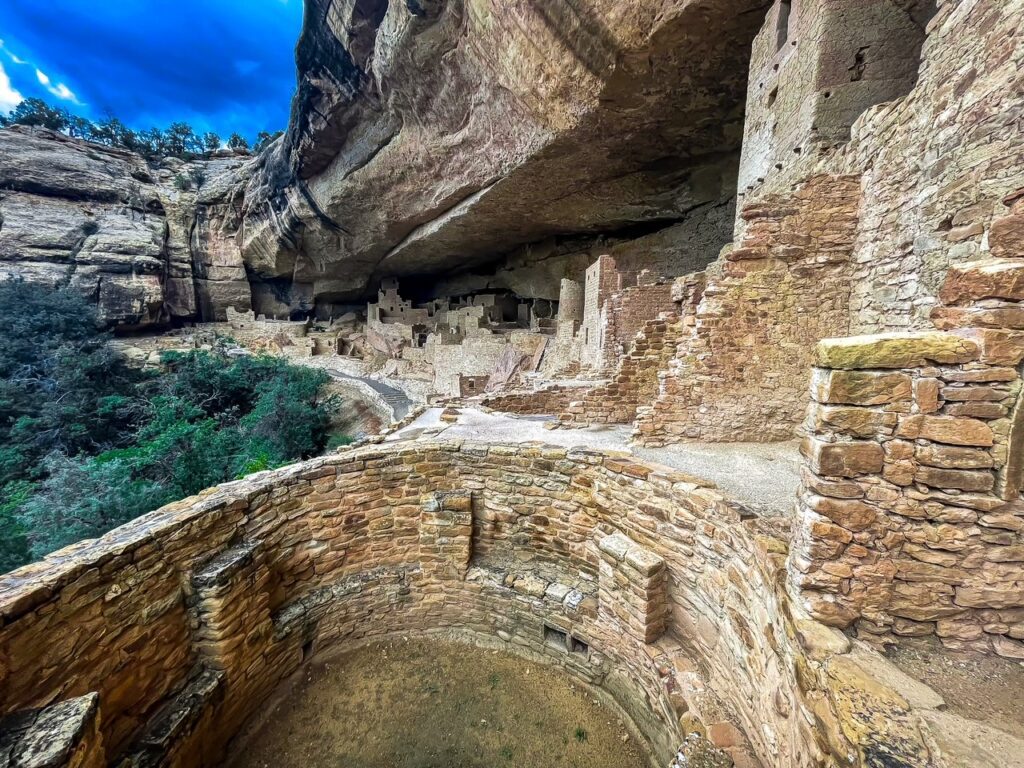 Visiting Cliff Palace
Cliff Palace is able to be visited as part of a 30 minute ranger led tour.
You will ascend and descend quite a few uneven steps on the tour as well as climb 4 wooden ladders, with an elevation change of approximate 100 feet. You'll need to be able to walk at least a 1/4 mile (0.4 KM) across the tour. Cliff Palace is also at approximately 7,000 feet elevation. So be sure you are ok with the elevation as well when hiking. The hike is a loop and there's a few places that are a tight squeeze as well.
Review the Booking Section for details on Making Reservations. Or use the link below to go directly to the site.
Tour Times: 9:00am; 9:30am; 10:00am; 10:30am; 11:00am; 11:30am; 1:30pm; 2:00pm; 2:30pm: 3:0pm
Reservations: Cliff Palace Reservations
Price: $8.00
Limit: Tours are Limited to 40 persons.
Balcony House
Balcony house is one of the most impressive and intimate of the Cliff Dwelling Tours. The mid-size village includes 38 rooms as well as two kivas. It also faced northeast (as opposed to many other large dwellings that faced south), so it did not receive as much sun-warmth in the winter. It does however have easy access to water (one of the main features of many of the dwellings is their closeness to springs).
You can also catch views of Balcony house from the nearby Soda Canyon Overlook Trail.
Visiting Balcony House
Balcony house is one of the most difficult of the Cliff Dwellings to get tickets for. As it only allows 25 people in per tour and has fewer tours than other dwellings. Tours are visited as part of a 60minute tour that covers 1/4 mile of distance and requires traversing 160 steps, and a 32 foot ladder. Please also note that the elevation is around 7,000 feet which if you are not accustomed to it, can cause issues.
It is also one of the most intimate and interesting ones. The road to balcony house is actually on top of the cliff dwelling, so you can't even see it from the road! You'll need to descend a 32 foot ladder from the entrance area to get into the dwelling. So be prepared and ok with that!
Review the Booking Section for details on Making Reservations. Or use the link below to go directly to the site.
Tour Times: 9:00am; 11:00am; 1:00pm
Reservations: Balcony House Reservations
Price: $8.00
Limit: Tours are Limited to 25 persons.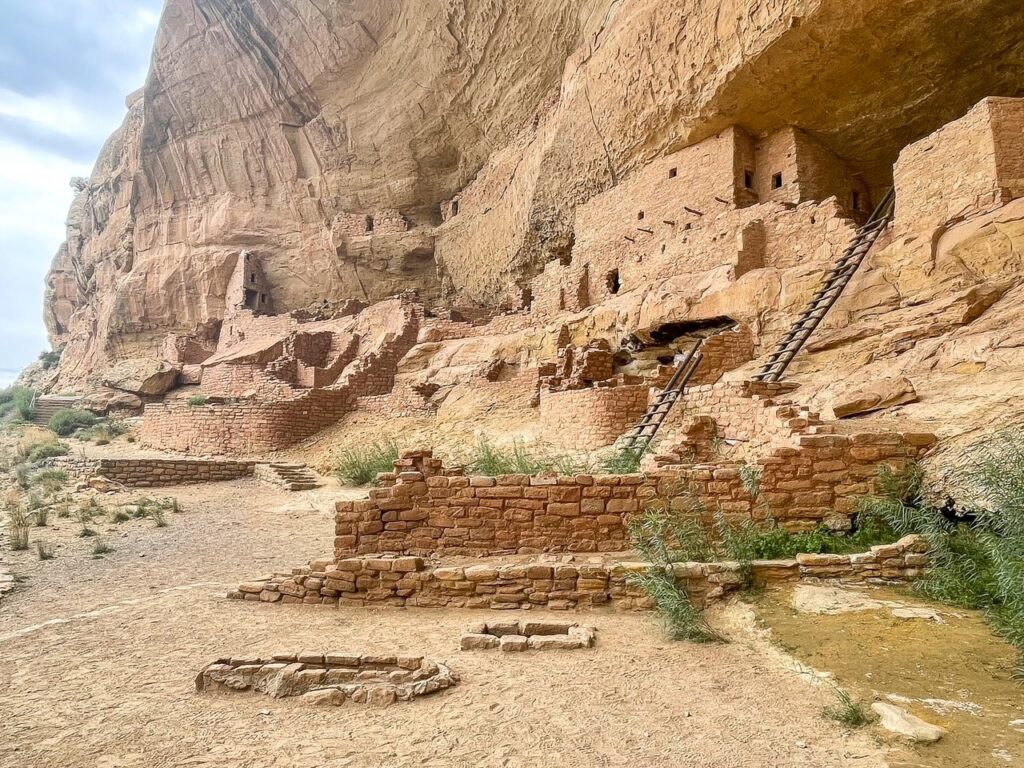 Long House
The second largest of the Cliff Dwellings, Long House is one of the most impressive of the cliff dwellings in Mesa Verde. It is also one of the best preserved, as it did not undergo reconstruction or other aspects as some of the other Cliff Dwellings. Although, the trail and certain areas are stabilized to increase visitor safety.
The alcove is also one of the most impressive of the cliff dwellings and you have the opportunity to get much closer to the buildings and walk through the village unlike Cliff Palace where you walk in front of the dwellings.
The setup of the dwelling is different, with the Kivas more bunched together in one area (which the ranger called the "Kiva District") as well as a courtyard area with fire pits and likely foot drums. This gave rise to the idea that Long House was more of a central gathering place for other nearby dwellings.
There's also a spring within the alcove with was a key aspect of the reason they settled here, and provided vegetation and water to the populous. The spring is also a very holy place for visiting pueblo people.
Long House contains 150 rooms and 21 Kivas, making it only slightly smaller than Cliff Palace. It was believed about 150 – 175 people lived in the village. The better preservation of the site is credited to it being excavated much later than Cliff Palace.
You can also view the Long House from the Long House loop on Weatherill Mesa.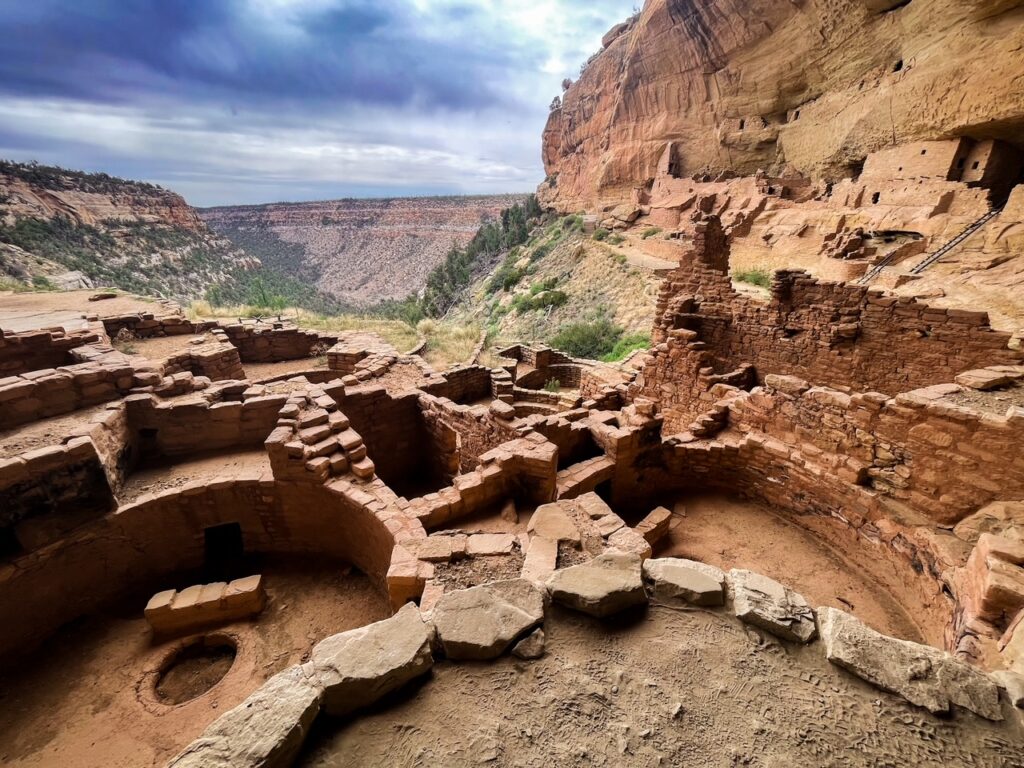 Visiting Long House (Closed 2023)
Long House is one of the best and surprisingly less visited than the other Mesa Verde Cliff Dwellings. This may be since it requires more time as well as more distance to walk than the other tours.
The tour site says it requires 2.25 miles of walking. I believe this includes the walk on the Weatherill Mesa Hike as well. You'll need to go about 0.75 miles (1.2km) from the parking lot to the Long House trail head. There was a tent there before going on the trail to Long House that you wait for the tour.
Tours require you to be able to walk those 2 miles as well as up and down a unsteady trail and several ladders (including one down that was small but not attached). In the Long House area, rangers are stationed at various areas and you walk through the house yourself.
If you are lucky you'll get a ranger to play some music for you too, which was amazing. Also remember that the Weatherill mesa and long house are at nearly 7,000 feet elevation, so altitude sickness is a possibility if you are coming from much lower elevation.
Review the Booking Section for details on Making Reservations. Or use the link below to go directly to the site.
Tour Times: 9:00am; 9:30am; 10:00am; 10:30am; 11:00am; 11:30am; 1:30pm; 2:00pm; 2:30pm: 3:0pm
Tour Length: 1 hour
Reservations: Long House Reservations (closed for 2023)
Price: $8.00
Limit: Tours are Limited to 35 persons.
Other Tours
There are actually other tours that are occasionally offered by the National Park Service. Unfortunately during my recent visit, Square Tower House was no longer offering tours (closed due to road maintenance) and neither was Mug House. Spruce Tree House which has tours and eventually also allowed self-guided is closed for the foreseeable future due to rock instability.
Mug House
A village of 80 – 100 people inhabited from about 1100 – 1200s CE. A strenuous 2.25 mile hike that requires scrambling, hiking up switchbacks, and steep drop-offs. The dwelling was named for several mugs tied together that were found in one of the houses.
Dates: May 22 to June 28, 2022
Times: 9:00 am ; 11:00 am
Limit: Limit of 10 persons
Price: $25
Square Tower House
Limit of only about 10 person per day, per tour. Tours sell out immediately when they do go on sale. Strenuous 90 minute, 1 mile hike that includes scrambling, switchbacks, drop-offs, and 2 ladders.
Dates: May 28 to June 15, 2022
Times: 8:30am
Limit: Limit of 10 persons
Price: $25
Reservations: Square Tower House Recreation.gov
Information about Booking
All reservations for Mesa Verde Cliff Dwellings are made through Recreation.gov. Tours run generally from May 1st to October 22nd annually.
The site will show you the number of tickets available for you each day/time, which is handy for planning.
Tickets go on sale as early as 2 weeks ahead of the date. You won't be able to book anything earlier than that.
Some of the tours, such as Balcony House, Mug House, Square Tower House, sell out almost immediately. If you know your dates and you see any of these available and you want to do it, Book them right away. You won't get a chance closer to the date.
You'll need to have your ticket with you. I recommend downloading the Recreation.gov app from the Apple App Store or Google Play Store. It'll at least show it on your mobile phone.
Otherwise I recommend printing out the ticket, or saving the PDF from the email to your files. There's very limited cell reception in the park. You will need to show your ticket to the ranger. They have no way of looking up your ticket there.
Arrive about 15 minutes prior to your tour time. You'll need to listen to the safety briefing from the ranger. They may deny you coming if you late.
Keep an eye on the weather. Tours may be canceled due to thunderstorms. They'll often still have it if the weather clears up enough by tour time.
If You can't get Tickets to The Cliff Dwellings
This is definitely a common issue and something that is rather unfortunate. But due to the popularity tickets have now been required for each of these sites. But maybe there are things you can do to still visit.
First: I would go early and check at the Visitor Center. Sometimes they have cancellations.
Second: Still go and stop by the sites. Ask the ranger. Sometimes there are no-shows. This occurred on a few of my tours where a few people who didn't have tickets were able to join, or use a ticket from a guest who had an extra.
Third: Afternoon tours, especially Long House seem to be less popular. I think people stop at Mesa Verde en route to other places. So you might have more luck with an afternoon tour. My Long House tour was about half what I would have expected.
Fourth: You can still see many of these sites from viewpoints. At the very least it's worth taking a long from afar. It's not the same yes. But at least you'll see them.
Fifth: There are some self-guided sites. I would recommend visiting Step House. I actually really liked this site as it has both older pit houses as well as newer cliff dwellings. You'll get to see much of what you would on the tours on a smaller scale.
Tips & FAQs
Book your tickets as soon as you have a date. Tickets do sell out, and some like Balcony House sell out very quickly
If you are planning to do multiple tours in a day. Space them out. You'll need about 3.5 – 4 hrs. between Long House and Balcony House or Cliff Palace. and at least 1.5 – 2 hrs. between Balcony House and Cliff Palace. I would recommend the longer of those times as it does take a while to do the briefing, complete the tour, and drive to the next site.
Even if the tour says 60 minutes, expect an additional 30 – 45 minutes per tour for briefing and time and exiting the area. I never finished any tour exactly on time.
Be aware of altitude. I live at altitude but if you don't, you need to be prepared for hiking at 7,000 feet. The sites are not accessible otherwise.
Pay Attention to the Weather. Tours may be canceled due to heavy rain. They will be canceled if there is lightning. They'll refund your tour but otherwise unfortunately there's nothing they can do.
Other Posts You May Like