For more than 700 years, people lived and flourished in the mountains, valleys, and cliffs of Mesa Verde National Park, located in present day Southwestern Colorado. And then somewhere around 1300 AD, the people left. Why they left? Where did they go? That's a lot of the information that is important to learn in Mesa Verde NP. Let's explore the park, what to do, and what to see in this incredible place.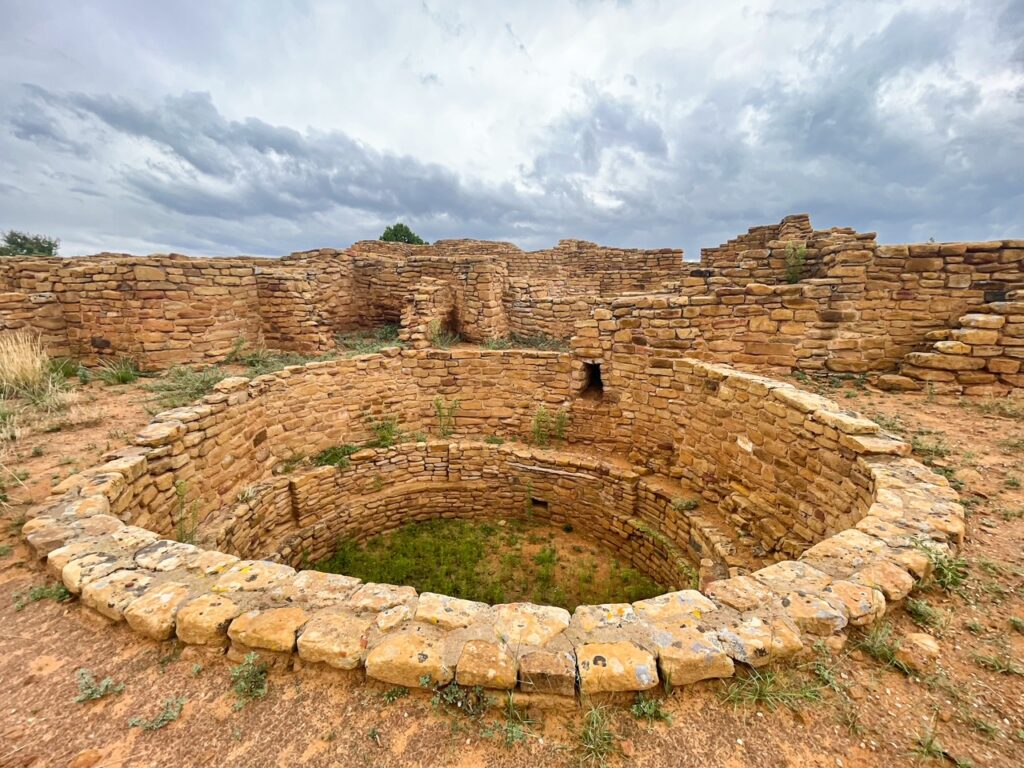 About Mesa Verde National Park
Established in 1906, Mesa Verde National Park protects the ancient dwellings (mesa-top, pit, and cliff) of the Ancestral Puebloan people. The site is both a US National Park and UNESCO World Heritage Site. Mesa Verde protects over 600 cliff dwellings as well as over 4,300 additional sites of archeological significance. The park is a rich landscape of natural and human civilization. The site also protects incredible flora and fauna that exist throughout the area as well.
The people who lived here started on mesa top housing and moved to pit house and then eventually cliff dwellings. The cliff dwellings were built with ancient masonry inside natural cliff areas that provided protection from elements, predators, and other tribes.
History
For more than 700 years, Puebloan people lived in the area that is now Mesa Verde National Park. Than in the 1300s they all moved out. Why?
Well the prevailing theory is drought. During time leading up to the evacuation of the sites, there were several large droughts recorded in the area. However, based on information, it's not 100% certain this is the reason. There were certainly droughts in other areas too and even many before the movement.
It's believed there are several reasons. Perhaps there was conflict in the area (maybe for limited resources). Information on better conditions from tribes who traded or groups who left the area to the south. Regardless, it is an incredible testament to the people. Especially being able to see the growth of complexity of the buildings from the early to the later period.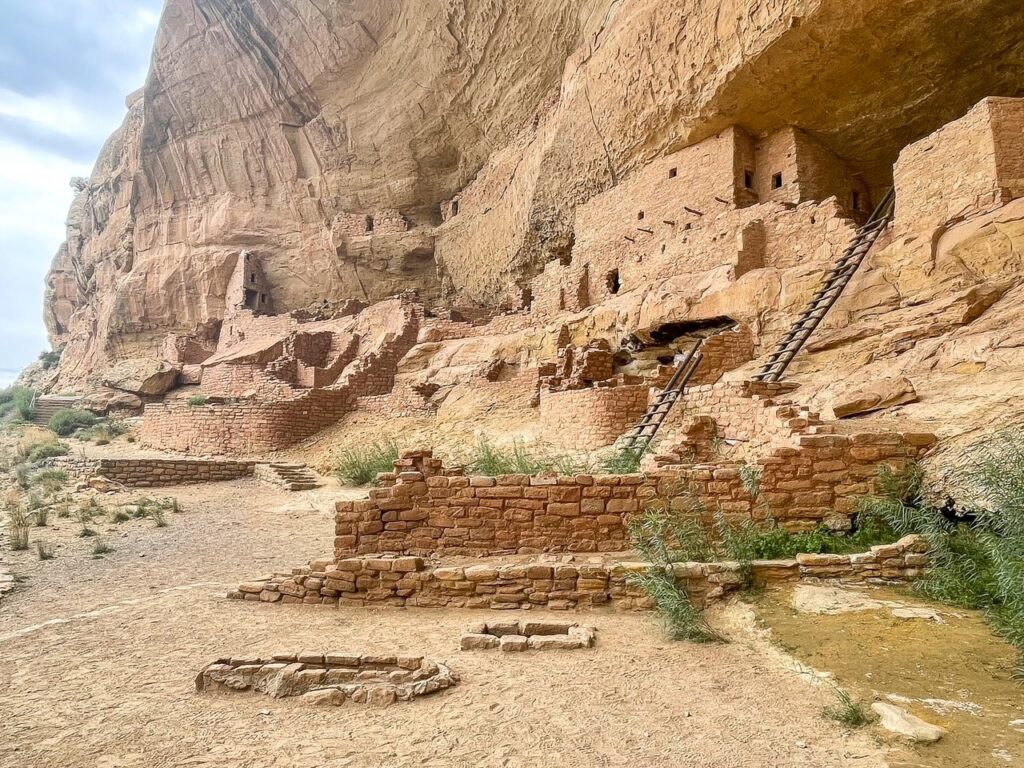 What to See in Mesa Verde National Park
The following are some of the best things to see and do in Mesa Verde National Park. Some of the best cliff dwellings as well as great hikes and places to explore. The various cliff dwellings, mesa-top houses, and pit houses are among the highlights of what to explore in Mesa Verde. The park has over 600 cliff dwellings, and many of the best are reachable by road.
Cliff Palace
The largest of the cliff dwellings in Mesa Verde (and certainly the most popular). Cliff Palace is often the one you see in advertisements or other information about Mesa Verde. Built between 1190 and 1280, the village was home to over 100 people. Cliff Palace is viewable from a platform but only visit able by ranger tour.
Balcony House
One of the smallest and most popular of the cliff dwellings, balcony house has a precarious location in a small cliff area. The Balcony House is one of the more coveted tickets given the less frequent tours and smaller groups. Be sure to read on how to book balcony house tours. You can also view Balcony house from nearby Soda Canyon Overlook Trail.
Weatherill Mesa
This day-use area (generally closed by 6pm) has several sites to visit (including long house). The Mesa has a long hiking trail as well where you can view several cliff and mesa-top locations as well as get views of long house and beaver house. There's a small kiosk for information. The site can be a bit tricky during thunderstorms as you are more expose than many other areas. Long House Loop Trail: 6 miles
Step House
If you can't get a tour for any of the other cliff dwellings (or honestly even if you can) you can visit Step house as part of a self-guided tour.
Step House is really cool, you can see a pit house, a cliff dwelling, and kivas (both the very old and more later era ones) in the same location. I think that alone makes it amazing. Requires hiking one mile down and up steep areas. Open 9:15 am-3:45 pm, last entry 3:30 pm
Long House
The other large cliff dwelling and nearly as large as Cliff Palace. One of my favorites, given that it was "preserved" later, it's in more of its original condition than Cliff Palace. I love that and it helps understand the area. Surprisingly less visited than cliff palace, ranger led tours of long house are often more available.
Far View Sites
Located in the Far View area (close to the lodge), the Far View Sites are mesa-top sites located within the park. The Far View sites were build more than 200 years before the cliff dwellings in the area. These sites were one of the most dense of the populated areas of the park and the several sites display some of the different housing and a water reservoir. Sites include Far View House, Coyote Village, Reservoir, Far View Tower, and Megalithic House.
Badger House Community
The Badger House community consists of 4 sites connected by a trail. These sites showcase various pit houses built throughout the habitation of the mesa-top location. The various locations showcase various timeframes and complexity of the housing of the area. Each site is protected within a structure to keep it stable and safe from the elements.
Square Tower House
Limited to only 10 visitors per day, Square Tower House is one of the most coveted of the hikes and cliff dwellings to visit in the park. Hike requires a strenuous 90 minute hike including ladders, switchbacks, and navigating narrow paths. Tours are generally held only late spring to early summer. Reservations required to visit Square Tower House.
Chapin Mesa Archeological Museum
Located before the entrance to Mesa Top and Cliff Palace loops, the Chapin Mesa Archeological museum contains dioramas, artifacts, and exhibits. The objects and information range from the inhabitation Ancestral Puebloan people in the area. There's also a 25 minute film about the site that runs regularly.
Soda Canyon Overlook Trail
Located on the Cliff Palace Loop, the Soda Canyon trail is a 1.2 mile out and back hike that takes you to various overlooks for the canyon. It's actually the only place to also view Balcony house if you don't get the chance to visit the site.
Petroglyph Point Trail
The 2.4 mile trail loop takes visitor through some rocky and rugged terrain along the canyon wall. The site offers beautiful views of Spruce and Navajo Canyons as well views of petroglyphs along the wall. The trail follows an old Puebloan foot trail through the canyon forest. Hikers must register at trailhead or museum prior to visiting.
Spruce Canyon Trail
Located close to Spruce Tree Terrace, the 2.4 mile loop takes visitors through the scenic spruce tree canyon. The trail is moderate and requires ascending and descending into the canyon along some occasionally narrow trails. Plan to spend at least 60 – 90 minutes to do the trail.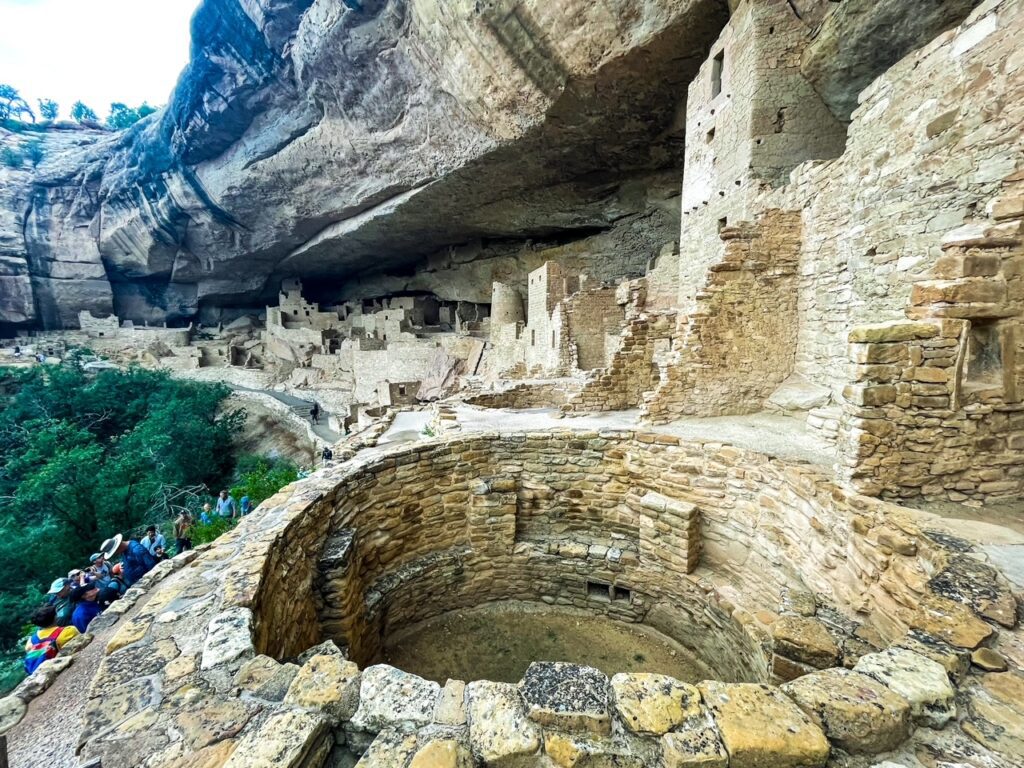 Ranger Led Cliff Dwelling Tours
Several of the places to see in Mesa Verde Require tickets to view. These include Cliff Palace, Balcony House, and Long House. If you are looking to visit these, be sure to buy tickets. I have an article specifically talking about how to get tickets for Cliff Dwelling Tours that provides all you need to know about booking these places.
Animals in Mesa Verde NP
There's actually a far number of animals viewable within Mesa Verde National Park. You'll actually see quite a few horses that seem to wander into the park from nearby areas outside the park.
There's also bears, which shocked me during my time in the park. But I actually saw a bear on my way out from the park.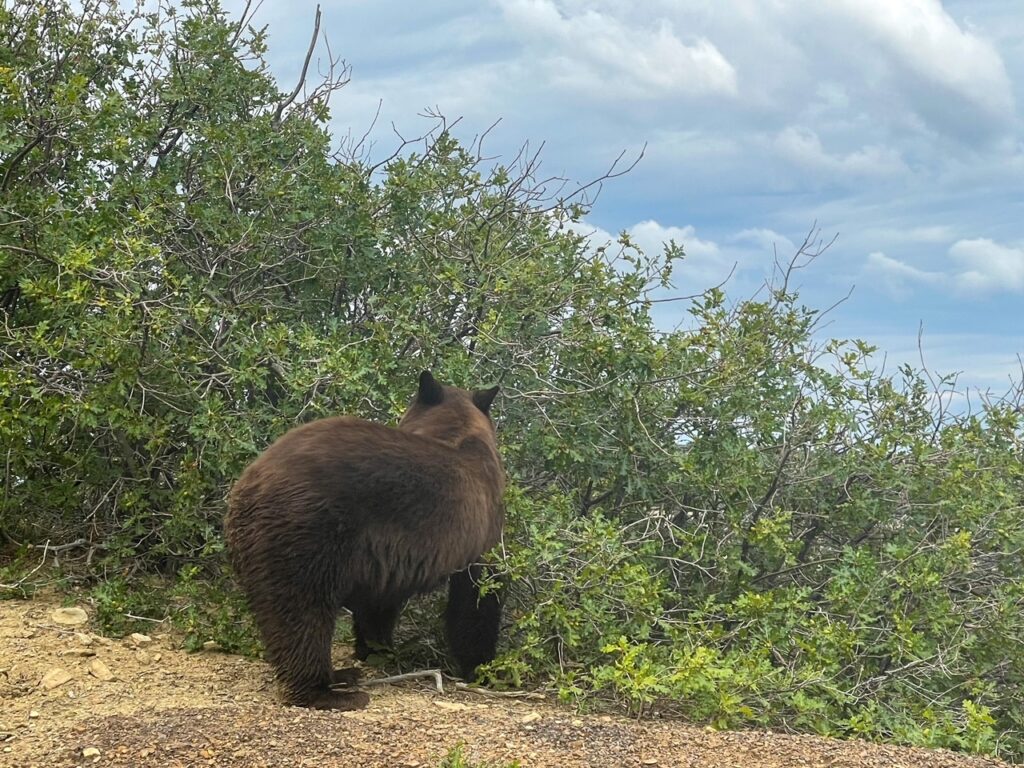 Beyond that there are also coyotes, gray foxes, elk, mountain lions as ell as other small mammals like porcupines and marmots.
Basic Information
Address
34840 Hwy 160 Mancos, CO 81328
This address is the main address of the park and the Visitor/Research Center.
Visitor Centers
Mesa Verde Visitor and Research Center: Located near the entrance of Mesa Verde. The center includes information on hikes, booking tours, shop, national park stamp and passes. Exhibits and movies discuss the history of the Puebloan people and the park. Hours: 8:30am – 4:00pm [9:00am – 3:00pm Off-Season]
Chapin Mesa Archaeological Museum: Located about 20 miles within the park. The Archaeological museum showcases artifacts, and exhibits about the Ancestral Pueblo people. There is also a 25-minute film available as well to watch. Currently Closed for Renovations
Weatherill Mesa Kiosk: Located by the parking area and close to the Weatherill Mesa Trail. The Little kiosk area usually has a ranger manning it to provide information about the site, hikes, closures, etc. There's also a national park stamp and park pamphlets as well. 9:00 am – 4:00 pm
Hours
During regular Season (Mid-April to Late October), the park is open 24 hours a day 7 days a week. Roads do close seasonally.
Hiking trails are open year round, although access is difficult during times in the winter when roads are closed for weather.
Services are limited during winters as well, campgrounds closed, and ranger led tours are not held.
Fees
May 1 – October 31
Private Vehicle: $30
Motorcycle: $25
Per Person (Foot / Bicycle): $15
Annual Pass: $55
November 1 – April 30
Private Vehicle: $20
Motorcycle: $15
Per Person (Foot / Bicycle): $10
Annual Pass: $55
Free Entry Days:
Jan 17, 2022: Martin Luther King, Jr. Day
Apr 16, 2022: First day of National Park Week
Aug 4, 2022: Anniversary of the Great American Outdoors Act
Sep 24, 2022: National Public Lands Day
Nov 11, 2022: Veterans Day
If you are planning to visit other parks, we highly recommend the America the Beautiful Interagency pass. It's available for $80 from USGS or Recreation.gov.
National Park Passport Stamp
There are passport stamps located in a few different locations within the park.
Chapin Mesa Archaeological Museum
Mesa Verde Visitor and Research Center
Weatherill Mesa Information Kiosk
Website: Official NPS Website
Where to Eat in Mesa Verde
Far View Terrace: Located near the far view lodge. The terrace offers cafeteria style eats/service in a nice little complex. The area also has some tour information as well as a camp and gift store.
Spruce Tree Terrace: Located close to Spruce Canyon, the Archaeological Museum, and Spruce Tree House, the Terrace offers gift shop and restaurant/café. The food here is actually pretty affordable and quite good. Worth a stop if you are hungry for lunch.
Metate Room: Located as part of the Far View Lodge. The Metate Room offers sit-down dining experience for hotel or other guests. You can reserve within 24 hours of your stay. Walk-ins accepted, although Reservations Recommend. Call 970.529.4422 for reservations.
Places to Stay Mesa Verde National Park
Overall Mesa Verde is a seasonal Park. During the off-season (winter), tours are canceled and most roads are closed throughout the park. Camping is also closed during the park in the winter, and in the "off-season" which is earlier in spring and mid-fall many of the services are not available.
There's one hotel and one campground located within Mesa Verde National Park.
Hotels
Far View Lodge: Located about 15 miles from the Park Entrance, Far View offers 150 rooms, many with great views as well. The hotels offer private rooms with private baths, fridges, and more. There's also a lodge attached with restaurant, bar, store, and visitor information. The food is actually pretty decent too. Open from Mid-April to Late-October.
Camping in Mesa Verde
Morefield Campground: Located 4 miles from the entrance. The campsite contains 267 Sites and has quite a few amenities including a camp store, internet (seasonal), showers, laundry, and more. Several of the sites have electricity and/or are RV only. Reservations recommended, and booked through Aramark. Price: $38. Reservations: Apr. 28 – Oct. 12; No Services: Apr. 14 – 27; Oct. 13 – 26; Closed: Other Dates
Getting to Mesa Verde National Park
Mesa Verde is located in Southwestern Colorado in Montezuma County, Colorado. The park is accessible by car from various areas as well as nearby airports.
By Car
Regardless of how you get to the area, you'll need a car to access Mesa Verde National Park. The National Park is located along US-160 in Southwestern Colorado about 36 miles from Durango, 10 miles from Cortez, and 8 miles from Mancos Colorado.
The park does not have shuttle access, so you'll need a car to access most of the areas within the park. Some of the areas require a fair amount of driving and driving between sections such as Cliff Palace and Weatherill Mesa can take up to an hour.
Distances to Mesa Verde National Park
Mancos: 8 miles (9 minutes)
Cortez: 10 miles (13 minutes)
Durango: 36 miles (40 minutes)
Telluride: 83 miles (1.5 hours)
Moab: 124 miles (2 hours)
Grand Junction: 200 miles (4 hours)
Albuquerque: 250 miles (4 hours)
Colorado Springs: 350 miles (6 hours)
Denver: 378 miles (7 hours)
By Air
The closest airport to Mesa Verde National Park is the Durango-La Plata (DRO) Airport. The airport is rather small and has connections from Denver, Phoenix, and Dallas on United and American.
Other Posts you May Like