Greetings from Japan,
So I'm currently sitting in a hotel room in Goshogawara in Northern Honshu…  So here's the story so far.  Well basically I was supposed to be out in Tokyo on Thursday for work, but one of my current coworkers (who is also on this trip) is going to be moving to Northern Honshu later this year for a couple years and wanted to go check out the area and look for houses…  Now not being one to ever give up a chance at a little adventure I decided to tag along and check it out with him…so we quickly on Thursday changed our flights to leave on Saturday.
Now of course neither of us really had any idea what we were doing, we just knew we had to be in Goshogawara on Monday or Tuesday, how we were going to accomplish that was yet to be determined, we were going to basically wing it and see what happens.  We arrived in Tokyo on Sunday evening, got our bags, etc.  We then went to exchange our Japan Rail passes, but apparently something with our passports would not allow us to use the Rail Passes…eek.  This would have definitely been a show stopper, I don't think I would have gone north if i had to pay again for tickets, but thankfully she decided to just go ahead and break the rules and give it to us anyway…thank you nice lady!  But they were only able to get us reserved seats up until Tokyo station, there were no reserved tickets going to Hirosaki where we were trying to take an overnight train to.  Arriving in Tokyo we then went to the ticket window there…(the service center was already closed)..hoping to find any train that could get us as far north as we could overnight.  The thoroughly confused man at the window was able to book us on a sleeper car going from Ueno to Hirosaki.  Now according to the rules of the JR pass, you need to pay extra for any sleeper cars you use, but we were not charged any more for the privilege…luck seemed to favor us twice so far.  We boarded our sleeper car train around 9pm, it wasn't a bad train, not the best sleeper train I've ever been on but not the worst either.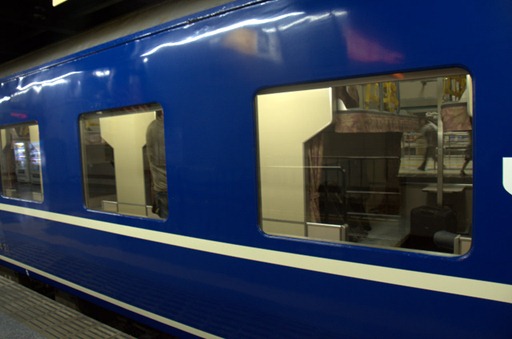 Our Overnight Train
Unfortunately we were put on a smoking car, and like anything around here, that means they take it to extremes, it seems there was always someone smoking near our beds.  I took the top bunk which Tom seemed to inform was for my own benefit haha.  If it wasn't for the ear plugs from the plane, sleep would have been impossible, between the snores of fellow passengers, the hum of the train, and the slurping of noodles from the man on the bunk across from me, the sounds of the train were not really conductive to a good night's sleep.  This 12 hr train ride was going to be a long one, and the only food we have had thus far was a salmon and cream cheese bagel (new york style apparently, i guess a little taste of home) from the Ueno train station and I wasn't sure how long we were going to last!
Early morning on the train was really pleasant.  I thankfully managed a few good hours of sleep and Tom and I sat by the window watching the scenery go by.  The train seemed to hug the western coast and every once in a while a little town would pop up and between which we were greeting with beautiful scenes of rice fields, apple orchards, and cloud covered mountains.  The weather too seemed to change from town to town where at once it would be sunny you would go over a hill and you would be engulfed in a sea of fog.  I really enjoyed the morning on the train and would have enjoyed it far more if it wasn't for the constant rotation of smokers emerging on the seats next to me.  We arrived at Hirosaki at 915am smelly and hungry and realizing the last traces of English left us long ago.  At this point we were left with our poor understanding of Japanese and our body signals to get us by from now on.
We decided to wander about Hirosaki and see how we fare…Hirosaki seems to be in the heart of apple country, all about us we saw little statues of apples, apple signs, apple fairs, apple markets..you name it.  The area it appears is famous for their apples and some of them are quite large, probably the size of a large grapefruit, clearly a meal in itself.  Basically we were starving and hoping to find anything to have for breakfast.  The first restaurant we wandered upon was a Sukiya so we grabbed ourselves a set of beef bowls (seems to be one of my first meals in japan every trip) and realized we probably should try to just get to our end point as soon as we can, so we went to make our way to Goshogawara.  However it seems Tom's contact for houses lived in another town near there called Itayanagi so we had to try to find our way there.  In the train station of course nothing was in English and it appeared no one spoke English either, but with Tom's limited Kanji and Hiragana reading ability he was able to guess which station we might need to get on, so we figured, well we have train passes so worst case we just turn around.  Well you know you are in the middle of nowhere here, when the trains don't run all that regularly, and we had to change trains.  We got our train and ended up in a really small town call Kwambe… the only people we saw were each other and one other guy sleeping on a bench in the station.  Of course our train wouldn't arrive for another hour (what is this a Philly train!?)… and we proceeded to relax and listen to the sounds of
being in a place in the absolute middle of nowhere.
Middle of Nowhere Japan
We thankfully made it to our destination still in one piece (I'm still not sure how we got here), and were greeted by the contact Tom had made.  We wandered with her back to her church, her and her husband are christian missionaries who have been in japan for 22 years, and who tom had made contact with through the internet.  They had helped Tom find a house in the area, and were nice enough to give us a place to relax before they were going to take us to see it.  Wow what really nice folks.  We quickly grabbed a little snack of sushi from the grocery store and decided to try to hit up a onsen or sento to get ourselves a quick bath…its been nearly 3 days now and well lets just say it was much needed.  Itayanagi now in itself was a small quiet town, it appeared like one of those places that would be in a post apocalyptic world, like no one around, no sounds.  I think we may have seen one car drive and one other pedestrian in our time wandering in the city.  Now getting to the Sento we didn't realize we needed to bring our own stuff, and our attempts to try to explain towel or shampoo to someone who spoke no English was hopeless.  We decided to just give up at this moment and hit up the supermarket and buy more stuff (although the soap i bought ended up being lotion…argh!). Finally after the bath, clean, happy, we headed back to the church and relaxed until it was time to go check out the house.
Martin took us in his car over to Goshogawara, we found a hotel and then took off towards what might be Tom's future house.  Now this house was enormous, a large blue house that by Japanese standards is enormous but its big even by western standards as well.  It was 2 floors and an attic, several tatami rooms, two kitchens, garage… The house is owned by an old couple who lives next door, and I guess the last tenant here was a English teacher who didn't seem to treat it too well so they were looking forward to renting it to a family though. So what would the rent on this massive house cost Tom's large family…. 40,000 yen (less than $400) the landlord spoke…..40,000? a month?  yes a month… wow so ait…umm….wow.  Oh but there is a catch it seems, they want to keep a room in the house for storage, but apparently in the last 2 years have never used it…not sure how or what tom is going to do about that or what…but while the house does need some work, that is a crazy deal i would only imagine. Although just trying to picture this house, it's in an interesting location.  Directly across the street from the house is a large shopping mall (one of two in this rather small town/city), however in the front and backyard of this house is a rice field…yes they are growing rice around his house, we are clearly not in Tokyo or anywhere else we quite recognize anymore.
Now that is the interesting thing about Goshogowara….being here makes me feel very far away from everywhere i have been, and anywhere else in japan i have been too. Its an odd town, lots of fruit, rice, but still large department stores, grocery stores, a big driving range, and some big dome for high school kids to practice baseball (in hopes of making the major leagues) during the long winters.  I'm really not sure how to explain it, but I guess maybe you'd have to be here to share this feeling.

Ritz Cracker tin prize?…

Hello kitty prize grab…
Well so at the moment just resting up in the hotel, tom is passed out, I'm getting ready to, its been an interesting few days, i think tomorrow we are going to try to make our way north from Aomori to Hokkaido and spend a bit of time before having to get back to Tokyo before Thursday night.  I hope to send out some photos in the near future if i can, and I hope everyone else is well too.