Has anyone been in any other caves?
Nearly everyone in the room raised their hand. He added. "Well ours is better than those".
I scoffed a bit, having been in many caves. But to be honest, he wasn't too far off. Lehman Caves is one of the most impressive cave systems in the world.
About the Caves
Discovered in the 19th century by Absalom Lehman, the limestone cave was quickly recognized for its tourism potential. The caves were known by the local Indian tribes and it's been shown that there was activity in areas of the cave by local tribes.
The cave at over 2 miles long, is the longest currently known cave in Nevada, and it's cave formations (speleothems) are some of the finest found. Many caves in the area can be completely void of any formations.
Early on cave tours brought folks in through candle light, and rooms such as the inscription room bear burn marks from cave visitors. Surprisingly even after the cave became a national monument (1922), burns continued to accumulate (post-WW2) in the room (even bearing the name of rangers). Thankfully with the creation of the national park (1986) the cave was put under strict protections.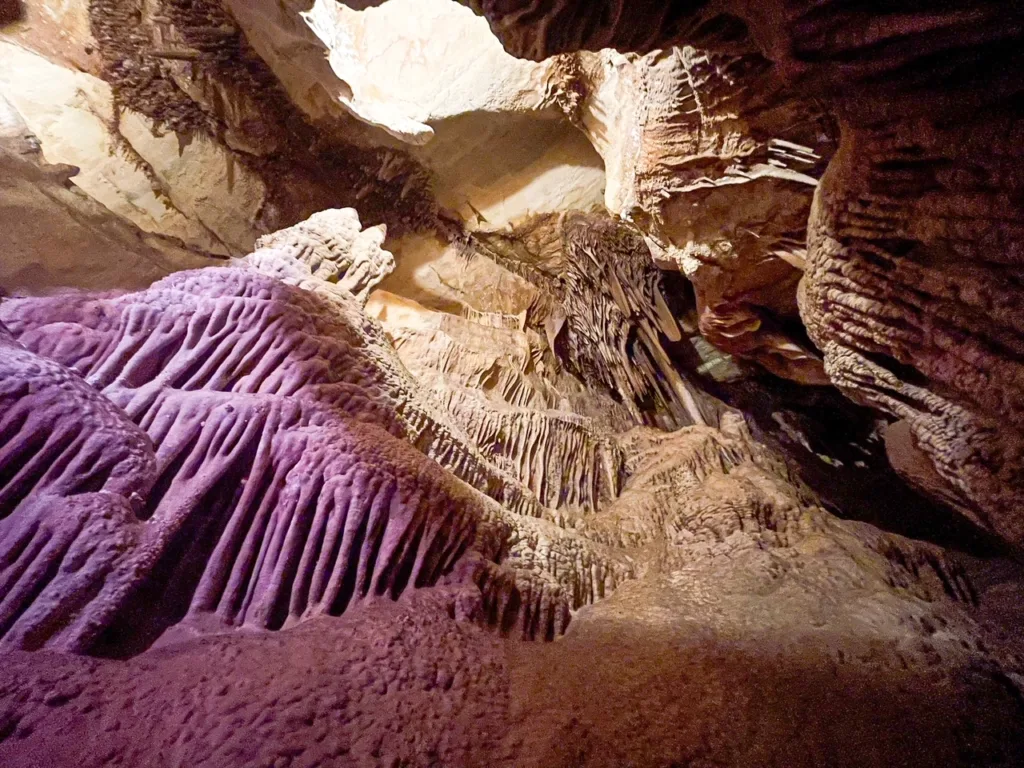 Lehman Cave Tours
There are currently three tours that are offered for Lehman Caves.
Grand Palace Tour: The longest of the 3 tours, the 90 minute tour visits the Gothic Palace, the Music Room, the Lodge Room, Inscription Room, and the Grand Palace sections of Lehman Caves. Also includes the Parachute Cave Shield.
Lodge Room Tour: 60 minute tour. This tour visits the Gothic Palace, Music Room, and Lodge Room.
Gothic Palace Tour: 30 minute tour. This is the shortest of the options available and visits the large Gothic Palace room. This tour is the most accessible and great for folks with small children or limited time.
Notes:
All tours are limited to about 20 people.
The Grand Palace Tour will give you all the same areas of the other two tours as well. It's the best option if you want to see as much as possible. It's worth the extra 30 minutes in my option.
Tour Reservations
Tours for the cave require tickets to enter and tour sizes are severely limited. And it's very popular. You can only get Lehman Caves tickets one of two ways. Same day tours are not available online.
Reservations become available at 10am (ET)/7am (PT) 30 days ahead. Tours are offered year round (except Thanksgiving Day, Christmas Day, and New Year's Day). Generally the tours are offered even in bad weather (since its underground), although pay attention to road closures.
Notes:
If you are visiting in summer, get a reservation online, these fill up very quickly.
Also note, the park is on Pacific Time, which can be tricky as my phone would switch into Mountain Time, so be sure to pay attention to your clock!
Tour Cost
Lodge Tour: $12 Adults (age 16+); $6 Children (ages 5-15)
Grand Palace: $15 Adults (age 16+); $8 Children (ages 5 – 15)
Gothic Palace: $5 Adults (age 16+); $2 Children (ages 5 – 15)
What if I can't get a Tour Reservation?
This is tricky. If you can't get a reservation and you are going to be in Great Basin National Park already, it is worth getting to the park early and checking with the rangers. There are often cancelations or change that may allow you to get tickets. You can try to call ahead, but many times the rangers won't know until the day of. Arrive Early! Same-day tours book up fast
Notes:
During peak season weekends, and personnel depending, they often add in an additional tour in the mornings.
These won't be known until the morning. And you can only book it in-person at Lehman Caves Visitor Center.
What to Bring and Avoid
The park has very strict rules on what you can and cannot bring into the cave. It's both for your protectoin as well as protection of the cave.
Avoid wearing any article of clothing (including camera straps), that have been carried in ANY cave system in the World. Lehman Caves is currently white-nose syndrome free, and it's trying to stay that way.
Please, please, don't lie. Don't risk the lives of the bats because you don't want to miss something on your vacation. White-nose syndrome is awful and it's claiming millions of bats lives across the United States.
Bring
A light coat. Even during the summer, the cave is a constant cool temperature.
A mask. Federal regulations can sometimes (still) require them at times. They should have some on-hand but you might prefer your own.
Your reservation information. They should be able to look you up, but in case you have an issues, cell service may not be available. Be sure to check in at least 15 minutes early. If you don't check in 5 minutes before, they may give your reservation away.
Avoid
No clothing that has entered any cave system in the world anywhere.
No Bags of any kind, even small ones. Including backpacks, purses, phone hip-holsters, fanny packs, back mounted baby carriers
No food, drinks, gum, tobacco. This includes no water
No tripods, selfie sticks, large lenses, pets, or strollers.
Avoid visiting if you are claustrophobic, get uneasy in tight spaces. You can ask to be escorted out if you start to feel this way. Someone on my tour ended up having to leave.
Don't touch cave surfaces. The cave is still growing and oils in your skin will seal/stop it from growing.
Let them know if you can't deal with extreme darkness. They do turn-off the lights at one point in the cave to let you experience it.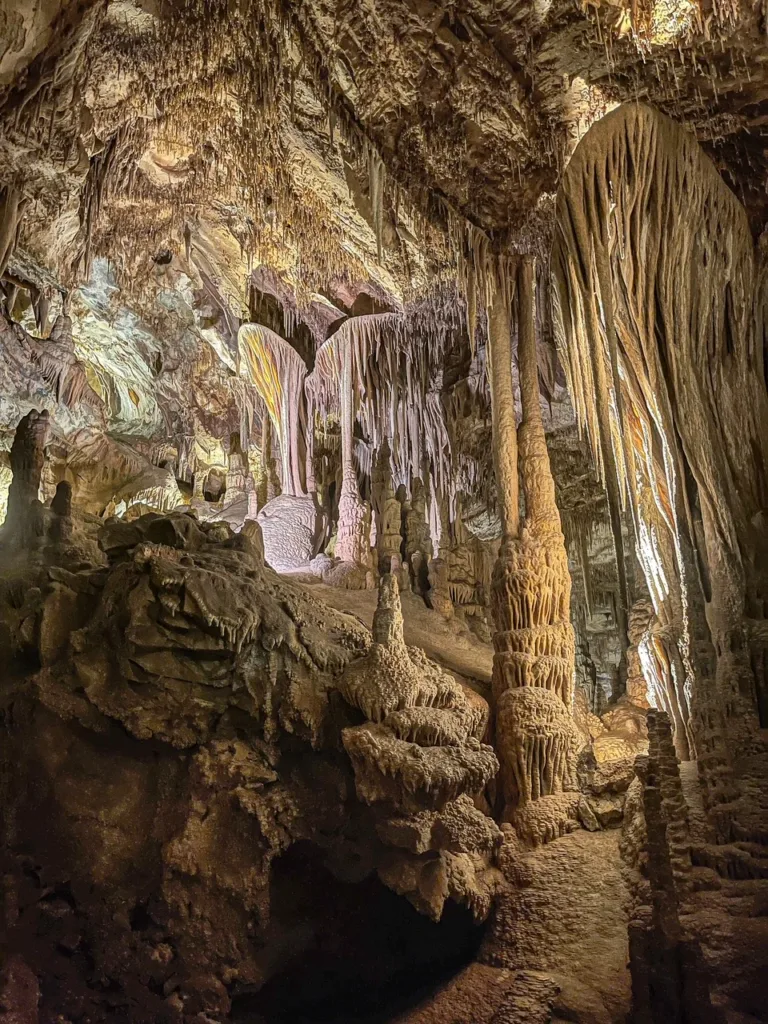 Quick Tips and FAQs
Reserve your ticket online at Recreation.gov
Book an early tour, if you can. It'll be easier to come here then trying to return for your tour time.
Arrive by 8am, if you don't have a tour, or if you want to see if you can change. I was able to switch my tour by arriving early. They add additional tours if they can, you won't find these online.
Pay attention to your time zone. I stayed in Nevada, and my clock was off by an hour.
Do not bring anything into the cave. No bags, food, etc.
Bring a Jacket. It is chilly in the cave. It's better to be comfortable.
Be Bat Safe. No clothing, shoes, etc. that have entered other cave systems. Wipe down cameras, phones with disinfecting wipes.
Book the longest cave tour you have time for. Each tour visits at least as much as the shorter tours. It was worth the extra time to see the rooms.
Other Posts You May Like