You've come to Arches National Park in Utah and wondering where to go and how best to use your time. The park, while smaller than many other National Parks still has a lot of trails to explore and places to see. With over 2,000 Natural Arches, there is a lifetime of things to visit. So how to maximize your limited time? We try to compile the must do hikes for visitors to Arches National Park. So follow along for the Best Trails in Arches National Park.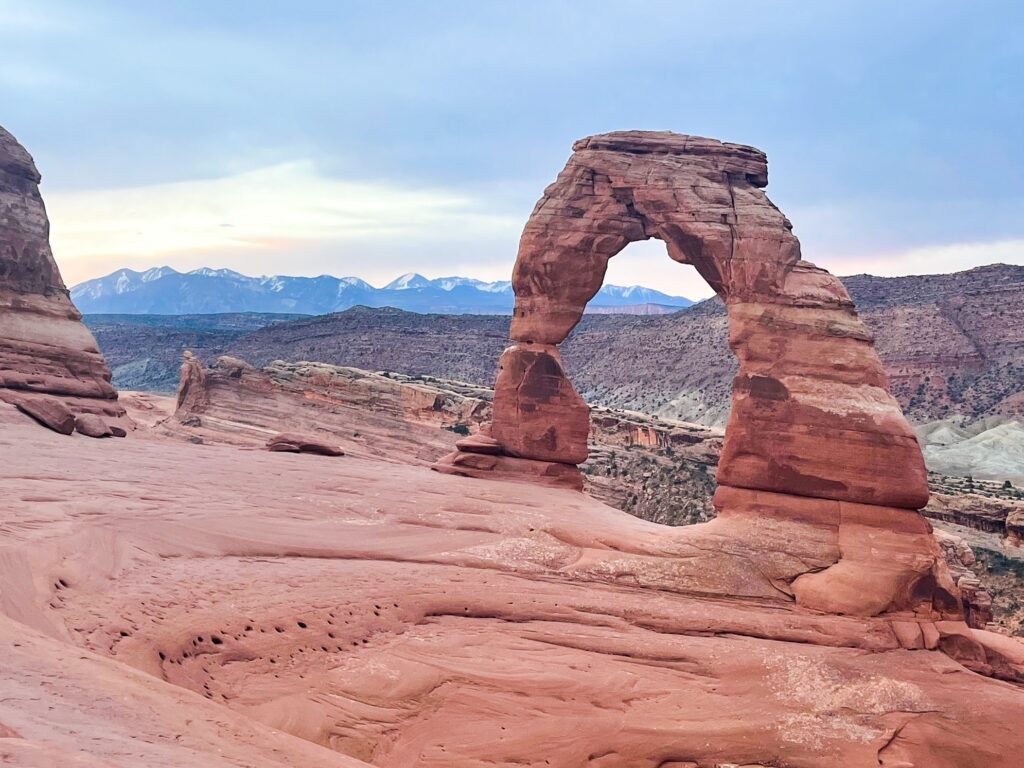 Length: 3 miles (round trip)
Trailhead: Delicate Arch Trailhead
The delicate arch is the most iconic symbol of the park and even so iconic that it graces the Utah License Plates. It is also one of the best hikes in Arches National Park. The arch is reachable by a 1.5 mile each way hike up and through the land of the national park. The trail is considered moderate and it requires a lot of going up and downhill and there is even a narrow pathway close to the arch itself. You'll need to be ok walking that pathway and it can induce fear in people with a fear of heights for sure.
The trail is also popular for sunrise and sunset. If you are planning to visit for sunrise (recommended), you'll certainly need a headlamp. About halfway through the hike, the trail gets a bit harder to locate and there are reflective strips (albeit not enough) that mark the trail path. I found also once the trail got pretty open closer to the end of the trail, the trail went to the left and it was harder to notice initially. Just be sure to try to keep on the trail as you go, it can be easy to lose in places.
There is also a viewpoint that is one mile down from the parking lot for the Delicate Arch trailhead. To be honest, its not worth the visit unless for some reason you cannot do the longer Delicate Arch Trail. You really don't get that close to the arch and its not a great view of the arch from the viewpoints.
Length: 1 mile
Trailhead: Windows Trailhead
This was one of my favorite trails and one of the best hikes at Arches NP, has great, easy to view arches in a short hike. The Trail takes you to three "window" arches, North Window Arch, South Window Arch, and Turret Arch. The trail is a loop and you can do it in any direction. I liked being able to walk up into the North Window arch area, that was certainly a highlight, and a cool photo op.
There is a more primitive trail back to the trailhead and parking lot, if you so choose.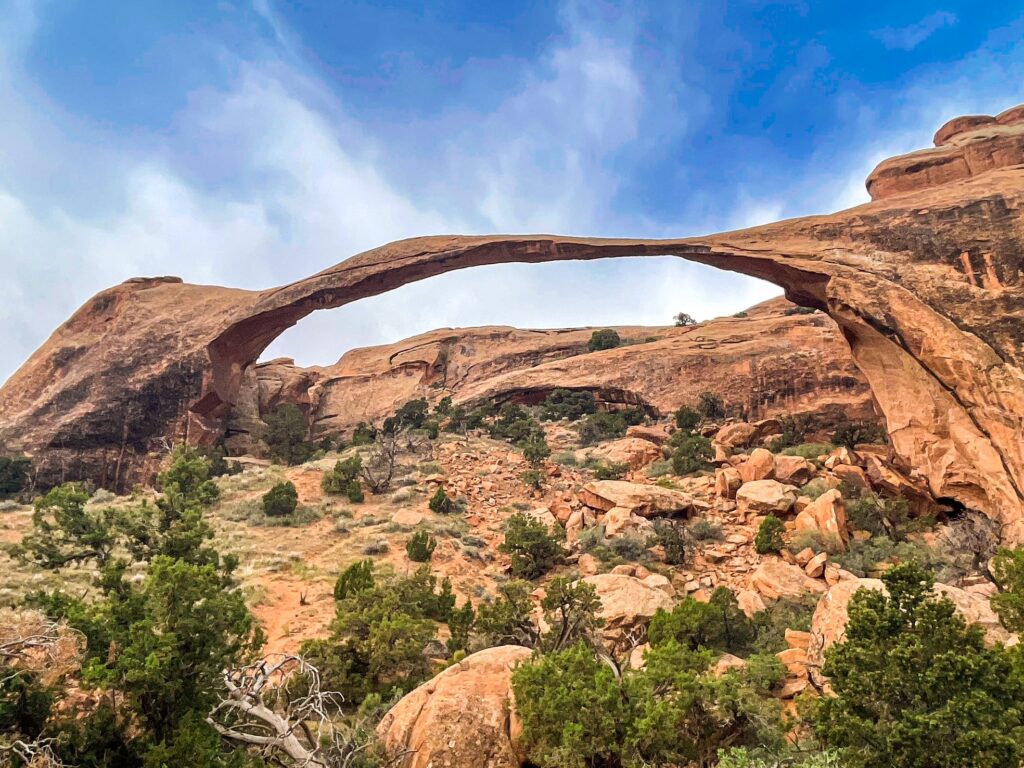 Devil's Garden Trail
Length: 2 – 8 miles
Trailhead: Devil's Garden Trailhead
Definitely one of the most worthwhile trails to do in Arches National Park. This trail takes you along various fins and to visit several great natural arch examples.
Most people go visit some of the early arches like pine arch and tunnel arch and then wander out to Landscape Arch. This is probably the most popular loop and fairly easy for most folks to accomplish.
Following this point, the trail gets more difficult and "primitive". The area gets a lot more sandy and there is some required scrambling over slick sandstone and up through some areas where its a bit more difficult to navigate and sometimes easier to lose the trail.
I wouldn't recommend going past the landscape arch area if there's been recent rain or if the weather is snowy or otherwise slick. Also be sure your party is ok with some more difficult hiking. The hike is definitely worth doing to the landscape arch and back.
Fiery Furnace Trail
Length: 2.1 miles
Trailhead: Fiery Furnace Trailhead
This is one of the few non-backcountry trails that require a permit. The Trail takes you through a maze of rock walls, fins, narrow ledges, and sand. There is also only one way to go, so you need to complete the hike after you begin.
The only ways to enter the hike is either with a ranger or a permit. The permits can be reserved on Recreation.gov and can and do fill up for the day.
Ranger Led tours run about $16 dollars per person. These can also be reserved on Recreation.gov up to 6 months ahead of time. Note: If you have a pass for a ranger led tour, you don't need a time-entry ticket for Arches.
The hike requires you to wear good footwear. No sandals are allowed. Each person is also asked to carry at least 1 liter of water. The ranger led tours will obviously check for compliance, but you should do the same even if you are on an individual permit.
Balanced Rock Trail
Length: 0.3 miles
Trailhead: Balanced Rock Trail
Balanced Rock is one of the iconic photos you often see of Arches National Park. The Rock is easily viewable from the road if you don't want to do the hike. But the hike is worth it and very short, and gives you various angles of the rock. Also great if you want to photograph the rock and the sun is not in a good spot for roadside shots.
The trail is short and takes you around and close to the rock. You can also see a few other nice rock formations in the distance, including one I think looks like a hand.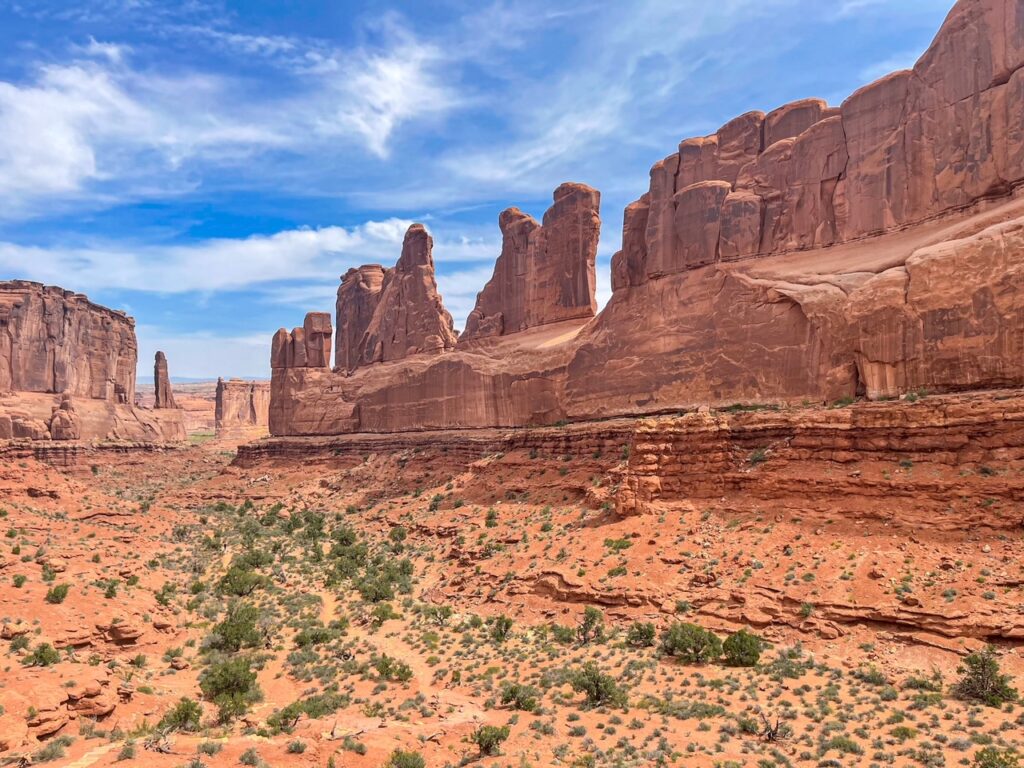 Park Avenue Trail
Length: 1-2 miles (2 miles if you go out and back)
Trailhead: Park Avenue Trailhead
Walking about some of the towering sandstone cliffs, the Park Avenue Trail, makes you feel very small in comparison to these soaring rock faces. The trail is named after "Park Avenue" in NYC because it is said that it feels like its walking among the sky scrapers there. There is some truth to that.
This is a pretty short route as well as pretty close to the entrance of Arches National Park. There is a viewpoint at the start of the trail if you don't want to walk the trail. The trail is considered "primitive" although its pretty easy to see and navigate the trail.
You can either park at the trailhead and walk out and back. Or come out the other end and perhaps have someone pick you up or leave another car there. The other end of the trail is at the Courthouse towers viewpoint.
Other Posts you may Like
---
Have you been to been to Arches National Park? Do you have a favorite hike that is or isn't listed? Would love to hear from you and any other advice or opinions.