The incredible Puebloan construction of Montezuma Castle really does look like a castle. So much so that it fooled the early Europeans who named it in honor of Montezuma (thinking it was connected with the Aztecs).
The history though is very impressive as is the engineering. Read up on the National Monument and how you can visit as well.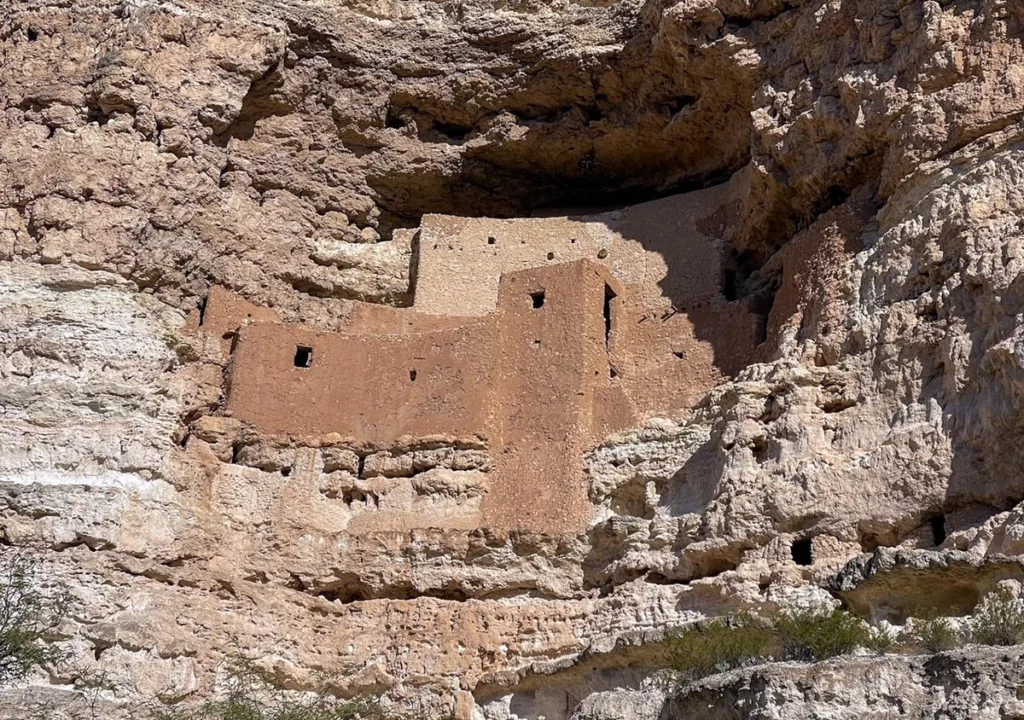 About Montezuma Castle National Monument
Montezuma Castle preserves the historic cliff dwellings of the Southern Sinagua cultures (1100 – 1425 AD). In 1906 Theodore Roosevelt announced the preservation of the historic sites including Montezuma Castle NM.
The castle is impressive, sitting about 90 feet high in an alcove above a sheer cliff face, it seems to defy logic on how it exists. Access to the site is incredibly difficult, either through some incredible climbing or more likely from some portable ladders. This made it even more difficult to be assaulted by enemies.
The site seems to have been occupied from at least 1050 AD (although there are signs as early as 700 AD) by the Sinagua culture in the area. The site probably was abandoned in the mid 15th century when many other nearby sites were abandoned as well as cultures moved south for better conditions.
Best Time to Visit Montezuma Castle National Monument
Montezuma Castle is open year round with only closures on Thanksgiving. As expected, summers in the area are extremely hot and winters pretty mild. The one benefit is that the trails are short, but you should take caution with the heat and have water and clothing protection.
Fall to early Spring is the high season here for visitors. I recently visited in November and it was the perfect time to explore the area.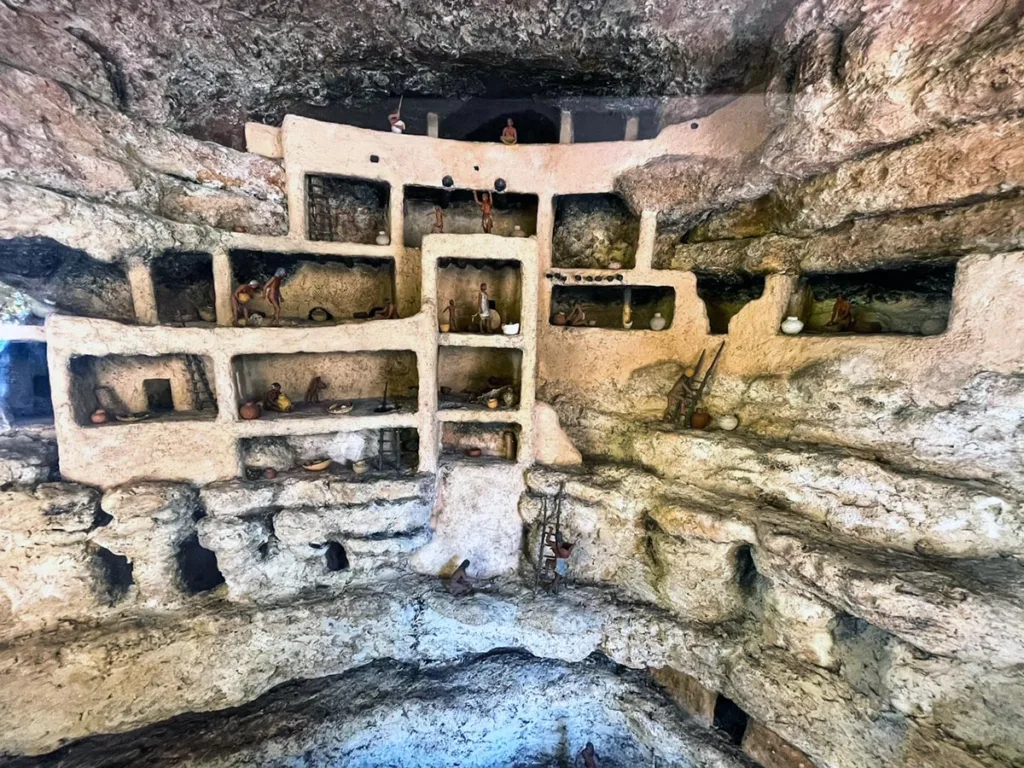 How Long to Spend at Montezuma Castle
Most people spend about 1 hour at Montezuma Castle. It's a pretty quick little hike to see the castle and the area and then walk back to the visitor center. There's quite a few small exhibits to see at the visitor center as well.
If you have more time you can add in Montezuma well. The site is about 20 minutes from the Visitor Center and has a similar path to see the area. If you plan to see both I would budget at least 2 hours.
Things To Do at Montezuma Castle National Monument
There's not a ton of things to do at Montezuma Castle NM. But it's a great place to get views of incredible cliff dwellings and learn some history. Due to protection, you can't access the actual cliff dwellings and only get views from the trails.
Montezuma Castle Loop
This is the highlight of the park and the thing most people come to see. Montezuma Castle is an incredible 20 room apartment built on a high cliff. It's an incredible feat of engineering. The trail is about ⅓ of a mile and takes visitors along the path below the Castle.
You can actually get a few different angles and learn about how residents used to enter the castle as well.
If you have a chance you can see if there's any ranger led tours. They do have some great tours that explain the history. There's also a model of the site you can see along the path as well. Unfortunately it's been many years since visitors could access the monument, these days its off-limits to protect the sensitive structure.
Montezuma Well
Located about 11 miles north of the Castle, Montezuma well is another unit of the same National Monument. The well was part of a ranch up until the 1950s when it was sold to the national park service. These days visitors can see some of the archaeological ruins as well as the well and the historic back ranch buildings.
The well is interesting in that it has a very high concentration of carbon dioxide which prevents fish from developing here (and the ranchers did try to stock with fish but they all died).
Beyond the well there are also several cliff dwellings visitors can witness from the trails as well.
Where to Stay
There are no accommodations or camping within the National Monument. And the site closes before the evening. So we did pull together a few places in the area.
Camping
Hotels
RV Parks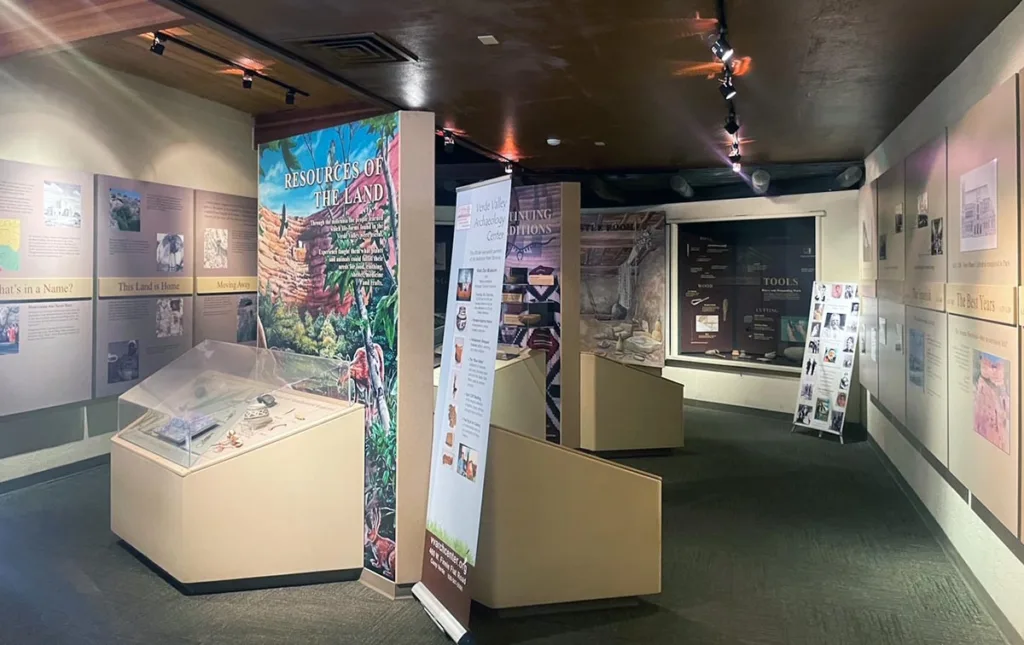 Basic Information
Visitor Center
There is a small visitor center that has information, bathrooms, book/gift store, Passport Stamp, and small museum. It's also where you pay the fee for entrance. Note the visitor center is opened from 8:00 am – 5:00 pm but the park gate closes at 4:45 pm.
The park gate is about 1 mile from the visitor center. I'm not sure why they do the timing this way.
Fees
Per Person: $10
Annual Park Pass: $35
Annual America the Beautiful is also accepted.
Address
2800 Montezuma Castle Rd, Camp Verde, AZ 86322
Hours
Daily: 8:00 am – 4:45 pm
Closed Thanksgiving.
Early closure (1:45pm): Christmas Eve and New Year's Eve
Passport Stamp
There is a National Park Passport Stamp located in the Visitor Center.
Website: Official NPS Website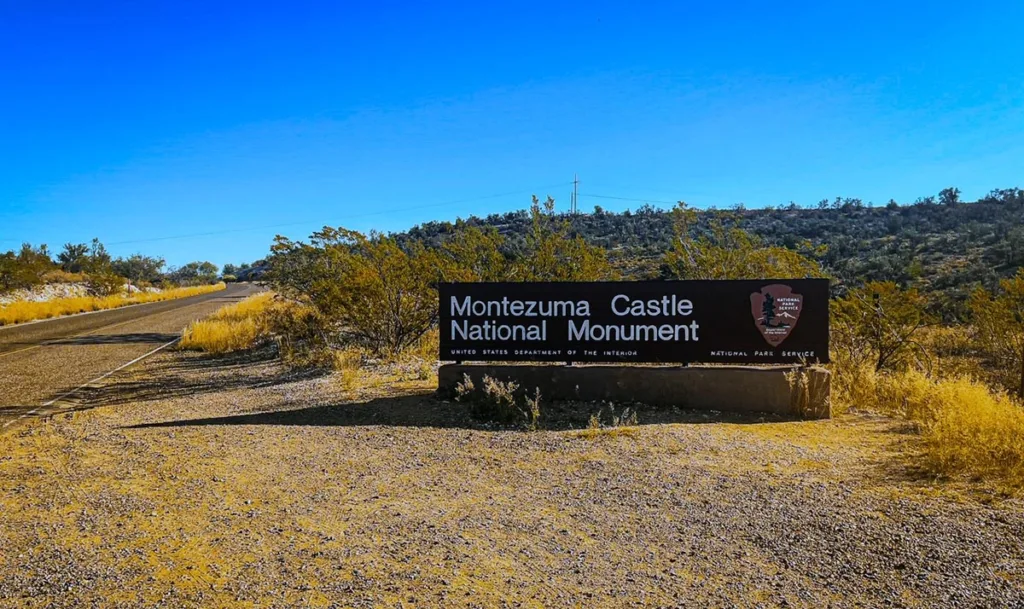 Getting To Montezuma Castle National Monument
By Car
The site is located off I-17 and is actually a pretty easy spot to visit on the way to lots of different Arizona sites. It's actually super convenient for folks heading to/from Sedona. It's even more convenient for folks traveling between Flagstaff and Phoenix and it's directly on the way.
Distance from Other Locations:
Tuzigoot NM: 24 miles (38 mins)
Sedona AZ: 26 miles (40 mins)
Flagstaff AZ: 55 miles (1 hour)
Phoenix, AZ: 95 miles (1.5 hours)
Grand Canyon NP: 134 miles (2 hours)
Page AZ: 183 miles (3 hours)
Petrified Forest NP: 169 miles (2.5 hours)
Tucson AZ: 206 miles (3 hours)
By Air
Montezuma is conveniently located between two good airports, Phoenix (PHX) and Flagstaff-Pulliam (FLG).
Distance to PHX: 100 miles (1.5 hrs.)
Distance to FLG: 50 miles (45 minutes)
Tips & FAQs
We recommend trying to combine Montezuma National Monument with nearby Tuzigoot National Monument. They are about 40 mins apart but are good to try to plan enroute to other destinations.
The Park Gate closes at 4:45 and is a mile from the site. Oddly, the Visitor Center closes at 5:00pm. I'm not sure why they do it this way.
You should budget at least 1 hour of time. So be sure you arrive early enough before closing to visit the site.
There are two sections of the park. Montezuma Castle and Montezuma Well. They are about 11 miles apart. It takes about 20 minutes to travel between.
Other Posts You May Like