I recall friends moving to the area of Las Cruces many years ago for work and wondered, why would you want to do that? However, having since visited it, I realized it's quite an interesting place with both lots to do within the town as well as in the surrounding area. From Great National Park Sites, Museums, Nature, Food, there's lots of amazing things to do in Las Cruces New Mexico.
Read along to learn about some of our choices for great things to do in town.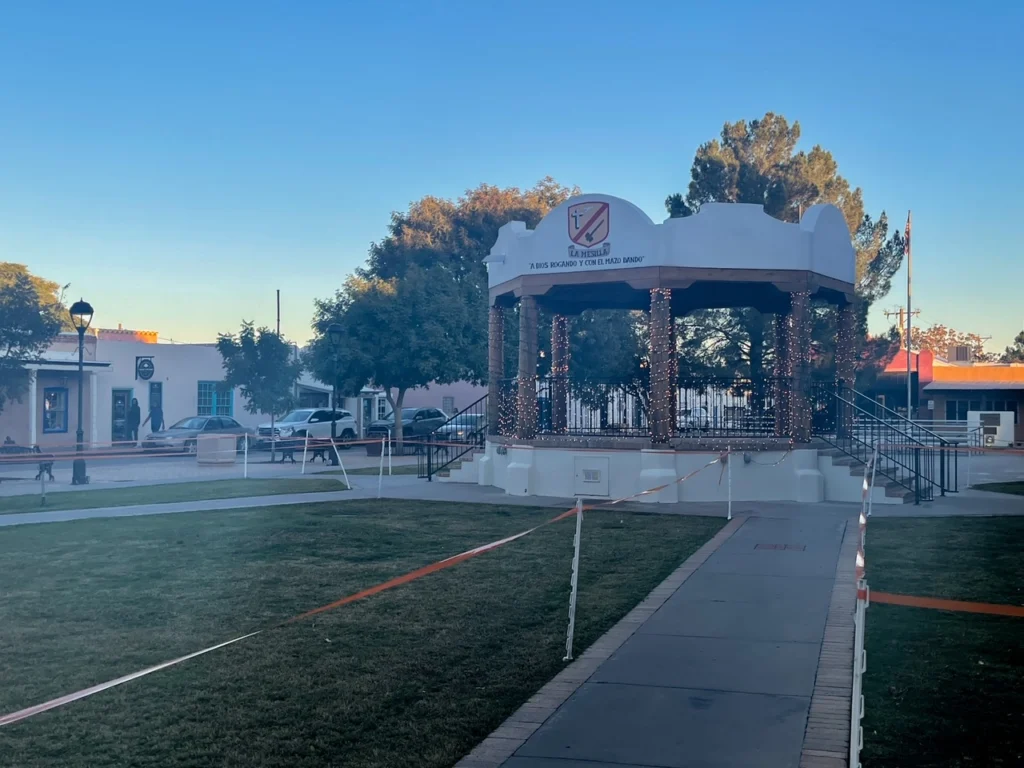 La Mesilla Town Square
Address: Calle Principal, Las Cruces, NM 88005
There's so much chart to La Mesilla. It was one of my favorite places in the Las Cruces Area.
Unlike much of Las Cruces, this area has some old world charm to it. The square is lovely, there were several different vendors and activities going on during my time there. Also there's a lot of great restaurants and shops in the area as well.
I recommend trying to grab dinner or lunch in this part of town. It can feel very quiet at times, but it does come to live during the evenings and tourist seasons. Some of the stores have some cool souvenirs from art to just local kitsch. I like the Billy the Kid shop for instance, I didn't know all of his exploits in the area of New Mexico.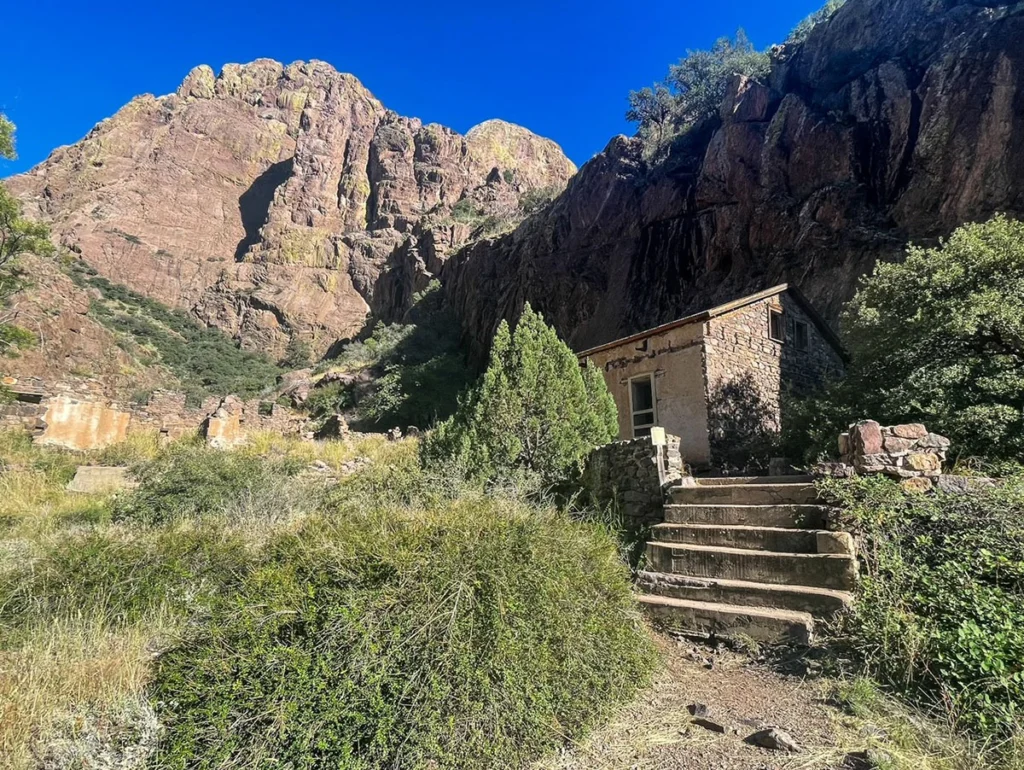 Dripping Springs Natural Area
Address: Dripping Springs Rd, Las Cruces, NM 88011
Part of the larger Organ Mountains-Desert Peaks National Monument, the Dripping Springs Natural Area is a popular Day-use hiking area.
The area has several hiking trails throughout the day-use area, and some with some really cool things to see.
The most popular trail is the dripping springs trail, the 3 mile out and back trail that takes you through the desert landscape. There's quite a bit to see on the trail from wildlife (birds, spiders, snakes) and a few historic spots as well. I saw a tarantula myself on the trail which was a highlight for me. Be sure to take the time to see the springs (small waterfall) as well as the mountain camp (resort buildings), and the sanatorium.
Visiting here requires fee and a receipt. They do accept the America the Beautiful pass, but be sure to pay and display. There's a visitor center as well that can provide information and give you a receipt as well.
Farmers & Crafts Market
Address: Main St, Las Cruces, NM 88001
For over 50 years, Las Cruces Farmers & Crafts Market has been a mainstay of downtown Las Cruces. There are hundreds of vendors that take over several downtown blocks of the town selling local wares, great produce, prepared food, and more.
The market is held on Wednesdays and Saturdays only, so you'll need to be there one of those days to experience. On Wednesdays the market takes over the Plaza in central Las Cruces. Saturdays the market expands to take over 7 city blocks along main street downtown.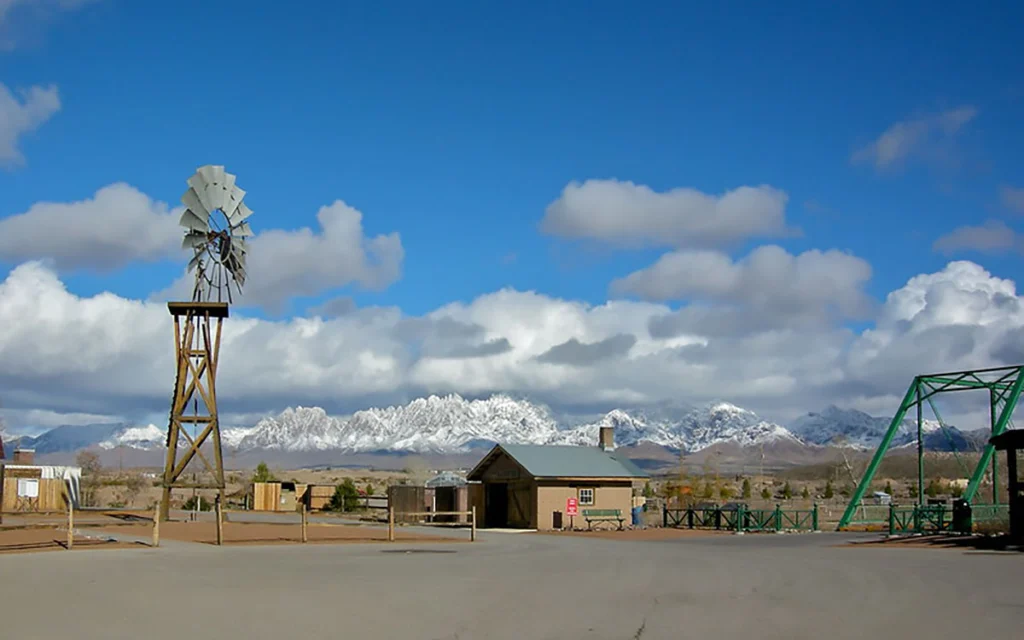 New Mexico Farm and Ranch Heritage Museum
Address: 4100 Dripping Springs Rd, Las Cruces, NM 88011
This 47-acre museum tracks over 4,000 years of history of farming and ranching in the region. As you can guess, it even goes into local native farming practices in the area as well which to me is very interesting.
The museum traces the history of this culture and practices. The ingenuity, tools, and techniques of the people farming in some both fertile yet harsh climates in the area.
The museum talks about various different local aspects, such as the impact of ranching along with the missile range, aspects of the wild west in the area, and more. I find the exhibits on the evolution of living in the area to be interesting. You can also view local livestock and demonstrations as well.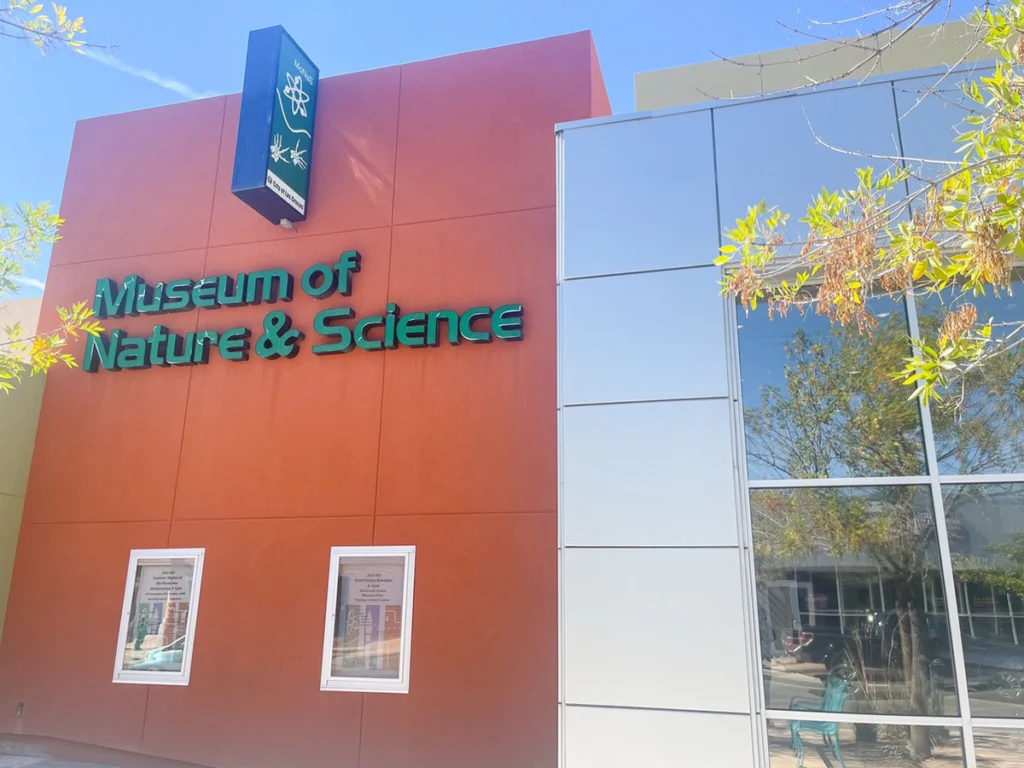 Museum of Science and Nature
Address: 411 N Downtown Mall, Las Cruces, NM 88001
Located adjacent to the Art's Museum, the Museum of Science and Nature has beautiful exhibits that discuss the local flora and fauna in the area.
The museum discusses desert life in the area, which really helps to explore some of the plants and animals that you may or may not see in the area. In particular those that may be difficult to view (or you want to avoid) in the area.
One of my favorite exhibits is the Permian Trackways exhibit. This discusses the fossil footprints that are found in the area at the local National Monument. Since you'll be unlikely to see them there (most are in museums) this is a great way to experience what you would have seen there before removal.
The museum is free.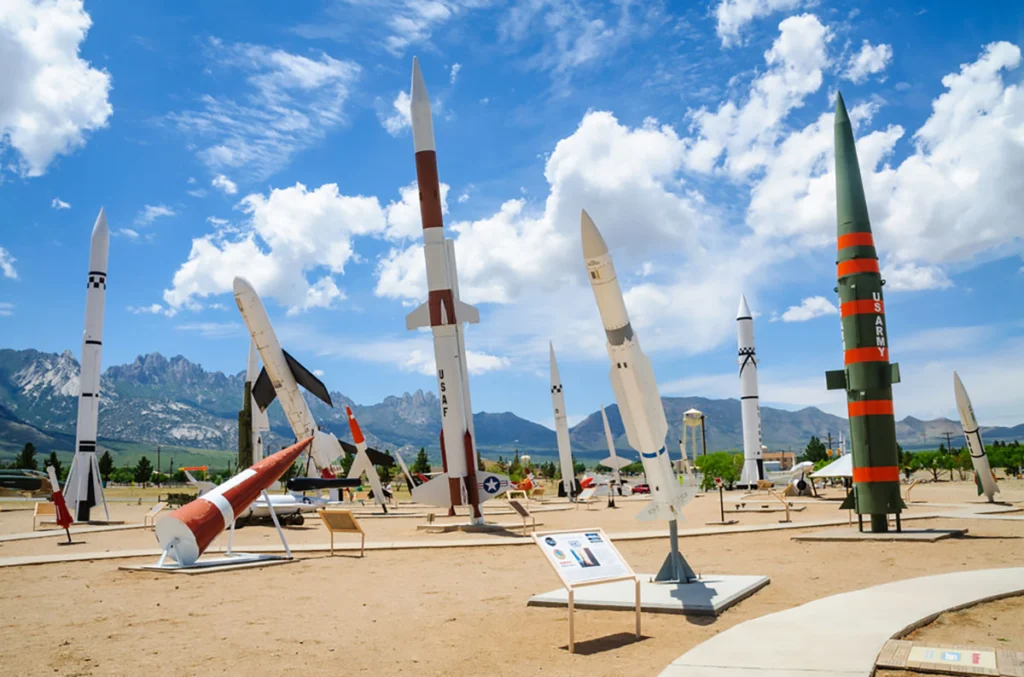 White Sands Missile Range Museum
Address: White Sands Missile Range, White Sands Missile Range, NM 88002
The White Sands Missile Range has had a storied part in the rocket, space, and missile history of America. Much of this era was born out of the labs and ranges in this part of the country.
The White Sands Missile Range Museum tracks this history and progress and discusses both past and current research into these areas. You can see both information on the history, historic rockets, equipment, and more.
There's also a "range" you can walk around to see quite a few on display. These displays are open even during times when the museum is closed.
Note: The Museum and displays are located on the White Sands Missile Range Base, which requires access to the military base. It's not always an easy thing to accomplish, often requiring sponsorship or US citizenship.
Basilica of San Albino
Address: 2280 Calle Principal, Mesilla, NM 88046
The Basilica of San Albino is a Roman Catholica Basilica in the town of Mesilla New Mexico. The original church in the area was built in 1852, when the land was still actually still part of Mexico. The town of Mesilla was founded in 1850, following the treaty of Guadalupe-Hidalgo (that ceded Mexican land to the US) and the town was actually founded on the Mexican side of the border.
The current church however dates to the early 1900s and is also one of the oldest and most historic churches in the state.
The church is an active church with regular masses and functions and one of the most notable and beautiful buildings in Las Cruces. Located on the north end of La Mesilla plaza, it is one of the most photographed in the town as well.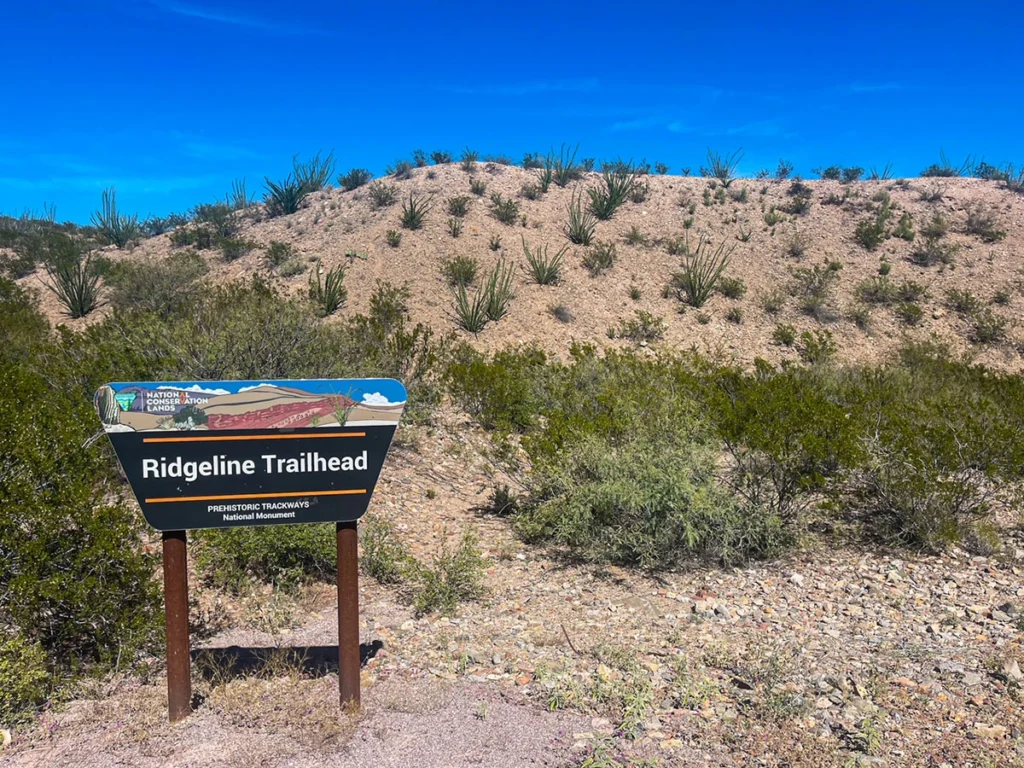 Prehistoric Trackways National Monument
Address: Las Cruces, NM 88007
The Prehistoric Trackways National Monument is named for the prehistoric footprints that were found in this area. There were many prints that were discovered, dated, and quite a few that have been put in museums both locally and around the country.
The National Monument has quite a few hiking and off-road vehicle trails to explore. It's a good place to get out and see some really cool nature and often far away from any other people.
Unfortunately, finding actual tracks in the park is very difficult. There are some, however, they are not labeled nor is there any directions on how to visit them. Most of the park is just for hiking and off road driving.
You can reach several of the trailheads even with a sedan (I did), however, to get much further into the park you'll need a 4×4 with high clearance.
Zuhl Museum
Address: 775 College Dr, Las Cruces, NM 88003
The Zuhl Museum is a bit of an art museum as well as Natural History museum. The collection has some really amazing artifacts from the region such as petrified wood, fossils, and more. There's also beautiful artwork from the region as well.
The collection and museum are owned and operated by the New Mexico State University. You can find additional items from the collection at the Zuhl Library located near the museum.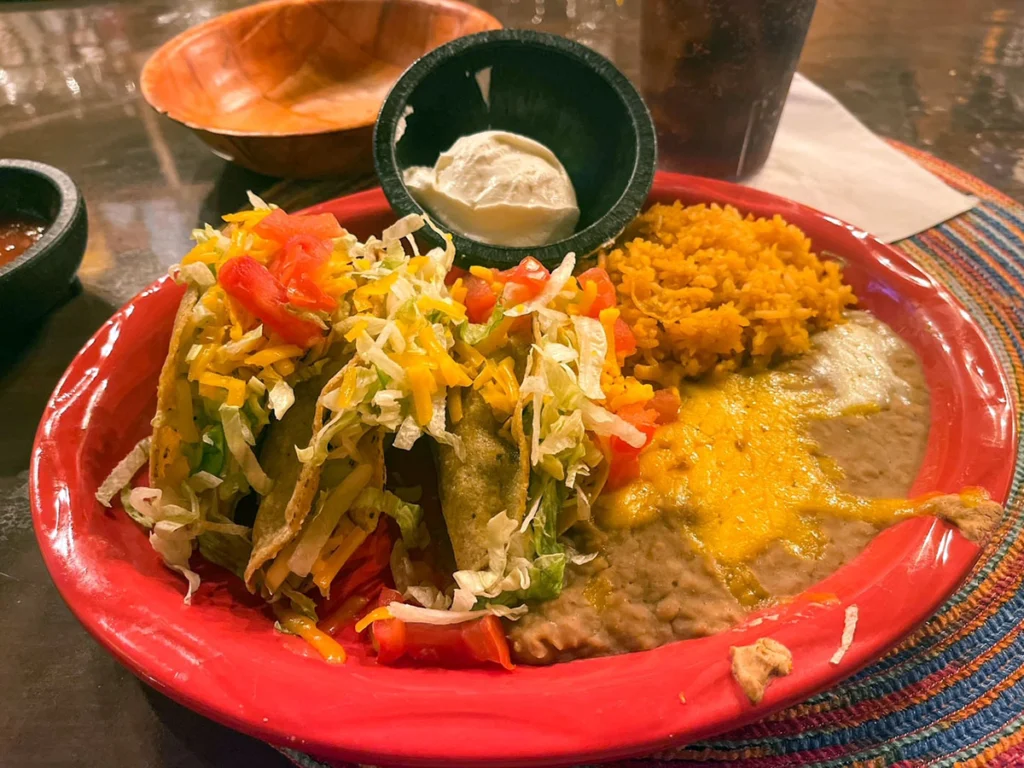 La Posta Restaurant
Address: 2410 Calle De San Albino, Mesilla, NM 88046
This restaurant is both great for the excellent food as well as the beautiful setting. Built within a historic building in La Mesilla, La Posta is both a great restaurant and a destination.
La Posta served as the Corn Exchange hotel during the hey day of the "Wild West" in the area. La Mesilla believe it or not was one of the largest towns in the area during the 1800s and a popular stop for stagecoaches and other folks traveling through the southwest.
I love the decorations in the hotel and the food. It's worth noting that it is a popular place so it can get pretty crowded during high times. It is rather large, so they have lots of seating, so you hopefully won't have to wait long.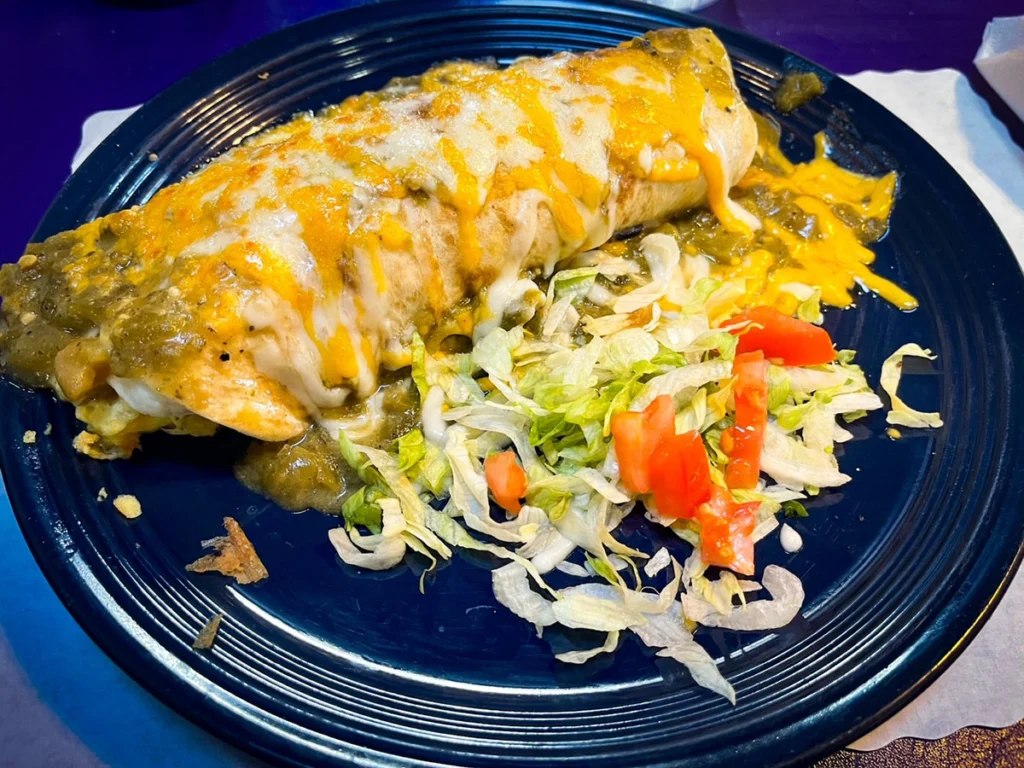 The Shed Restaurant
Address: 810 S Valley Dr, Las Cruces, NM 88005
If you are looking for a fabulous spot for breakfast or brunch, you should definitely give the Shed a try. It was by far one of my favorite restaurants in Las Cruces with a high set of options of eggs, breakfast burritos and more.
The Shed is only open during the first half the day, so you'll need to plan to go early. It can also get pretty crowded as well. Thankfully it was pretty quiet when we were there on a week day. It's definitely worth a stop and a bite.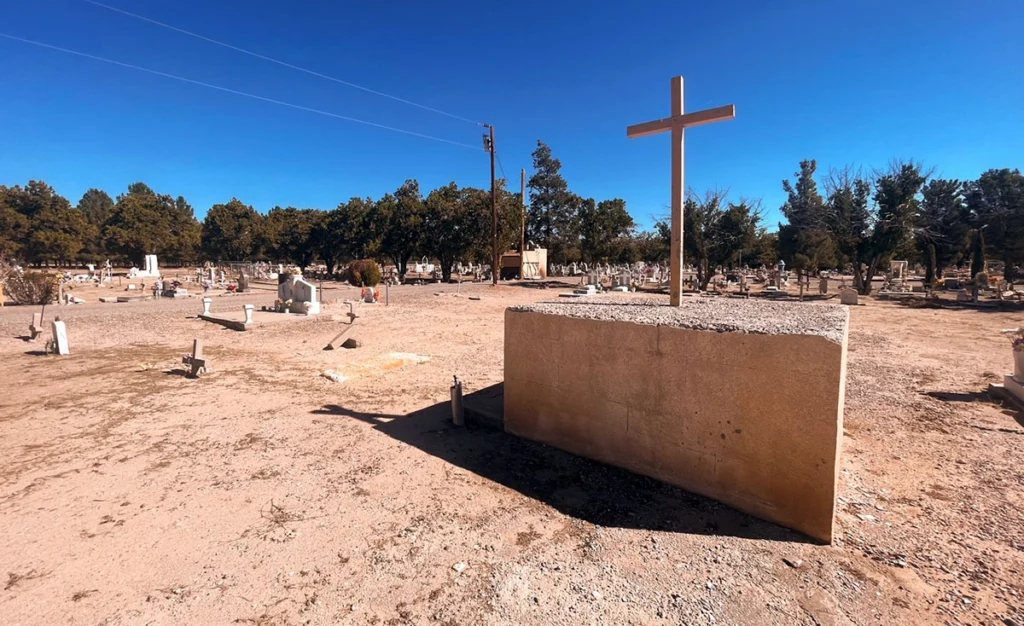 "Witch" Grave
Address: 3120 Calle De Guadalupe, Las Cruces, NM 88005
I'm pretty sure it's not a Witch. However, no one seems to really know who the grave belongs to. It does feel a bit out of place in the area, this large block with a cross and no other discernable information.
There's a lot of legends about it, some do call it a witch. I tried to find more information, and mostly just lore and other folks including the local tourism board discussing it as unknown.
It's a curiosity indeed, so if its something that you find interesting, it's pretty easy to visit in La Mesilla.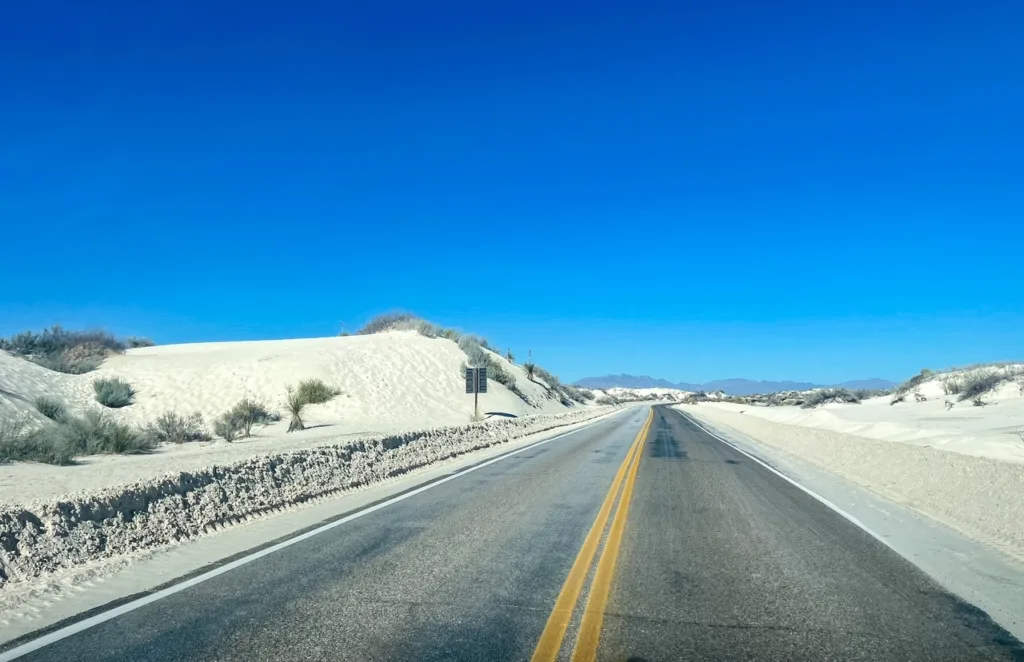 White Sands National Park
Address: 19955 US-70, Alamogordo, NM 88310
Protecting the largest field of white silica sand, White Sands National Park is one of the most impressive and interesting places to experience.
I love national parks, and White Sands is one of the more interesting and lesser visited ones. It's a small National Park and much of the sites can be visited in a day or part of a day. There's hiking, wildlife viewing, sand sledding, and even the possibility of stargazing and backcountry camping.
The park is about 1 hour outside of Las Cruces, so it's requires having a car to explore. It's definitely worth the visit, and Las Cruces makes a good base for visiting the park as well.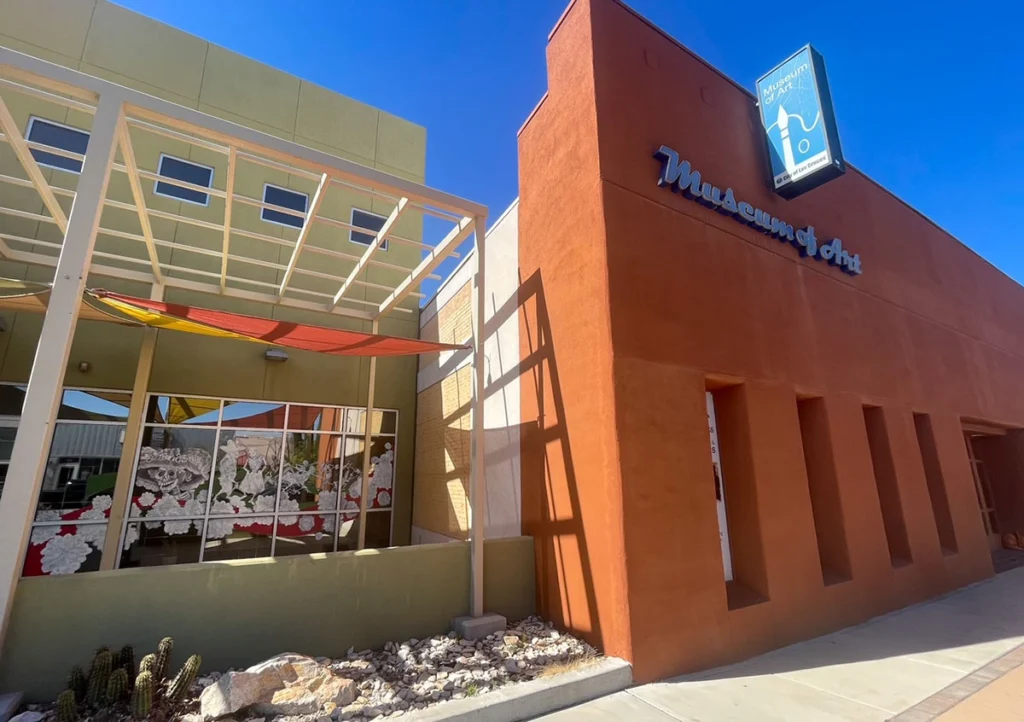 Las Cruces Museum of Art
Address: 491 N Main St, Las Cruces, NM 88001
The Las Cruces Museum of Art works to promote local Las Cruces art as well as the great New Mexico and Southwest artists.
The art features many great local artists. While many of them you may not known, it is worth exploring this beautiful small museum downtown. What is also great is that its located next to the Museum of Science and Nature so you can visit both of them easily.
The museum is free, and it makes a perfect quick visit for a few hours while in town.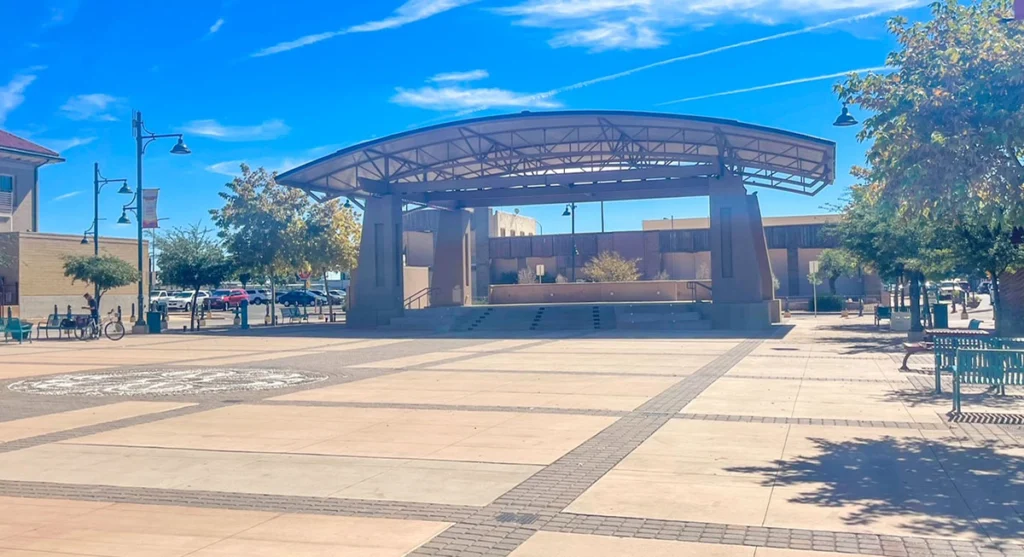 Downtown Las Cruces
Address: 100 N Main St, Las Cruces, NM 88001
A lot of the sites mentioned in this post are located in downtown Las Cruces (such as the history and art museum). However, there's a lot to downtown, including some great restaurants, parks, bookstores and more.
I really liked exploring the downtown, shopping, and even getting coffee at several of the places down here. One of my favorite is Grounded which is located downtown and is a vegan coffee shop. I really found my latte with coconut milk great and love the décor of the places as well.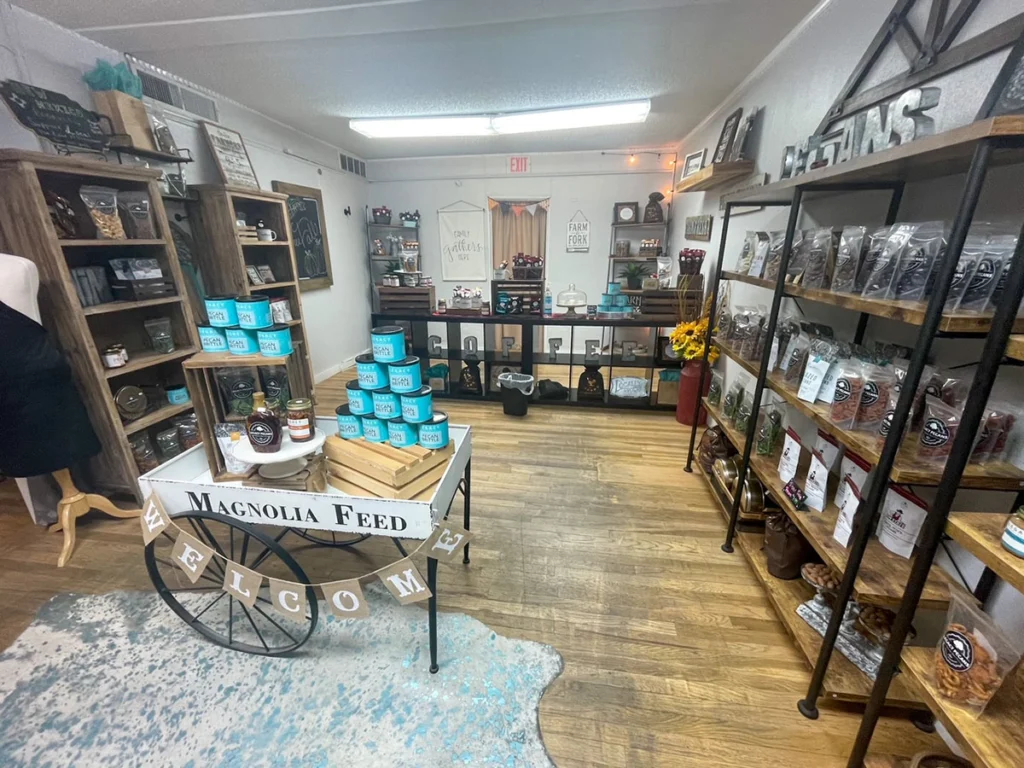 Shop for Pecans
One of the things you'll notice if you spend time driving around the outskirts of Las Cruces, is the high amount of Pecan trees in the area.
I had no idea, that Pecans were such an important part of Las Cruces and New Mexico economy. The trees are beautiful and you can see rows and rows in orchards around the park.
For that, there are quite a few shops in the area that specialize in Pecans and pecan related foods. You can get some great fresh options in various forms from chocolate, to ice creams, to various snacks. I really liked the pecan brittle myself. One of my favorite stores was Legacy Pecans in La Mesilla.
There are other options including the Chocolate Lady in La Mesilla with great options as well.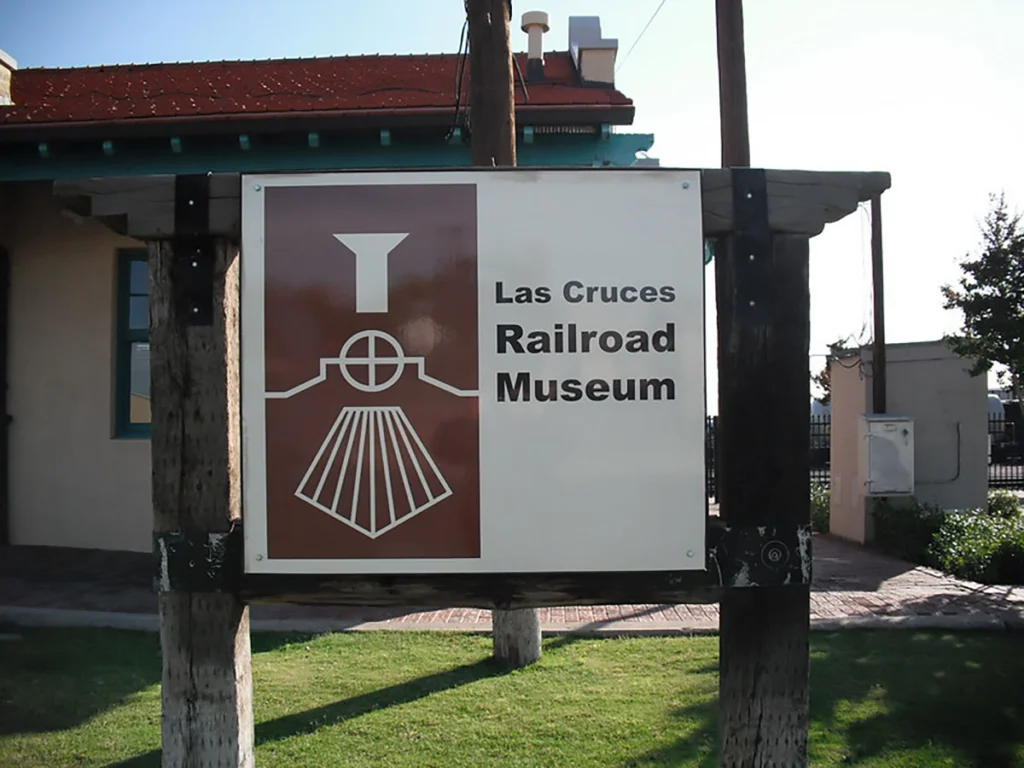 Las Cruces Railroad Museum
Address: 351 N Mesilla St #2567, Las Cruces, NM 88005
Located in the historic Santa Fe Railroad Depot, the Las Cruces Railroad Museum tracks the interesting railroad history in Las Cruces and the region.
The Railroad had a significant impact on South New Mexico especially. If you travel around through southern New Mexico, you can visit quite a few interesting towns and sites that grew up around the railroad in the area. Some of which we document in our day trips from El Paso post.
The museum features beautiful miniatures of New Mexico and Southern American railroads and discusses the history and rich heritage of the area.
Other Posts You May Like