Olympic National Park is huge. At nearly 1,400 square miles, it covers the majority of the Olympic Peninsula in Washington and with the structure of the park, getting between places can take a long time.
So while we recommend several days or a week to explore Olympic NP, we know that people are short on time. Therefore, if time is constrained, we look at ways to visit some of the highlights in the shortest possible timeline.
So here's our help on how to plan a one-day itinerary in Olympic National Park. 
Note: This is only visiting a few of the highlights. Olympic (also a UNESCO World Heritage Site) is massive and amazing, so there's no way to fit it all in. You'll have to make some hard choices on what you can and cannot see, but we think you can still hit some great highlights in a day.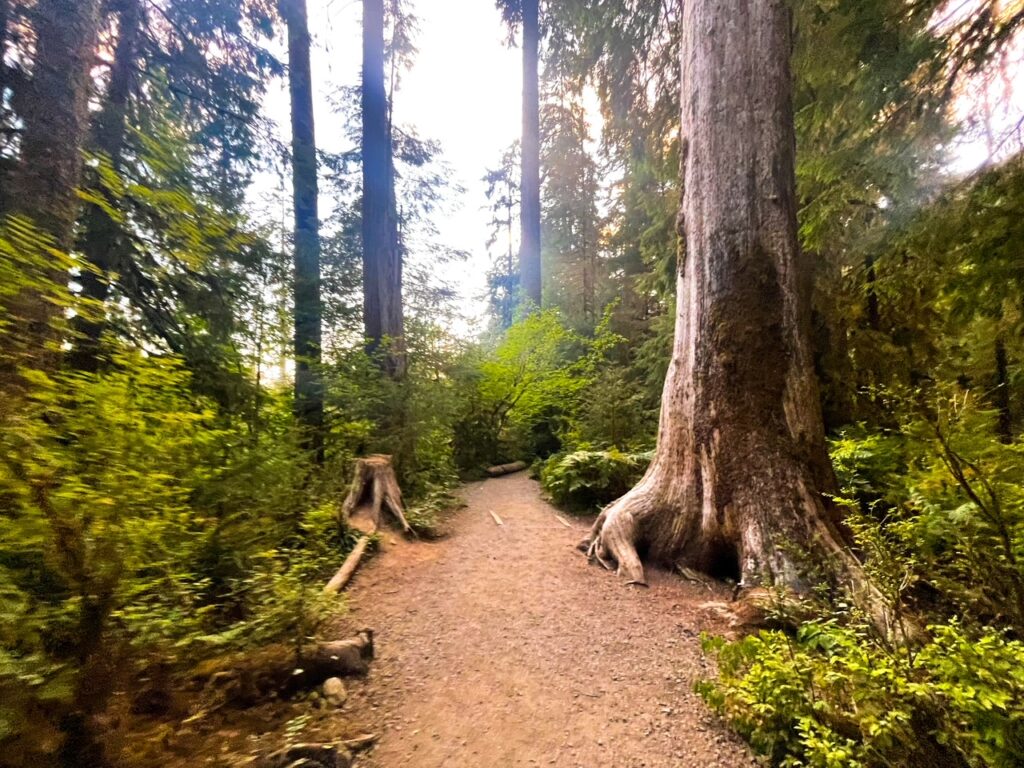 Table of Contents
Olympic National park Itinerary
Below is the overview of the itinerary for the one day trip to Olympic National Park.
Morning
Breakfast in Port Angeles: Early breakfast for a strong start in the morning.
Hurricane Ridge: Spend the morning exploring Hurricane ridge and some of the hiking trails.
Marymere Falls: Beautiful and easily accessible falls en route to other sites. Skippable if time is a factor.
Afternoon
Choose one of the beaches in our list below. If you have time you can explore another beach that is adjacent to the one you're at. Works best for the first and second beaches.
Lunch in Forks Washington. The best option for food on the trip plan
Early Evening
Explore Hoh Rainforest. Be sure to hike Hall of Mosses and any other trails you have time for.
Where to Stay
Where you stay is super important for a day in Olympic National Park. Since you'll need to hit the ground running early in the morning, we recommend staying somewhere close to the Olympic National Park to maximize your time in the park.
For this itinerary, we look at Port Angeles as the best option for you to stay for the start of your trip. There are some other towns nearby as well, but overall options are best in Port Angeles, and you'll be close to Hurricane Ridge and can easily make a path to the other spots.
Port Angeles Hotels
Red Lion: Not cheap, but a lovely waterside option close to activities and restaurants. 
Quality Inn: Reasonably priced and still pretty close to main spots. Although it does require a fair number of steps to get there and back. Onsite laundry as well. 
Port Angeles Inn: Another good option close to Quality Inn. Some rooms have nice views over the town/harbor. 
Camping near Hurricane Ridge
Heart O'the Hills Campground: 105 sites; While it's a big site, it's the only one near Hurricane Ridge so it can fill up during peak times. First-come First-served; $24 per night.
Morning
We recommend getting up early and getting a good start. There's a lot of ground to cover if you want to see as much as you can in the day. If you can, prep some snacks, breakfast ahead of time, or if not try to get to one of the options below. They all open early.
Breakfast
The most important meal of the day. If you want, there are a couple places that open early in the morning.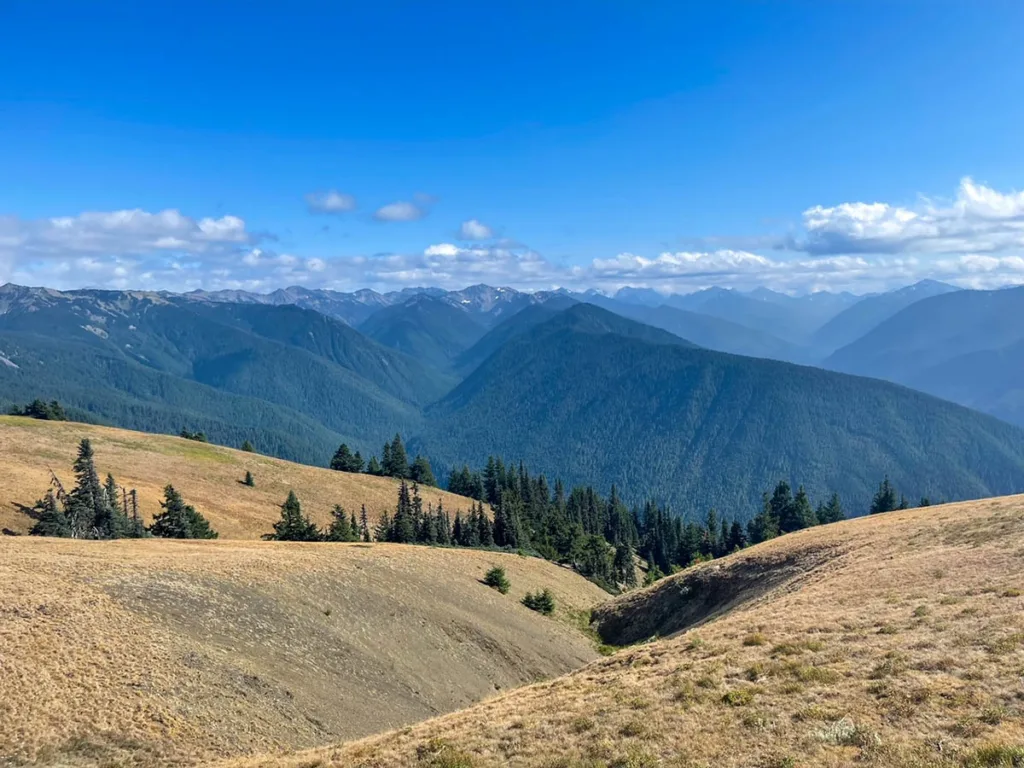 Hurricane Ridge
Distance from Port Angeles: 20 miles ( 40 minutes )
Hurricane Ridge is the most easily accessible of the mountain areas of Olympic National park. Much of the interior of the park (including the namesake Mount Olympus) is located within areas that are only accessible by foot.
Hurricane Ridge gives you some great views of the area and a good introduction to the Olympic National Park as well. 
Hurricane Ridge Visitor Center Sadly burned down on May 3, 2023. Note that only 345 vehicles are currently allowed to reach Hurricane Ridge along Hurricane Ridge Road at the moment (in a day). So if you don't arrive early you'll need to take the bus. Visit the shuttle page for more information.
Hikes
If you have the time, we recommend taking in the views from Hurricane Ridge as well as some short hikes in the area.
High Ridge: Short 0.5 mile hike with a short spur out to Sunrise point. Best for those shortest on time. 
Hurricane Hill: 3.3 miles (out and back); 2 hours: Great overview of the area with sweeping views. No real cover, so wear sunscreen. Paved, easy-moderate hike.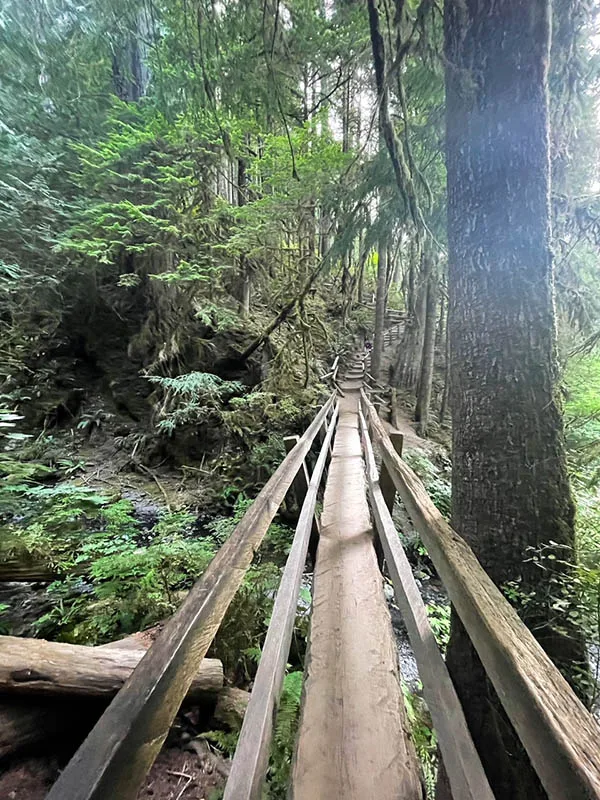 Marymere Falls
Distance from Hurricane Ridge: 39 miles (1 hour)
Hike: 1.6 miles (out & back): 35-45 minutes
A Beautiful 90 foot waterfall with a gorgeous drop along the very green background of the old-growth forest of Olympic NP.
Marymere falls trail is a great easy hike, one of the most accessible waterfalls in the park, and also on the way to your other destinations in the park. It makes a perfect next stop on your way.
If you are worried about time, you could skip this stop
The hike is a pretty easy, flat route through some shaded wooded areas. The hike takes generally about 35-45 minutes to complete (1.6 miles out and back). The hike is also super popular so by this time you'll probably run into a lot of folks on the trail as well. The trailhead is located near the storm king ranger station.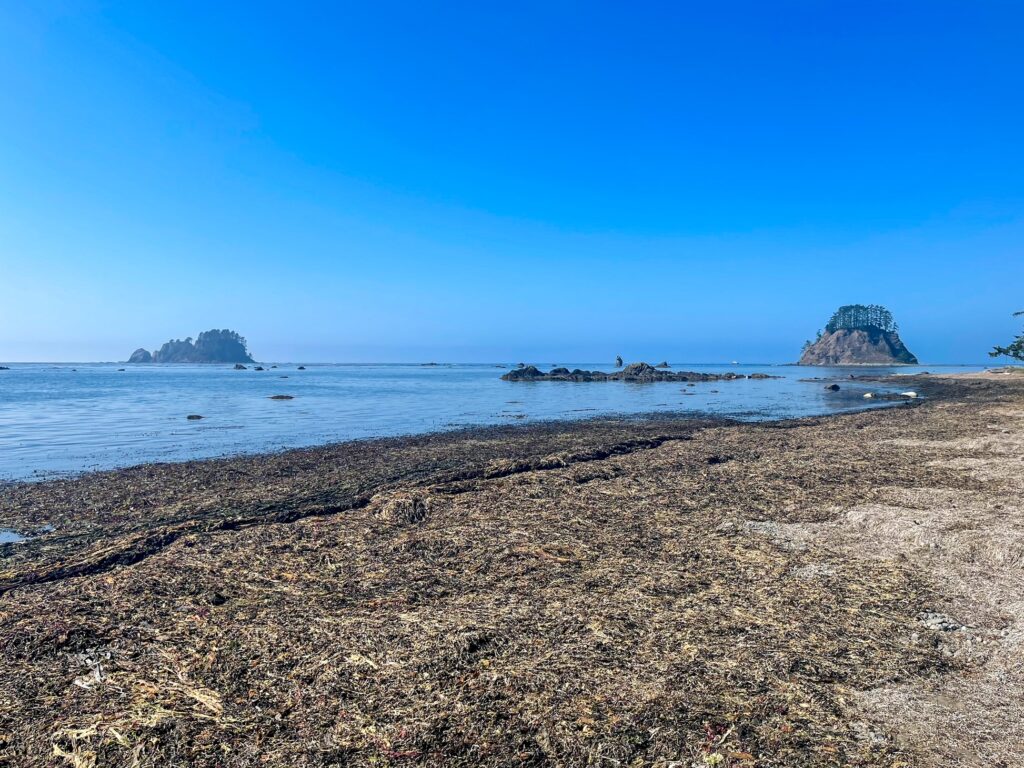 Afternoon: Beaches
The Wild Beaches of Olympic National Park are one of the best aspects of the park to explore. It is also one of the other main ecosystems in the park area. The wild part of the beaches is that they are left to be wild and they do not clean-up or otherwise remove natural debris from the beach areas.
There are several beaches you could visit on your trip to Olympic NP. However, for such a short trip, you should pick one beach to explore. Sadly getting between beaches takes a long time.
Some beaches require more travel and hiking than others. So keep in mind your schedule. The stop after this the Hoh Rainforest is a must. You want to be there at least an hour before sunset.
First Beach
Distance from Marymere Falls: 50 miles / 1 hour
First beach is the easiest of the beaches to access by road. There's really not a hike as it's close to the road when you arrive in La Push. This area is on the Quileute Nation land which is one of the smaller tribes in the area.
First Beach is a great beach to visit if your time is short. It gives you a great example of the wild beaches however, I find it to be less "wild" than others. That's probably due to the added crowds and proximity to a town.
Second Beach
Distance from Marymere Falls: 48 miles / 1 hour
Hike: 2.1 miles (out & back); 1 hour
Second Beach is located south of First beach, and the trailhead is located just outside of La Push. The beach is also on Quileute Nation land, however there is not as much parking here. Although there's a nearby overflow lot with more spaces.
The hike is pretty easy out to second beach, and it's super popular as well. Although since it's not as road-accessible as first beach you'll find fewer folks here than there. You can actually easily add on first-beach if you prefer as well.
The area is really beautiful and I like that it's a bit further out than the first beach.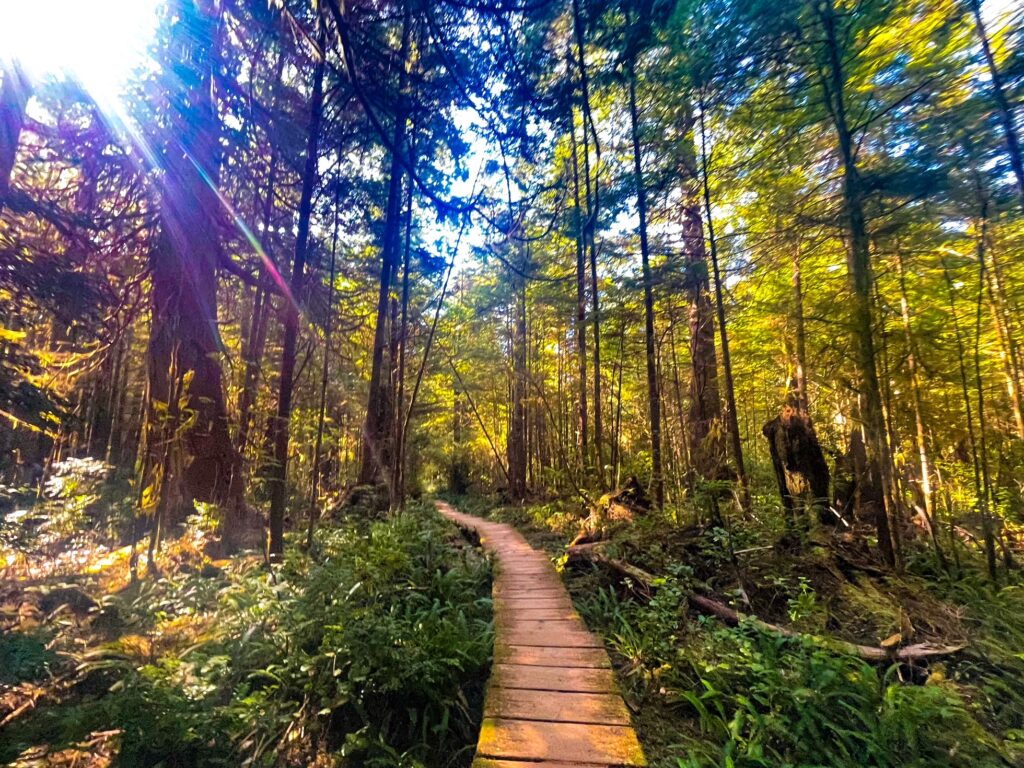 Cape Alava
Distance from Marymere Falls: 70 miles / 2 hours
Hike: 6.5 miles (2.5 hours)
My favorite of the options but mostly because it gives you access to the western most point in the continental US. This requires a fair amount of hiking though, so keep that in mind if you are running late in your schedule. You want to make sure to visit our late-day stop in the rainforest.
The hike out to the beach is a bit over 3 miles each way. You can make a loop with sand beach but this makes the whole hike about 9 miles.
You'll head through some beautiful forest, over beaches, boardwalks, and more before exiting onto the beach. You can certainly spend as much time as you want out here. Although the beach I found to be a bit smelly. You can camp out here as well if you are here longer than a day (but reservations go fast). Camping is pretty amazing on these beaches on the pacific coast. You'll have a rare opportunity not afforded to many people.
Lunch: Forks, Washington
There are not many options for lunch in this part of Washington. Forks, WA which is at the intersection of a lot of the spots you are visiting and the best option for food. Here are a few recommendations.
Where's the Frybread: 100 Fern Hill Rd, Forks, WA 98331; Local indian frybread spot with some great options. If you've never had frybread before, definitely worth a try.
Sully's Drive-In: 220 N Forks Ave, Forks, WA 98331; Sit down restaurant despite the name. Burgers and fried options. Overall good.D&K BBQ:275 N Forks Ave, Forks, WA 98331; Good hole in the wall BBQ place. Limited seating
Early Evening: Hoh Rainforest
Distance from Forks WA: 32 miles (1 hour)
I recommend visiting Hoh Rainforest late in the day (or very-early if you are not following this guide as written).
Hoh Rainforest is incredible and the most popular of the rainforest areas in the park, and you'll easily see why. It however, is incredibly busy during the mid-day. Mid-day you may not even find parking and you'll basically just be waiting in line to get to the visitor center area!
The Hoh rainforest gets its name from the Hoh River that flows from Mount Olympus to the Pacific Ocean. It is believed Hoh is derived from a local Quileute word "Ohalet" which means "fast moving water" or "snow water."
The Hoh Rainforest is one of 4 temperate rainforests in Olympic National Park. The others being Bogachiel, Queets, and Quinault Rainforest. If you have time check out the largest sitka spruce in Quinault Rainforest. Some of the largest temperate rainforests that remain are in this area of Washington State.
The Hoh Rainforest is an incredibly special place. I was mesmerized even on the drive to the visitor center. It was one of my first forays into a temperate rainforest, and such an experience. The moss covered trees, the lushness, the age of everything, it really feels like a place from another time.
There's much to do in the area, although unfortunately many of those require multiple days or at least long day hikes to explore. We give you options for your limited time.
Park at the Hoh Rainforest Visitor Center. If you arrive in time, we definitely recommend stopping in, talking to rangers, and seeing the exhibit.
Hikes
Hall of Mosses Trail: 0.8 miles (30-40 minutes); The jewel of the area and the most famous and popular of the hikes. Getting here late has its advantages, great light and often few visitors. My last trip I was the only person on the trail. Don't rush it, just wander and let yourself be present. 
Spruce Nature Trail: 1.2 miles (30 minutes); The other main and popular trail close to the visitor center. The trail takes you through some new and old growth forests and along the Hoh River and Taft Creek.
Hoh River Trail: (up to 37 miles (out and back): The long and main trail of the park that winds its way along the Hoh River all the way to Blue Glacier towards Mount Olympus. It's an out & back trail so turn around when you want if you are doing it as a day hike. Mineral Creek Falls (5.4 mile out & back) is a great turn around spot if you have the time.
What to Do if you have more time?
If you have more than one day, we recommend taking many of these items and slowing it down. Perhaps visiting more of the beaches. If you can definitely explore more rainforest too. We recommend getting some time in Quinault Rainforest, the sitka spruces are particularly impressive.
If you have another evening, visiting the Sol Duc Hot Springs Resort is also great. You can stay there as well. For those visiting you need to reserve your time slot in person. 
Visitor Centers
Olympic National Park Visitor Center
Address: 3002 Mount Angeles Road, Port Angeles, WA 98362
Hours:  9 AM – 5 PM in summer
Main visitor Center for the park located in Port Angeles outside the entrance. For the 1-day itinerary you won't have time to visit. But if you are here the day prior or other time, it's worth a stop. Also has a national park passport stamp (if you collect like I do).
Hurricane Ridge Visitor Center
Sadly the Hurricane Ridge Visitor Center (such a great spot and one of my favorites) burned down in May 2023. While the road is now open to the peak, it's limited facilities and port-a-potties.
Hoh Rain Forest Visitor Center
Address: 18113 Upper Hoh Rd., Forks, WA 98331
Hours: 9 a.m. to 5 p.m – summer
The main visitor center for the Hoh Rainforest. It's also the place to park for most of the trails recommended in this guide. If you have time it's worth a stop in to chat about the hikes, status of the area as well as view the exhibits on the rainforest.
Getting to Olympic National Park
Olympic NP, while isolated, is well connected to major metropolitan areas as well as air travel. We look at some of the best options for accessing the park. 
By Air
The closest Airport to the park is the Seattle-Tacoma International Airport (Seatac) airport. The airport is the main airport for Seattle and has plenty of domestic and international flights. 
The airport is about a 2 hour drive to Port Angeles, Washington State, the start of our itinerary.
By Car
Olympic National Park is huge and most of the roads only access areas along the edge of the park. So for some locations you'll have to go far around the park to reach. All driving is to Port Angeles, the start of our Olympic National Park itinerary.
Distances to Port Angeles:
Seattle WA: 138 miles (2.5 hours)
Olympia WA: 132 miles (2.5 hours)
Tacoma WA: 106 miles (2 hours)
Sunrise – Mount Rainier: 185 miles (4 hours)
Paradise – Mount Rainier: 190 miles (4 hours)
North Cascades National Park: 176 miles (4 hours 15 minutes)
Portland OR: 245 miles (4 hours)
Astoria OR: 211 miles (4 hours)
By Ferry

There's an option to add in the ferry to shorten the distance between Seattle and other parts of Washington and Olympic National Park. You'll still need a car as access will require driving to most parts of the park.
The ferry while shortening the distance does little to shorten the time it takes to the park. Check out the Washington State Ferries for the Edmonds to Kingston Ferry. 
Other Advice
At this point you've seen several top highlights in the park. And while you certainly haven't seen everything, you've actually seen a lot in a full day in the park. Here we don't have a good recommendation for dinner or other activities as that depends on where you are going next.
Just be careful driving at night, the area is very dark. If you are stopping somewhere nearby for the night. Taking the opportunity to stargaze is highly recommended. Areas in and around the park are incredibly dark with some spectacular opportunities to see stars.
Tips & FAQs
Bring a cooler: I think this worked out well for me. To really cut down on wasting time, having snacks and cold drinks made it so I maximize time at spots.
Pay attention to sunrise/sunset time: Longer days mean more time to overall see it.
Avoid mid-day at Hoh Rainforest: It's a mess at that time as everyone is trying to go. You'll waste so much time in-line waiting to see things.
Keep an eye on fuel: Distances are large, and it takes a long time between places.
Bring Sun clothing, sunscreen, and rain clothing: It can be lots of sun on the mountains and beach and rain in the forests all in the same day. The pacific northwest has some tricky weather.
Display your Pass/Receipt: You'll need to show you paid or you might get a ticket.
If you are running short on time, head to the rainforest: It is really special. Miss other things, but don't miss this.
Other Posts You May Like