Glacier National Park is one of the most beautiful parks in the United States if not the world. There is plenty to do in the park and hiking is the best way to experience it. So much of the park is wilderness that if you don't get off the roads you won't see much of it, especially not the most incredible areas of the park.
Note: If you don't want to or cant hike, you should definitely drive the Going to the Sun Road. You'll see some incredible views and vistas from the road.
For those looking to hike in the park, the following are among our favorites day hikes in the Glacier National Park.
Highline Trail
Distance: 15-18 miles | Type: Point to Point or Out and Back | Difficulty: Hard | Avg. Time: 8-10 hrs.
If there's one hike I can recommend to do in Glacier National Park, it would be this one. The hike takes you through some of the most iconic nature that Glacier NP has to offer and gives you some of the best opportunity to see wildlife as well. You can also get a great view of Grinnell Glacier from above if you choose to add in the garden wall section of the hike (highly recommend).
The hike is not easy, it's a full day affair and you should start early (especially since parking fills up fast too). The hike can be done either as an out & back or point to point. If you do point to point, don't be too late, as the shuttles will stop late afternoon.
Read More: See our Guide to the Highline Trail
Ptarmigan Tunnel Hike
Distance: 10.6 miles | Type: Out & Back | Difficulty: Hard | Avg. Time: 5-6 hrs.
People either love or hate this hike. I really found it great, with some amazing views as well as wildlife too. This is also grizzly country and this area of the park tends to see more grizzlies than other. So be bear safe.
What makes this hike special is the ptarmigan tunnel that is burrowed through the mountain. It was a striking view crossing through the tunnel and seeing the very different environment and rocks and views from the cliff ledge. It is a sudden transition, which I think makes it particularly special compared to other trails.
Read More: See our Guide to the Ptarmigan Tunnel Hike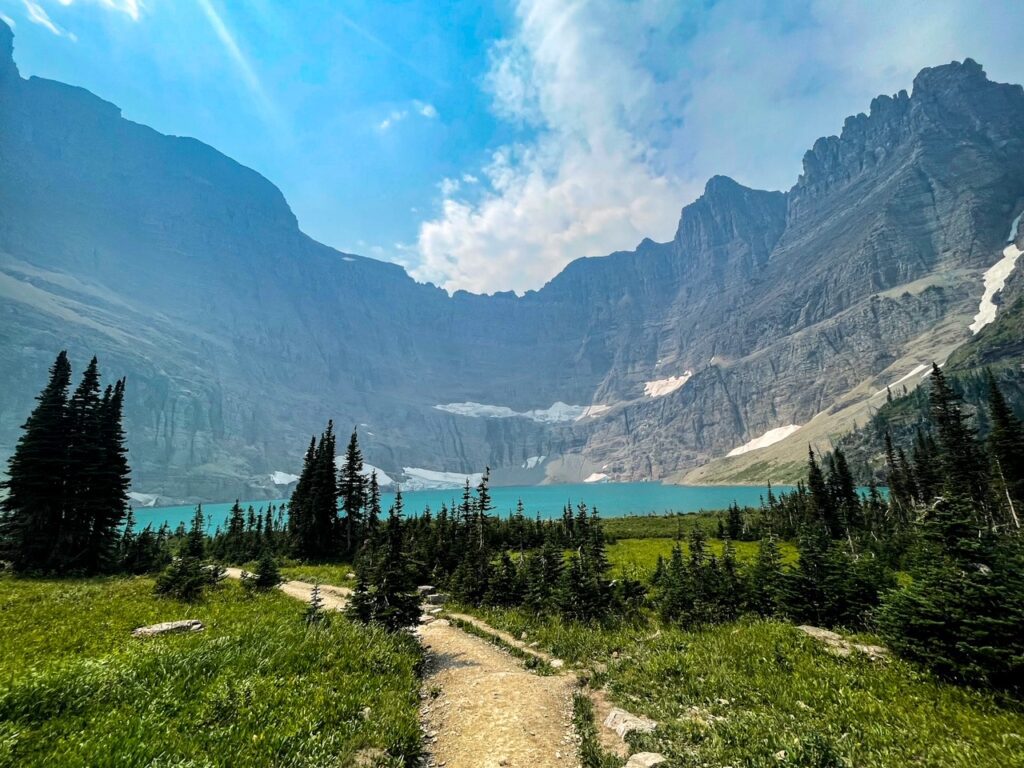 Iceberg Lake
Distance: 9.3 miles | Type: Out & Back | Difficulty: Moderate | Avg. Time: 4 hours
I think the Many Glaciers section of the park is my favorite, with many of the best trails located in this side of the park. Iceberg Lake is certainly among those. The hike is incredibly popular and hanging and having lunch (and napping) by the lake was such a relaxing time. It's unlikely you'll have the place to yourself, and you may be treated to moose and bear sightings along the way. Be sure to be safe with wildlife as always in the park and keep your distance.
The hike shares the same trail as the ptarmigan tunnel hike for the first 2.8 miles which makes it perfect to do in combination with that hike. This means though you'll need to start early (and you should) to do both.
Read More: Guide to Iceberg Lake Trail
Upper Two Medicine Trail
Distance: 11.2 miles | Type: Loop | Difficulty: Moderate | Avg. Time: 4-5 hrs.
The Two Medicine area of Glacier is one of the least visited parts of the park. This is why I think it's worth a visit, you'll get to see incredible nature without the high crowds of other area. And it's incredibly beautiful as well.
There are a lot of trails to choose from, many of which encircle the 3 two medicine lakes. Many of which are multi-day.
We recommend the upper two-medicine trail, this trail gives you some beautiful views of the lake and mountains and with a possible side-stop to see twin falls. The trail is popular so you'll likely see others along the way, and if you are lucky wildlife too.
Grinnell Glacier Hike
Distance: 11 miles | Type: Out & Back | Difficulty: Hard | Avg. Time: 5.5 – 6 hrs.
The most famous Glacier in Glacier National Park, the Grinnell Glacier Hike takes you closer to this iconic glacier. The hike itself is about 11 miles (5.5 miles each way), taking you through alpine meadows, forests, beautiful vistas, and lakes.
You can actually shorten the hike by several miles if you decide to take the boat across Swiftcurrent Lake from the Many Glaciers Hotel. This is a tour boat, but you can use it for hiking. You'll need to be sure to take the earliest boat if you go this option.
Note: Sadly, the glacier has shrunk significantly over the recent decades. It is looking a bit sadder these days 🙁 and sadly there are fewer and fewer glaciers now in Glacier National Park.
Avalanche Lake
Distance: 5.9 miles | Type: Out & Back | Difficulty: Moderate | Avg. Time: 2.5 hours
The Avalanche Lake trail is one of the first trails you'll encounter when you enter from the Western side (Apgar Entrance) of Glacier National Park. It is also very popular as well. The trail takes you through some beautiful wooded areas and along streams and boardwalks to the beautiful Avalanche Lake.
It's also one of the easier hikes in this post, and makes a great warm up hike for some of the other hikes recommended here.
This is also a super popular trail and the parking is limited. We highly recommend arriving early to secure your spot. You'll also quite likely have some peace at the lake if you arrive early. We really felt in the wild of Montana when we were there.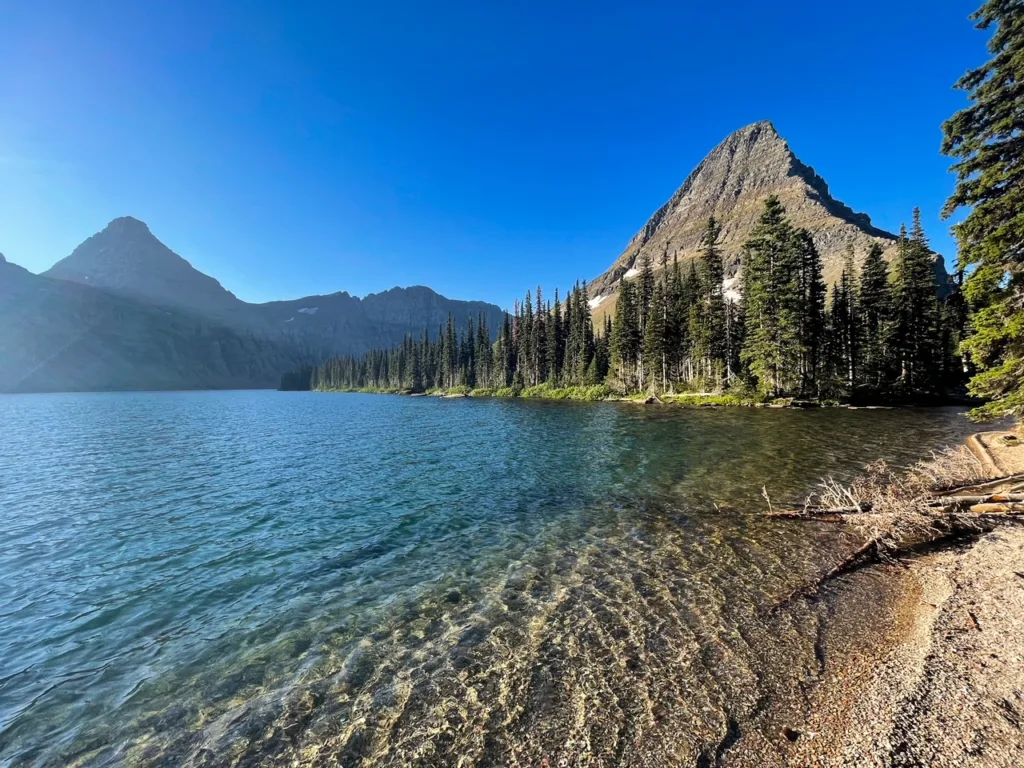 Hidden Lake Trail
Distance: 2.7 – 5.3 miles | Type: Out & Back | Difficulty: Moderate | Avg. Time: 1.5 – 2.5 hours
Also one of our favorite shorter hikes in the park. This hike starts from the Logan Pass Visitor center and has two options for visitors, you can either hike to the outlook (the shorter distance) or continue on to actually get up to the lake.
The hike to the overlook is worth it at a minimum, and if you have time, a quick 30 minutes or so will get you to the lake. It's a bit trickier, but worth it! We had it much to ourselves and it was easy to get away from people if you choose.
Overall the trail is considered easy to moderate. The trail to the overlook is pretty easy and smooth. Going to the base of the lake makes it a bit more moderate but nothing too crazy (at least not crazy in Glacier National Park terms).
Other Posts You May Like