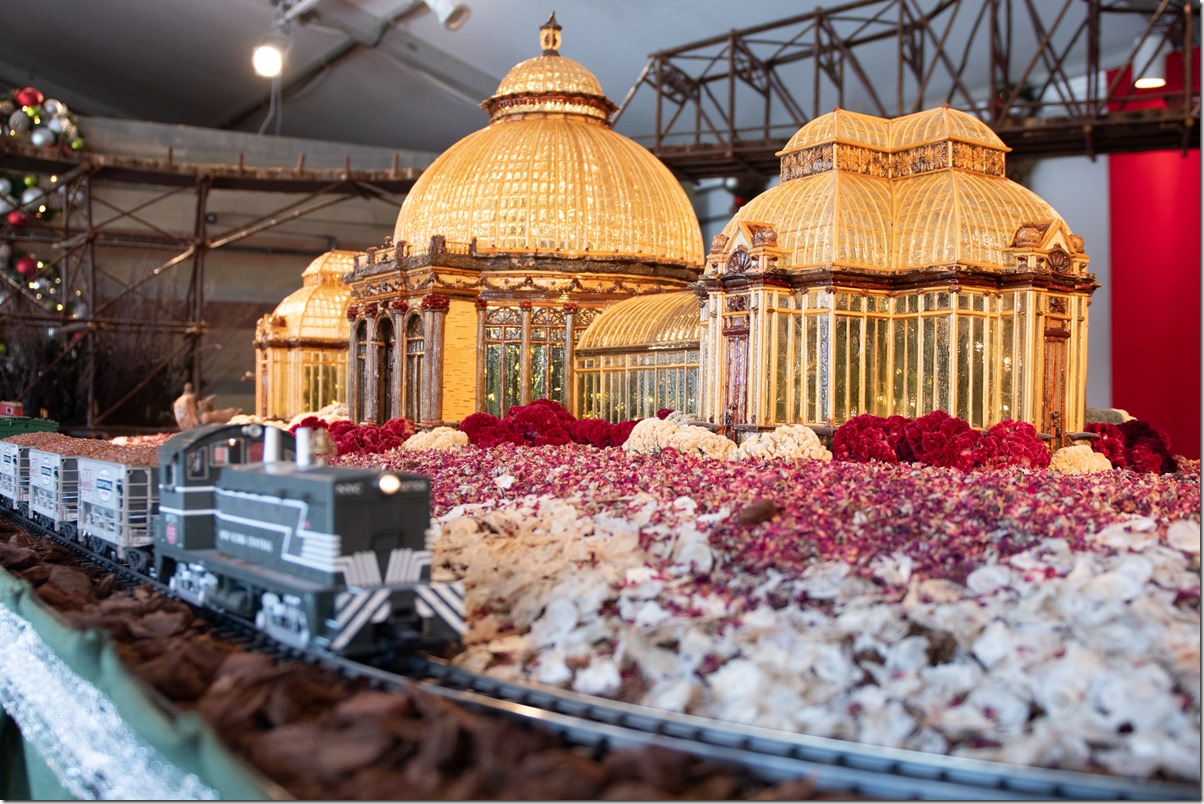 One of the most anticipated Christmas Activities at the NY Botanical Gardens is the annual Holiday Train Show. Model Trains zip around over 175 landmarks from New York City (some still around and some demolished many years ago). Actually it is so interesting to see so many buildings that I never knew even possibly existed before (such as a large elephant from Coney Island – I wish that was still around)
The train show was designed and built by a team from Applied Imagination who were lead by Paul Busse (he has since retired but still is involved creatively) and has been doing the Holiday Train show for over 20 years (as well as many other holiday shows such as the one at the US Botanical Gardens in Washington DC)
Every year they build the holiday train show and this year certainly doesn't disappoint. Among the highlights are those from Lower Manhattan such as the Freedom Tower (designed to look like it was growing/blossoming from plants up from the ground).
The show is separated into various geographic areas as you pass through doors labeled such as Lower Manhattan.
The show is very popular and time tickets are required. Tickets are part of the full price admission to the NY Botanical Gardens but are not included in the grounds only passes (the discounted tickets given to NY residents).
* * * * *
Practical Information
Address
2900 Southern Boulevard, Bronx, NY 10458.
Holiday Train Show is in the Enid A. Haupt Conservatory.
Hours of Operation
Dates: Saturday, Nov. 18, 2023 – Jan. 15, 2024
Days: Tuesday – Sunday : 10am – 6pm
Closed: (Nov 22) Thanksgiving & (Dec 25) Christmas
Early Closures: Dec. 14 & 24 (close at 3 p.m.);
November 28 & December 6 (close at 2 p.m.)
Bar Car Nights: 7-10pm
Cost
Ticket prices include admission to the holiday Train Show. Grounds only passes (for NY Residents) do not give you access to the train show however. Timed Entry is required so you need to schedule that when you buy your ticket.
Weekdays
Adults:  $23
Seniors: $20
Students: $20
Children (2-12): $10
Children (Under 2): Free
Weekends
Adults: $30
Seniors: $28
Students: $28
Children (2-12): $18
Children (Under 2): Free
Bar Car Nights (ages 21+): $28
Getting There
The Gardens are easily reached by Public Transportation or Driving.
There is Parking at the NY Botanical Gardens Parking Garage (401 Bedford Park Boulevard). Garage can get full during peak days.
There is a Botanical Gardens stop on the MTA Metro North Harlem Line
The Bedford Park Blvd. Station is serviced by the B/D/4 lines. You can take the Bx26 bus or walk the 8 blocks to the entrance
Alternatively you can take the 2 line the Allerton Ave Station and walk 5 blocks to the East Entrance.
Special Events
There are a lot of various special events (such as Thomas & Friends shows). Check out this link for more.