Photos from the Famous 2012 Emirates Melbourne Cup in Melbourne Australia. I have heard about the race for years, but never had the chance to attend it. Honestly this was my first ever Horse Race! I don't think I'm going to get into horse races perhaps, but it was interesting getting the chance to see the 152nd running of this iconic race.
Basically the entire city takes a holiday on this day.  Races do go for most of the week and there are other races going on, but this is the most famous of the days with the big Melbourne Cup race as well.  Getting a chance to get out and wander around the beautiful crowd of Melbourne was a bit interesting, seeing everyone dressed up in their magnificent and unique dresses, hats, and fascinators. 
I didn't even know what a fascinator was until this race, but for those not in the know, it is those "not quite hats" that a lot of women wear on their heads. Men do dress up too, but not as interesting I suppose, mostly suits, but some unique suits such as a sunflower suit I saw.  Several people try to be simply outrageous in their dress.
It seemed that nearly the entire city of Melbourne was at Flemington Racecourse that day, and it wasn't long before all the beautiful folks were pretty drunk.  I guess dressing up, betting, and drinking is the name of the game that day. 
The weather was a bit spotty most of the day, with on and off rains, but it didn't really detract from the days festivities.  I was hoping they would have had free concerts or other activities which I had heard goes on at some of the premier races in the United States.  Ahh well, it was still a really fun day though.
Enjoy the photos!
Hmm I don't think these guys were real doctors….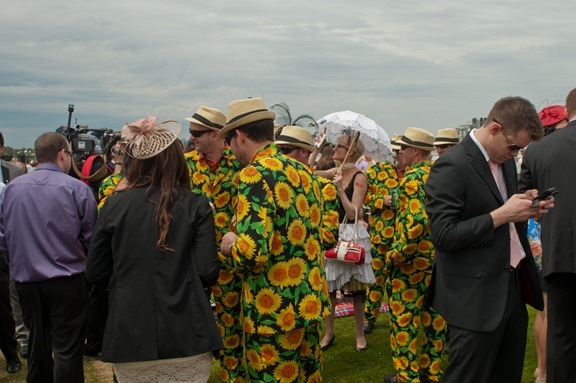 Photos below from the finals. This is the supposed "Race that stops a Nation" or at least the city of Melbourne. Possibly two nations as I've heard the Race is undeniably popular in New Zealand as well! Did your horse win?
I hope you enjoyed all the photographs. Did you attend the 2012 race? Did your horse win? Have you attended any other races! Maybe I will be back at another race someday, hopefully better prepared and better dressed!