One of the most incredible parts of visiting the South Africa was getting the opportunity to do a African Safari. It has been something I had dreamed of for a long time. So I will have to say that I was very privileged to have been able to go on game drives here in the Thornybush Game Reserve on the outskirts of the larger Kruger National Park.
We were blessed in being able to see two different leopards during our trip into the reserve. The first was hidden among the tall grasses. We could only see it peak out among the foliage staring at us. It was awe inspiring and a bit intimidating. We were definitely lucky safely away and certainly not a threat to his habitat.
The other leopard sighting. It was tricky catching him quickly moving away from us
My favorite photo of the entire Safari. And certainly one of my favorite of the trips. This photo of a Kudu came out better than I thought it would. I believe this is one of the "greater kudus" which is one of the two species of Kudus.
He was certainly a shy one this Rhino that we caught sight of far off the dirt path we were driving on. Due to the restrictions of our lodge, there were no opportunities to go off the road or to proceed anywhere on foot. Not that you'd want to be on foot close to a Rhino!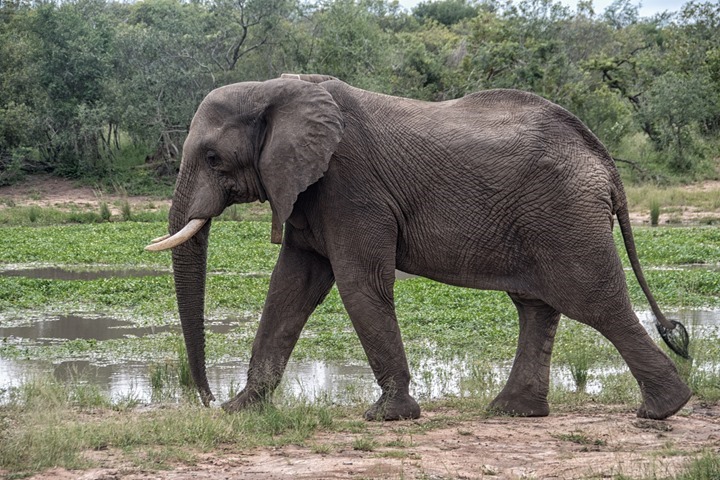 The elephants were definitely a joy to see. Particularly the baby elephants. He stumbled around in the brush, while the other elephants occupied the areas nearby. We saw elephants on several drives through the Thornybush nature reserve.
I could fill up an entire post of photos of the lions. They were fascinating to watch, and to see a full pride of lions wander around and run through the bush around us was a thrill to watch and certainly a high point for most of us on the trip.
These hippos were seen in one of the many watering holes that occupied the game reserve. It was not my first time seeing hippos and also not my favorite photo of them. That would be from Lake Tana in Ethiopia. For those who don't know, you never want to get between a hippo and water. They are known as being the most dangerous of the large animals in Africa!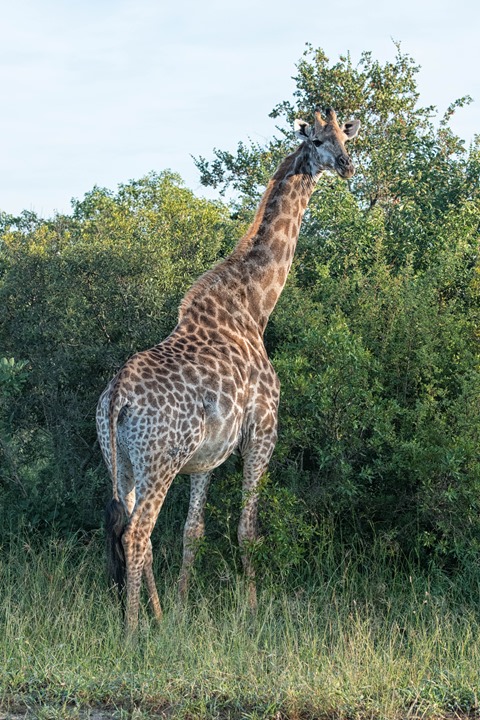 There were so many giraffes, both inside and outside of the preserve. We saw dozens of them just on our way to the resort on our way to stay. They almost seemed "boring" by this point after seeing many of them around the preserve. But it would be tragic to not share photos as well.
I love the zebras and the wildebeests we ran into among the drives to see game around the preserve. I love how plentiful and beautiful all the creatures were. The wildebeest also remind me of that scene in The Lion King with the stampede that ended Mufasa's life.
And last but certainly not least, the Cheetahs. These are my favorite of all animals, and sadly I did not get to see them myself in person. They were sighted just off the road by other lodges who use the preserve and given that we were not able to leave the vehicle, they were out out of sight for us. Our game guide was the one who ended up going off the road on foot to get this photo for us. One day though I'll be back for a Safari in Africa and hopefully get to see them in person myself.
* * * * *
We stayed at the beautiful Tangala Safari Camp connected to the Thornybush Private Game Reserve. We had a large enough group to book the entire camp for ourselves and was quite a magical experience. Wanted to give a shout out to our wonderful agent Jacqui Goodwin of Active Africa, who helped us plan the trip for our large group and our crazy schedules. They certainly went above and beyond and managed to meet our safari and budget needs! Can't recommend them enough. If you book say hi for me.
* * * * *
I hope you have enjoyed a few of these photos. Have you been on Safari in Africa? Please share your links to your photos or social media either through email or comments. Would love to check them out myself as well!