I had no intentions of visiting the Ice display at the Gaylord National Hotel. But one of my friends had a friend visiting and they already purchased tickets and I figured I should probably go along and what it is all about. Annually the hotel hosts an ice display that I had heard about for a few years now living in the DC area and didn't think much abut visiting. So this was a good opportunity to see and check out the displays. The display itself is carved by 40 ice sculptors from Harbin China who are all definitely incredibly talented. There isn't much to say overall about the actual ice display visit, so I will just show you it through the following photo essay.
The area is cold. I wish I had gloves with me when I was there. They give you large parkas as the weather this day was not that cold overall. The temperature itself didn't sound really low but they were constantly blowing air into the exhibit which added to the overall discomfort from the cold. Bring gloves with you if you plan the trip ahead of time (which I didn't) if find yourself here when the weather is not really cold outdoors.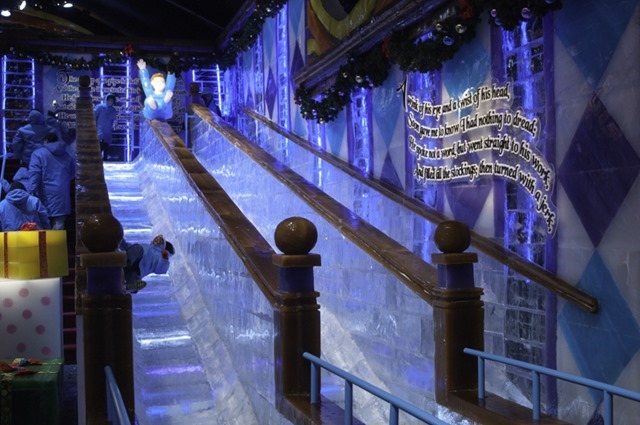 Yes it is an slide made of ice. One of the few "ice things" you could touch!

Hmm when did I leave DC?
It was fun seeing the displays. It was not what I was expecting overall having been to Ice sculpture festivals before with competitions. This was all developed along one theme so it was not ice sculptors competing against one another (you never did get to see the actual sculptors disappointingly). The display was also a bit shorter than I had expected it to be, so it did not take long to actually get through the entire exhibit. Although by the end we were thoroughly cold anyway so perhaps it was long enough. The slide is fun if you have kids, but you don't really move that quickly however.
Other Info:
You are best booking your visit online or looking for coupons or other discounts. It is pretty expensive (nearly $40) if you buy your ticket at the box office. There are lots of places to find discounts even the website itself is discounted. In my opinion it is not worth the price if you have to pay full fare.
Bring plastic ziplock bags for your camera equipment. You should seal your camera in the bags when transferring between the warmer weather outside and the colder weather inside (depending on the temperature of the day overall). This will help reduce condensation on your camera.
Getting There: You can park at the National Harbor or take the ferry across from Alexandria ($8 dollars each way). If you are not from the area I would definitely recommend spending some time in old town Alexandria as it's really nice and has lots of great restaurants as well.
The display runs November 15 – January 5th. It is an annual display but changes each year.