There are a lot of great places to visit in Salt Lake City. When I first thought of visiting the area I really did not know much to do beyond the lake and well skiing. But now after a few visits, I realized how great of city it is. So here's a list of the incredible things to do, so you can have a wonderful trip too.
Temple Square
Address: 1 E St E, Salt Lake City, UT 84103
No visit to Salt Lake City would be complete without visiting Temple Square. Salt Lake City would certainly not be anything that is today without the Mormon History and it's such an important part of the history of the area. There's several places to visit in the area including the Temple, Conference Center, and Tabernacle. Sadly the Temple was closed due to seismic upgrades to the temple. You can also visit the Family History Library which has an incredible genealogical library.
The Conference Center is located across Temple Street from many of the buildings. But definitely worth a visit to explore some of the art, history, and also some great views as well from the patios.
Tabernacle
Address: 50 N W Temple St, Salt Lake City, UT 84150
Hours: 9:00am – 9:00 pm
Performances: Monday – Saturday: 12:00pm ; Sunday: 2:00pm
The Salt Lake City Tabernacle was built for large gatherings and events for the Mormon church. The acoustics of the place are pretty incredible, and they regularly demonstrate them with coin and pin drops, and newspaper tears. However, the best thing to do is listen to the incredible Organ play in the Tabernacle or if you are lucky the Tabernacle Choir perform. You can sit through as much of the performance as you like just make sure to leave quietly. They provide a program with the performances.
Sadly during my visit, the Choir was not performing due to Covid restrictions.
Beehive House
Address: 67 E S Temple St, Salt Lake City, UT 84150
Hours: Monday – Saturday: 10:00am – 6:00pm
The Beehive house is the home of Brigham Young, the second president of the Church of Jesus Christ of Latter Day Saints. The house was designed to accommodate Young's large family and has many rooms for such ability. The house was constructed in 1854 and served as Young's residence and was the official "executive mansion" of Utah during his period as governor. The house contains lots of art, photographs, and artifacts from his household.
The Beehive House was recently reopened when we visited. However, adjacent Lion House (also a residence of Young) is closed still for renovations.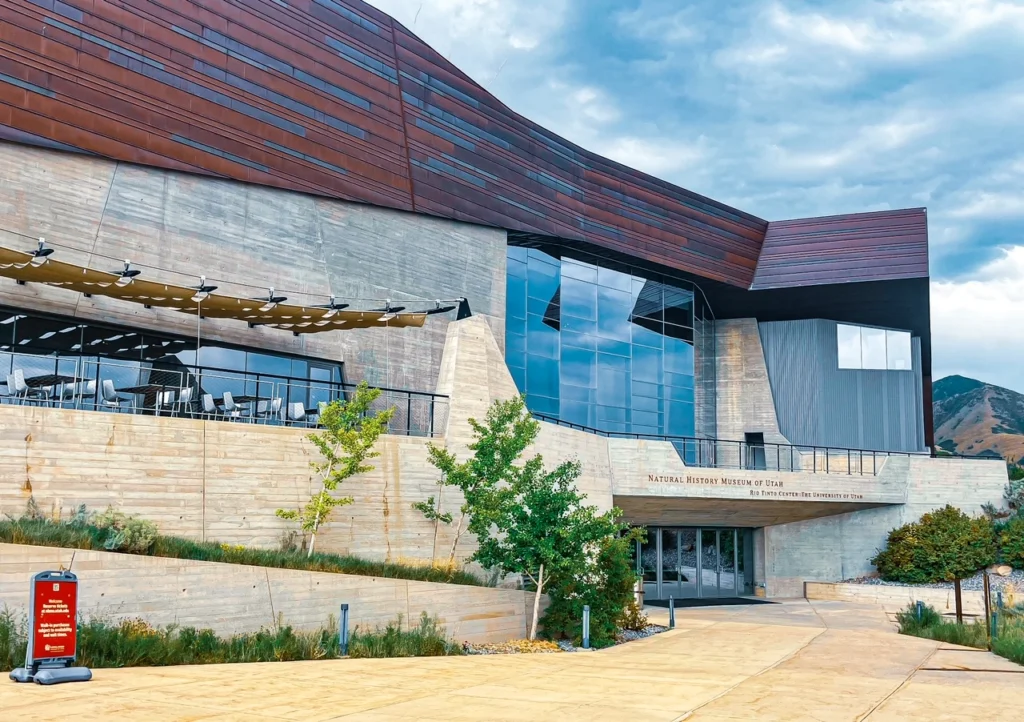 Natural History Museum of Utah
Address: 301 Wakara Way, Salt Lake City, UT 84108
Hours: Thursday – Tuesday: 10:00am – 5:00pm; Wednesday: 10:00am – 9:00pm
Price: Adults: $14; Children: $7; Seniors: $12
Website: Red Butte Garden Website
Owned and Operated by the University of Utah, The Natural History Museum has an extensive collection of natural artifacts. It has an incredible array of dinosaur bones, which are actually found mainly in this region of the United States as well. Reminds me a bit of the Museum of the Rockies in that regard. It also has an interesting exhibit about the great salt lake, which was useful to learn more about the history and changes of the area.
Prices run about $20 US for adults and $15-18 for children/seniors. Free for students and faculty of U of U.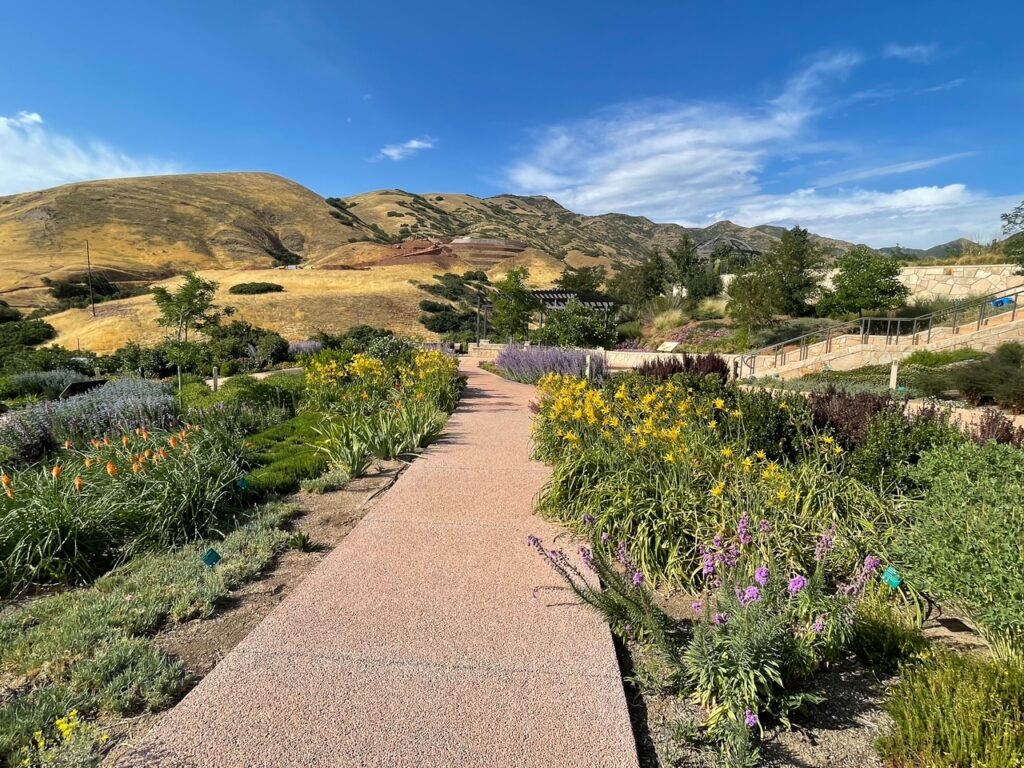 Red Butte Garden
Address: 300 Wakara Way, Salt Lake City, UT 84108
Hours: Thursday – Tuesday: 10:00am – 5:00pm; Wednesday: 10:00am – 9:00pm
Price: Adults: $19.95; Children: $14.95-$17.95; Seniors: $17.95
Website: Natural History Museum of Utah
Located next to the Natural History Museum of Utah, the Red Butte Garden has an assortment of flora both local and exotic. It has several different "theme" gardens such as medicinal, herb, and fragrant. It also has an amphitheater that has regular musical performances. One thing I liked is the size of the garden, which also has a large number of walking trails that were further up the hill from the garden. The rose garden was beautifully fragrant and the various ponds were great to wander and sit by.
Prices run about $14 for adults, which is a bit pricey in my opinion. It was a fun walk around, but unless you are going to spend more time there or for some other class or exhibit it might be a bit much for a short visit. I also wish there was some combo ticket with the Natural History museum.
Free for students and faculty of U of U.
Go Hiking
One of my favorite part of Salt Lake City is it's proximity to hiking and the mountains. You don't get this in a lot of other major metropolitan areas. The Wasatch mountains abut the city, and you have easy access to big and little cottonwood canyon. You can hike on the numerous hiking trails in the area and go pretty high and far into the mountains if you so choose. There's certainly no limit to exploration.
Skiing
Utah is famous for it's snow and skiing and no where can you get such a large number of ski areas than near Salt Lake City. Several of the world's best mountains are very close to the city, such as Solitude, Brighton, Alta, and Snowbird.
You can also go a bit further away and explore Park City and Deer Valley. Or if you want to get further from the crowds check out Snowbasin or Powder Mountain in Ogden.
If you are planning to do multiple days or locations, look into investing in a Epic or Ikon pass. Each has access to several of the ski areas. You can do multi day, "basic" or "full". The basic and full have different limits on some of the more popular mountains, however both give you incredible access.
Utah State Capitol Building
Address: 350 State St, Salt Lake City, UT 84103
Hours: Monday – Thursday: 7:00 am – 8:00 pm Friday – Sunday, & Holidays: 7:00 am-6:00 pm
Docent Tours: Hourly from 10:00 am – 3:00 pm Monday – Friday
The beautiful Utah Capitol Building is not only a great place to view but also a fun place to visit as well. The site is open to visitors during Capitol Business Hours (above), and you can do a self-guided tour of areas during that time. There are also docent tours held weekdays from 10:00 am – 3:00 pm (except holidays and certain breaks). Tours are free of charge and you get to see some of the beautiful rooms of the capitol. The docent tours are nice if you want to experience more about the site and history.
Antelope Island
Address: Visitor Center: 4528 W 1700 S, Syracuse, UT 84075
Price: $15 (Private Vehicle)
While not always an Island (it becomes a peninsula during low-tide), Antelope Island is a natural oasis close to the city.
The Island is home to quite a bit of flora and fauna including Bison that roam the island. Also there is a ranch on the Island where you can learn a bit of the history too. The bison were some of the only ones that my friend had ever witness, so if you've not seen them elsewhere, it's worth a stop.
It really does feel a world away from the mainland.
The Island is connected by a causeway that you can drive over. Even when it's a peninsula the area that connects to the mainland is closed. Or at least was closed when we were visiting.
Great Salt Lake
It's the namesake of the city, so how could you go without take a visit? If you go to Antelope Island above you'll get the chance to get up close and personal with the lake. However, even if you don't go, you should definitely make the time to explore the area around the lake.
It probably wasn't too smart, but during the winter you can walk on some areas of the lake that freeze over. Which was surprising to me. In fairness my friend went out, so when he didn't fall in I followed. Lemming-ish I guess.
GilGal Sculpture Garden
Address: 749 E 500 S, Salt Lake City, UT 84102
Hours: 8:00am – 8:00pm
It does feel like a bit of a hidden gem. And by hidden, I mean hidden. It's located around next to some houses down a small walkway. The sculptures are a mix of a variety of different styles and ideas. Some of the art is certainly in the eye of the beholder. There's a mix of Egyptian, Pioneer, religious, as well as just some interesting ideas. It's worth a look and it feels like a cool place to just relax, read, or go for a wander.
Further Afield Trips
There are some great areas around Salt Lake City that you can visit. Some of these sites are an hour or more away from the city but still worth visiting. Especially if you love natural places to explore.
Timpanogos Cave National Monument
Address: 2038 Alpine Loop Rd, American Fork, UT 84003
I didn't know there was a set of caves so close to Salt Lake City until I was planning more National Park Service Sites in the area. But these beautiful caves are 35 miles south of the city in American Fork.
Cave tours are only available by ranger led guide. You need to book these ahead of time on recreation.gov and cost $12 for adults and $7 for children. Be sure to have your ticket either printed or on your phone saved (you can do so in the Recreation.gov app if you prefer).
Access to the cave requires hiking 1.5 miles each way to the cave, and the caves are not wheelchair accessible. The hike is pretty strenuous as well.
To prevent the spread of white-nose syndrome, any clothing or gear used in any other mine or cave system is prohibited. Please head this instruction as the disease is deadly to bats.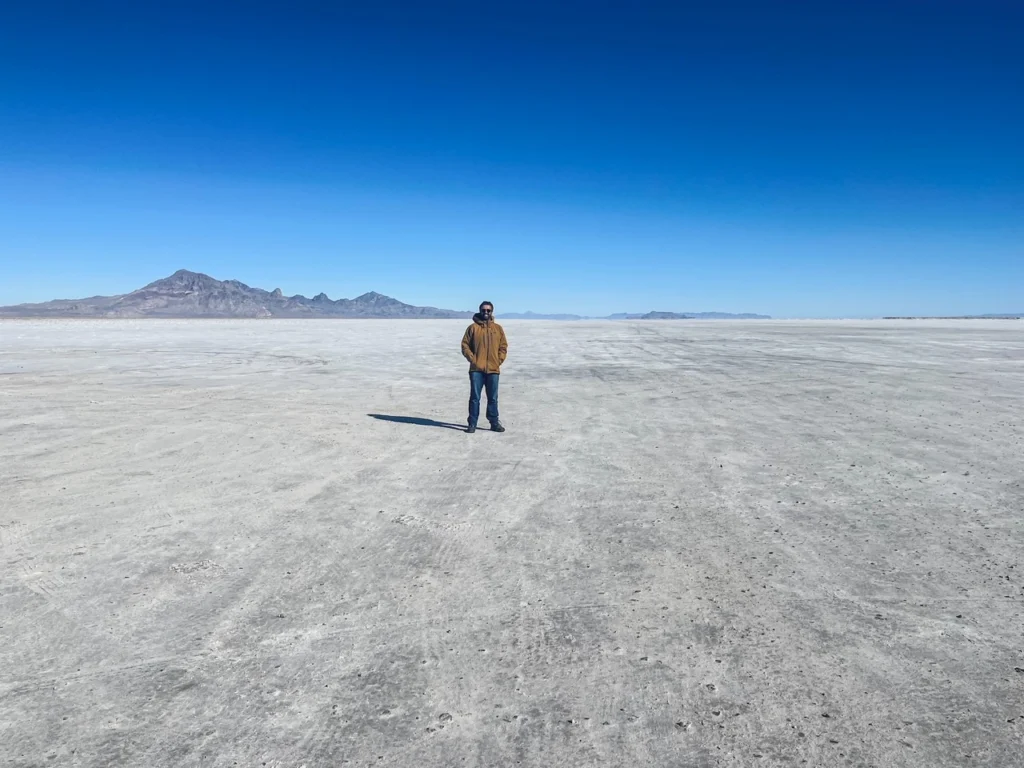 Bonneville Salt Flats
Address: Bonneville Salt Flats BLM Area
Located about 90 minutes from Salt Lake City, Bonneville Salt Flats is incredibly famous for its history in breaking land speed records. The large incredibly flat salt flats is amazing to see and even more amazing to drive on. Driving and access to the site is free, although there are occasionally fees during times of official races.
If you go, don't think once you get to the rest area you are there. You have to go further to get to the flats. Be sure to check out our post on the Bonneville Salt Flats for more information.
Golden Spike National Historic Park
Address: 6200 N 22300 W, Corinne, UT 84307
One of the most famous moments in the American West was the driving of the golden spike that linked the railway across the country. They spend years building the railway from the east and from the west to meet here at Promontory Point Utah. It is actually cool to see the differences in the track construction as well between the two sides.
The location of the track is the same, although its not used as it was in the past. You can see an old Jupiter engine still used as part of demonstrations. Sadly, the real golden spike is not here, it was moved by Leland Stanford to Stanford University (where it remains today).
Be sure to check out our post on the Golden Spike NHS for more information.
Other Posts You May Like