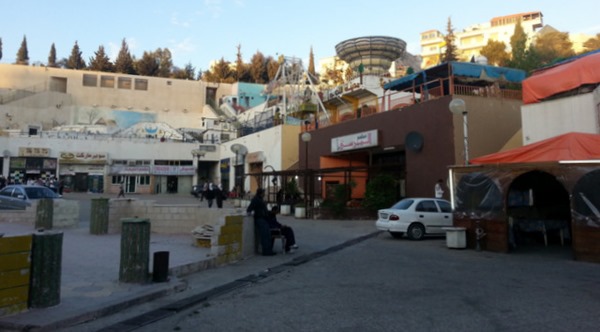 "One Minute, One Minute" – he yelled at me in Arabic as he held on tightly to my hand. I couldn't figure out who he was whether he was a pimp or a carnie working at the dilapidated amusement park surrounding us. Another woman (who my friend figures was a prostitute) kept yelling (in Arabic) for me to listen to him, but I didn't really want to do that. I just wanted to get on with my day. It looked like maybe a cross between a fortune telling outfit and a brothel but I didn't really want to investigate further. I was here to find a car, not a girl, and that's what I planned to do.
We've been here trying to plan a trip out the eastern desert for quite a while. The problem with the eastern desert is that it's not really populated or served by any sort of public transportation so renting a car is basically a must. Also many of the castles and other areas are difficult to get to and require a 4WD car if we so choose to visit there. We don't know what we were going to do but we figured we'd try to investigate prices. I had been checking prices for a while now, going to every car rental website I possibly could, wandering to all the hotels in the town I knew of, and I was getting sick of it. Really. It was a bit overkill trying to find a reasonable rate that others would be willing to even chip in on. I had at least been working but a lot of my friends here are students so their budgets are more constrained than mine. So it was a bit like herding cats to get a group together to go anywhere let alone pay, so finding the best price option was a necessity. We had heard of King Abdullah Gardens (حدائق الملك عبد الله) and figured it would be worth checking out.
King Abdullah Gardens is probably the farthest from a garden I would ever probably imagine. Completely covered in buildings and concrete and situated conveniently under a dilapidated amusement park, it resemble nearly any other shopping industrial area in this city. Maybe there were gardens here one day a long time ago and if true that would make the area seem all the more sadder. But I wasn't here to lament the urbanization of the land, I was here to try to find a vehicle for another trip. Most of the places were tiny little organizations. Having on hand only a few cars. Generally speaking finding prices was a bit of drawing a price out of a hat. It seems they just pulled a number off the top of their head and waiting for you to react. Not exactly what I had hoped for in my investigation. Several of the companies seemed very promising in their discussions and others just provided me with amusing anecdotes.
"Hi yes we have two cars, see there they are sitting out there. The bigger one is 25 and the smaller one 20 JD" – the sales person or likely owner told us. There were actually three cars outside, there was a Porsche sitting out there as well that I assumed was not among the ones for rent.

"Ok great, the large one seems nice. I think that might work well for us" – I replied

"Well on Thursday I cannot guarantee it will be the same car, but it will be similar" – he replied

"That's fine, as long as it's similar" – I responded.

"Ok Ok, well it might be blue" – he quickly responded

"Yeah that's ok, I don't mind the color" – I responded again.

"Ok Ok, well it also might be beige." – He quickly added.

"Yes that is not a problem." – I responded yet again.

"Ok Ok, it also might be the same exact car." – He for some reason felt the need to add.
But generally the car investigations went as follows. We went into a car company and
asked about a rental on Thursday, and they said sure, we have cars now. We said no Thursday and they would respond come back Thursday.
"Do you have cars available for Thursday?" – I asked.

"No we have no cars now." – responded the company representative.

"Well not now, but on Thursday, will you have cars then?" – I attempted to re-ask my question.

"I don't know." – he responded.

"When will you know." I asked.

"Thursday" – he responded annoyed at this moment.
It seems the general rule as reservations here are still in old notebooks and keeping track of inventory really isn't anything more than surveying what they have on the lot at this exact moment. So we realized the first rule of rentals in Jordan, only come when you want to rent. Even the prices we seemed to get generally only existed for the moment we received them and if we planned to return we'd have to go through the entire process of renegotiating prices again. Even the business cards we picked up were only mildly useful. The best they ended up giving us was which places we did not want to return to again at a future time.