There's so much ]in Colorado Springs, that Finding Great Things to Do in Colorado Springs was tough to narrow down.
I think the list we have here will keep you busy for several days if not more. For most folks visiting, your time is limited and helping you narrow down the best things to do isn't easy. So we pick a good sampling of different things from nature, culture, and history to give you a good view over this incredible city in Colorado.
Pike's Peak
Address: 5089 Pikes Peak Hwy, Cascade, CO 80809 (auto road); 515 Ruxton Ave, Manitou Springs, CO 80829 (railway);
Hours: Auto Road: 7:30 am – 8:00 pm; Cog Railway: 8am (first road trip) – 5:20 pm (last road trip)
Price: $15 – $68.50
Website: Auto road ; Cog Railway (for bookings)
It's fascinating to think this 14,115′ peak, which Zebulon Pike imagined would be unclaimable has a road, railway and giftshop/visitor center on the summit. The peak is viewable from anywhere in Colorado Springs and appears to light up by the light of the sun first thing in the morning.
There are several options for getting to the summit. You can hike up to the summit and claim the peak among the 14ers of the state. Driving up the peak on the Pike's peak road may be the most economical of the options. This ranges from $15 for a person to $50+ for a carload. There's also a $2.00 coupon on the website above.
For a stress free voyage, the cog-railway is the way to go. This takes you from Manitou Springs to the summit on a 1 hr. 15 minute ride each way (with about 50 minutes at the summit). Summit time is ample to do much of the things one would want to do.
Prices for the cog-railway run $58.50 for adults and $48.50 for children. You can also spend an extra $10 to reserve your seat. I don't think it's necessarily worth it. Even if you don't have the window it's easy enough to stand up or lean over for a photo.
Parking in Manitou Springs is also pricey. $10 at the railway station or at various metered parking in town. Either way without a local permit its hard to get free parking in Manitou Springs.
You can also hike Pike's Peak from various trailheads. Although that needs to be the subject of a more in-depth post.
Be sure to book your trips on the websites above as space (especially for the train) books up early.
Garden of the Gods
Address: 1805 N 30th St, Colorado Springs, CO 80904 (Visitor Center)
Hours: 5:00 am – 9:00 pm (Nov – Apr) or 10:00 pm (May – Oct); Visitor Center 9:00 am – 5:00 pm (6:00 pm summer)
Price: Free
There is something magical about the Garden of the Gods. The beautiful red rock formations do feel like the Gods may have treaded here. While the Rocks are the main attraction there are miles of other trails to explore as well.
It's recommended to go early. Especially on weekends the place can get very crowded and finding parking can be a bit tricky.
Colorado Springs Pioneer Museum
Address: 215 S Tejon St, Colorado Springs, CO 80903
Hours: 10:00 am – 5:00 pm
Price: Free
Website: Colorado Springs Pioneer Museum
Located downtown, the Colorado Springs Pioneer Museum contains many exhibits and artifacts about the Pikes Peak Region and its cultural history.
The institution was founded in 1896 in this beautiful historic venue (that was an old courthouse). The museum traces many of the early settler, historic objects, quilts, as well as Native American historical artifacts as well.
U.S. Olympic & Paralympic Museum
Address: 200 S Sierra Madre St, Colorado Springs, CO 80903
Hours: 10:00 am – 5:00 pm (6:00 pm Saturdays)
Price: Adults: $24.95; Children (3-12): $14.95; Seniors (65 and over): $19.95
Website: Olympic Museum Site
Colorado Springs as known as the location for folks training for the Olympics and the location of the headquarters of the US Olympic Committee. So it should be no shock that the U.S. Olympic & Paralympic Museum would be located in Colorado Springs.
The Museum is also one of the newest attractions in Colorado Springs as well, opening in July 2020. The museum traces stories, history, and artifacts from the US Olympic and Paralympic teams. The museum is notably accessible too with ASL translations, RFID lanyards to enlarge text for folks with difficulty reading, audio tracks.
An interactive and exciting museum and one that really embraces and utilizes technology.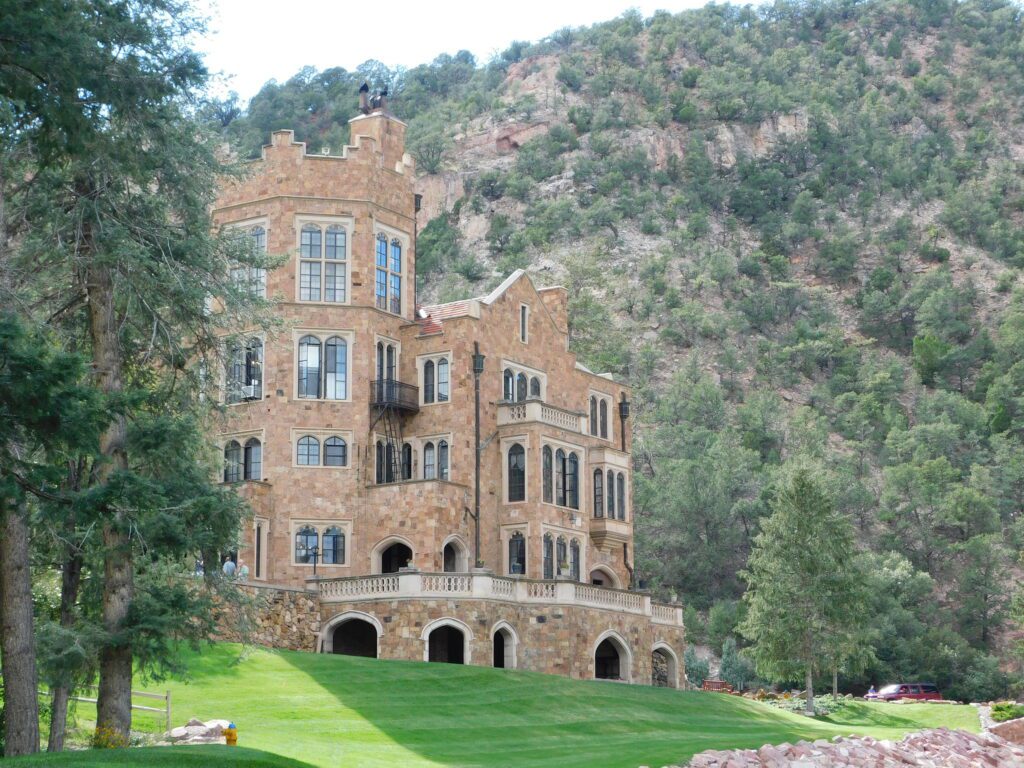 Glen Eyrie Castle
Address: 3820 N 30th St, Colorado Springs, CO 80904
Hours: Varies depending on Activity
Price: $12 (castle tour) – $200+ (staying the night)
Website: Glen Eyrie Castle
Such a fascinating Mansion with a fascinating history. Originally built in 1871 by General William Jackson Palmer, the founder of Colorado Springs, the Tudor style mansion houses 17 guest rooms.
You can actually spend the night here, tour the grounds, or come for tea. The tea is definitely something special with one of the loveliest settings in Colorado Springs for such an event.
You need to make a reservation to tour and explore the area or stay the night. If you just show up, they will give you a free "drive-thru" pass which allows you to just drive to the castle and back But not get out or take photos.
The Castle is owned and operated by the Christian organization the Navigators. They have a lot of events and conferences at the site as well.
It's recommended to use the site to book, as the phone # can be busy often.
Manitou Incline
Address: Manitou Springs
Hours: 6:00 am – 6:00 pm
Price: Free (But reservation required (link below))
Website: Manitou Incline
If you want to feel your legs burn, there is no better (or worse?) way to do so than the 2744 steps of the Manitou Incline. You'll also gain about 2,000 feet in Elevation. Built originally as a cable car to carry materials up Pike's Peak, it was turned into it's current tourist attraction after construction was finished.
Be sure to pay attention to the hike and don't bail out at the "fake summit" that's about 2/3rds of the way. You still have several hundred more steps to go. Most people take over an hour each way on the incline, and it's definitely a workout and sore knees and quads.
Due to the popularity and the local neighbors you are asked not to hike the incline outside of those hours. I'm not certain what they would do if you were still out there though.
Parking is a bit of a pain. Kind of like the Cog Railway, you'll need to pay for parking somewhere. There are lots closer that are about $10.00 for 4hrs or you can park more in town and take the free shuttle.
The Incline starts basically near where The Broadmoor Manitou and Pikes Peak Cog Railway station is.
Manitou Cliff Dwellings
Address: 10 Cliff Rd, Manitou Springs, CO 80829
Hours: 9:00 am – 5:00 pm
Price: $10-12 Adults; Children (4-11) $7 – 7.50; Seniors $9.00; (lower prices from coupon on site)
Website: Manitou Cliff Dwellings
The Manitou Cliff dwellings protect ancestral Puebloan ruins that date back 800 – 1000 years. While these ruins were actually moved to the site, it gives you a view of the ruins and some of the other cultural aspects. The site contains the ruins, a museum, café, and gift shop.
The site is pretty small and you can probably view everything in less than an hour. Recommend combining with the Cave of the Winds as it's right next to this site. Also recommend making sure to use the coupon (listed above) for your purchases
You can actually purchase tickets ahead of time, but TBH you don't really need to and they are not timed. So, I would wait until you arrive anyway.
Cave of the Winds
Address: 100 Cave of the Winds Rd., Manitou Springs, CO 80829
Hours: Varies but generally 9 – 5pm with some days open later as well.
Price: Varies depend on Activity; Discovery Tour $17-26; Lantern Tour $24 – 34
Website: Cave of the Winds
Cave of the winds was discovered in 1881 by two local kids. They told folks and one other local saw the value of the caves and started tours. Tours have continued and the caves have changed in some ways over the years but still maintain much of its original character.
The discovery tour is great if you want to actually see the cave and the various formations. These run about 45 minutes about every 15 minutes. The Lantern Tour sends you on a 90 minute tour through the cave with only the light of lanterns. This is mostly about folklore and haunted tales. So decide which one you prefer!
Cave tours do run later on some days and there are other activities to do on site as well (from ziplining, climbing wall, etc.). There is also a 10% military discount for those eligible.
Be sure to book your cave tours on the website above as tours do fill up especially on weekends.
Nearby Attractions
Locate about an hour from Colorado Springs, Florissant Fossil Beds NM protects the largest fossil bed of its kind. Containing an extensive collection of plant and insect fossils, the site is a place of discovery for many new species. Also be sure to check out the petrified redwood trees in the park as well. Great place to check off a great national monument visit.
Places to Stay
Colorado Springs has a plethora of places to stay for all budgets. You can stay in the downtown area with easy walking to places or stay closer to Garden of the Gods, Manitou Springs and many of the best attractions.
Towne Place Suites Garden of the Gods
A great Marriott option that is close to many of the attractions such as Garden of the Gods, Glen Eyrie, and Manitou Springs. The rooms are clean with a small kitchen, and reasonably priced as well. There's not much in terms of walking distance so immediate attractions around the hotel are limited.
Hyatt Place Colorado Springs Downtown
I love the location of this Hyatt Place as it gives you the ability to walk around to many great restaurants and attraction in the evenings. It's a bit further from some of the attractions, but many of the downtown ones such as Pioneer Museum and Olympic Museum are close by.
Located in downtown Manitou Springs, the Cliff House offers guests beautiful rooms and even a breakfast. I love the location of Manitou Springs and the restaurants and activities downtown. This is also close to many of the Manitou Springs attractions such as Pike's Peak, Manitou Cliff Dwellings, and Cave of the Winds.
Other Posts You May Like