One of the most scenic parts of the United States is between Glacier National Park in Montana and Yellowstone in Montana/Wyoming.
There's also a lot to do on your trip between the two places, and some amazing stops along the way as well.
This post will examine the best way to maximize your time in between the places.
Table of Contents
How Far is it From Glacier National Park to Yellowstone National Park
The distance between Glacier National Park and Yellowstone is pretty far. This depends highly on which entrances you measure from in the Park.
From:
Apgar Entrance to North Entrance Yellowstone: 408 miles (6.5 hours)
St Mary's Entrance to North East Entrance Yellowstone: 426 miles (7.5 hours)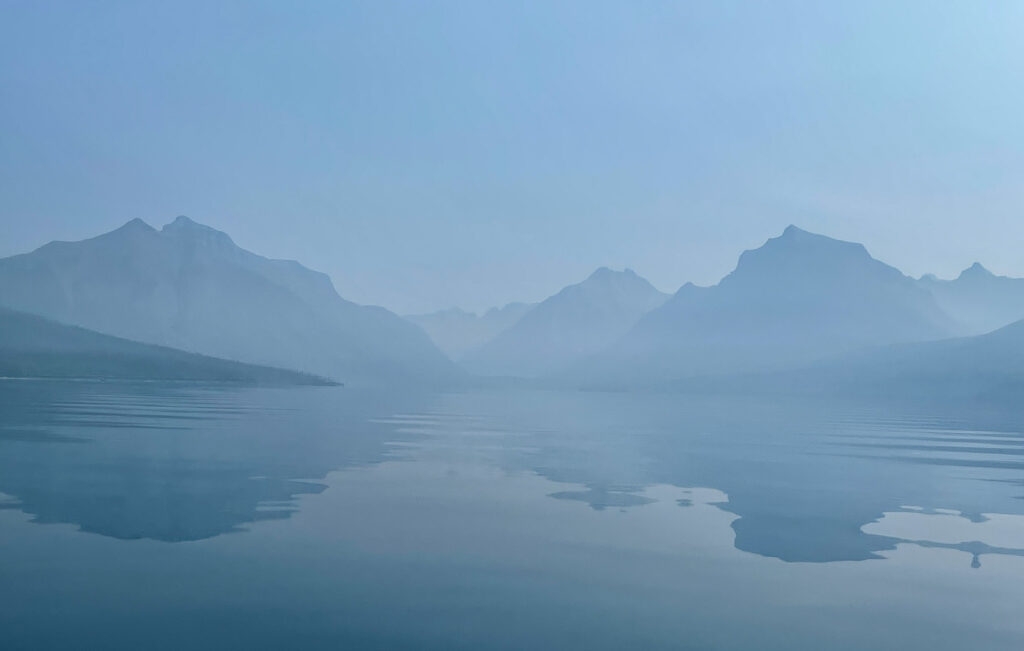 The Route
We are not going to cover all the possible options for travel between Yellowstone and Glacier National Park. So for this guide we will be looking at entering and exiting from the northern entrance of Yellowstone National Park.
You can definitely do this another route and we'll maybe cover that in another guide. This will include stops in Bozeman, Butte, Missoula, Flathead, and Whitefish.
This is the more activity highlighted route and the one most requested by our readers.
Closest Airports
If you are planning to fly into the area for the start of your trip. There are quite a few airports depending on where you'd want to start your journey. If you are planning on flying or starting from as south as Salt Lake City, we recommend checking our Road Trip guide from Salt Lake City to Yellowstone.
Yellowstone National Park
Cody Airport (YRA): 55 miles (1 hour)
Bozeman Airport (BZN): 88 miles (90 minutes)
Idaho Falls (IDA): 109 miles (2 hours)
Jackson Hole Airport (JAC): 49 miles (1 hour)
Billings Airport (BIL): 158 miles (3 hours)
Glacier National Park
Kalispell Airport (GPI): 24 miles (30 minutes)
Missoula Airport (MSO): 132 miles (2.5 hours)
Great Falls Airport(GTF): 156 miles (2.5 hours)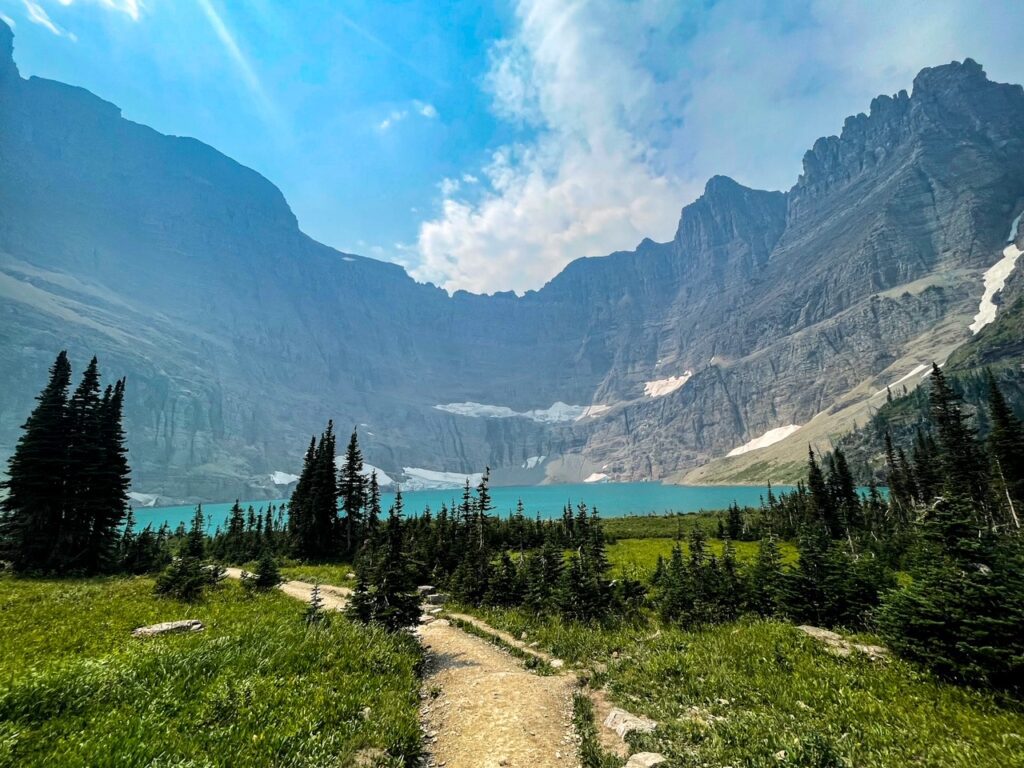 When is the Best Time to Go
Both of the Parks and sites in between have access much of the year. There are places that will be closed during the winter however. But we look at the best times to visit the various parks.
Summer
Summer is the best season as well as the busiest season to do the road trip. Services and access to all of the parks are open during this time.
Glacier National Park requires timed Entry for many of the entrances to the park during the summer months.
Honestly, for Glacier you should try to entry earlier, as parking is a problem by about 7:00 am. Yellowstone doesn't have an time-entry, but driving through the park can be very slow (especially if anyone in front of you sees wildlife).
Expect lodging to have high prices and limited availability. Lodging in Parks may be booked a year in advance.
Spring
Early Spring the park roads are still mostly closed. Many of the roads don't open until late may or even June depending on winter snowfall.
Late Spring you may be luckier with things being open. Some services will still be just opening. Prices for lodging will be more reasonable.
Spring is considered "mud-season" in Montana. Winter thaw makes things quite muddy on trails and basically everywhere.
Fall
Early fall can be a perfect time to visit the parks. In particular the days after labor day are particularly great as kids go back to school and crowds thin. Obviously this only works if you don't have children.
Prices start to fall in fall [intended], and days in early fall are great for weather. Mid-Autumn the trees will start to change color which is perfect in the parks as well as across the state.
Trouble is that late is when snow comes and when roads and other services start to close. It's hard to predict.
Winter
Winter can be great to visit for those who are prepared for the situation in those months.
The parks are still open, however most services are roads are closed. In Glacier, the road by Apgar is still open with access to areas around the lake. The road however plowing stops on the Going-to-the-Sun-Road a bit past the lake and requires access only via hiking, snow-shoeing, or skiing.
Yellowstone can be magical during the winter as well. There are some lodging open in the winter as well as trails. Access is via skiing, snow-shoeing, horse drawn carriage, as well as some snowmobiling. Motorized transport is very limited so you should try to book ahead.
Driving between Glacier and Yellowstone is possible, but weather can be unpredictable. Drive carefully, I've seen way too many accidents than I would like to count on the roads in Montana.
There's also world class skiing and snowboarding in Montana in winter. Also makes a great side trip from the road trip below.
How Many Days for the Road Trip
For this road Trip I would recommend at least 9 days for Glacier National Park to Yellowstone National Park. There is so much to see and do in the areas. In Particular the parks are some of the best and largest in the United States. Sure you could rush through, but you'll be driving most of the time and miss a lot.
Recommended Itineraries
The following are several recommended itineraries for the trip. I would say you could do as little as 6 days, but in reality you need at least 8-9 days. More is obviously better.
Fastest
You would do yourself a disservice if you didn't spend at least 2 – 3 days in each place. You'll need to start the day early and go into the evening to maximize your time.
Day 1: Glacier National Park
Day 2: Glacier National Park
Day 3: Glacier to Yellowstone NP (with 1 – 2 activities)
Day 4: Yellowstone National Park
Day 5: Yellowstone National Park
Day 6: Yellowstone National Park
Recommend
This gives you the best views of the different park highlights as well as time to explore some activities around Western Montana as well. You won't see everything, but you'll see a lot.
Day 1: Glacier National Park
Day 2: Glacier National Park
Day 3: Glacier National Park
Day 4: Glacier National Park
Day 5: Glacier to Missoula
Day 6: Missoula to Yellowstone
Day 7: Yellowstone NP
Day 8: Yellowstone NP
Day 9: Yellowstone NP
Extended
This is how I would recommend if you have more time available.
Day 1: Glacier National Park
Day 2: Glacier National Park
Day 3: Glacier National Park
Day 4: Glacier National Park
Day 5: Glacier National Park
Day 6: Glacier to Missoula
Day 7: Missoula to Bozeman
Day 8: Bozeman; Evening drive to Yellowstone
Day 9: Yellowstone NP
Day 10: Yellowstone NP
Day 11: Yellowstone NP
Day 12: Yellowstone NP

Glacier National Park
One of my favorite parks in the United States. It's actually my current 2nd favorite park (after Yosemite). There's just so much to see and do that even a week doesn't feel enough in the park.
However, I think there's a lot to do in a few days. Below are some recommendations on things to see and do.
Hiking is the most popular aspect of the park. Several of our favorite trails are below as well.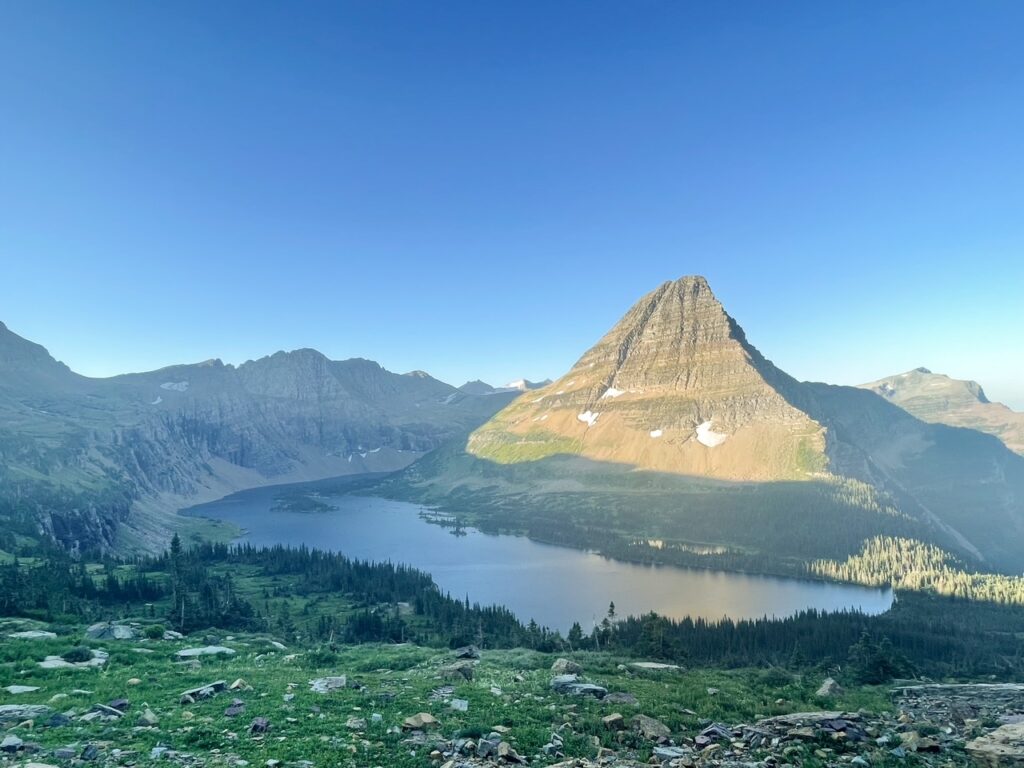 Things To Do
Glacier National Park is massive. There's so much to do and see in the park. We'll cover the highlights for a few day trip to Glacier. If you have more time, there's things You can only really reach on multi-day hikes
Boating on Lake McDonald: The Beautiful Lake McDonald is a great place to explore in the Apgar area of the Park. There are rentals for boats for motorized and non-motorized. The Lake is long, so don't expect crossing.
Scenic Drive on Going-to-the-Sun Road: By far the most popular activity in the park. The Going to the Sun Road is beautiful with incredible vistas. It's also route for many of the hikes, so you'll likely be on it during your time. Reservations need during Peak Season.
Highline Trail Hike: 15 miles. One of my favorite hikes in the park. Highline explore alpine areas, has some of the best wildlife viewing, and you can overlook a Glacier. Logan Pass Area.
Ptarmigan Tunnel Hike: 10.6 miles. Long Day hike to see the Ptarmigan Tunnel and beautiful glacier nature and wildlife. High Bear sighting area. Many Glaciers Area.
Iceberg Lake Hike: 9.3 miles. Beautiful Glacial Lake along a moderate hike. Great to combine with Ptarmigan Tunnel. Many Glaciers Area
Avalanche Lake Hike: 4.6 miles. Beautiful lake hike located not far past Lake McDonald. Popular Hike.
Hidden Lake Hike: 5.3 miles. Great moderate hike near the Continental Divide. Great to Do when stopping at the Logan Pass Visitor Center. Can reduce by 2 miles if you go to Overlook instead of Lake. Logan Pass Area.
Grinnell Glacier Hike: 11.2 miles. Lovely out and back hike that take visitors close to Grinnell Glacier. You can also overlook the glacier from Highline above. Many Glaciers Area.
Two Medicine Lake Loop: 10 miles. Loop takes on a scenic hike that circumnavigates the lake. Two Medicines Area.
Places To Stay
During the Summer, places to stay in the park are nearly impossible to come by. So you will need to book early. Even areas outside of the park may book up. Consider looking at places further away as well such as Kalispell.
You can book hotels within the Park up to 13 months ahead of your stay.
Inside the Park
Outside the Park
There's a lot of options outside the park of varying distance. My preference is the western side as there are more services. Also be sure to check AirBNB and VRBO.
Camping in the Park
Camping in Glacier National Park is a great experience. However, all the campgrounds are very popular and book up fast. Be sure to reserve before your stay. There is also lots of backcountry camping, but permit required.
Where to Eat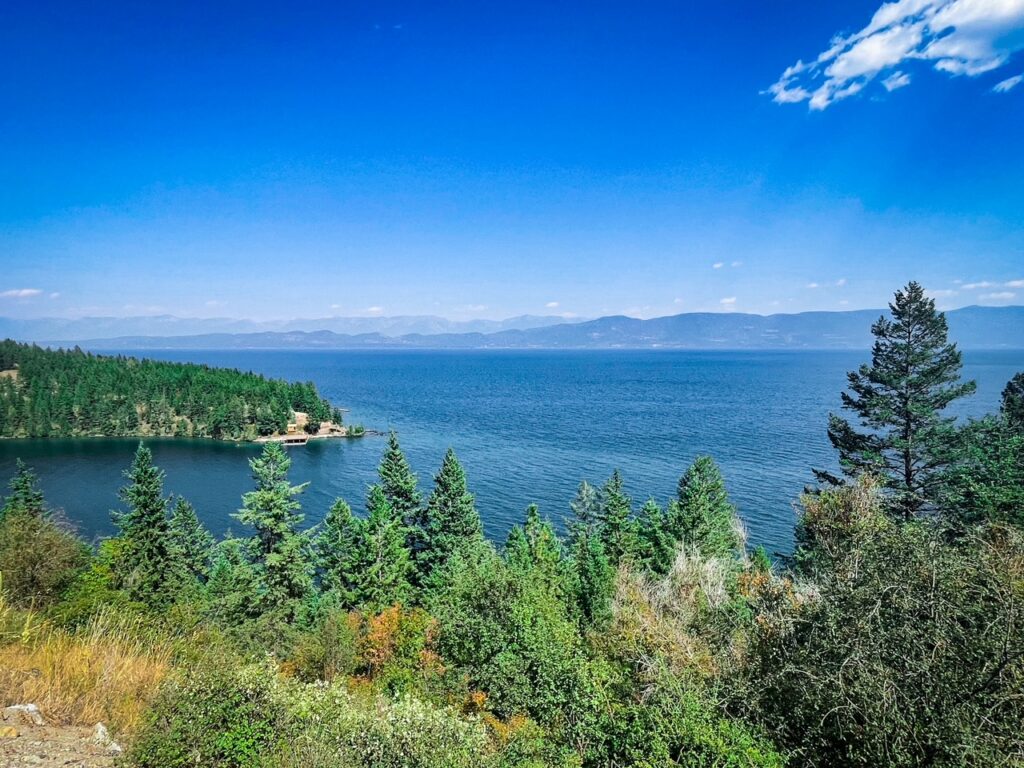 Glacier to Missoula
You can certainly do the drive between Glacier National Park and Yellowstone in one day. It's a long drive, and there's a lot to do along the way. We recommend breaking it up with at least one overnight. More than one is even better.
If you are doing the trip as a loop, consider an overnight each way.
If you have extra time, considering extending your trip.
Things to Do
Where to Stay
For this route, I would recommend staying in Missoula Montana. Missoula has a great selection of hotels and restaurants in a fairly large city.
Places to Eat
Missoula to Yellowstone
There's as much to do between Missoula and Yellowstone as between Glacier and Missoula. We recommend a day of exploring the areas (or more!). You can also break it up if you are doing a round trip.
Things to Do
Where to Stay
I recommend staying either in Bozeman if you are heading south. Or if you are passing north, you could do the activities before going on to Missoula. There's a lot of things to do in Bozeman and area if you have a few days as well.
Kimpton Armory Bozeman: Beautiful Hotel with clean rooms, great service, and a fantastic location in downtown Bozeman.
AC Hotel Bozeman Downtown: My favorite hotel downtown (also cause it's a Marriott). Great location close by downtown and great Restaurants.
The Lark Bozeman: Perfect Location in the heart of Downtown. Clean rooms, Good service, and walkable to lots of places.
Places to Eat
---
Yellowstone National Park
The Oldest National Park in the World. Yellowstone is an incredible place of wildlife and volcanic opportunity.
The park is also massive, covering over 3,400 square miles. It takes hours to drive from one end of the park to the other. You'll not be able to see it all in one trip, but we you can certainly see the highlights in a few days.
I recommend at least 3 days to explore the park.
Things To Do
I'd recommend focusing one of your days around the geyser basins. There's a ton to see in the area, and while its tempting to try to do everything, save driving and exploring those parts for other days.
Visit Old Faithful: It's a bit touristy for sure. However, it's the most famous site for a reason. One thing you'll learn is how rare a regular geyser is. There's both long and short eruptions that tend to go on slightly different time schedules. I recommend going early in the day to avoid crowds.
Upper Geyser Basin: Even more impressive is all the other various geysers that are in this high geothermal area. A highlight for me was watching the Lion Geyser group erupt. It's hard to predict though.
Midway Geyser Basin: Some of the other famous features are in Midway, such as Grand Prismatic Spring. Worth walking the boardwalks but for best views check the Overlook Trail.
Fairy Falls: One of my favorite Trails in the park. It's also the best way to see Grand Prismatic Spring from the overlook. Continue on after to the waterfall. In spring/fall the best views of the spring tend to be late in the day when the temperature is warmer so there's less steam.
Artist Paint Pots: Colorful mud pots on a nice hiking trail. Gets you pretty close to various different colored waters and mud pots. There's also Fountain Paint pots as well.
Steamboat Geyser: There's a warning about your car in the parking lot. You probably won't be there for a major eruption, but as the largest geyser it can send water over 300 feet in the air.
Mammoth Hot Springs: Amazing set of hot springs and travertine fountains. You can hike up and around the springs and explore the boardwalk and trails around the fountains.
Fort Yellowstone: Old fort established in 1891. Most of its now taken up with National Park administrative structures. The fort has a museum and visitor center. It's also a good place to check out the various shops and restaurants. I saw lots of elk in this area as well.
Grand Canyon of Yellowstone: I scoffed when I first heard the name, but it is really impressive to see. There's two parts to the waterfalls and I'd recommend taking the trails to both. The lower falls are the more impressive. Be sure to also drive to Artist Point, Inspiration Point, Lookout Point, and Uncle Tom's Trail.
Hayden Valley: The closer of the valleys to the items we discussed so far. Hayden valley is a great place to catch various wildlife. There was high bear and wolf activity during my time here. I saw wolves but missed the bears unfortunately.
Lamar Valley: Definitely worth visiting if you have time and especially if you are traveling on to places east of the park. Lamar valley is the premier place to see wildlife in the park. I saw wolves, bears, bison, elk and more in my drive through the area. Keep an eye out for wildlife spotters with scopes to know where animals are being found. Some will even let you look through as well.
Where to Stay
Yellowstone National Park is massive. If you can stay in the park I would recommend it. If you are going for two or three days. I would recommend splitting up your booking.
One day in Grant Village, Old Faithful. Another Day in Mammoth Hot Springs area. You could also maybe do a third in Tower Falls, Grand Canyon area as well.
Inside the Park
Lodging in Yellowstone is beautiful and one of the best experiences in the park. It's also very popular and books up quickly.
You can book stays up to 13 months ahead of time.
Outside the Park
You should try to plan a day close to several attractions. I would recommend at least one day north in Gardiner, and one day in west Yellowstone. You could also look out the east entrance if you are planning more time in Lamar Valley or heading east after.
Camping
Camping in Yellowstone is an incredible Experience. One of the darkest sky places you can go in the United States. Below are recommendations of campsites within the park.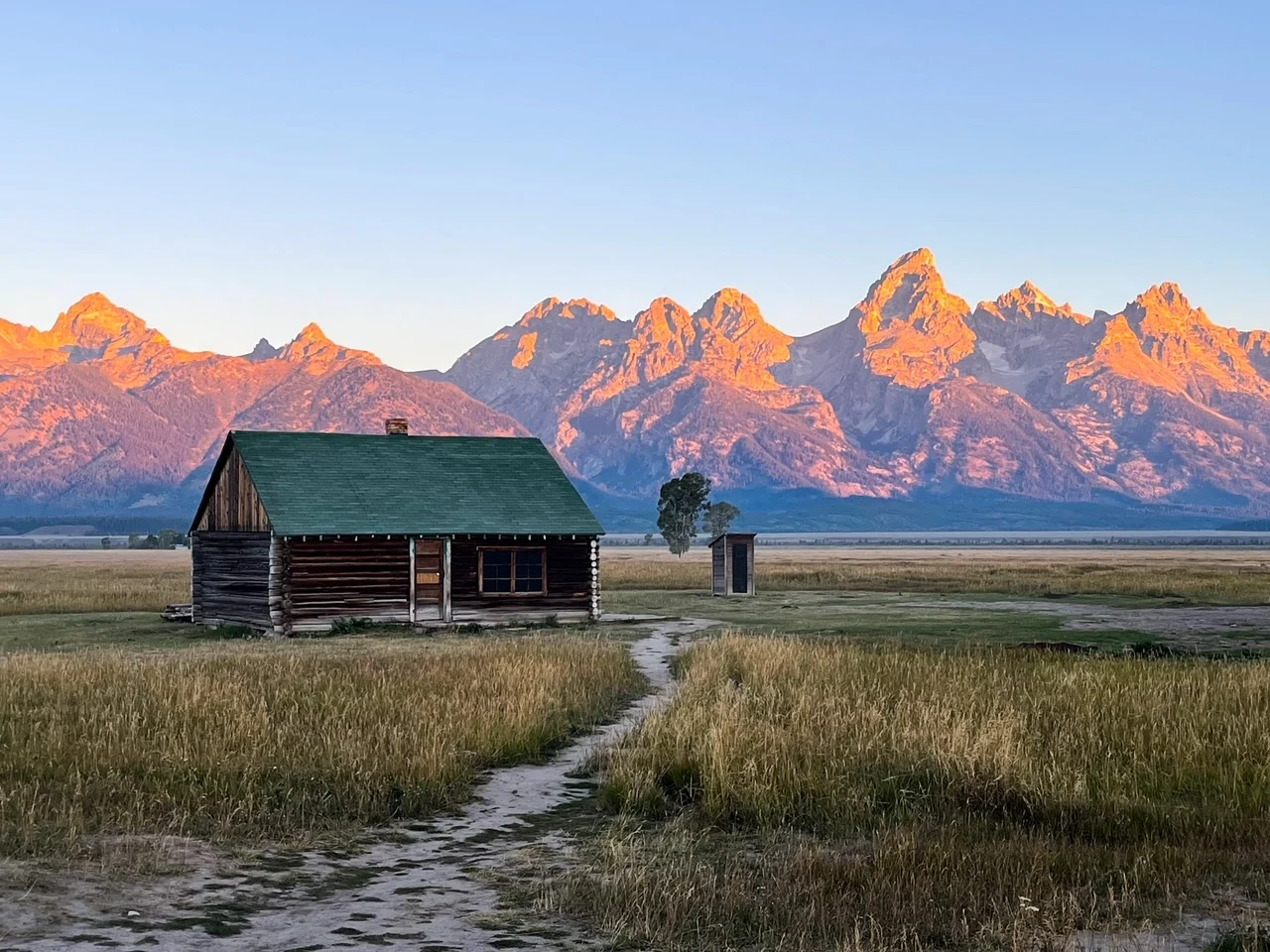 Traveling Further On
If you are Planning to Continue Traveling South. I recommend Checking out our Post on Road Trips from Yellowstone to Salt Lake City. The Post covers areas around Yellowstone, Grand Teton's, Jackson, Idaho, Wyoming and Utah. It's a great selection of Things to See and Do.
Tips & FAQs
Wildlife is Dangerous. I wish I didn't have to say this but after watching folks make bad decisions. Please stay at least 25 yards from Bison, Elk, Moose, Deer. And at least 100 years from predators.
Bring Bear Spray. There's a high chance of grizzly bear encounters in parts of Glacier and Yellowstone National Parks. They sell Bear Spray at Costco (check Kalispell) in Montana and Wyoming.
Book Lodging Early. Yellowstone and Glacier National Park Lodging books up very early. Don't delay.
Glacier Requires Timed-Entry during the summer. Be sure to check and book on Recreation.gov. You can also get reservations the night before as well but you need to be fast.
Overestimate travel times. Distances in the Parks are very far. As well as there's lots of traffic during high seasons.
Start Early. Not only will you have less crowds. But for some places, in particular Glacier, you'll need to arrive early to get Parking.
Consider National and State Forests for Camping. Surprisingly many areas around National Parks are far emptier. You have better chance of finding last minute camping opportunities there.
Consider an Interagency Pass. I highly recommend the America the Beautiful Pass. For $80 you get admission to all NPS sites. If you include in other places like Grand Tetons, you'll already profit.
Other Posts You May Like