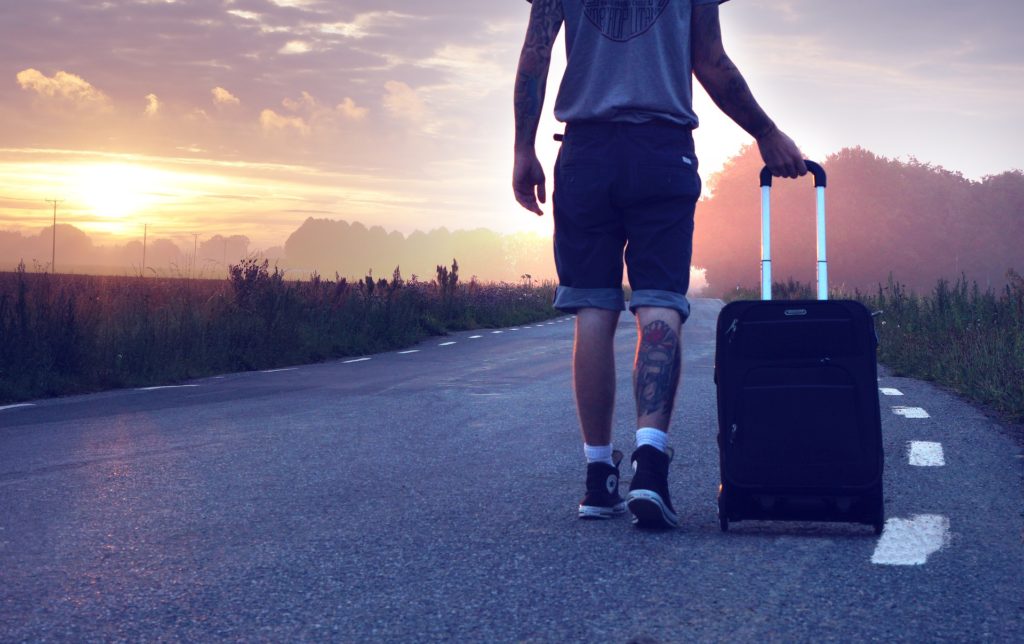 Lets face it, we are all new to things sometimes. I get a lot of questions and comments and complaints about travel and packing and what not, so here are a few tips to help you get started.
What to Buy
Backpack or Suitcase?
Well that is the question always on people's minds. Do you need a backpack if you are a backpacker? Think about the trip you are taking. If you are going to be on many city areas, maybe a nice rolling suitcase would be good. If you are going to be getting and off buses and trains and if those towns and cities have a lot of cobblestones (like a lot of old cities do) you might be better off with a backpack. These days I often find myself staying in one place longer than I used to and I tend to go for the suitcase, but I still have my backpack for trips that require it. Also if you are not going to use it for camping, consider a backpack like the Osprey Porter
that is lightweight and with straps that can be pushed inside for transport on buses and trains (so it doesn't get caught in things). However the downside of that is the fancy more comfortable strap and carry systems.
Don't overspend on a suitcase if you are a novice.
Quality is good, and you quality lasts. But should you be spending 200-300 dollars for a suitcase or backpack before you've had some time to see what you like best? Maybe you'll find you want to have that rolling case all the time or maybe you'll rethink and get some fancy Osprey
or Kelty
bag! I love my Gregory Palisade
bag however it wasn't until a trip or two did I realize that I could have done with something smaller and more nimble.
Don't just order your backpack online.
This is important. You need to try it on, feel it with weight, experience it for some time. I recommend going to a specialty store like REI and get help testing and trying on different backpacks. They have weights there to help you pack it so that it will simulate what it will feel like in the store. Actually better yet, take it home for a while and try it out with your stuff. Walk around the house or the neighborhood (if you are not so self conscious) and get a feel for it. I prefer to get my bags from REI if possible (instead of Amazon
or other stores) due to their fantastic return policies. Maybe after being with it a week you might find that it really isn't as comfortable as you hoped on your back. At least you should buy it from a place you can take it back for a refund or exchange.
Get an internal Frame
Do people still buy external frames? I have gotten this question from a few folks and if you are using your backpack for non-outdoor hiking/trekking just get it a internal frame. I used to swear by external frames back in my younger days in boy scouts and other camping trips. However with the popularity of backpacking through Europe and other international destinations the focus has been more on internal frames. This is where all the new development has occurred in backpack design. They are very comfortable and they are worth getting. I've heard of some issues with transporting external frame packs as well while traveling and internal frames are treated more like normal luggage. Plus if you are not going to be lashing a lot of stuff onto your pack (sleeping bags, etc.) there is less of a benefit or need for the external frame. Generally on your backpack trip through cities the internal frame will work best, unless you find yourself possibly trekking heavy in the Alps or other mountain ranges while on your trip might you want to consider an external frame. (Although you'll still do well with an internal setup)
Packing
Take less Stuff!
There is a mantra, take half of what you planned and twice the money. There seems to be a belief that you need to pack so much stuff "just in case". Sure there are going to be times that third pair of shoes may come in handy but are you going to want to take it with you every where you go. Beyond just the hassle of packing it or carrying it on your back, airports have been cracking down on extra weight. Do you want to pay for it (in sore backs and overweight charges) for the possibility of needing something else. You are probably going to have to wear things twice and think about items you have and if they can be used in different outfits. And these days nearly everything is available overseas. So just pack a bit more money and if that case does come up where you realize you really needed that extra sweater, pick it up. It might even make a cool souvenir perhaps!
Pack right for your back
Pack intelligently and you'll be a happier camper or walker. For your backpacks put heavier things lower and closer to your back and lighter things near the top. There used to be a rule that the bag could stand up on its own if you put it down. Also having the heavier stuff closer to your back and lower will put the extra weight on your hips (instead of your shoulders) and also keep you from being unstable while you walk (who wants to tip over while wandering down the street). The shoulder straps should keep everything in place but if they are carrying the brunt of the weight you will pay and be unhappy and sore for your wonderful holiday.
Compartmentalize
Separate for ease of finding things and for making things more compressed. I find that having a few plastic bags, packing cubes, or stuff sacks make my life so much easier when I'm trying to pack. Have a small bag for cables or for some of your certain clothing items makes it easier when you are getting in and out of your bag and also for repacking between stops. Have a few waterproof bags and perhaps a large mesh or plastic bag for wet and dirty clothes respectively. You wouldn't want your wet swim suit to soak your other clothes if you have to repack before they are dry. For waterproof bags I really like the bags from SeaLine
. They are also great for toiletries and for any sensitive items you might be taking on or near the water.
Separate your Valuables
I almost always travel with two bags. Even when I'm packing light and only have a carry-on, I'll always have a small backpack along the ride as well. It's important to separate the valuables you have to keep with your person when you are out traveling. You can leave certain things in your hotel room (however don't believe the safe is as "safe" as you would hope), but things like cameras, passports, etc. should be either on you or with you whenever you travel between locations. If I'm in a bus for instance I'll have my bag with my clothes down below but all my valuables sitting with me in the cabin. It's not foolproof in preventing theft or problems but it is certainly better than letting them out of your sight.
Disclaimer: Some of the links here to products are affiliate links (Amazon). If you buy from them I do make a small commission (and it does not cost you any extra). It does help me offset the cost of hosting and running this website.