–
It was one of my first weekends in Saudi Arabia, finally getting here after a disastrous attempts at getting visas that required me at one point to even replace my passport. The folks had already been here for several months, mostly just traveling to Bahrain and sitting around the hotel pool. They were antsy to go and seemingly since I was the only one who spoke any Arabic they were waiting on me to venture further afield.
They thought it made sense to take a car / driver from the hotel and head off to the empty quarter, I thought this a bit mad. Located a few hours from where we are station, The empty quarter (Rub Al-Khali) is the largest continuous sand desert in the world. It is beautiful yet also very dangerous, and without proper planning could lead to well problems. There wasn't any planning on this trip, hell there wasn't even a sense of direction. I decided to go along with their trip, mostly to redirect them and try to keep them alive.
Al Hofuf is the major city in the great Al-Ahsa area. Al-Ahsa is famous for it being a large Oasis with nearly a million date palm trees. Dates are a huge industry in this area and Al-Ahsa dates are famous around the Eastern Province. It is also a major cultural center and according to local legend to be the burial of Layla and Majnoon (Similar to Romeo and Juliet in some regards although much, much older). It is also as we soon learned a city of some of the nicest people you would meet on travels throughout Saudi Arabia.
There are quite a few things to see here in the city, although since we arrived on a Friday most of them were unfortunately closed. Also due to recent attacks in the area, places were on high alert and our driver was worried about traveling to some of the areas. One of the benefits though with our motley gang of travelers is that most folks didn't believe or know we were American. Keeping a low profile is key when things are a bit uneasy in the area. Thankfully even with it being Friday we did get to see some of the places, although most not nearly as lively as they would be on other days of the week.
– – – – –
Jabel Qarah
For great views over the city, Jabal Qarah was a good location to visit. It was closed actually at the time of us going (seems odd to be able to "close" a mountain perhaps), but we were able to park and just wander past all the blockades (hopefully no one cares). There are caves here too but we were not able to explore far as well as lovely views over the town below.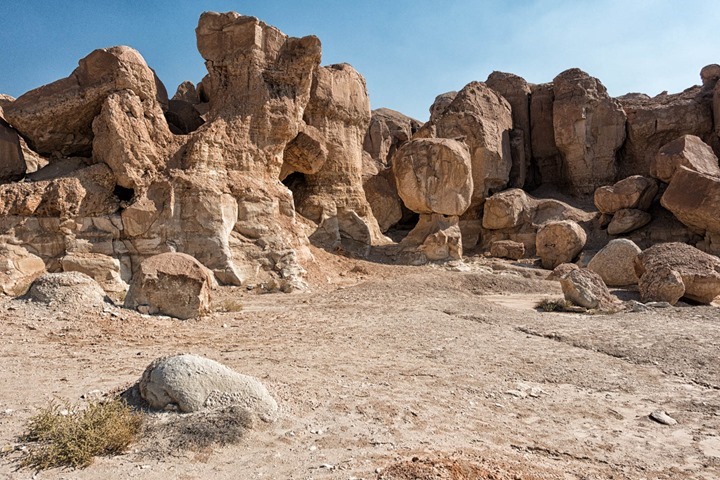 Ibrahim Fort
You tend to forget the extent of the Ottoman empire, especially with its adventures and conquests in the Arabian Peninsula. I didn't realize how far East they had come. I was also surprised to see that Ibrahim Fort was so well preserved (although also closed…ugh). Built in the 16th century and renovated again a few hundred years later, it holds a prominent spot in the city. I'm hoping to try to visit again in the near future as well.
Qaisariah Souq

It is so rare it seems to find old markets in Saudi Arabia. So many of them seem to be way more modern (malls) or just random store fronts of soulless concrete buildings. I wish it was open when we were passing through, but it is definitely worth a visit on a repeat trip through town. You can see some of the details, especially on the outer walls with old wooden doors and windows. These are the souks and markets that you want to go and visit across the Arab lands.

Lunch at a local Restaurant
One of the best experiences of the day occurred at lunch actually. The driver with some support from locals helped us find a nice local restaurant to try in the area. This was my coworkers' first experience with eating with their hands and on the ground so they were in for quite an experience. The locals there were more than accommodating. They loved this random group of Americans showing up at the restaurant. One of the folks seated next to us was glad to engage us in conversations about being in Saudi and the US and other things. I was a bit of help trying to translate the conversation back and forth between English and Arabic. He even gave us presents (some Oud (a woody fragrance) and a Quran as well). Overall a great end to a lovely weekend in the Kingdom.
Practical Information
Travel to Saudi Arabia is difficult if you don't already have a visa (usually for business or family visitation (Religious tourism visas don't cover many areas outside of the west). If you already have a visa well then you are in luck and this will be more useful for you!
Hofuf / Al-Ahsa is located about 1.5 hr drive from Dammam. The largest / closest airport to there as well. Also a fairly close drive for those in Bahrain as well as long as the causeway does not suck.
Hotels
There is a beautiful Intercontinental Hotel in Hofuf. We didn't stay here (as we were staying somewhere nearby anyway), but we did stop here to get information and directions.
– – – – –
Currently Hofuf / Al-Ahsa is on the list of places to avoid travel to according to the US Consulate. However I found it to be a warm, friendly, and safe place. Like anywhere, be aware and pay attention to your surroundings. Be sure to check security updates before going.