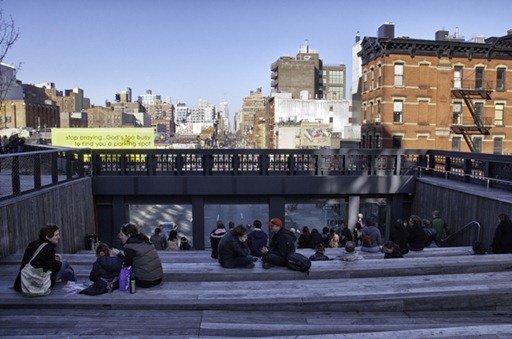 In many cities, old unused train lines end up becoming big eye sores, but in New York City it gets turned into a park.  The high line is an old elevated train tracks on the west side of Manhattan.  What could have ended up as an unused piece of track or torn down for some other development ended up becoming a great park to wander through and hang out on during nice New York days.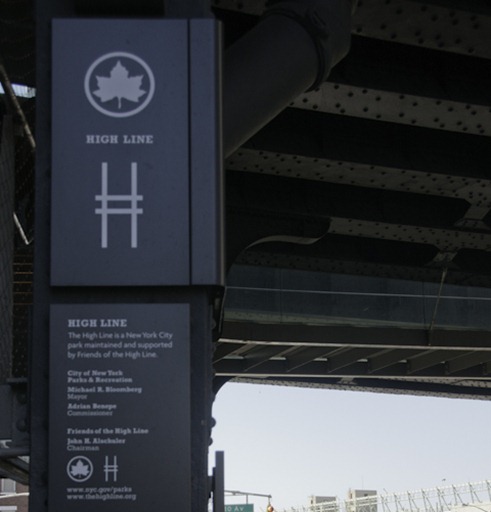 The original part of the park opened in 2009 between Gansevoort Street and West 20th Street.  In 2011 the second section of the park was opened between West 20th and West 30th Street.
I went to New York to visit a friend who lives in the area.  Having been to New York many times over the years and visiting a friend who formally lived in Manhattan there is rarely anything thing in the city that either of us have never seen.  So when I found out that neither of us have visited the high line yet in it's short lifespan, I knew this would be a great thing to visit on a perfect Sunday afternoon.
I'm pretty sure they wouldn't let me go and borrow these little bikes here.  But they were really cool!
I absolutely loved the industrial nature of the place.  It was so New York in its inception and styling.  They were able to retain a lot of the track characteristics but still make it very walkable and usable by pedestrians.
However the place that day was packed.  I guess what should I have expected for a gorgeous Sunday Afternoon…  While the weather has been warm quite often lately, it really felt like spring had finally descended on the city.  Every time I tried to stop and take a photo I felt like I was going to get swept along by the crowds moving along.  I basically had to walk and shoot from the hip here.
That has to be one of the most clever parking signs I've seen in the city thus far.
It seemed the area was building up around here too.  Lots of apartments and condos were advertising vacancies.
There were so definitely funky looking buildings here.  I wonder how it would be to live in the condo over there on the left.  However I wonder if I would eventually get sick of the building architecture there.
There was a lot of brown grass and plants here.  I would love to get back here possibly later in the spring when things turn green.  Well if things turn green.
There was some interesting graffiti in the area as well.
I found these things a bit too late.  These little heart symbols as seen here on the elevator, all presented audio messages of inspiration and love.  You could find them on the water fountains, bathrooms, and elevators in the park.  Definitely an amusing and fun stop at areas along in the park.
The park unceremoniously ends at a construction area.  This is part of the final section of the park that is set to open between West 30th street and West 34th street.  I didn't see anything listing when this part of the park would be open.  This part is still owned by the CSX corporation so I believe the park is still trying to secure rights to restore and use this piece.
---
Visiting the Park:
The park is opened daily from 7am to 7pm
Located Near 10th Avenue, the park has several entrances at:
Gansevoort Street
14 street (elevator access)
West 16th Street (elevator access)
West 18th Street
West 20th Street
23 Street (elevator access)
West 26th Street
West 28th Street
West 30th Street (elevator access)
Dogs are not permitted in the Park