Following on the questions regarding information in my post on Tips on visiting the Auschwitz Concentration Camps, I decided to try to expand on information and the visit for people here.
That post is still good and a great source for quick information about the camps, but I wanted to expand on a few points as well that didn't necessarily fit in that post.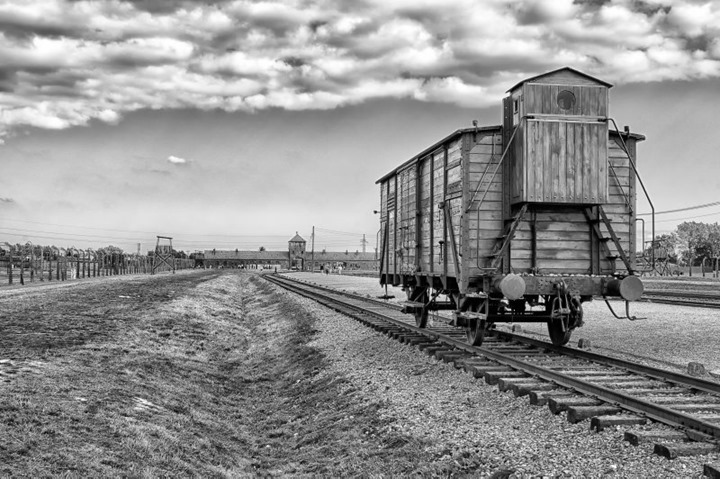 Table of Contents
What is Auschwitz?
Auschwitz, along with Auschwitz II – Birkenau were large concentration camps built by the Nazis during World War 2 for the extermination of Jews, Gypsies, Political Prisoners and other "undesirables". Auschwitz I itself is not very big as it was a military barracks turned into a camp, so the Nazis decided they needed a more efficient killing apparatus so they purpose-built Auschwitz II for death. So Auschwitz II was the largest of the concentration camps the Nazis had built and more than a million people were killed in these two camps alone. Estimates I've seen range from about 1 – 1.5 million in these camps alone.
Auschwitz along with other concentration camps were the culmination of the German "final solution". People were not killed outright unless they were determined to have "no use". Instead, the Nazis housed them in horrifying conditions and used them as slave labor for various different needs of the war effort.
There is actually a third camp, ,Auschwitz III (Monowitz), built as a work sub-camp by the Nazis. It was originally part Auschwitz II that would later become fully separate. However, I've been unable to visit this camp myself and generally, it is not open to visitors. Much of that camp no longer exists in its previous form.
What's in a Name?
The name Auschwitz itself was the Germanization of the Polish name Oświęcim. The original Slavic name is likely related to the family who founded the original settlement in this area.
Where is Auschwitz?
Located in the region of "Lesser Poland" in the city of Oświęcim in Southern Poland. The town had been well-connected with several other cities and towns in the region which probably led to its industrialization and its importance. For those trying to visit here getting here is rather straightforward as well. The town is about 30minutes (about 36KM) from Katowice(1 – 1.5hrs (about 68KM)) from Krakow, and about 1.5 hrs (about 98KM) from Ostrava, Czech Republic.
The majority of the people visiting Auschwitz do so from Krakow which is probably one of the easiest connections to the city and camps.
The Liberation of Auschwitz
On January 27th of 1945 the Soviet Army liberated the camps. Auschwitz II was in fact liberated first with Auschwitz I liberated several hours later. Previous concentration camps were liberated prior to Auschwitz but nothing constructed to the same scale as these camps. Treatment for the starving prisoners began soon after with the arrival of food and medical staff to treat those who had suffered in the conditions of the camp. The camp, however, did not close immediately as it was later used to house German POWs for several months after the camp liberation.
How do get to Auschwitz from Krakow
The majority of the people going to Auschwitz will be taking this route and generally, this is where most of the questions center around. If you take a guided tour, the tour company will handle your transportation.
If you go independently you have a variety of options, however. You can get to Auschwitz from Krakow easily via bus, train, or by car.
The bus and the train station are located next to each other in Krakow, however, the train station in Oświęcim is located about 2 KM from the camps.
In my opinion taking the bus is the easiest option. There are several bus companies that run from Krakow and the buses drop you off next to the entrance to Auschwitz I. There are buses and mini-buses that run regularly between the two cities (more so in high season). Try to get to the buses early if you can as they tend to fill up.
The buses are also rather cheap (about 10 – 15 zł). In my opinion, you are better served to buy a one-way ticket as there are several companies this will free up a lot of options for returning. (You could also certainly take the train too).
There are generally buses and mini-buses about every half hour (less frequently with the large PKSiS buses) until about 8pm in the high season and less frequently in the low season.
You can get the latest bus schedules at the Tourism Office located in the Cloth Hall in the Market Square.
What is a visit to Auschwitz like?
There are two camps people can visit within Auschwitz. The first camp began life as a Polish Military barracks and from the look of the camp it does not appear what a person is expecting of a concentration camp. Auschwitz II, however, was constructed specifically for this purpose and you can see this stark difference. For those who want more information about the actual visits to the camps, I wrote two posts detailing the visits to both of the camps.
Should you visit Auschwitz?
There is so much debate on whether people should visit these camps. These are areas where millions of people have died and they are graveyards and serious matters.
Dark tourism (tourism associated with death and suffering) is always a controversial subject and one fraught with issues. But should these places be closed off or should people be able to see these places to be able to witness the horrors of human history? Should we just read about them or should we allow people to see the places themselves?
However, I think if you come with the right mindset and understanding, visits to places such as Auschwitz are beneficial as they give people an awareness and the scale of these atrocities. Surely I knew about the holocaust and the death at Auschwitz, but seeing this place first hand and realizing the scale and efficiency of such places really gave me a perspective and understanding that no book could do so by itself.
Although if you are one of the groups of tourists who come just to take selfies or check a box, you are probably better served just staying home.
What is the cost to Visiting Auschwitz?
The cost of the entrance to the museum is free. Of Note: the camps and the museum are the same thing.
However, the cost of visiting can vary widely depending on if you do the trip independently or part of a group. You can book a fully guided tour either through from home or through a local agency.
You can also book a guided tour of the camps while at the camps as well. The cost for a tour booked at the Museum is 85zł (75zł for students) for any language other than Polish. For Polish its 75zł (65zł students). Although we recommend you book these ahead of time through the Auschwitz Museum Website
There is also a film that is part of the guided tour but does cost extra if you do the trip independently. Trying to pay for it is a bit of a hassle though.
If you travel independently there are some restriction in terms of entrance to the camps. During the high season (April – October), you cannot start an independent visit after 10am or before 3pm. You will not be kicked out if you already entered. Beginning your visit outside of these times requires you to be on a guided tour.
These days they are also limiting individual entrances. You should book your ticket (free) through the Auschwitz Museum Website as well. Select "Tour for individuals without an educator".
Should you do a Guided tour or Independently?
That is probably a personal preference but one that certainly has various positives and negatives. The guided tours are really rather good and the quality of the tour guides I've found to be quite exceptional. My previous post is really good in giving you information regarding the various options and still worth taking a look at.
If you do a completely guided tour your company will handle getting you in a tour guide and all other tickets and access to the film, etc. Also be sure to ask your tour company how much time you will be spending in the camps as this can vary a lot between different companies.
If you plan to do it independently I recommend you getting a good guidebook that covers aspects of Auschwitz, the History, and the Camps. I've tried a few different tour books and really liked the ones from [amazon asin=1631210750&text=Rick Steves] in that it covered the camps really well and also other areas of Poland and Eastern/Central Europe I was visiting. He has two books one that covers a few cities and one that covers all of Eastern Europe.
If you want to travel to the camps Independently but book a camp group tour, you can book the group tour on the Official Auschwitz Website. This is a good idea as certain tours on certain days will fill up quickly. Particularly those in English.
* * * * *
Pros and Cons of Guide Tours
Pros
They handle all transportation and logistics
Generally, the guides are really excellent
You may get access to parts that only a guide can take you
Cons
You generally have to skip various parts of the camps, such as the first row of blocks at the camp and some of the various parts of Auschwitz II
Limits how long you will spend in each camp
Can be Expensive
Pros and Cons of traveling independently
Pros
Money Savings, as the camp entrance is free
You can take your time in seeing the various places
Allows you time to visit the blocks and other places that the tours generally skip
Cons
You have to handle all your own logistics
During high seasons they limit what time you can enter the camp (before 10am / after 3pm)
For the best of both worlds, you can travel independently to Auschwitz and book a guided tour at the camp. This way you can also take some extra time if you have it available to see areas of the camps not covered by the tours.
Advice for Group Tours
Ask a lot of questions about your tour company and what they are providing for the cost and transportation.
Be sure to inquire how long you will spend in each of the camps. This seems to vary so widely among companies that it's frustrating that often people think they are getting a deal and find out they are being rushed through everything. Auschwitz is a tough place to visit, and having time to come to terms with the place is important.
Inquire whether food is being provided by the tour company or not. This will certainly factor in the costs of the various options as well.
Be sure also to ask about if they provide support for those who may need help with handicap accessibility. I've heard lots of stories about people having issues with some companies, particularly in forms of transportation. If this is necessary for you, be vigilant in getting answers here.
Advice for Independent Visits
You need get their early. During the high season, you need to enter the camp before 10am or after 3pm. You can stay in the camp as long as you want once after entry, so don't feel like you will need to rush.
Entering after 3pm though will certainly limit your time in the camp. Consider this prior to visiting. Auschwitz II doesn't have the same time restriction. So, If you arrive at an off-time you might want to visit Auschwitz II first and then return to see Auschwitz I.
These days during high season the camps have been requiring tickets for even independent visitors to limit the impact of people. These tickets are free but require you to reserve online at the official website. Be sure to select tours without an educator if you don't want to book a tour at the camp.
If you haven't, be sure to check out my Tips post on more information for the independent visitor.
Where to Stay when Visiting Auschwitz
I get a lot of questions on where to stay for those planning to visit the camps. I generally recommend people to stay in Krakow if possible. There really isn't much to do overall in the evenings in Oświęcim. However, it is a good place to visit if you want to be sure to be up early for the camps or en route to other destinations. But there are places to certainly stay in Oświęcim if you so choose.
Where to stay in Oświęcim
The following are several hotels recommended by myself as well as friends and readers. If you have other options to recommend, please email me so I can update the listings. Also if you had issues with any of the places, please let me know too.
Hotel Olecki – The closest hotel located to Auschwitz I, it is a great option for those who are planning to visit the camps and want to stay close to where the camps are. Note; there is not much in the immediate vicinity if you plan to wander around. But the hotel location is great for those without transportation. The hotel has a good restaurant too which I recommend for visitors who want an alternative to the cafeteria at the camp. | [Click here to Check Latest Prices]
Hotel Galicja – A beautiful option and located closer to the center of the town however further from the camps. Auschwitz I is located about 5KM from both Auschwitz I and II. Overall great quality rooms at a fairly reasonable price. | [Click here to Check Latest Prices]
Old Tree Villa – A nice option, that is very well priced, with great staff and rooms. However, I find the location to be a bit far from everywhere for me. If you have your own car it is certainly a great option to consider. There is even free parking too. They have a great restaurant as well onsite with some pretty good options for Polish and other international dishes. | [Click here to Check Latest Prices]
B&M Guesthouse – A great budget option if you are looking for one in Oświęcim. The location is convenient to the camps and good for those who don't their own transportation. This hostel has a variety of rooms for guests from private rooms to larger dormitory style rooms. Free Parking and Wifi as well. Breakfast is overall decent and good for the value of the hostel. | [Click here to Check Latest Prices]
Where to stay in Krakow
You won't feel shorted in places to stay in Krakow compared to Oświęcim. If you do stay here, I recommend trying to stay closer to the city center if possible. The bus * train stations are not far from the city center. Places to stay recommended by myself as well as other various friends. If you have suggestions to remove or add please let me know.
Apartments Rynek Glowny – Certainly not cheap, but in terms of location and convenience it is hard to beat. Great for longer stays where having an apartment is nice or for families who need the extra room. Unfortunately, breakfast is not free but apartments come with a kitchen/kitchenette. If you want to be in the center of the action and are willing to pay the price for that, this is a fantastic option. | [Click here to Check Latest Prices]
Hotel Santi – Another mid to higher end option of places to stay in the city. Located close to the market square, this is a great option with beautiful rooms and good service. However, due to the location there is noise from the street and tram depending on your room location. Breakfast is also included and is actually quite good. Parking is not free, however. | [Click here to Check Latest Prices]
Art Hostel – For the backpacker, this is a great option and a great hostel. The location is fine, and it's located near lots of activities and a short walk from the market square. The crowd is young and fun, and the hostel is well-decorated, clean, and well maintained. In terms of hostels, this is one of the best you can find in the area.  This hostel only has dorm rooms, however, if you are looking for a private room. | [Click here to Check Latest Prices]
Lemon Tree Hostel – Another hostel with a great location, good staff, and great price. Like Art Hostel, this hostel only has dorm rooms available too. The area it is located is a bit quieter too if that is something you are looking for as well. It's a bit further to some of the attractions and the train/bus station than some of the other listed options but not adversely so. | [Click here to Check Latest Prices]
Where to eat when Visiting Auschwitz
In the actual town of Oświęcim there are quite a few options for food. But, for those just visiting the camp, the options are more limited.
There is a cafeteria at the camp which has quite a few local options available. I did find many of the options on the list to be "heavier" in terms of food which wasn't as appealing to me.
Hotel Olecki which is close to the entrance has a good restaurant as well and this is where I generally would go to eat while visiting the camps.
Getting between the Camps
To travel between the Auschwitz I and Auschwitz II there is a free shuttle that departs every half hour between the camps.
You can also alternative walk between the camps if you choose. It is about 2KM between the two camps and takes about 30minutes to walk.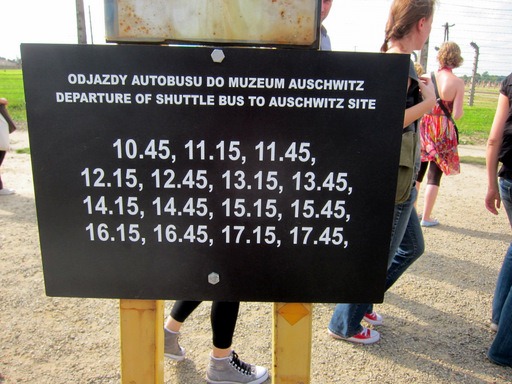 Of note is that all buses back to Krakow depart from Auschwitz I. You need to plan your trip to return here if you need to catch the bus. If you have to walk the bus stop and train station are both about 2KM from Auschwitz II.
What to wear when visiting Auschwitz
One of the most asked questions I get is what can I or should I wear when visiting the Auschwitz Concentration Camps. First, you should be sure to wear comfortable shoes. You will be doing a lot of walking, particularly outdoors, and sometimes in places with uneven ground, so comfortable, flat shoes are important.
Also be sure to dress weather and season appropriate given that you will be outside for multiple hours. You want to make sure you are comfortable.
In terms of clothing options, there is no specific "dress policy" at Auschwitz. However, given the history of the places, it is definitely recommended that you dress respectfully for the location.
Bag Storage at Auschwitz
Small Bags are Permitted in Auschwitz to be carried with you. Think small purses. Bags carried inside cannot exceed 10x20x30 cm.
Larger bags must be stored. There are lockers on site at Auschwitz, however, these can also fill up, especially on busy days. However, there are limits to these sizes as well. Bags stored cannot exceed the side of the lockers which are 90x50x22 cm and 60x50x22 cm and cannot exceed 30 kgs.
Price for luggage lockers are 5 zł.
When to Visit Auschwitz
The climate in Oświęcim is hot in the summers and very cold in the winters. High season for Auschwitz generally runs between April and October and visits during this time require non-tour visitors to arrive prior to 10am or after 3pm.
Personally, my favorite time to visit this region is during the Autumn while temperatures are still warm but not the extremes of Summer or Winter. I tend to try to schedule my visits to Poland around September or October. Spring in the region is also really lovely, however, rain or other weather might interfere with some of your travel plans.
Visits during the winter can be nice as you will have lower visitor numbers but the cold and potential snow could cause issues. Summers tend to be quite crowded and quite hot. Be sure to bring lots of water with you as you will be outside much of the time and walking a lot.
---
Can You Visit the Salt Mines and Auschwitz on the Same Day
The short answer is yes, it is possible to do both in the same day. For this I would recommend booking a tour that has both, as logistics would be more difficult otherwise. Or if you are driving it's certainly more doable. For independent travelers by bus/train I wouldn't recommend as it would take too long between sites.
If you have to, you can certainly do both, especially if your time is short.
However, my recommendation is to not do both in the same day. Auschwitz is a very emotional and draining site. I know for me after visiting, I was not up for any other "tourism" for the day. Also to manage both, you'll need to really move through Auschwitz, which will also detract from the experience of visiting this place.
* * * * *
Do you have any other advice or information you think I am missing or that would be valuable to add? Also, if you found this information useful please consider sharing this on social media or linking to it so that others may find the information in support of their travels as well. For those visiting Krakow, be sure to check out my Things to Do in Krakow post as well.
Also be sure to check out my Tips for Visiting the Auschwitz Concentration Camps post, which has some further advice on visiting the camps.
* * * * *