We washed up and rested up for a few hours prior to heading out for the day. -L- had been feeling a bit ill and the first order of business was to try to find a pharmacy to get some medication. Pristina itself was a larger city than I had expected. It seemed to be built up and in better shape than I would have imagined too. It was a bit rougher around the edges than many of the other cities in the area and a bit more modern in some ways too. It seems there has been a lot of construction lately but also there are many buildings in poorly maintained shape. We walked down the street from our place and spotted a pharmacy and popped in for some medication. In many parts of Europe even regular OTC medication is dispensed at a pharmacy and in most cases you have to describe you symptoms to the pharmacist and then he or she will recommend some medication for you to take.
We ended up talking to Samir the pharmacist for far longer than the normal pharmaceutical conversation goes as he was really excited to meet some travelers wandering through his country. He told us much of how things in Kosovo were, his friend from France who had visited him last year, and other things of interest to travelers. We thanked him for his advice and were about to take the medication and be on our way when Samir asked if we wanted him to show us around a bit. He said he'd be ready in an hour if so and stop back if we wanted to go. There is a museum nearby too if we wanted to kill some time until then.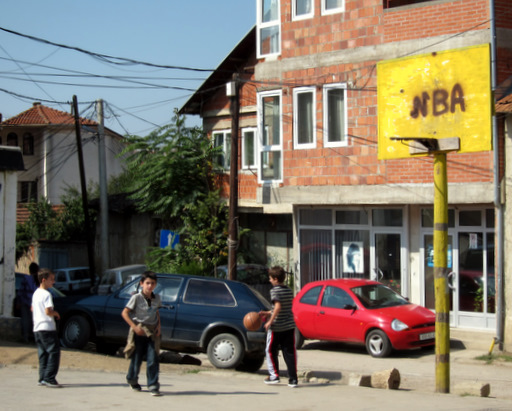 -L- and I decided to wander and see if we'd be able to find the museum. We saw signs for a museum and while we weren't sure if it was the right one, we figured we'd go check it out anyway. We came into a street where we saw several kids playing basketball and a sign pointing into what looked like a house area. We went over to peer in and saw several people working and no sign of a museum, this didn't look good. -L- and I walked in a bit further, than out again probably confusing the folks around there and even causing the kids to stop playing basketball. We finally inquired about the museum to the people working who pointed us in further. The museum itself was the Kosovo Ethnological Museum which housed lots of old dresses and traditional cultural artifacts of the Kosovar people.

Ethnological Museum — Pristina, Kosovo
It probably wasn't the most exciting museum but it was definitely interesting to look at. We were up on the second floor of the museum when we heard English being spoken nearby, and English with an American accent. We walked over and said hi to the people in the museum who were surprised to hear other Americans there too. They were professors who worked at the American University in Kosovo and they were excited to see us.
"Wow, it's great to see normal tourists here again." – One of them remarked.

"Yeah I don't know if we are the most normal of tourists" – L- quipped.
We wandered around a bit more, found a kabob place for lunch, and hung out in a small square nearby while we tried to figure out what to do next. We both wanted to meet up with Samir and both wondered if that was how we wanted to spend the day partly because our time here was limited and partly because we knew nothing about him. We opted in the end to go and meet up and see how it went. I mean that is the main reason we are here, to see, and experience, and there is a lot to be gained for meeting with him than trying to navigate on our own.

Kabob Shop — Pristina, Kosovo

Random Park we had Lunch
Samir was ready to go when we returned to the pharmacy. He seemed a bit surprised and happy to see us, I wonder if he thought we'd actually return or not. His friend was there ready to watch and we walked out with him to his car and headed downtown. We sat in his car, listening to American rock music, and talking about traveling, Kosovo, the US, etc. All the normal American travel related things. We ended up parking near a stadium and then walking around towards downtown.

Newborn Statue
Samir walked us around the downtown area pointing out much about the buildings, talking about the history, growing up there, the war. He stopped and showed us the large Newborn statue that was unveiled on February 17, 2008 when Kosovo had declared its independence. The mall behind it too was very modern although I did notice there were a lot of "rules" for entering like no guns which I find a bit more interesting than I probably should have.

Rules for Entering the Mall
It seemed though everywhere we went however that everyone knew Samir…he quite possibly was the most popular person in all of Prishtina. Two of the guys he stopped to talk to were he mentioned the President's sons.

Skanderbeg Statue – The Hero of Albania

I think this was about garbage and waste…possibly
He walked us around downtown for a bit, showing us monuments, talking about the town, hotels, the area, how much things have changed. There was a lot going on when we were there. They were setting up for a film festival, there was a European days of culture going on, some displays about the war. It was a lot more lively and interesting than I had expected. Well actually I really didn't quite know what to expect. We had coffee, relaxed a bit, talked, went shopping in the area, and then Samir realized he had to get back to work.

Kosovo President Photo

Kosovo War Hero Statue
He asked us where we needed to go, and he dropped us off at the bus station so we could buy our tickets onward to Prizren. And then that was it, he was gone. By far one of the most interesting random encounters I have yet to have on travel, and likely I wonder if I will ever get the chance to hear from him again. We picked up some tickets for the next day to Prizren and wandered around for a bit. The interesting thing about the bus station is that it is located on "Bill Clinton Boulevard" which to me was quite amusing and interesting. The people of Kosovo wanted to thank the US and President Clinton for the help during the war with Serbia in the late 90s. There is even a huge statue of Bill Clinton on the Boulevard perhaps in case you might mistake it for a different Clinton…

Bill Clinton Statue – Bill Clinton Boulevard
Of course being here we ended up getting the requisite tourist photos in front of the statue too! I needed to make sure to prove to my friends and family I was actually there and such things exist.

With the dark glasses maybe I can pass for secret service!
After taking photos and darting through traffic on large thoroughfares we decided to head back to the hotel for a while to rest up for a while.