The Jewel of New England, Acadia National Park offers some of the most incredible scenery that New England and Maine have to offer.
About Acadia National Park
Established in 1919, Acadia National Park protects pristine islands and areas of the rugged Maine coastline. It was the first National Park in the eastern United States which is testament to the incredible characteristics of this land. The park is named in honor of the early French Settlers (the Acadians) to the area.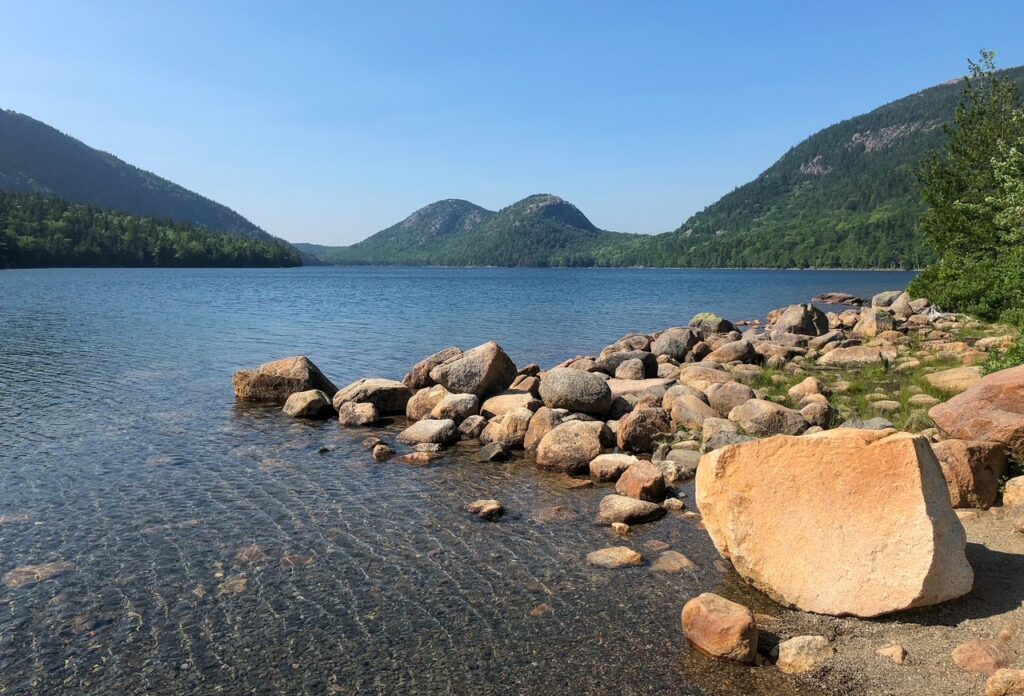 Areas of Acadia National Park
There are three major areas of Acadia National Park that are physically separate and distinct from one another.
Mount Desert Island
Mount Desert Island is the main and most visited area of Acadia National Park. The vast majority of the sites and popular places are within the areas of Mount Desert Island. Located Adjacent to Bar Harbor, this is the first place one should come when visiting Acadia. If you are short of time in the park, this is where you should focus.
Schoodic Peninsula
Schoodic Peninsula is the only part of the National Park that is actually connected to the mainland. It's about an hour from Bar Harbor to Schoodic and it attracts far fewer tourists because of that. There's a Schoodic Peninsula loop that takes you around the peninsula and a network of trails to bike and hike. There are also a few small islands that one can visit as well. The trails in general are far shorter and less intense than the ones you find on Mount Desert.
Isle au Haut
The least frequented part of Acadia National Park, Isle au Haut is only reachable by boat. Half of the Island is part of a national park, with the other half being private residences and a small village. Isle au Haut is serviced year-round by a ferry from Stonington Maine. This guide will focus more on the other two areas.
Best Time to Visit Acadia National Park
The park is open year round and accessible any time of year or day.
Summer is the most popular season in the park with larger crowds and more difficulty parking and finding lodging. There is a shuttle service that operates in the summer and reaches many of the popular areas in Mount Desert Island.
Spring and Fall are great seasons to visit. The weather can be more unpredictable and weather colder than the summer. You'll find smaller crowds (in particular while schools are in session), and still have access to everything in the park. Fall can be busy again for the fall foliage season. Acadia has beautiful vibrant foliage during the fall.
Winter by far is the quietest season in the park. Expect to find fewer services during this season and more snow and difficult weather. Road closures occur, and many things will be harder to access. You'll have more opportunity for solitude during this season but somewhat more difficulty finding lodging and services for places that close.
Things to do in Acadia National Park
Hiking
One of the best aspects of visiting Acadia National Park (or most National Parks), is the incredible hiking. Thankfully there is no shortage of options for beautiful hikes in the park. Check out the later section on hiking in Acadia NP for some of the best options in the park.
---
Lighthouses
Lighthouses are one of the most important (and beautiful) buildings in Maine. They've been maintained for hundreds of years to support boat travel in the region. Some of the best light houses can be found in the area of Acadia National Park.
Bass Harbor Head
This 1858 lighthouse is the easiest and most visited of the lighthouses in Acadia National Park. It's actually the most visited of any site on the west side of the Mount Desert Island section of the park. The rocky outcropping lighthouse is picture perfect and still operated by the coast guard. Parking can be difficult, and the road backs up and only allow cars into the lot when others leave.
Baker Island Lighthouse
Located on Baker Island, the lighthouse is visitable by ferry to the island. There are regular tours of the area and Baker Island operated by ferry companies and held by NPS Rangers. Check out this NPS Event Page for ferries and tours of Baker Island.
Egg Rock Lighthouse
Egg Rock Lighthouse is located on egg rock in Frenchman's Bay in Maine. It was built to support the increased in ferry traffic in the vicinity of the island. The vast majority of people only see Egg Rock Lighthouse from a ferry traveling past the light house.
First Sunset of the United States
Cadillac Mountain has the distinction of being the place to see the first rays of light into the United States. Granted it feels a bit strange when you can clearly see Canada next to it, but its definitely a cool (and popular) experience. There is parking at the summit of Cadillac mountain for those coming for sunrise. If you plan to visit, arrive early, as parking (especially good spots) fill early.
Dress warmly as even during the summer it can be cold at the summit.
---
Hiking in Acadia National Park
There are hundreds of miles of hiking trails within Acadia National Park. Below are some of the best hikes in Acadia to explore during your stay.
Precipice Trail
Distance: 2.6 mile | Type: Loop | Difficulty: Hard
The best and premier trail, the Precipice Tail Hike is the pinnacle (literally) of Acadia Hikes. This hard hike takes up up cliff and around cliff faces. This is considered by the park as a non-technical hike vs. a traditional hiking trail. There is cliff exposure and parts require climbing ladders and boulders.
Distance: 1.5 miles | Type: Loop | Difficulty: Hard
Often thought of as Precipice Trail's little brother, the Beehive trail ascends the mountain with steep cliffs, ladders, and exposed cliff faces. The trail is a hard trail although easier and shorter than the above Precipice Trail hike.
Jordan Cliffs Trail
Distance: 5.0 mile | Type: Loop | Difficulty: Hard
Jordan Cliffs Trail take visitors along the cliffs and up Sargent Mountain adjacent to Jordan Pond. The trail affords hikers beautiful views from two mountain summits as well as the pond below the hike. The staircases and ladders on this trail are among my favorite of the park.
Jordan Pond Trail
Distance: 3.3 mile | Type: Loop | Difficulty: Easy
The Jordan Pond Trail takes walkers around Jordan pond on a series of boardwalks that follow the pond shores. It's an easy hike and affords great views of the waters of Jordan Pond.
Ocean Path
Distance: 4-8 mile | Type: Out and Back | Difficulty: Easy
The Ocean Path takes hikers along the rocky coast of Mount Desert Island from Sand Beach to as far as Otter Point. The trail gives lots of beautiful views of the water as well as passing by Thunder Hole, which is a blowhole that spray water during certain tide conditions.
Cadillac Mountain North Ridge
Distance: 4.4 mile | Type: Out and Back | Difficulty: Moderate
Cadillac Mountain has the distinction of being the place to see the first light entering the United States. The hike takes visitors up to Cadillac Mountain peak and is very popular for sunrise. For those who don't want to hike, it is possible to drive to the summit as well.
Schoodic Head
Distance: 1 mile | Type: Out and Back | Difficulty: Easy
One of the Easiest hikes in the park, Schoodic Head is a great way to see the rugged rocks and coast in the Schoodic Peninsula. Schoodic is one of the lesser visited areas of the park and the only part connected to the mainland.
---
Practical Information
Visitor Centers
Acadia NP has several visitor centers throughout the park. Several of the centers are actually used for other purposes (like museums) but have plenty of information, maps, and passport stamps for the park.
Hull Cove Visitor Center
Address: 25 Visitor Center Rd, Bar Harbor, ME 04609
Hours: 8:30 am – 4:30 pm
The main visitor center for Acadia and the one most people to Acadia will visit. It is located off Route 3 north of Bar Harbor near the Hulls Cover entrance.
Rockefeller Hall
Address: 1 Atterbury Cir, Winter Harbor, ME 04693
Hours: 10:00 am – 4:00 pm
Located on Schoodic Peninsula, Rockefeller Hall Welcome Center offers information and exhibits on Acadia National Park and the naval history of the area. It is located in the area of the Schoodic Institute which studies the flora, fauna, and history of the area.
Sieur de Monts Nature Center
Address: 2 Sieur de Monts Rd, Bar Harbor, ME 04609
Hours: 9:00 am – 5:00 pm
This small nature center is also one of the Acadia National Park visitor centers. You can explore the work of naturalist, biologists, botanists and other scientists who are researching land, nature, and wildlife of the area. There are rangers on hand to provide information about the park and there is are lovely nature hiking trails adjacent to the center.
Isleford Museum
Address: Main St, Islesford, ME 04646
Hours: 10:30 am – 4:00 pm
Located on Isleford in the Cranberry Islands, the Isleford Historical Museum traces the history of the settlers on this small outpost. Whale hunting, rough living, and and maritime travels, the museum is a testament to the history of the place. Rangers and other information about Acadia are available in the museum along with all the exhibits.
Hours
The Park is accessible all year 24 hrs. a day. It is a fee area so if you are arriving prior to the visitor centers or entrance stations opening you'll eventually need to get a pass or receipt to display. You'll need to display a pass as you could get a ticket if you don't.
Fees
Private Vehicle: $30
Motorcycle: $20
Per Person (on foot/bike): $15
Acadia Annual Pass: $55
If you have an interagency pass like the America the Beautiful pass or an access pass it will include entrance to Acadia National Park. I highly recommend getting the America the Beautiful Pass if you are planning repeat or visits to other parks. It's currently only $80.
You can buy the annual pass online at USGS.gov or with the Recreation.gov App.
Acadia National Park Shuttle
The Island Explorer Shuttle services Acadia National Park during peak seasons in the park. There are Several different lines that follow various routes and stops around the park. With changes in shuttles it's possible to visit many of the popular parts of the park via shuttle. During peak season this can be the best way to visit with limited parking at many places. In the past I've seen traffic closures that require using the shuttle.
Site: Island Explorer
National Park Stamp
There are quite a few places to pick up stamps within Acadia National Park. The following are NPS Stamp Locations:
Blackwoods Campground
Hulls Cove Visitor Center
Isleford Historical Museum
Jordan Pond House
Rockefeller Hall
Schoodic Woods Campground / Ranger Station
Seawall Campground
Sieur de Mons Nature Center
Thompson Island Information Center
Village Green Information Center
Eating in the Park
Jordan Pond House
The Jordan Pond House is one of the best restaurants in the park. Featuring both snack-bar style snacks/food as well as a great sit-down restaurant. It's also a jumping off point for some lovely hikes around the park. Be warned during peak dining times (e.g. lunch) the place can be very busy with a long wait.
Check out the Jordan Pond Site for Menu, Reservations, and Information.
Where to Stay in Acadia National Park
Camping
There are four main campsites within Acadia National Park divided over the three different areas of the park. There is an additional campsite that is only available to those with stock animals.
The following campground is only for those with horses.
Wildwood Stables Campground: Features 10 sites at this campground adjacent to Wildwood Stables. Remember only for campers with horses. You must email Wildwood Stables or call 877-276-3622 for reservations.
Hotels near Acadia NP
Most folks look for hotels within Bar Harbor, which is the most convenient location for those visiting the Mount Desert areas of the park. You could also potentially stay on the main-land as well for access to Schoodic Peninsula. Personally, I think it's better to stay in Bar Harbor and just drive there for a day. So we'll focus on Bar Harbor for Hotels.
HIGH END: The Inn at Mount Desert is a beautiful B&B for visitors. One of my favorites, the property is just absolutely beautiful. If this place is booked, I recommend checking out Sand Bar Cottage Inn as a good option (and close to the sandbar which is a fun walk at low tide).
MODERATE: For a good location and experience, check out the Moseley Cottage Inn close to the Village Green. You could also check out Anne's White Column Inn for another choice too.
BUDGET: Budget in Bar Harbor is tough during high season. The Port Inn in Bar Harbor is a decent "budget" hotel with a good location in Bar Harbor. If that's too busy, also look into the Days Inn Bar Harbor. You'll need to drive in though.
Wildlife in Acadia National Park
Acadia National Park is probably not best known for it's wildlife but there are certainly opportunities to see animals within the park. Below are some of the most well known animals in Acadia.
Red Fox
The largest of the true foxes, the red fox is the most widely disturbed of the fox species in the world and for certain the most widely seen of the species in North America. While red foxes are very shy and quiet silent moving, there are opportunities to see foxes within Acadia, in particular in the early and late hours of the day.
North American Beaver
Beavers are among my favorite rodents. Not just for how cute and cool they look, but they are incredible engineers of the animal kingdom. You'll more likely than not see beaver activity based on the structures they build far more frequently than you'll see an actual beaver. While beavers were hunted extensively in the past, they've made an amazing comeback in the park and state. You can also come across several north of Acadia at Katahdin Waters and Woods as well.
Flying Squirrels
Two species of flying squirrels make their home in Maine and in Acadia National Park. The Northern Flying Squirrel as well as the Southern Flying Squirrel. Oddly enough the southern flying squirrel can be found as north as Canada which is why we find them in Acadia and Maine as well. The Northern variety tends to be larger and goes way further north in Canada and only to the northern reaches of the US. There are 3 species of Flying Squirrel in North America with the 3rd limited to the west.
Lobster
I mean, when people think of Maine, they think of lobster. And lobsters are found all along the waters of Acadia which has an extensive shoreline. You'll see lots of traps especially on your walks along the park shore and you'll known for certain there are quite a few of them in the cold North Atlantic waters.
Other Animals
People are always asking lots of questions on animals in the park in particular about Bears and Moose. So lets help you with information on those as well.
Are there Moose in Acadia National Park? The short answer is, no. But more specifically it is incredibly rare to see a moose in Acadia. While Moose tend to be plentiful in Maine (you can likely see on in Katahdin Woods and Waters), seeing on in Acadia is highly unlikely. As far as is known, there are no permanent Moose populations in Acadia and a rare occasionally transient moose may appear. However, getting to the main areas of Acadia such as Mount Desert is just not an easy feat for moose so they tend to avoid.
Are there Black Bears in Acadia National Park? Yes, but they are so few that it is a rare sight as well. There are believed to be only a handful of bears that make their home within the park and they tend to avoid human activity when possible. You can certainly see Black Bears in lots of other parks and places in Maine (and across the US). Honestly if you go to enough parks (especially ones known for lots of bears like the Smokey Mountains) you'll likely see quite a few!
Getting There
By Car
Visiting and arriving to the park by car is the easiest for visiting the various sites. Most visitors either travel by land to Bar Harbor as the jumping off point for the park. Those arriving by air should look to rent a car at their arriving airport (Bangor, Augusta, or Portland).
Follow Route 3 to Bar Harbor Maine. You'll cross over into Mount Desert Island near Trenton Maine. Bar Harbor is located on Mount Desert Island, northeast of the main park.
By Air,
The closest airport to Acadia National Park and Bar Harbor is located in Bangor Maine, 43 miles (1 hr.) from the park. Bangor International Airport (BGR) is serviced by Allegiant, American, Delta, and United airlines with direct service to quite a few cities.
By Bus
Bus is by far the most difficult way to get to the park. There are buses to Bangor Maine for other areas of the US. Visitor's can take buses and shuttles from Bangor to Bar Harbor. During the summer there are shuttle that leave from the main square in town to areas within the park. It is certainly doable if that's the best option for you. If you are there in the summer, the shuttle is often the best way to get around.
Other Posts that May Interesting You