One of the best in Acadia, the Beehive Trail Hike, is a incredible, tough hike with beautiful views of the land and sea below. Like it's big brother the Precipice Trail, Beehive has steep inclines with bridges, ladders, and metal rungs to help you navigate and climb the trail. Read on to learn how to Visit.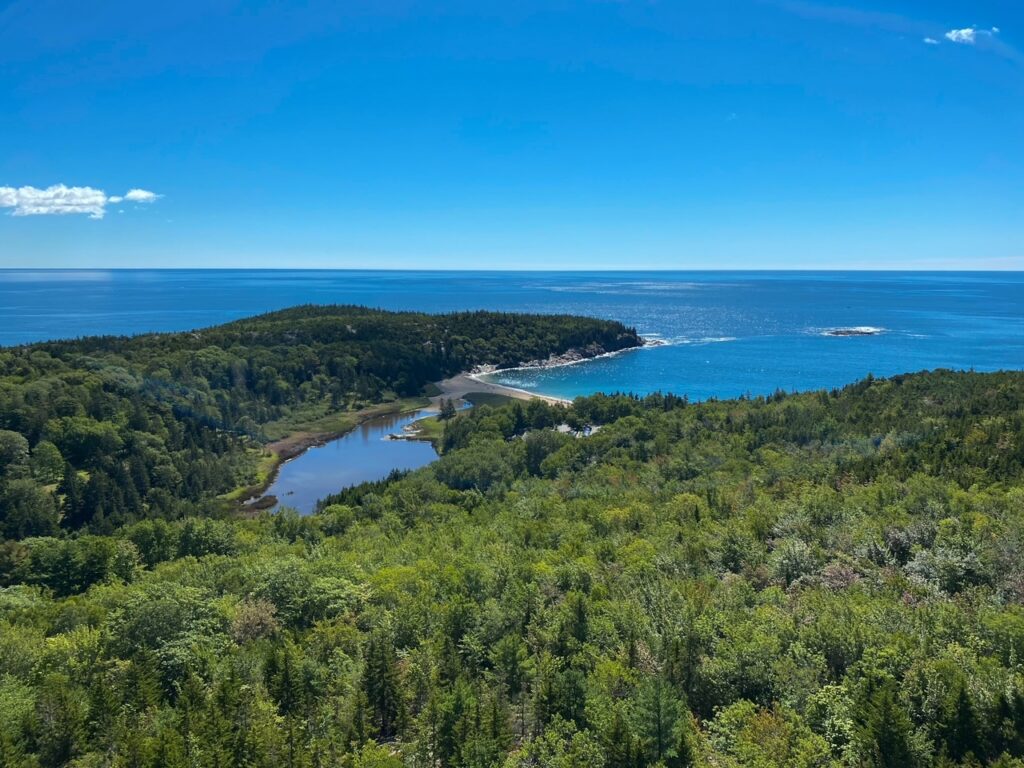 About the Beehive Trail Hike
I describe the Beehive Trail as the "2nd most famous" trail at Acadia National park after it's big Brother the Precipice Trail.
The hike is shorter and less "scary" but just as fun and certainly has some big views and challenges as well. I loved the hike and found it a great companion to doing the Precipice Trail. And it being shorter and somewhat easier, it's possible for those who are unsure and may want to try this one first.
Best Times to do the Beehive Trail
The best times to visit the Beehive Trail hike are late Spring to mid-Fall during times of good weather. Weather is a very important consideration for the hike due to the slick rocks and exposure of the trail.
Early mornings are likely the best in terms of crowds for the hikes. Since much of the trail is one-way, you'll be best served to go at times when the crowds are low.
Later in the day it is possible to also get lower crowds. However, you don't want to go too late, as you don't want to be stuck somewhere exposed after sunset. Even with a headlamp it would make the trail more difficult and slow-going.
It's possible to do both the Beehive and Precipice Trail on the same day. Either as one Hike (up Precipice | down Beehive), or as two separate hikes. We recommend doing them as two separate hikes, and if so, doing the Precipice Hike first.
Hiking the Beehive Trail
Distance: 1.5 miles Type: Loop Elev. Gain: 508 Feet Avg. Time: 1 -2 hrs. Difficulty: Hard
The Beehive Trail starts from across Park Loop Road from the sand Beach Parking lot. Sand Beach is the best place to park if you are planning to do the hike.
The hike starts rather flat for the beginning portion of the hike. It'll take you through the woods and nature for the beginning portion of the hike. It's pretty easy going and lovely.
The Ascent
You'll soon get to a sign that'll inform you of the various hikes at the fork, follow the beehive trail to the right.
You'll see the first walk up a rock and then a small bridge made out of metal bars. This is the first obstacle you'll need to get through for the hike. It's actually a good start, if you can't do this, it's easy to turn around. There was a lady ahead of us who panicked on this obstacle and it was best for everyone that she turned around before it got more difficult.
The Trail actually then starts to climb much more steeply. This is the part of the trail that is much like the Precipice Trail (but easier than that one), and will take you along cliffs as well as up steep inclines. There are plenty of metal rods and bars that you can use to help you with climbing. This is also why you don't want to go after/during rain, as it can be very slippery!
From here there is more steep climbs and several rungs and ladders that need to be ascended by the hiker to get to the top.
From the top about 520 feet above sea level, you'll get views of the surround area including Beehive lagoon, Sand Beach, and Newport Cove. The trail is and should be hiked as a loop. Refrain from hiking down the same way.
Return Hike
The return hike is much easier and returns hikes through the forest back down to the parking lot and sand beach. The hike takes visitors past bowl lake on the trail back to the parking. You can bypass stopping or visiting here for a small savings in distance/time.
From here you'll be back at the parking lot / Sand Beach. It's a great chance to relax enjoy the Beach. The Ocean Path trail starts right here as well and can take you along the coast to Thunder Hole (about 1 mile (one-way) from Sand Beach).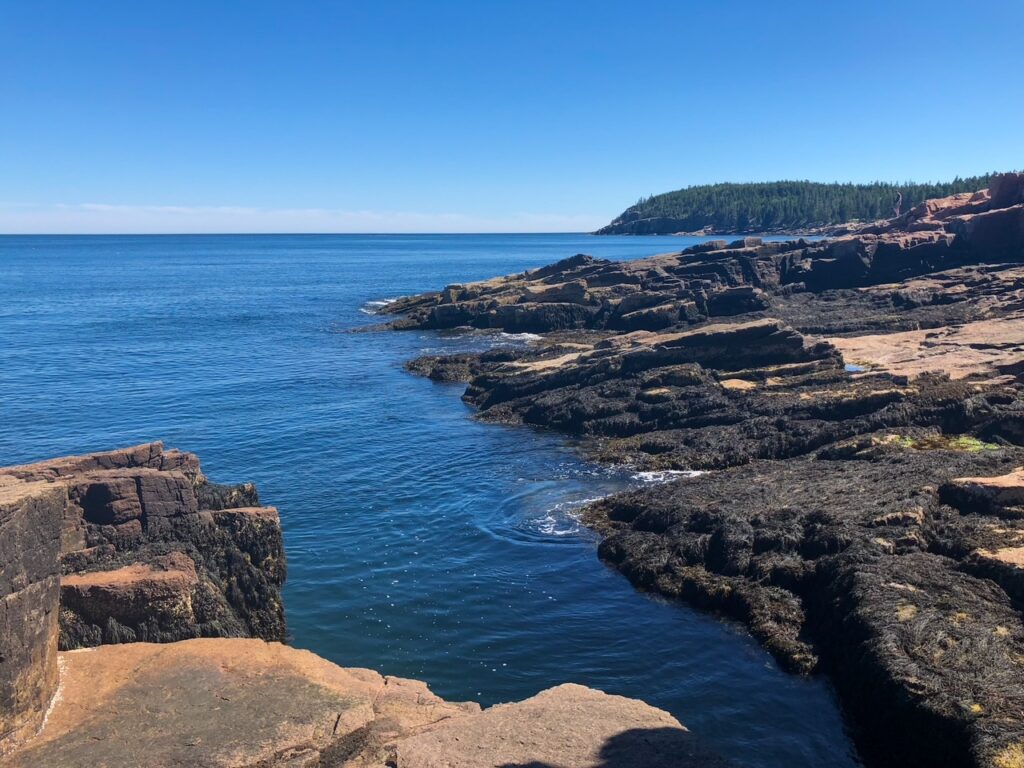 There's also a cool gift-shop at Thunder Hole. It's a decent walk and also saves the hassle of parking at Thunder Hole.
---
Getting There
The Beehive Trail is located right off the Park Loop Road, next to the parking lot of Sand Beach. It is actually a fun thing to do in combination (although I'd recommend doing Beehive early and Sand Beach after).
the Beehive trail is located within Acadia National Park. Access during May 1st – Oct 31st requires a fee or displaying a interagency pass.
By Car
The Parking lot for Sand Beach is actually a good size (much bigger than Precipice), however it too can fill up early with people going to the beach.
The Distance to the Parking Lot and Trail Head
Bar Harbor (4.5 miles | 11 minutes)
Precipice Trailhead (1.5 miles | 5 minutes)
Jordan Pond Visitor Center (11 miles | 25 minutes)
Hulls Cove Visitor Center (7.5 miles | 18 minutes)
By Bus
Acadia NP has a shuttle system that operates during peak season (June 23 through October 10, 2022), with fall season starting August 23rd. The bus can take you to many of the areas of the park from Bar Harbor as well as stops within the park.
Check out the Island Explorer Site for more information on Routes and Timetables.
Both Route 3 and Route 4 both service Sand Beach which is where the trailhead is.
Route 3: Sand Beach
Village Green
Cadillac North Ridge Trail
Sand Beach
Thunder Hole
Route 4: Park Loop Road
Hulls Cove Visitor Center
Cadillac North Ridge Trail
Sieur de Monts, Nature Center
Sand Beach
Wildwood Stables
Jordan Pond
Tips and FAQs
Be sure to pay attention to the weather. You don't want to be hiking during or directly after inclement weather. Slippery rocks with exposed cliffs are a dangerous combination.
Hike the trail going up (not down). You can (or used to) be able to hike in both directions. When I visited since Covid it was one direction. And definitely better to stay one-way. It's not practical in some areas to pass people.
Go Early. In my opinion getting there early in the morning with low crowds is best. Parking will be easier too. We did the Beehive after (with more people) and it was definitely slower going and more precarious with not everyone following directions.
If you are planning to do both the Beehive and Precipice Trail the same day. Start Very early and I recommend doing Precipice first. The parking lot is much smaller.
Wear good boots or trail shoes. You need shoes that secure to your feet, no flip-flops, etc. You want footwear with good treads/grip. The rocks can be slippery.
Bring snacks, plenty of water, sunscreen. Parts of the trail are strenuous, you want to be fueled properly. The trail is also very exposed, so you'll get lots of direct sun.
Other Posts you May Like