1942
World War II has been raging throughout much of the world. The US had just entered the war a few months earlier. The US among other allies have been considering many options for assaulting Axis strongholds. America needed a better training and preparation facility for some of the harsh alpine conditions in Europe.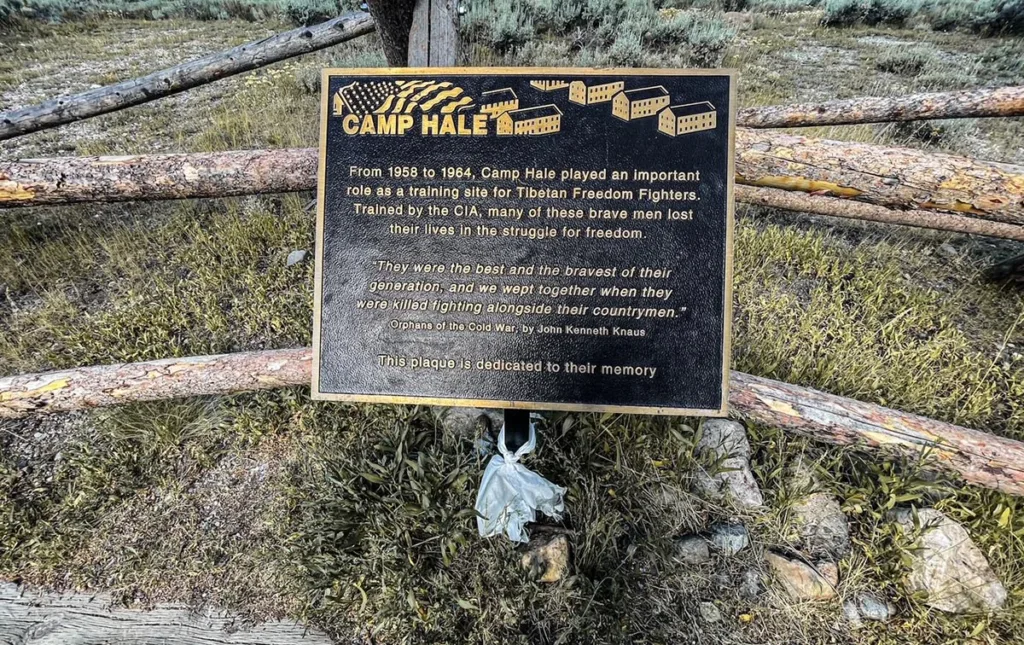 History of Camp Hale
While Camp Hale did not bore the first US mountain trained troops, it really transformed it. It was the first purpose built facility the US had for such training. The area was perfect for this, the base of the valley here sat at over 9,000 feet with rugged peaks in all directions.
The flat already was perfectly situated to house a camp (one that at its peak saw over 1,000 buildings), and connections by rail made it possible to bring supplies and crews to build and maintain the site.
Camp Hale and its training areas would cover some 179,000 acres of National Forest land and include areas for climbing, shooting, skiing, and other Alpine conditions. Troops would be deployed all over Europe and perform key assaults on mountain areas that would become crucial to Allied victory in Europe.
Troops and Engineers at Camp Hale would go on to invent incredible technologies not only for military but for civilian use. Key safety technology for climbing would come out of Camp Hale work as well as those for skiing and other mountain recreation and industries.
Many Camp Hale veterans are credited with the foundation of the ski industry in the US. With quite a few in Colorado and elsewhere directly linked to Mountain Division veterans. Resorts such as Arapahoe Basin, Vail, Aspen, and Steamboat. Others would hold key positions in local resorts such as Breckenridge.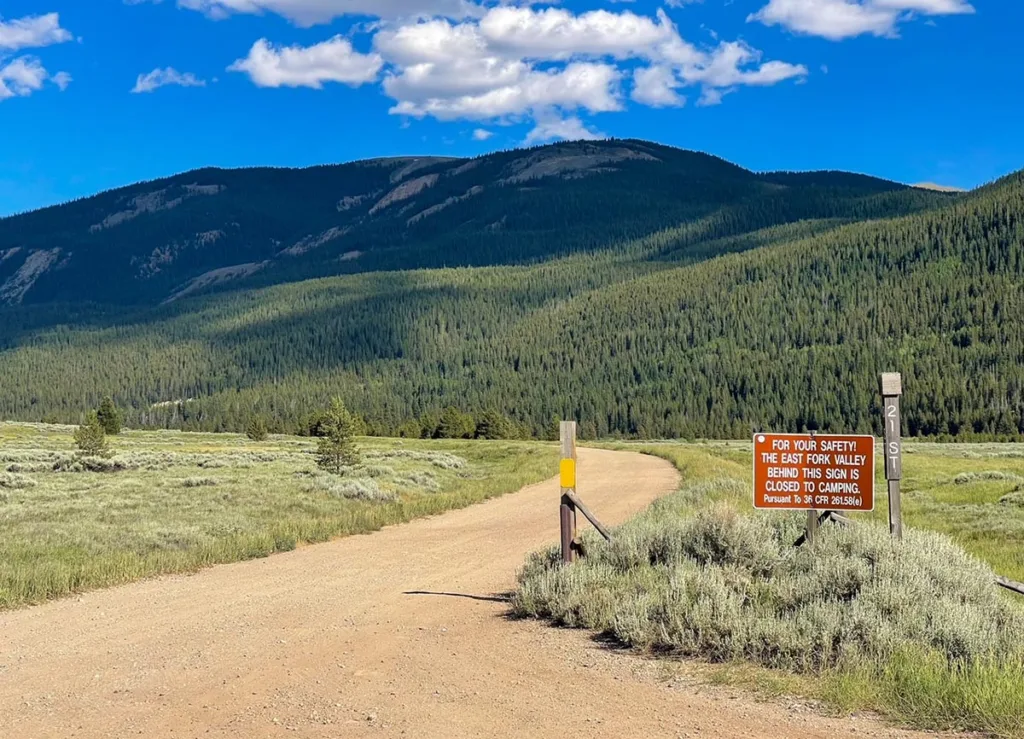 Camp Hale Today
Much of what once was Camp Hale has disappeared. Either through tearing down of the camp or reclamation from Nature. Most of the 1,000 buildings no longer exist, however, visitors can still see remains and foundations from some buildings and concrete bunkers.
Many of those buildings are off-limits so views from afar is the best option for seeing these places. You can still see other remains such as original pitons embedded into cliffs for technical rock climbing.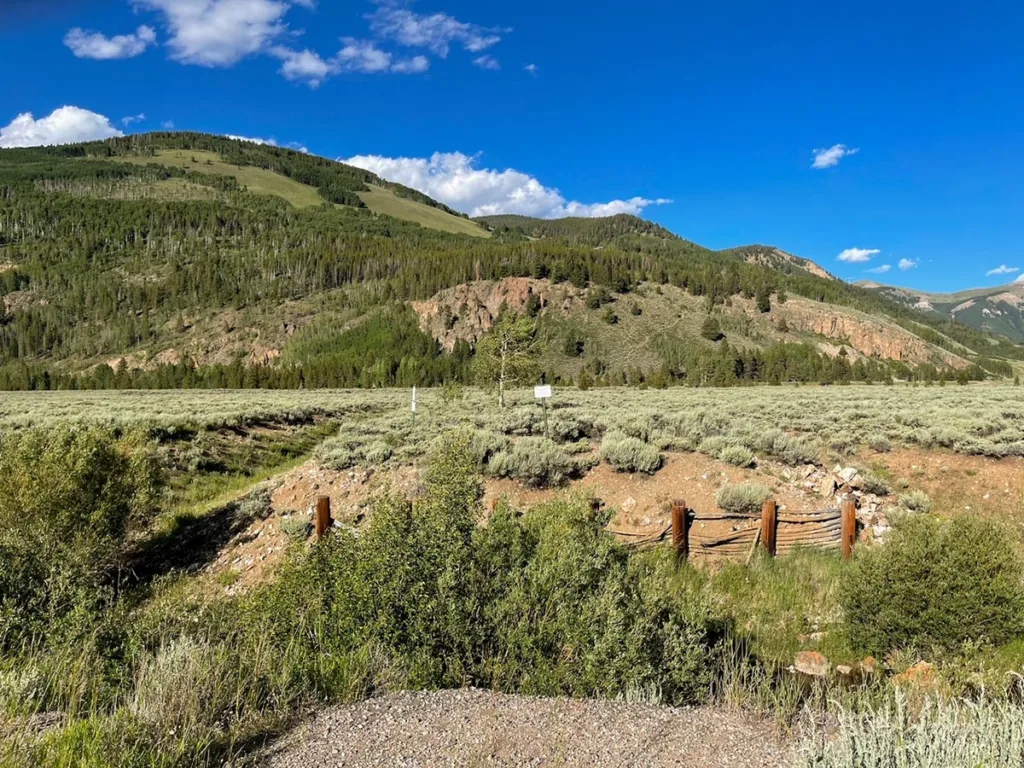 Camp Hale National Monument
Camp Hale is one of the newest US National Monuments, proclaimed by President Biden in October 2022.  The monument protects some 53,800 acres of the White River National Forest as a National Monument outside Leadville Colorado.
National Monuments have more protections in many ways than National Forests (in terms of what can be performed), so this helps to protect the important history of this area for future generations.
Several trails cross the National Monument including the Continental Divide Trail and the Colorado Trail. Three of the 10th Mountain Division Huts also sit within the National Monument.
The monument is managed by the US Forestry Service.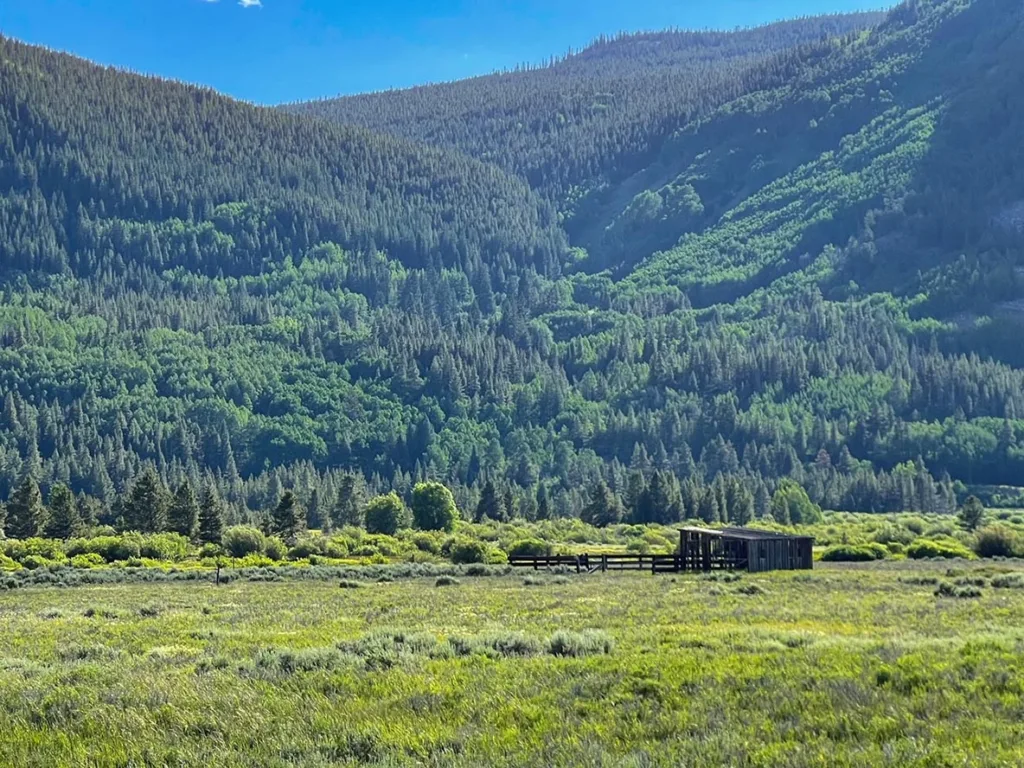 What to See in the Monument
10th Mountain Division Huts: Colorado has built up a hut system in the Rockies that now comprises 34 huts and hundreds of miles of Trails. The 10th Mountain Division Hut Association manages these huts which are available to rent through various seasons and types of activities. While it is possible to link huts into a larger trip the vast majority of folks hike/ski to individual huts. Three of the 34 huts are located within the Camp Hale Monument. Visit the official 10th Mountain Division Huts site to book or learn more.
Cape Hale Memorial: Located at the intersection of HWY 24 and Tennessee Pass Road, the memorial pays homage to those who gave their lives as part of the 10th Mountain Division in campaigns in the Aleutian islands and Europe.
Ski Cooper: Small family run ski resort that was once the training hill for the troops at Camp Hale. The ski area is small (for Colorado standards) and has 64 trails, 5 lifts, and 480 skiable acres. There is a year-round Nordic Center that has a shop and a restaurant. As well as a hike/x-country ski-out Cookhouse that is open summer and winter seasonally.
Historic Buildings: There are few of these left, but there is the opportunity to see the remnants of a few Camp Hale Buildings. You'll see most of these from afar. You can see some of the concrete bunkers and other areas as well. Many do have warning signs about dangers and chemicals and are closed to visitors.
Hiking: Several trails cross through Camp Hale. You can hike on sections of the Colorado Trail and Continental Divide Trail. Ranch Creek Road offers some hiking as well. There is also parking areas for hiking within Camp Hale.
Quick Tour of Camp Hale
This guide assumes you are driving north from Leadville.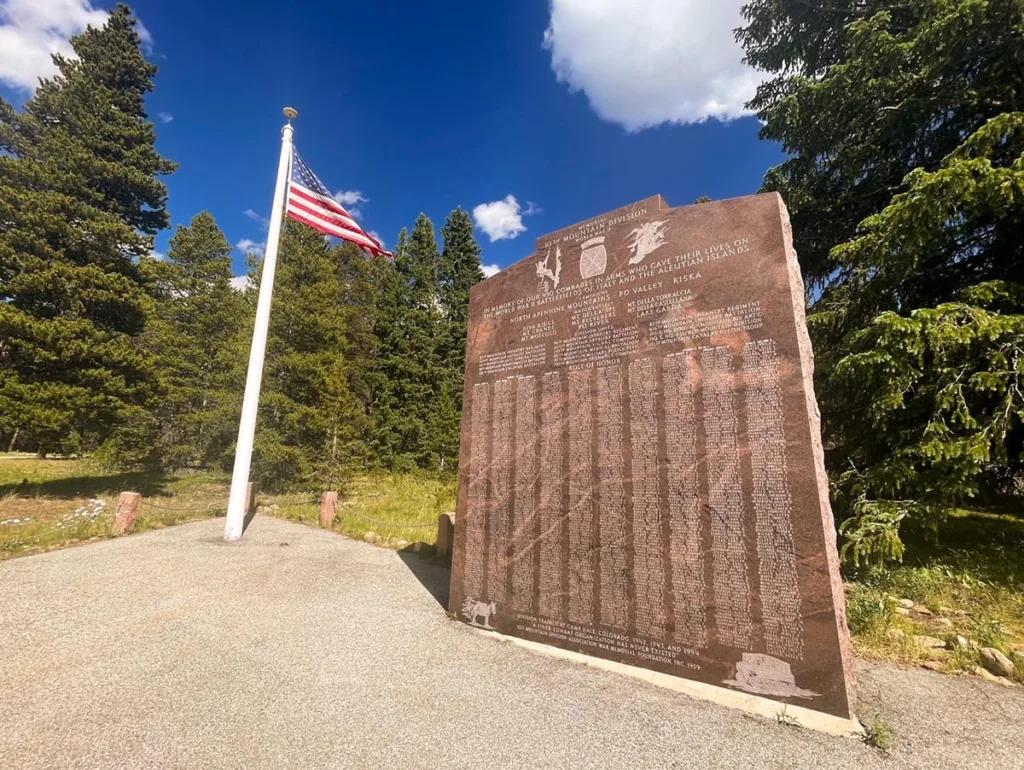 From Leadville, turn left onto HWY 24. Travel about 8.5 miles to the intersection of Highway 24 and Tennessee Pass. On the right you'll see a small turn-off parking lot. This is the lot for the 10th Mountain Division Memorial.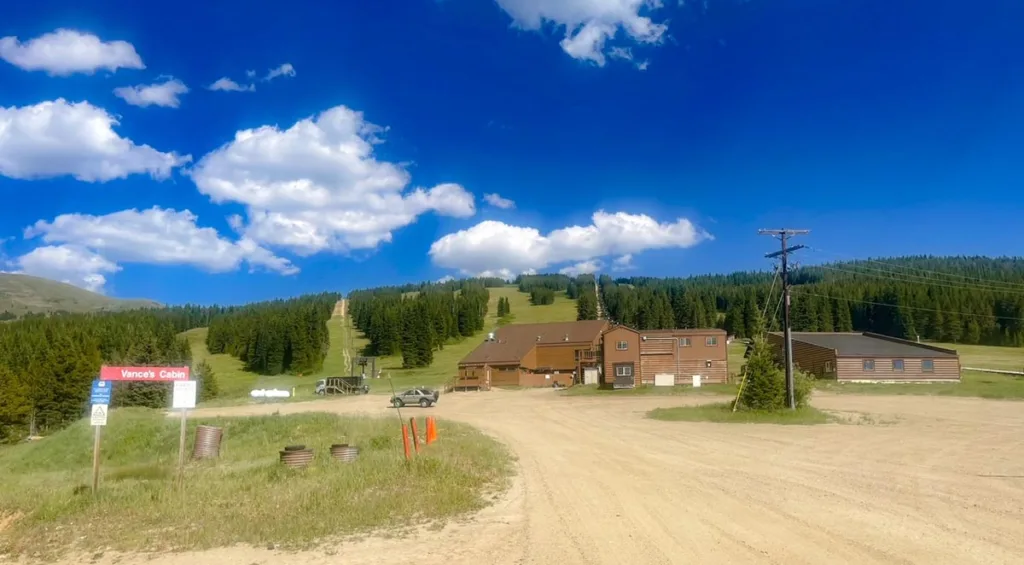 If you turn right onto Tennessee Pass road, you'll reach Ski Cooper. There's not too much in the summer (unless you book a reservation for the restaurant or a hut), so it not you can skip or stop at the Nordic Center.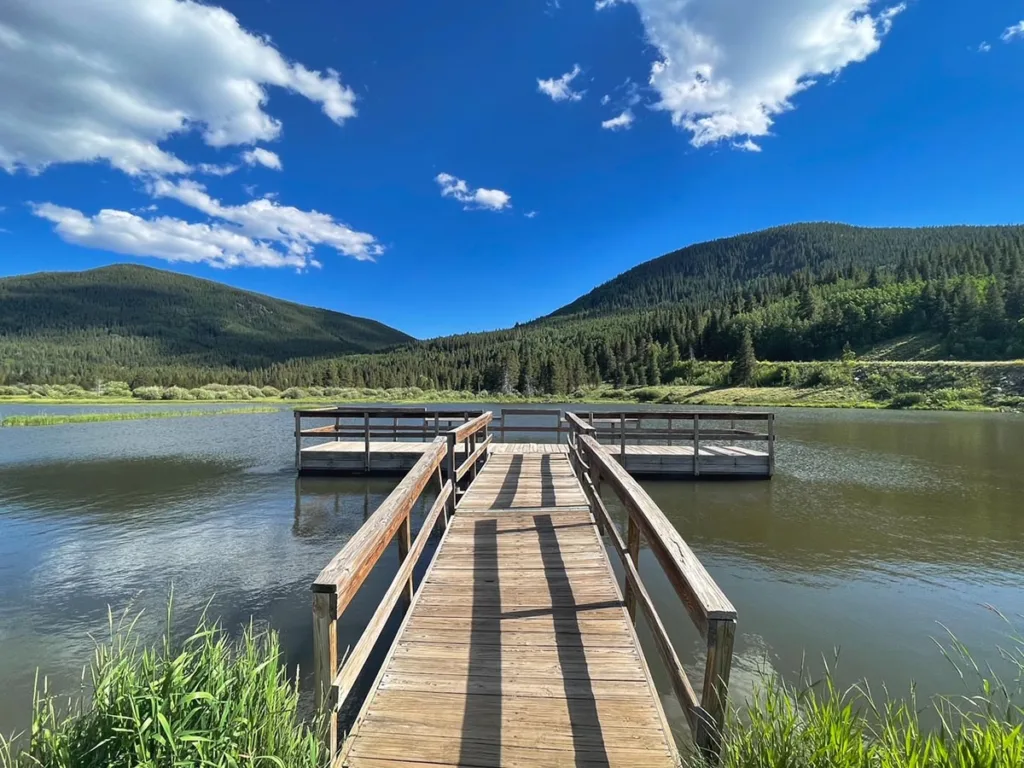 From here continue north on HWY 24. About 5 miles ahead, you'll see a pull-off. This is the pull-off for the Camp Hale pond. There's a small dock here and it's lovely to view the area from here. There are fishing opportunities in the pond as well. The road was gated here so entry by car was prohibited.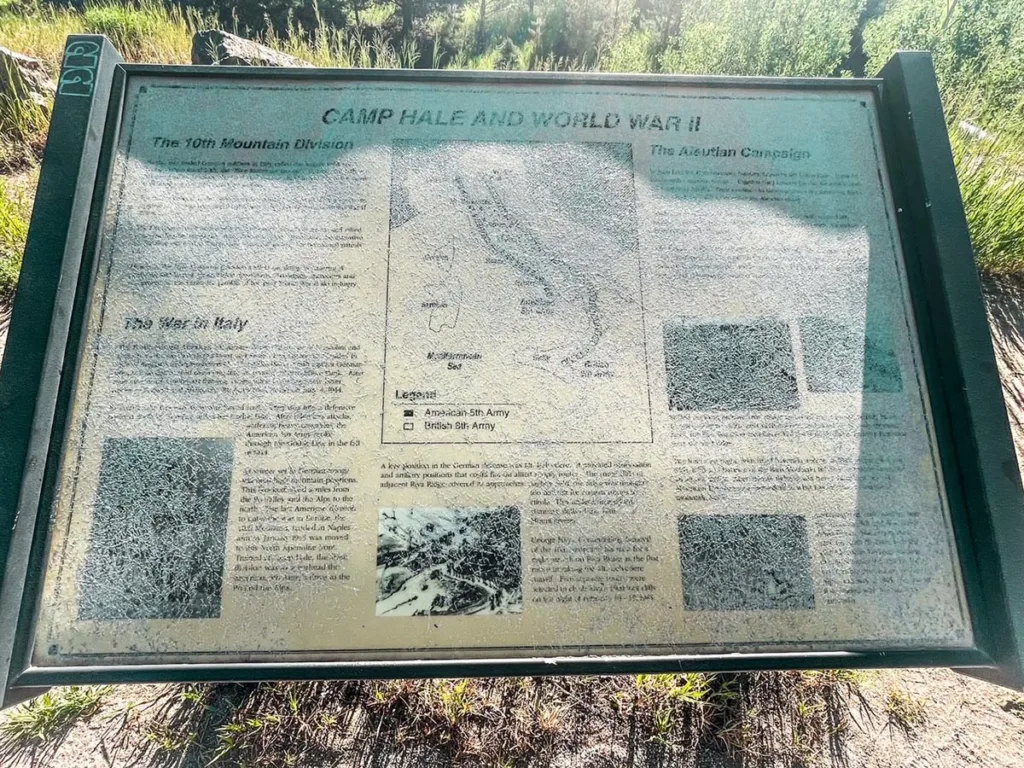 About 0.5 miles up the road, you'll see a small pull off with an overlook of Camp Hale as well as some information signs on Camp Hale.
About 0.2 miles beyond the overlook, you'll see a pull off on your right for Camp Hale. It will mention the Camp Hale Memorial Campground but it's entrance for most of the Camp Hale National Memorial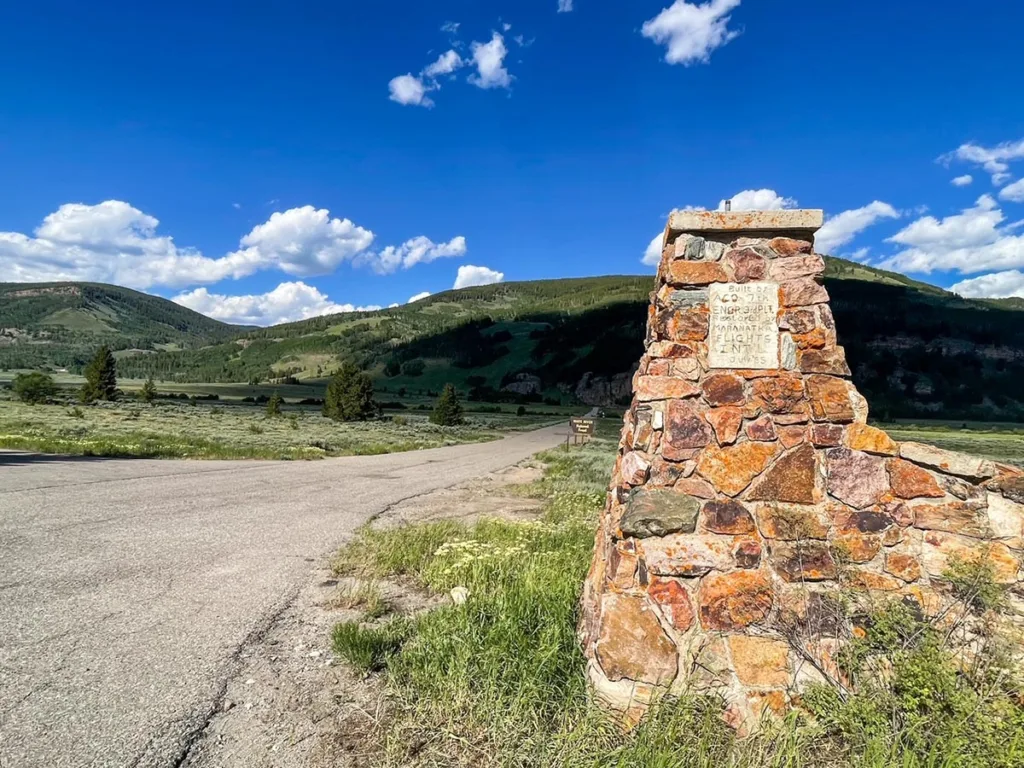 Before turning right take a look at the stone gate remains that made up the entrance to Camp Hale. After entering, turn left. You'll see several signs for the history of Camp Hale. There's also a picnic area beyond this and a road that loops around.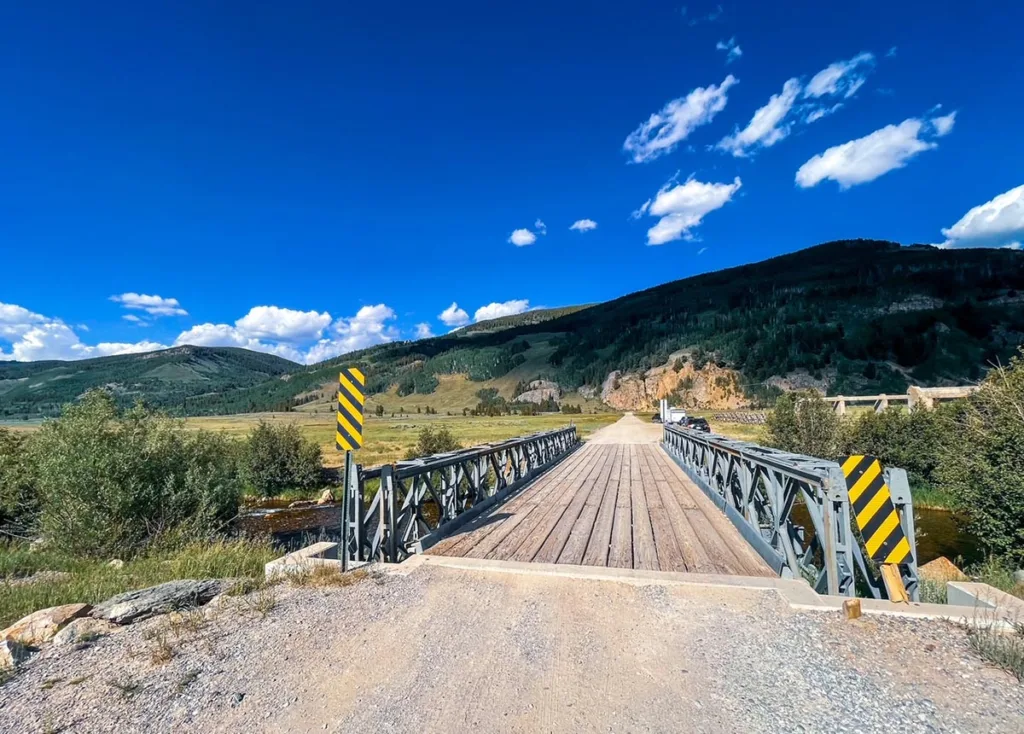 If you head back to the main intersection, turn left to enter the main area of Camp Hale. You'll come to a bridge and an intersection. Left is more of Camp Hale, although it was closed after a short drive on my recent trip here. Beyond that is remains of some Camp Hale structures. To the right the road leads to the main Camp Hale Memorial Campground.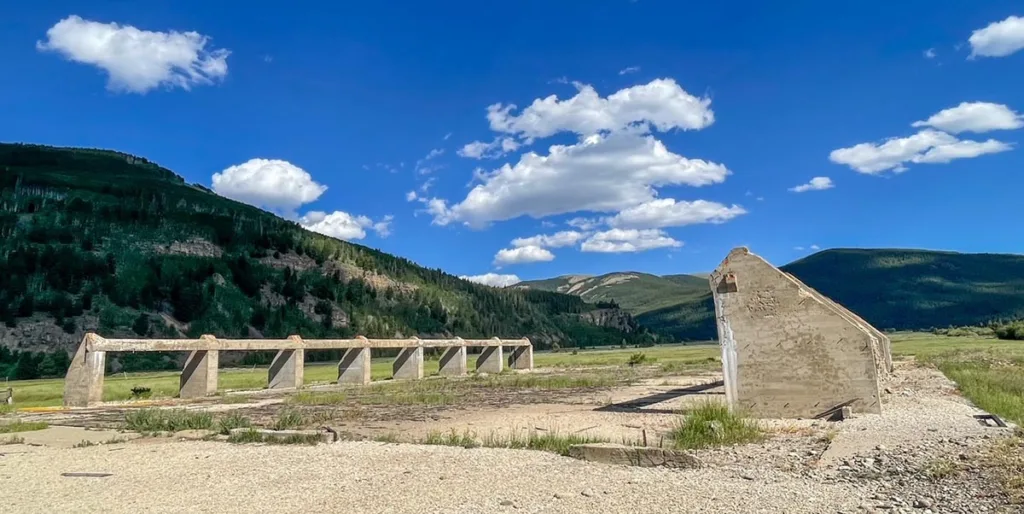 Crossing the Bridge, you'll see the remains of the field house on your right. The area is blocked off but you are close enough to get a good view of the structure. The field house was one of the main and largest facilities at Camp Hale. It held parties, dances, and USO shows.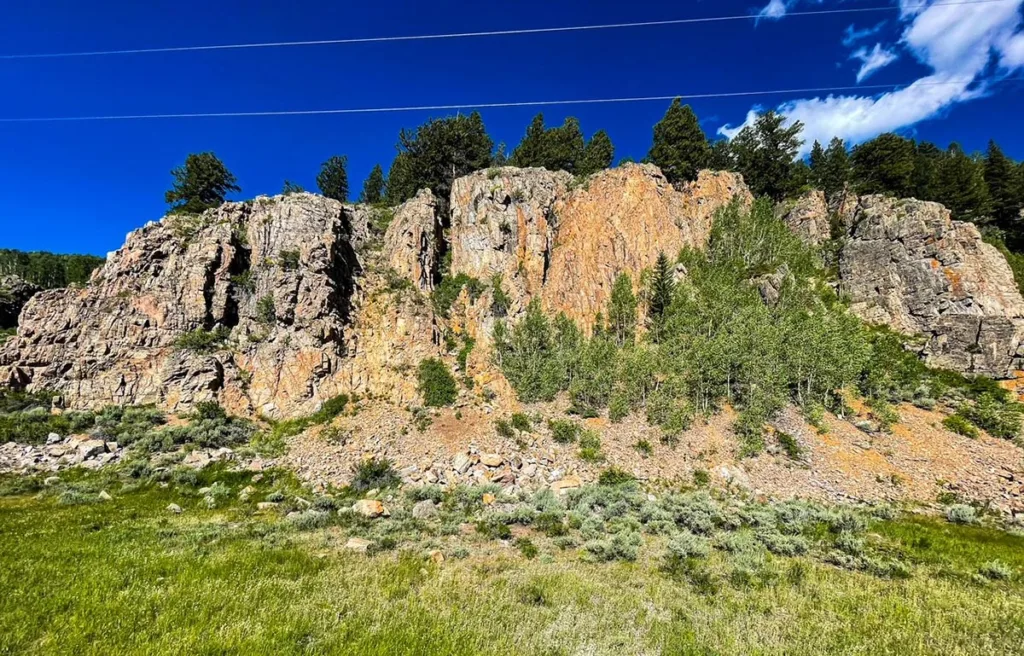 Continue down the road. You'll hit another intersection. Directly in front of you you'll see a sheer rock face. These cliffs are where the troops trained for technical climbing skills needed for assaults in Italy.
You have a choice of going either direct. Left the road continues and you'll see several signs denoting locations of important Camp Hale Buildings. The road eventually becomes more 4WD only and turns into the mountains. I did not go far down this road but it seems to be popular for 4WDs and an important route to supply nearby 10th Mountain Huts.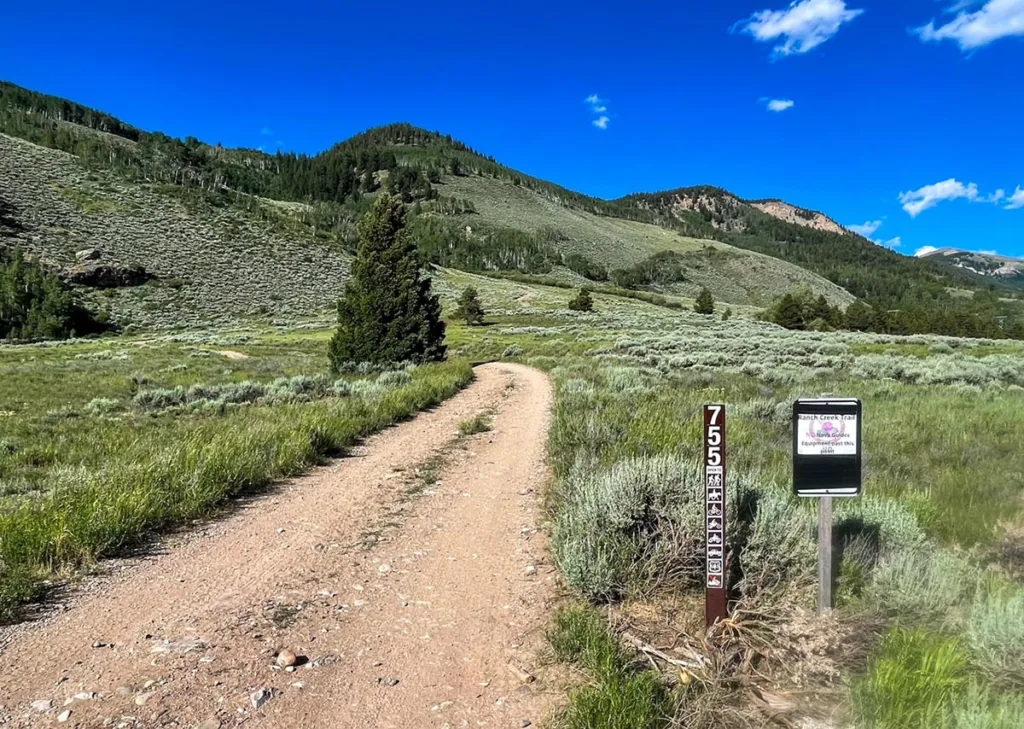 Heading Right you'll drive through more of Camp Hale. On your right you can make out some remains of Camp Hale buildings. Several of these roads were closed to vehicle traffic. You'll pass a crossing for the Colorado / Continental Divide trail. On your right you'll pass Ranch Creek Road. The route is open to some 4WD, hiking, biking, and horseback riding.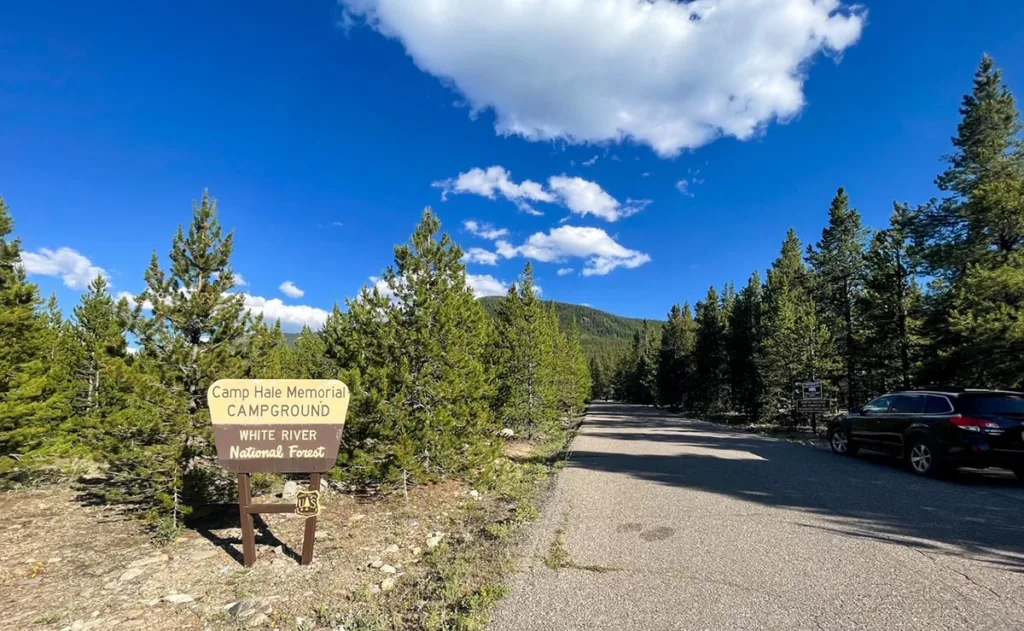 Where to Stay
Camping
Camp Hale Memorial Campground: 15 sites. Mix of Reserved and First-Come First-Serve. Reserve on Recreation.gov
Camp Hale East Fork Campground: 1 group site (1-200 person). Mostly reserved and sometimes first-come first served. Check details for your dates on recreation.gov.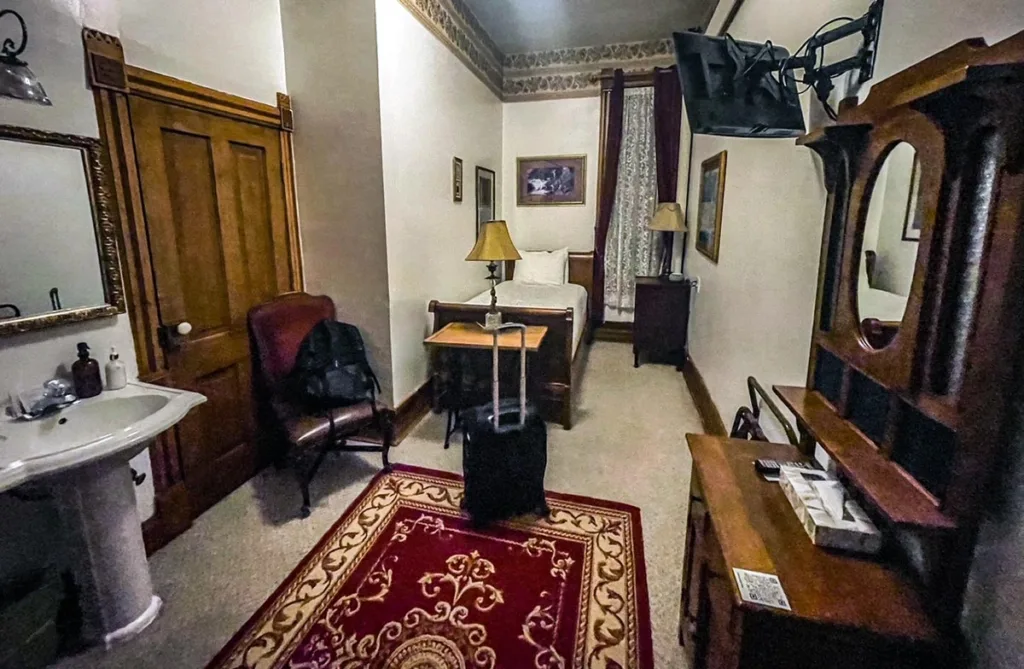 Hotels
For hotels, Leadville is the best option for visitors to Camp Hale.
Past this on your left you'll see parking for hiking on the Camp Hale Colorado section. If you continue on this route you'll come to a bridge over Eagle River. After the Bridge on your right you'll see the Entrance to Camp Hale East Fork Campground.
Guides
I haven't used a guide for Camp Hale and one is not required. However, you'll likely see more with a guide who knows the area. I'm working on finding a time to return and use a local guide as well.
Nova Guides: Definitely the most well known and popular guides for Camp Hale. Their facility is just past the Camp Hale entrance. They have daily jeep tours of the area. Maybe they know the way to get closer to some of the other concrete structures and such in the park. At least you'll get more of the history and in a 4WD by those who know the roads. 
Other Posts you May Like