So you are Looking for the Best Things to Do in Denver? As someone who recently moved to the area, I've been exploring myself. Both within and around the city. There's a lot to do in Denver proper as well as Incredible places to Explore around the Area as well. So let's explore what to do. This list is continuously updated as both Denver gets new things and I explore more too.
---
Denver Art Museum
Address: 100 W 14th Ave Pkwy, Denver, CO 80204
Tickets: Denver Art Museum Tickets
One of the premier art museums in the country, Denver Art Museum has an extensive collection of artwork from around the world. I love the works of some of the great artists that are on display here, including some great photography as well. There's also an extensive indigenous art collection at the museum as well. There are actually also a lot of free days at the Denver Art Museum, which helps on saving during your visit. The building architecture is also really cool too, and the area is a nice place to wander and sit as well.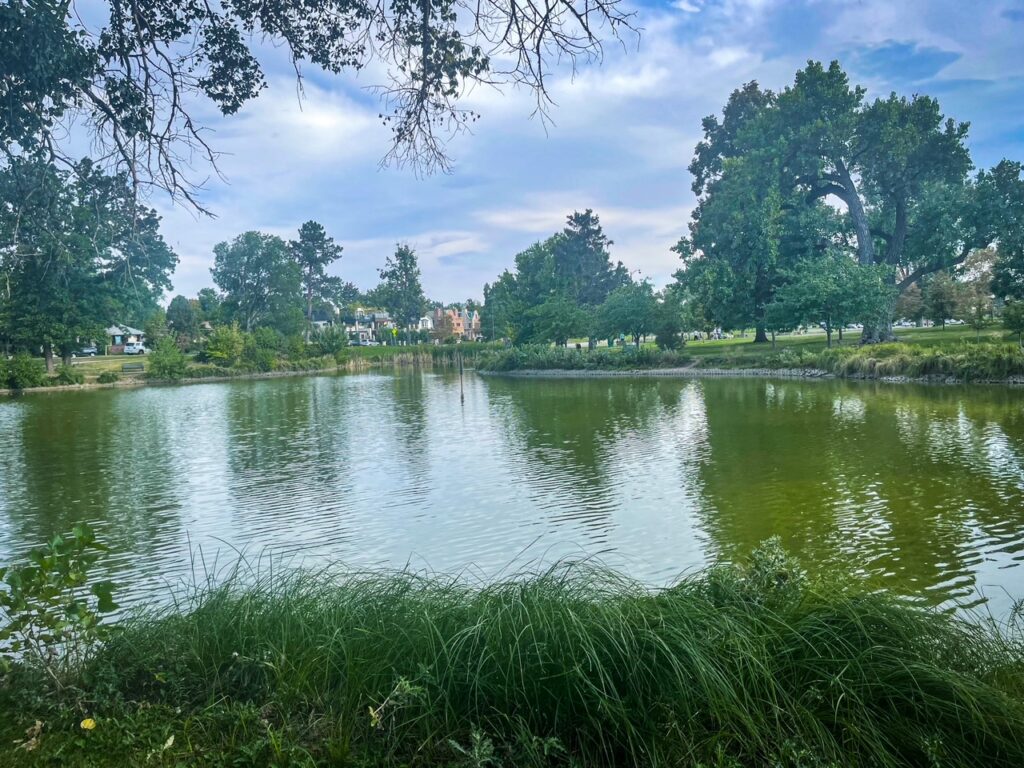 Washington Park
Address: Washington Park, Denver
One of my favorite neighborhoods, Washington Park is one of the most beautiful areas of Denver. I was told when I first arrived in Denver that Washington Park was like Central Park. In some ways that's true, the shape of the park surely, but also that it feels like you are further outside of an urban area. I love that there's a small lakes, great paths and more.
You can rent bikes and kayaks within the park too if you choose or just bring your own to explore or ride the loops around the park.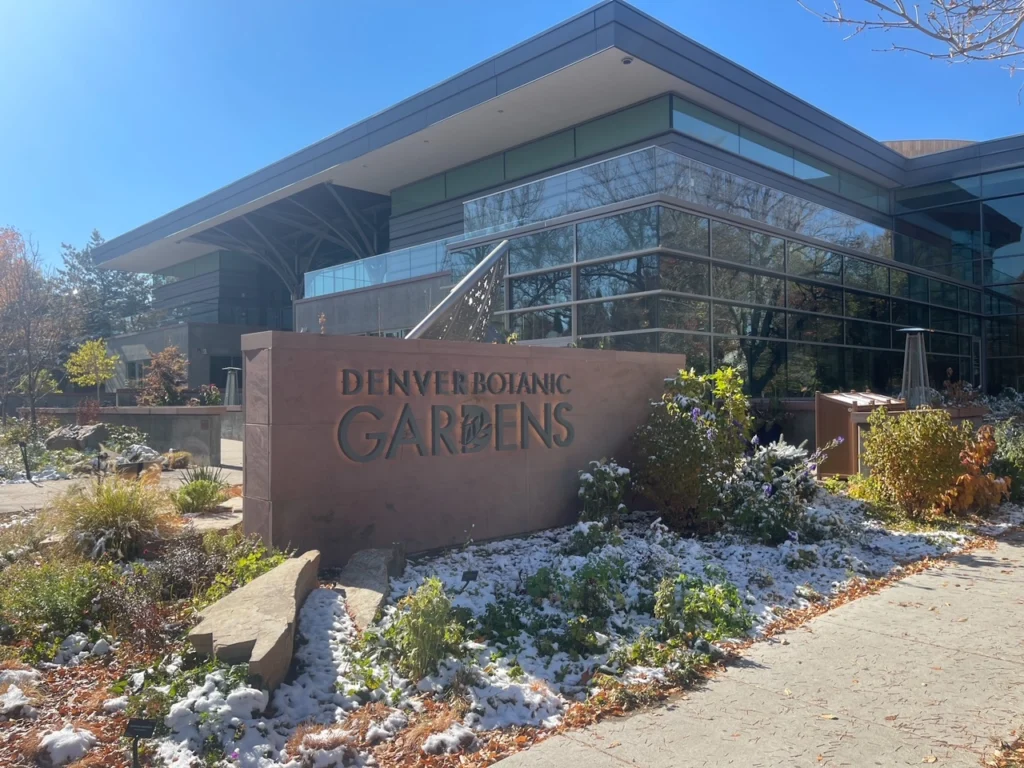 Denver Botanic Gardens
Address: 1007 York St, Denver, CO 80206
Tickets: Botanic Gardens Ticket
Located on one of the sides of Cheesman Park (which is also worth visiting), the Denver Botanic Gardens is a beautiful collection of flora from around the world across its 24 acres.
The area is divided into a lot of different gardens, from 18 arid gardens (representing the American West), 8 internationally inspired gardens, 4 shade gardens, 3 water gardens, and 17 ornamental gardens. There's a lot to explore across this incredible area.
Denver Museum of Nature & Science
Address: 2001 Colorado Blvd, Denver, CO 80205
Tickets: Museum of Nature Tickets
The museum of nature and science includes a large number of exhibits focused on the natural world. Exhibits include American Indian culture, wildlife, prehistoric world (including some great dinosaur exhibits), gems, space, Egyptian mummies, ocean life, and more.
There's definitely a lot to explore within this museum and you could spend a few hours to over a day depending on how much you really want to see. There are often a bunch of temporary exhibits that keep the museum fresh for repeat visits.
The museum can be pricey, especially if you are visiting a few. You might want to check out the Denver City Pass for discounts.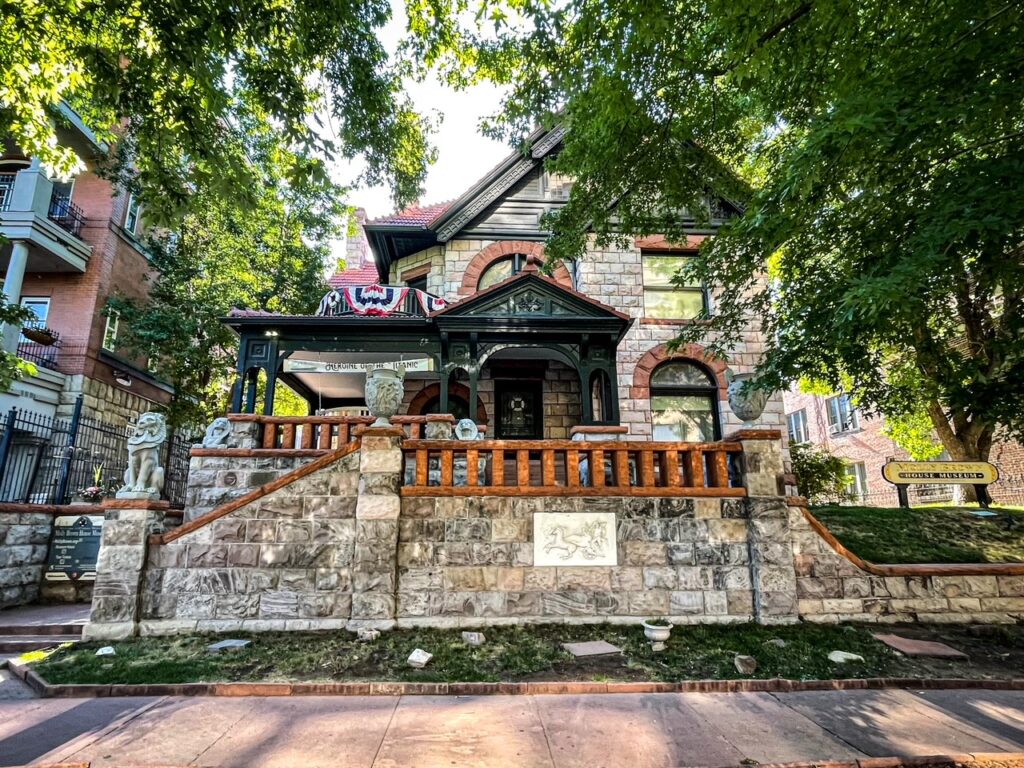 Molly Brown House Museum
Address: 1340 Pennsylvania St, Denver, CO 80203
Tickets: Molly Brown Museum
The Unsinkable Molly Brown. She became quite famous after surviving the Titanic disaster, and known for her heroism towards other survivors on the ship as well. Philanthropist, activist, and more, she definitely turned her fame up after the Titanic. The house was her home in Denver and played many roles and as a rental and governor mansion over its time (she also traveled frequently).
Since then after it was saved from deterioration and destruction it became a museum chronicling her life and legacy. Currently, there are regular tours of the home and visitors can experience and learn more about her life.
Colorado State Capitol
Address: 200 E Colfax Ave, Denver, CO 80203
Website: Capitol Tours
Definitely the most stately building in Colorado, the State Capitol is one of the most distinct buildings in the city. Located in the aptly named Capitol hill region of the city (the oldest part of the city as well), the state capitol takes a central place in the area.
Walking around the capitol and the parks is a wonderful place to explore during your time in the city. You can check out the local civic center parks and other gardens in the area.
The capitol is open regularly to the public (daily: 7:30 am – 5:00 pm) except holidays. Free tours are available at 10:00am, 11:00am, 12:00pm, and 1:00pm (limited 20 people). You can do self-guided tours, but you cannot visit the observation dome if you don't take a guided tour.
Denver Central Market
Address: 2669 Larimer St, Denver, CO 80205
Website: Denver Central Market
Located in the RiNO Art District, the Denver Central Market features 11 amazing artisanal local vendors from the Denver Area. The food hall features some great vendors with a good selection of different cuisines, chocolate, ice cream and more. There's also often different events and performances that happen at the market too.
The beautiful restored historic building is a perfect setting for the market and its a great place to grab food all throughout the day.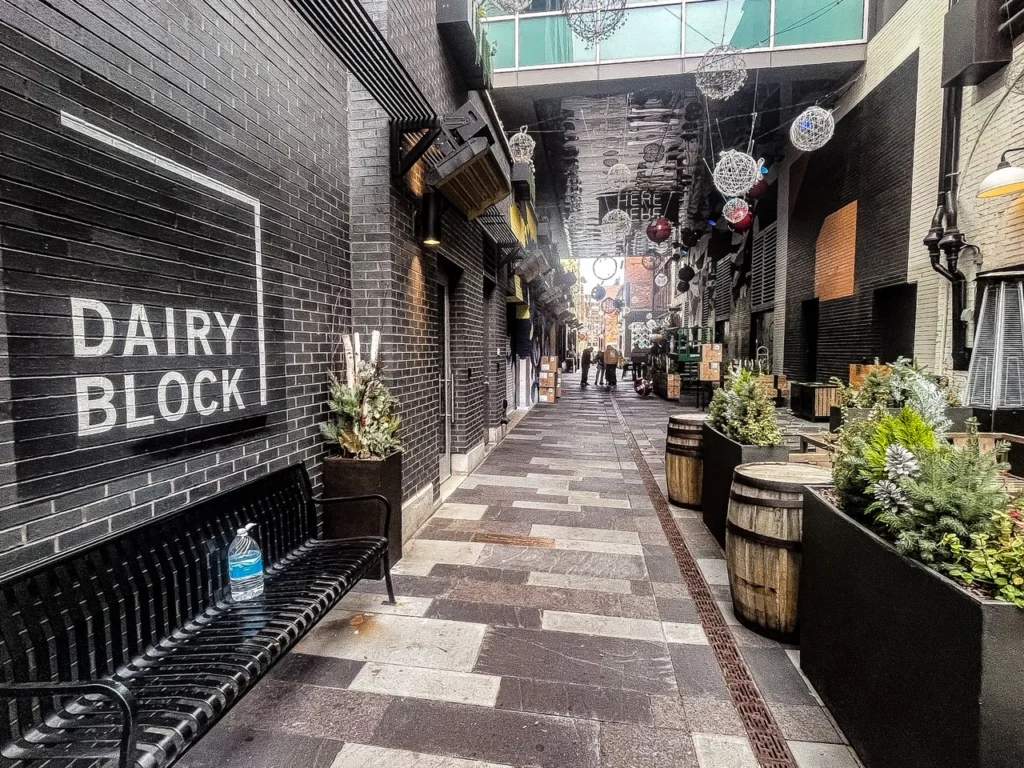 Dairy Block
Address: 1800 Wazee St, Denver, CO 80202
The small block near Coors Field has many different bars, restaurants, shops and more. It's definitely got a hip "insta" worthy aspect to the place. Even so it's got some great places to check out and has a cool vibe in particular on nice Denver nights.
The block has a cool vibe to it. Be sure to check out the Denver Milk Market with its various local vendors you can try. I recall coming here my first time with my colleague who I grabbed dinner with on my cross country trip prior to moving to the area. I found the ice cream a great treat on that trip for wandering around the neighborhood.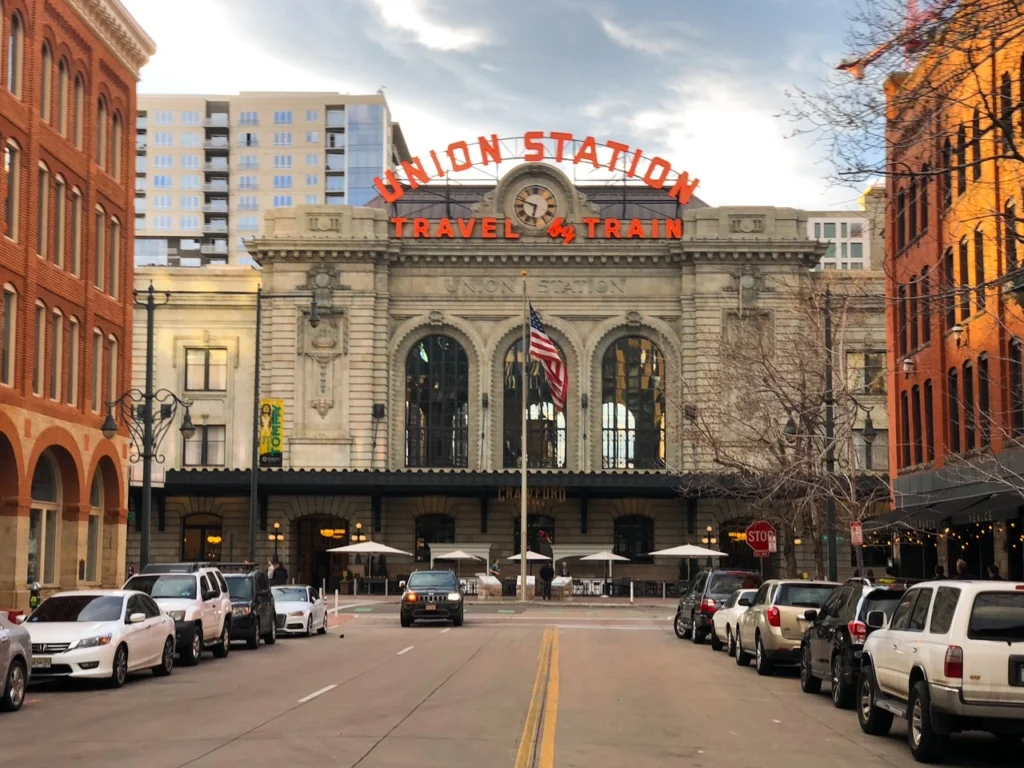 Union Station
Address: 1701 Wynkoop St, Denver, CO 80202
Website: Union Station Denver
Union station is the main train station of Colorado and an important stop for Amtrak through the mountain region. It is also one of my favorite train stations as well as the area around Union Station.
Even if you are not going there to take a train, it is still worth a visit. I like the architecture of the station and there's a lot of great restaurants both in and around the station. Some of the best hotels (such as the Kimpton Born) and shopping are in the area too.
Kirkland Museum of Fine & Decorative Art
Address: 1201 Bannock St, Denver, CO 80204
Tickets: Kirkland Museum Tickets
Named for the famed Colorado artist Vance Kirkland, the Kirkland Museum features over 30,000 works (4,400 on exhibit) from over 1,500 designers and artists. Following his death, and since he had no heirs, his friend managed his estate and displayed his works. The museum opened in 2003 and moved to its current location in 2014.
The collection features works from the 1870s to present, Colorado Regional art, and of course artwork from painter Vance Kirkland. The museum is limited to visitors 13 years of age and older due to the fragile nature of the collections and how they are displayed in the museum. All visitors 13 – 17 years of age must be accompanied by an adult.
16th Street Mall
Address: 16th Street Mall, Denver CO
The 16th street mall is an outdoor shopping mall area throughout central Denver. The area has a lot of great food and shopping options along a pedestrian friendly walk area.
The mile-long mall is one of the top things to see and do in the city. I'll have to say, since Covid, it has not seen the numbers it used to (in many ways do to the decrease in business and other folks in the area). There's dozens of cafes and such for visitors to check out. At the south end of the mall you can also check out Denver Pavilions, which is probably aligned with what most people think of as malls. The Pavilions, feature an additional 40 outlets to dine or shop at as well.
---
History Colorado Center
Address: 1200 N Broadway, Denver, CO 80203
Tickets: History Colorado Tickets
The History museum includes exhibits that highlights many different areas of Colorado history from the good to the not so good. It has exhibits that focus on different eras of Colorado history including the building of Denver (development from 1860 to today), Colorado's Asian food culture, Civil Rights, Civil War, changing areas, interactions with native populations, and more.
I like that it has rotating exhibits and other areas of modern concern such as water concerns in Colorado as well as changing aspects of settlement and indigenous culture. I also thought it was cool they have a exhibit of 100 items for the "Centennial State" (Colorado's nickname). Some really good artifacts in the formation of the state and west.
The Source Hotel and Market Hall
Address: 3330 Brighton Blvd, Denver, CO 80216
Website: The Source Hotel
The hotel and Market Hall is a collection of some great food vendors from around the city. The market hall has fair number of vendors and some of the best food I've had in the city too. Actually one of my favorite restaurants in Denver, Temaki Den is also one of the best sushi places I've had…anywhere…in the United States. Yeah, I was even scoffed at Denver sushi before going there.
There's over 25 vendors that take space in the hall from pizza, to sushi, to barbers, and retail shops.
Parking near the hotel can be a bit difficult, although street parking is possible. Parking in front of the hotel is limited in time (if you want to risk it), or there's a parking garage at the hotel as well.
Meow Wolf Denver | Convergence Station
Address: 1338 1st St, Denver, CO 80204
Tickets: Meow Wolf Tickets
Meow Wolf is an interactive art exhibit started by a group of artists in Santa Fe. Denver was their first permanent exhibit outside of New Mexico. Meow Wolf is an interesting exhibit, it a story, art, immersion and more. I think its not everyone's cup of tea but its definitely an interesting trip through someone else's fantasy. This Convergence Station exhibit in Denver was established in 2021 and has since become one of the top things to do in the city. It's pricey (and with pricey parking), so be sure it fits in your budget if its something you want to do.
Red Rocks Amphitheater
Address: 18300 W Alameda Pkwy, Morrison, CO 80465
Website: Red Rocks Amphitheater
My first trip to Red Rocks I was stunned. It really is one of the most (if not the most) beautiful concert venues in the country that I've been to. Located in nearby Morrison, Red Rocks was opened in 1906 as a local stage that put on acts of local musicians. Back then it was a lot more work to bring folks up to the mountain. However, in 1927 the city of Denver purchased Red Rocks and the current amphitheater was constructed.
Evenings there are performances from local as well as international bands, high school graduations, as well as other acts. During the day, visitors come to do yoga, exercise on the steps, and wander the various walking trails.
Visits here, in particular for concerts are a highlight of trips to Denver. The acoustics of the amphitheater are incredible, and nights here under the stars magical.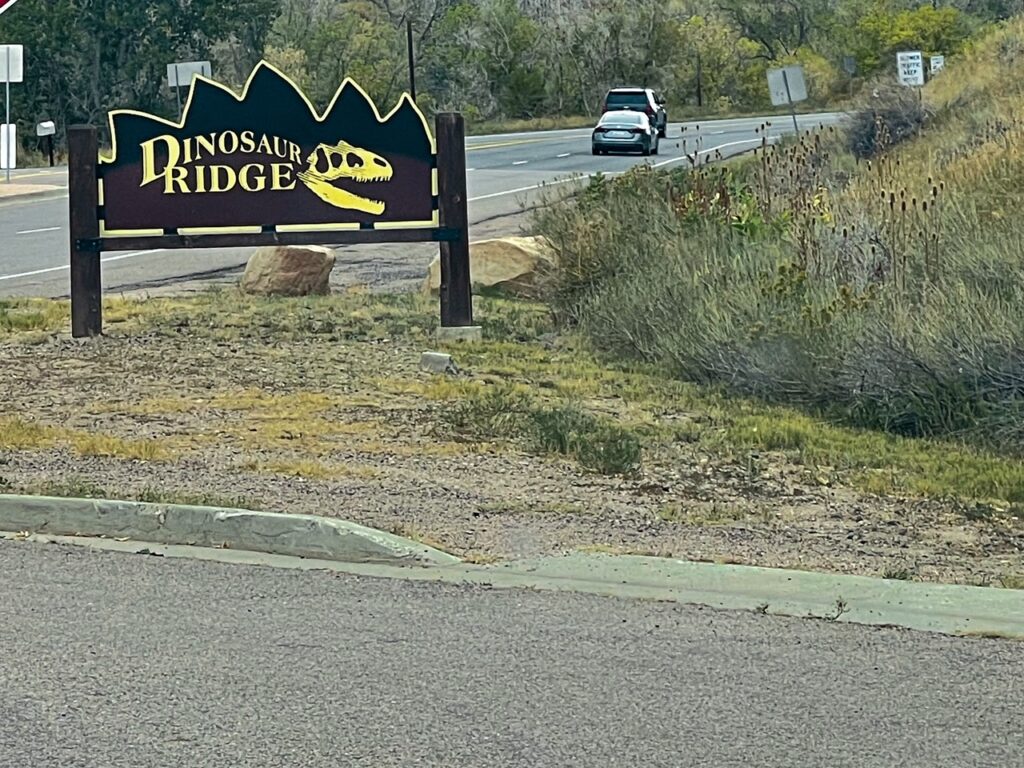 Dinosaur Ridge
Address: 16831 W Alameda Pkwy, Morrison, CO 80465
Tickets: Visit Information
Dinosaur fossils are found all throughout the mountain region. Dinosaur Ridge is an outdoor museum, mountain trails, and exhibit halls that showcase fossils and discoveries of this area. Did you know that the first Stegosaurus was discovered in this area? There are several things to visit including dig sites, exhibits halls featuring fossils, and trails to discover areas where dinosaurs roamed (including dinosaur tracks). There definitely a lot of activities for family and guests of all ages. You can visit plenty of other dinosaur areas in Colorado and the Mountain Region including one of my favorites Dinosaur National Monument. Although its not a day-trip from Denver.
RiNo Art District
Address: River North Art District, Colorado
It's one of the hippest areas of Denver, the River North Arts district took old industrial buildings and warehouses and turned it into a hip arts and music scene. There are lots of art along the walls of the areas as well as some contemporary art galleries in the area. There's great food in the area at the Denver Central Market as well as nearby the Source (hotel and market hall).
If you are in Denver during "First Fridays" (First Friday of each month), be sure to check out the galleries that open their doors to visitors. First Fridays are in a lot of US cities and it's some of my favorite events.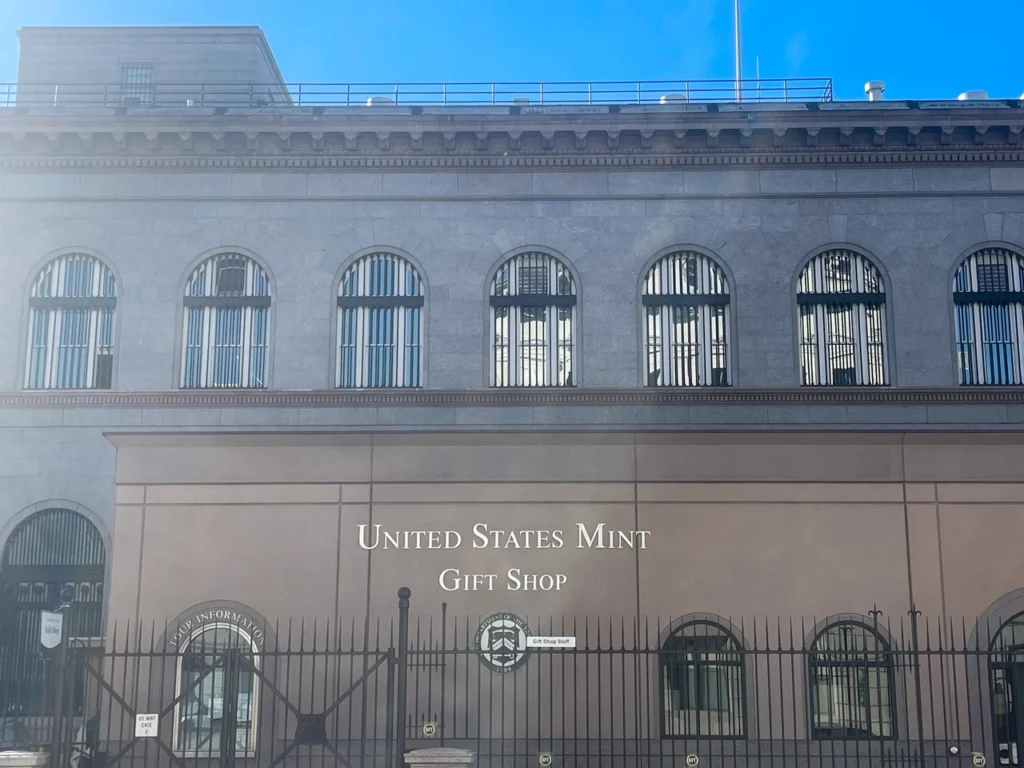 Denver Mint Museum
Address: 1450 Cherokee St, Denver, CO 80204
Tickets: Visit Information
One of the two main mint facilities (Philadelphia being the other), Denver produces many of the coins in circulation in the United States. Actually, there's also another mint in San Francisco that produces more commemorative coins.
Tours are available for the Denver Mint, however, tours are very popular so it can be difficult getting tickets. We recommend following the information in the tickets site above to request tickets. It's kinda annoying via the email method, but its the one available. Tours are held Monday – Thursday (excluding federal holidays) at 8:00 am, 9:30 am, 12:30 pm, and 2:00 pm. and all visitors must be 7 years or older.
There are tours ongoing, however they may close due to heightened Covid Risks.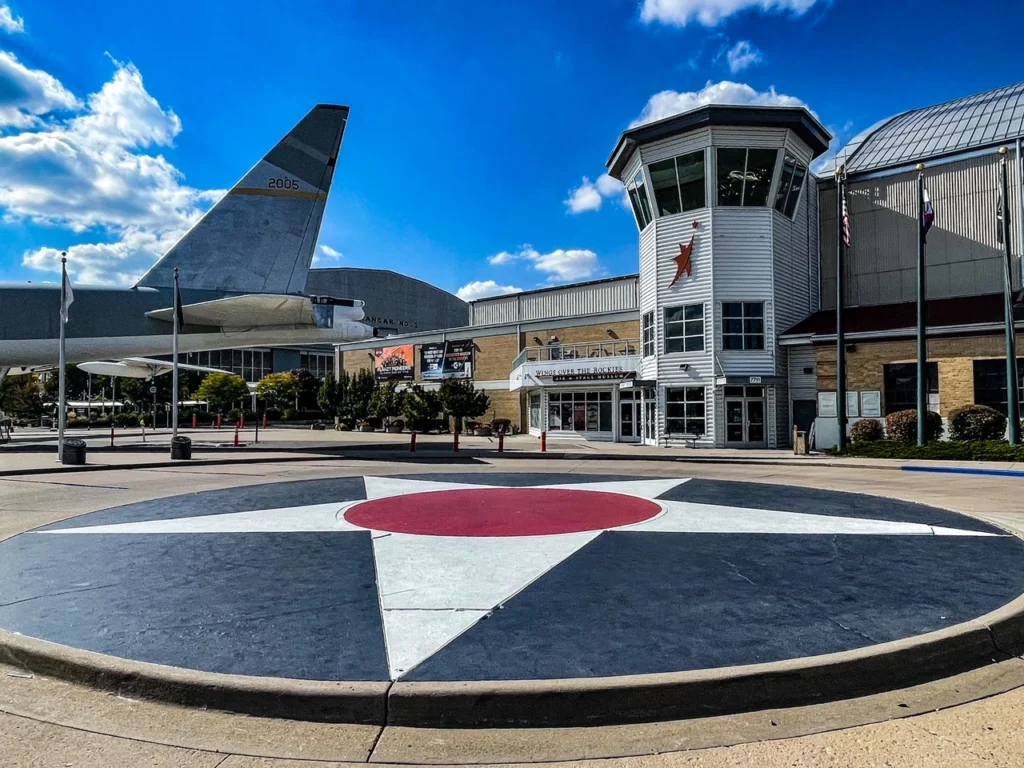 Wings Over the Rockies Air & Space Museum
Address: 7711 E Academy Blvd, Denver, CO 80230
Tickets: Lowry Museum Tickets
Located on the former Lowry Airforce Base in Denver, the Wings over the Rockies includes many historic aircraft across the eras. The museum also preserves the history of the airforce base that operated here from 1938 to 1994 (with collection of documents, research library and more).
Notable aircraft in the collection include the B-52 Stratofortress, F-14A Tomcat, and B-1A Lancer. There's also a second location for the museum in Centennial. The two museums focus on different aspects of aerospace and flight history.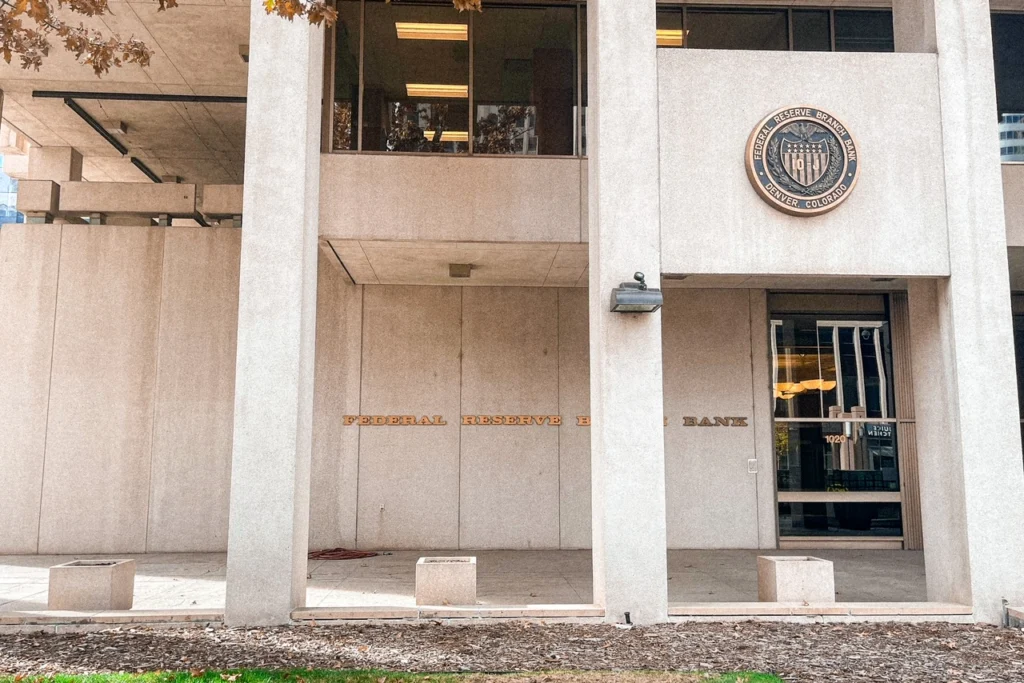 Money Museum – Denver Branch of Kansas City Fed
Address: 1020 16th St Mall, Denver, CO 80202
Tickets: Denver Money Museum
One of the interesting things about the Federal Reserve is that many of the branches have museums or other things on Display. My favorite is obvious the New York Fed that has tours of the really interesting gold vault, but there's definitely other things to see at the other Feds.
The Denver Office, which is a branch of the Kansas City Federal Reserve (KC was a more important city at the time of the Fed Founding), has a Money Museum that is open to visitors. The exhibits which sometimes rotate focus on history of banking, the federal reserve, currency, and other aspects of economics and currency. The Denver Branch is located near the 16th street mall.
The Denver Money Museum is currently closed until 2024 due to construction.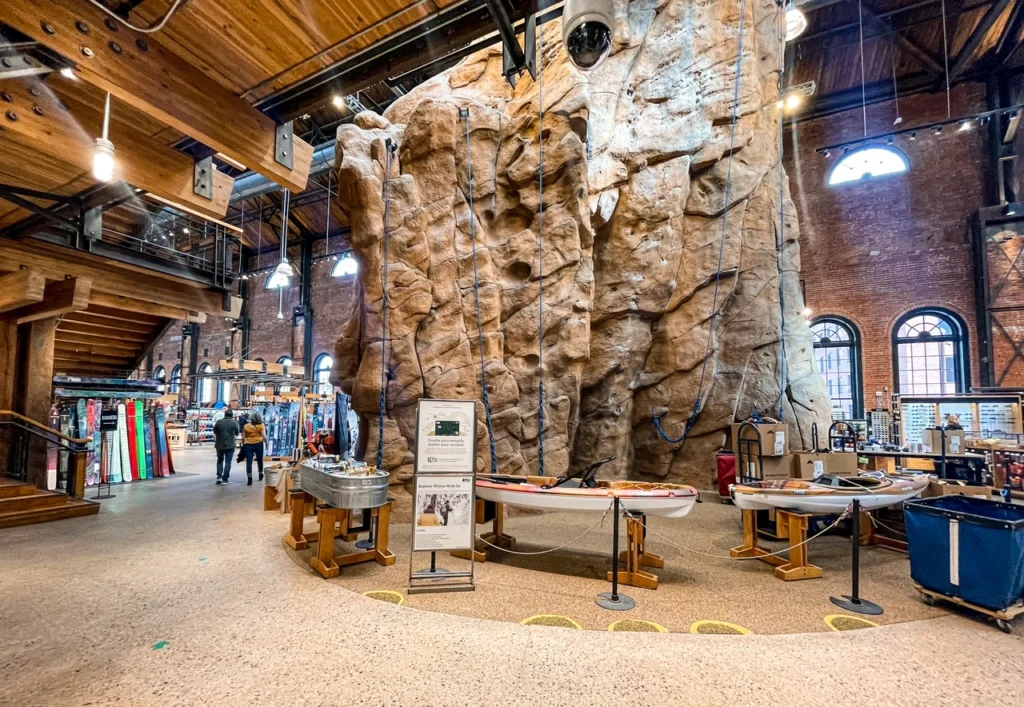 REI Flagship Store
Address: 1416 Platte St, Denver, CO 80202
I usually wouldn't put an outdoor store on a list of things to do. But the REI store in Denver is one of, if not the most impressive of their shops. There's a climbing wall, cold room (for testing coats) and basically every item you could want. Parking is available at the shop although does cost if you spend more than 2 hours (which you likely wouldn't). The REI shop is definitely a great place to stock up on anything else you'd want to do in the area.
Denver Ghost Tours
There's a lot of really cool stories and tours throughout Denver. I love ghost tours, and getting to go on a Ghost Tour of such an obviously haunted city like Denver is a lot of fun. Whether or not you believe in the paranormal, ghost tours are are a great way to walk through a city, hear some stories (some true and I'm sure others less so), and just have a fun evening.
Overall, they are a good way to spend a couple hours exploring the history of Denver. Many of them take you through the historic Capitol Hill area of town, although there are several that explore other parts of the city too. I've so far done the Twilight Tour from the Dark Side of Denver. However, there's plenty of others to explore as well.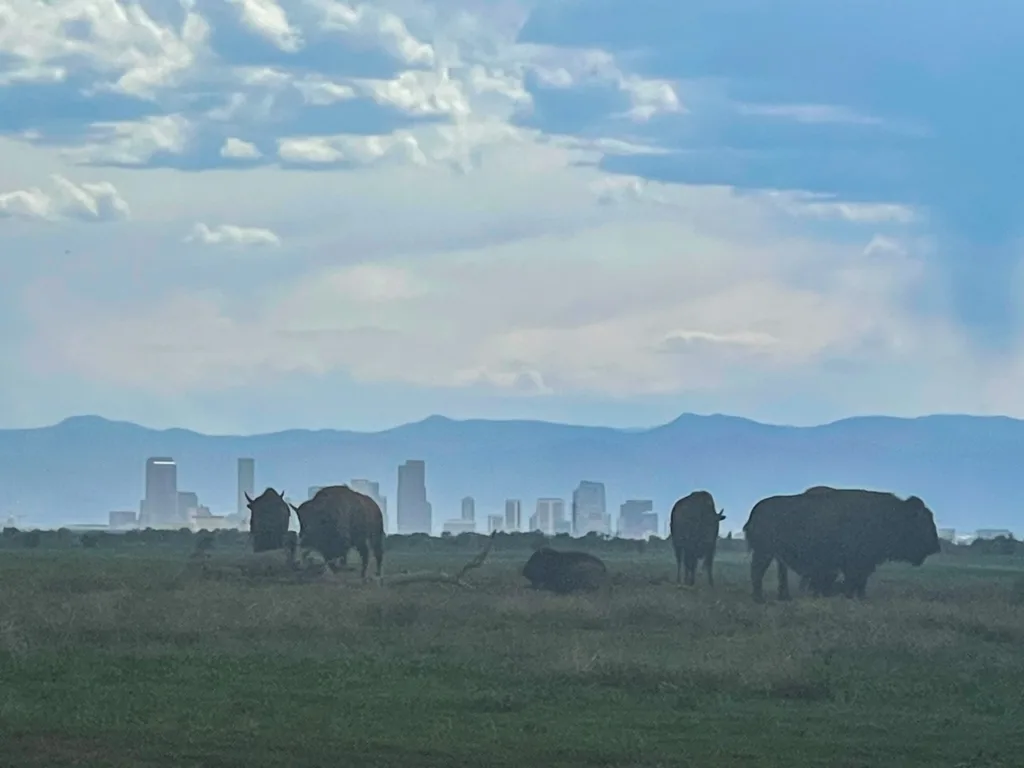 Rocky Mountain Arsenal National Wildlife Refuge
Address: 6550 Gateway Road Commerce City, CO 80022
Website: Rocky Mountain Arsenal NWR
It was a surprise to me to realize such a great place is so close to downtown Denver. But Rocky Mountain Arsenal Wildlife Refuge is a large area which provides a place from some of the wests wildlife. You have the opportunity to see deer, bison, prairie dogs, and more! Seeing bison with the Denver skyline in the background feels pretty crazy.
Visitors have the opportunity to drive the 11 mile wildlife auto-drive, with a few sections in the bison enclosure (please keep your distance). There are also several hiking trails and lakes to explore in the refuge as well. Fishing is possible with a license at some lakes although it is strictly catch and release.
The site is only about 10 miles from downtown Denver and is open daily from sunrise to sunset. There is a visitor center that is open Wednesday – Sunday: 9 am – 4pm. The visitor center has maps, information, and exhibits about the arsenal and conservation.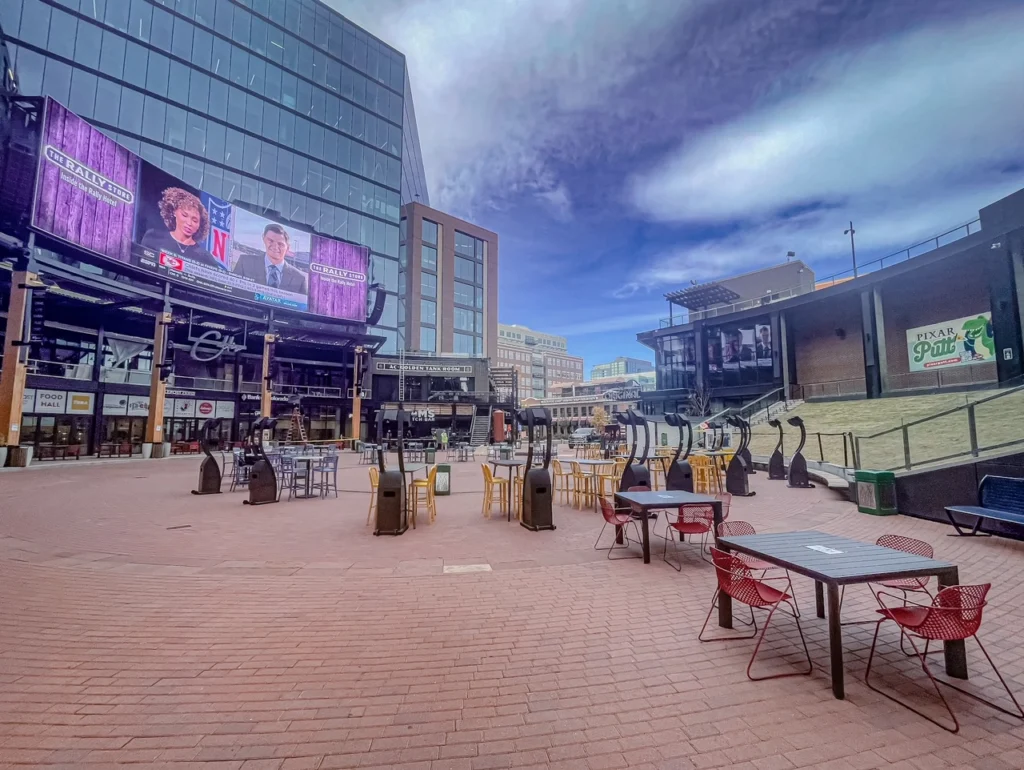 Outdoor Movies at McGregor Square
Address: 1901 Wazee St, Denver, CO 80202
Website: Movies at McGregor
Located next to Coors Stadium, McGregor Square has a lot of events throughout the year. The huge facility has a great number of food, hotel, housing, and shopping options for visitors and locals alike. One of my favorite parts of the area is the outdoor plaza at McGregor. Throughout the year it hosts lots of events from dancing to shows and more. One of my favorite things though is the regular free movie nights that the plaza holds through Autumn.
Check the website listed above to find out what's playing and when.
Check Out the Great Coffee Shops
While Denver is most known for its Microbreweries (there are hundreds in the area), they actually have some really great coffee as well.
So as someone who doesn't drink, I can't really comment on all the beer, but I can say the coffee around the city is really great as well. There's a lot of small local shops and chains and there's some really cool architecture and design for many of the shops.
You can sit and people watch, get some work done, or even just take some great coffee to go. The one in the photo is Pablo's Coffee, in Capitol hill which also has some cool artwork on the walls too.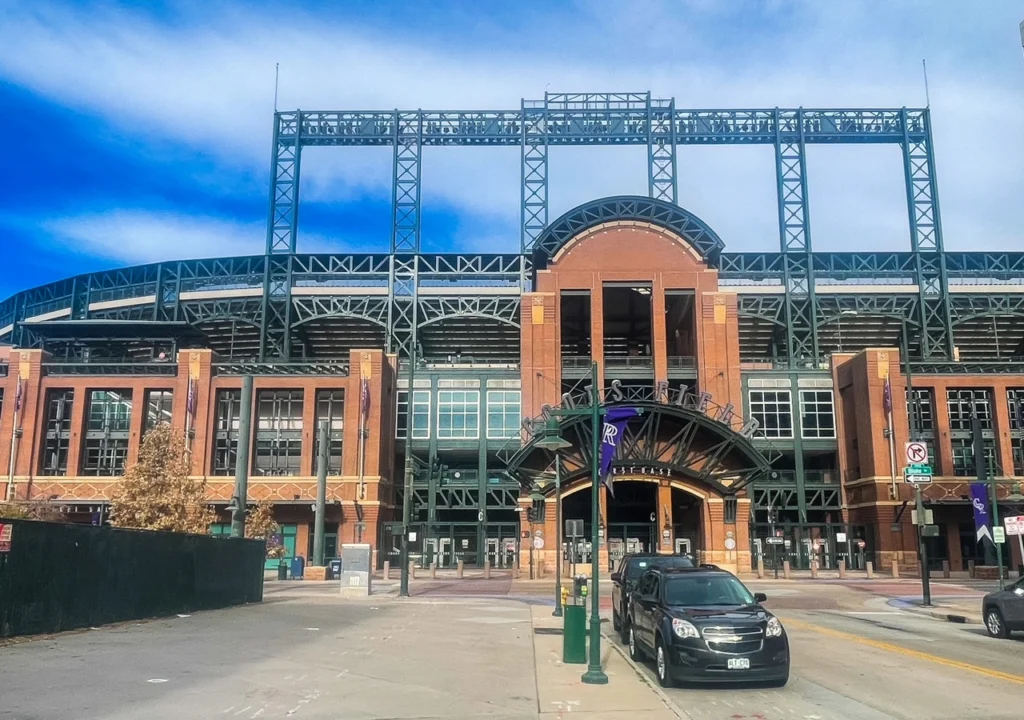 Catch a Game
Sports are very big within the Denver Area. Especially when you have some awesome teams such as the Avalanche, Broncos, Nuggets, and the Rockies. You'll be able to find something for all the sports fans in your family. The teams play in the various stadiums around the city such as Empower Stadium (Broncos), Coors Field (Rockies), and Ball Arena (Avalanche / Nuggets). If you really want more sports fun, you can also check out the cool National Ballpark Museum located close to Coors Field.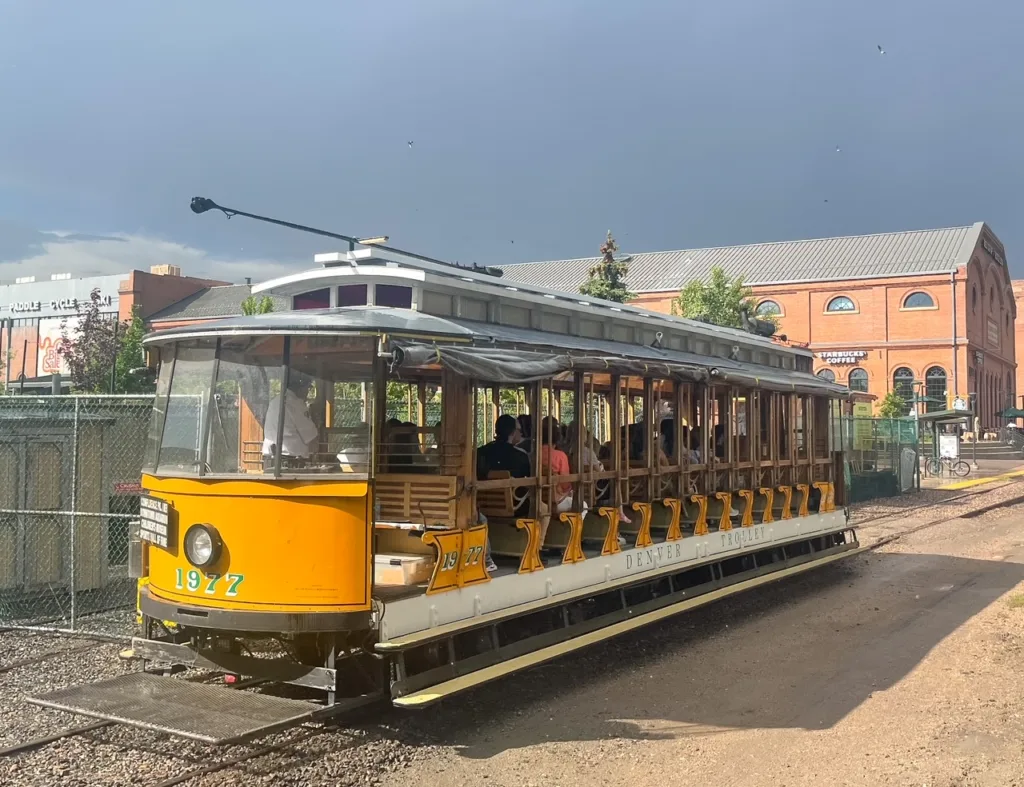 Denver Trolley
Address: Next to REI & Confluence Park
Website: Denver Trolley
Located along the Platt River, the Denver Trolley takes visitors along the Platt River to a few stops along the way. The old style trolley runs from the original Denver Trolley Company Building (now REI) passed the Bronco Stadium (Empower Field). There are a few stops along the way, but most people just do it for the ride.
As a ride it's actually a lot of fun. The all-volunteer group does a good job of telling stories about the places along the way on the trolley. I overall found it pretty humorous and our guide did a good job of informing and being funny.
It is possible to stop and get off at a few spots including the Aquarium, Children's Museum, and during games at Empower Stadium. Tickets are pretty reasonable and only slightly more expensive during bronco games. It's probably not worth the price if you are actually using it to get somewhere close (like the aquarium as its a short walk), but its a fun experience on its own.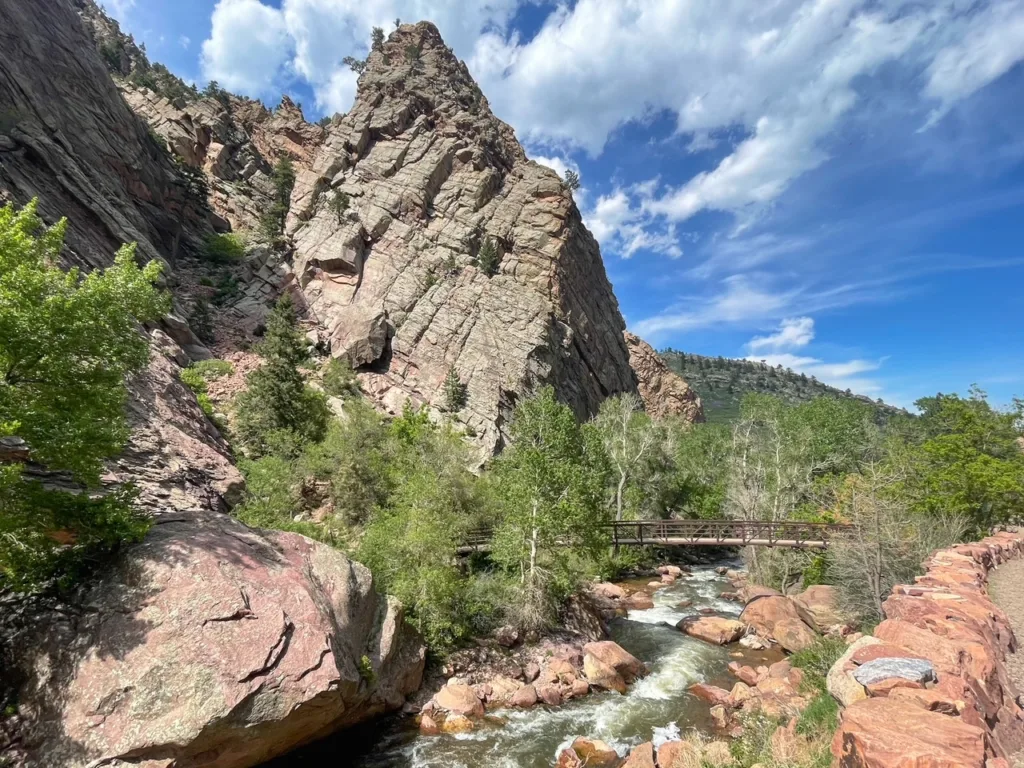 El Dorado Canyon State Park
Location: 321 Eldorado Springs Dr, Boulder, CO 80303
Website: El Dorado Canyon State Park
So close to Denver yet feels so far away. El Dorado Canyon State Park really does feel a world away from the hustle of the city. The gorgeous canyon area is popular for hiking, biking, climbing, and wildlife viewing.
Climbing is by far the main attraction of the site, with hundreds of technical routes along the canyon walls. There aren't a ton of hikes to do in the area, but they all afford visitors some amazing views of the area.
The two main ones, El Dorado Canyon and Rattlesnake Gulch are both fantastic options for hikes. El Dorado Canyon is the more difficult of the two with some great views but also less shade. Rattlesnake Canyon is our recommendation for most hikers, with gorgeous views and even opportunity to see some good wildlife (especially birds).
Parts of the trails do close periodically, such as rattlesnake gulch closing for raptor breeding. You can still get good views even with the closures though. During the peak season (Memorial Day – Labor Day) on weekends and holidays timed reservations are required. Or you can take the free shuttle from several park and rides in the area.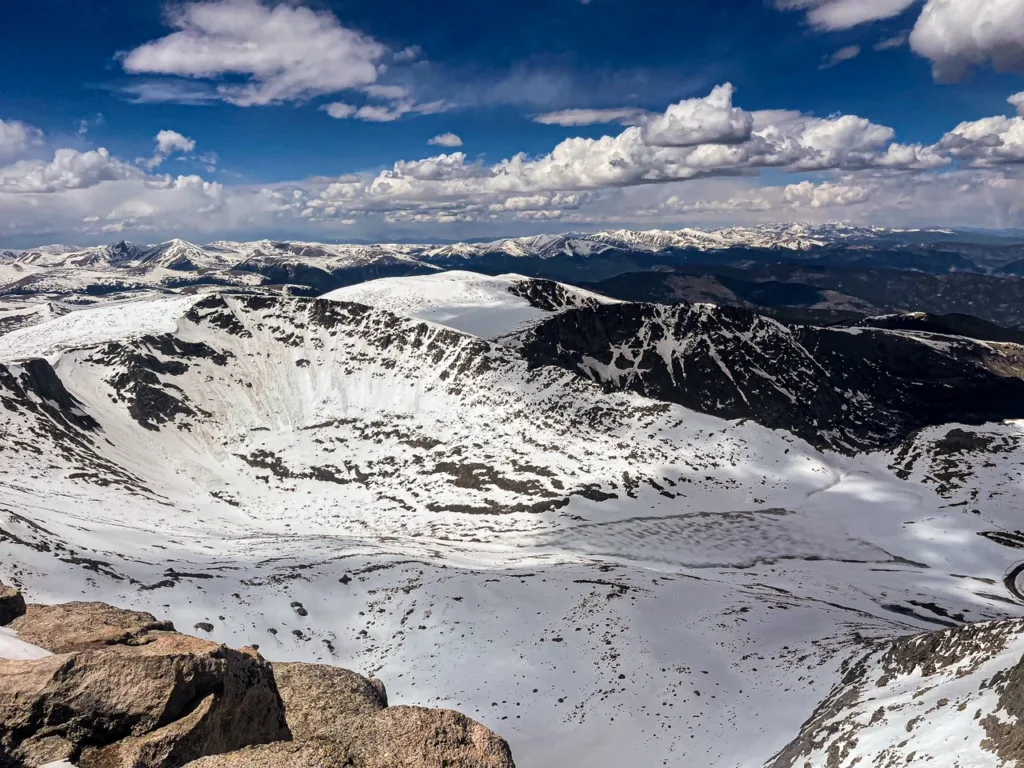 Mount Evans Byway
Address: Idaho Springs, CO 80452
Tickets: Timed Entry Tickets
One of the famous Colorado 14ers (peaks above 14,000 feet), Mount Evans is one of two that you can drive to the summit (The other being Pike's Peak). Mount Evans is however the closer of the ones to visit from Denver. The 14 mile long road takes you from Idaho Springs all the way to nearly the summit of the mountains (you'll need to walk a short bit). Still the drive and the views from the peak are beautiful, and it can easily be done as a day trip from Denver.
Timed entry tickets are required for access to the Mount Evans Byway. This was done due to the popularity of the drive. Timed Tickets are needed from June – Early October, however, weather can close the road earlier. Portions of the road may also be closed during those dates as well due to weather/snow.
Mount Evans byway does take Interagency National Park passes, however you'll still be required to pay the $2.00 reservation fee.
Other Posts you May Like