Traveling from Denver to Moab is one of the best ways to see the state of Colorado. For sure, you can do it in one day with under 6 hours of driving.
However going from doing a proper Denver to Moab road trip can be a fantastic adventure! So we help break down different ways to explore the dates and make it into an epic road trip.
How to Use this Guide
We have come up with a set of separate road trips to help you see the best of the states on your way between Denver and Moab. Each Road Trip has a variety of National Parks, Cities and Sites to explore along the way.
We recommend reading all of the road trip routes to get ideas on what there is to do.
Mix and Match! If you like something in another route, add it, there's no wrong way to go.
QUICK STOPS: Are generally places on the route that don't add extra time but great for a quick bite, or stop along the way.
DETOURS: are interesting destinations that are not on the route and will add additional time. We help you add in stops if they make sense for you.
If there's more details or other information you are looking for, contact us! We try to make it concise yet full. But we are always looking for ways to improve.
Table of Contents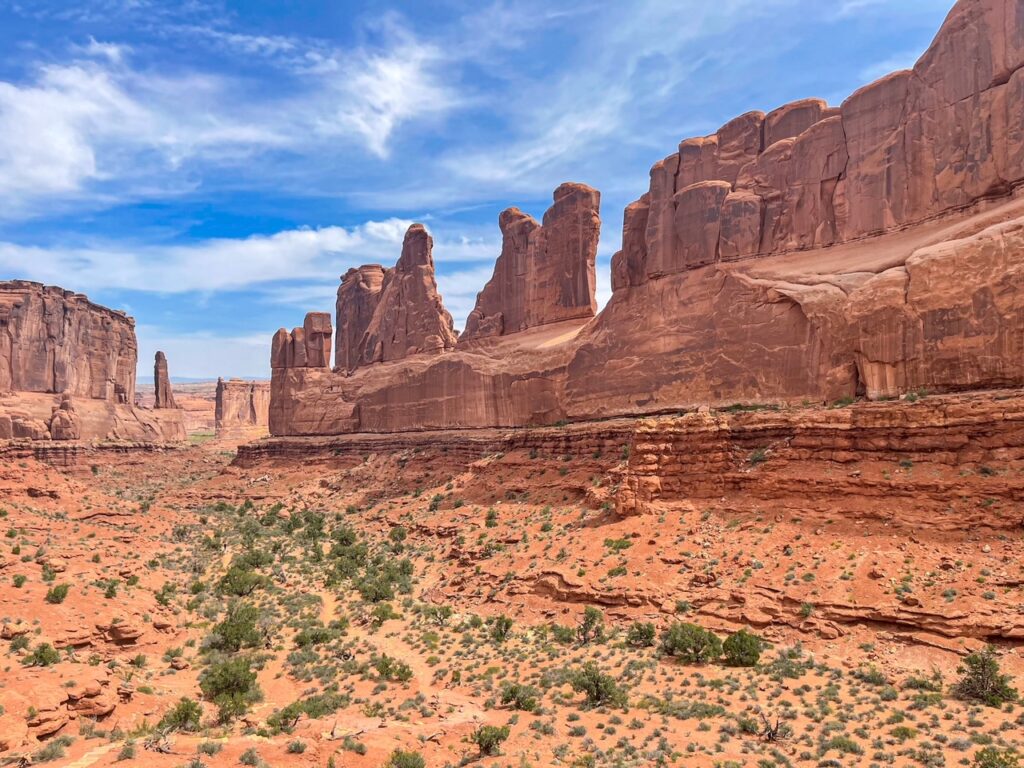 Best Time to Do the Road Trips
In our opinion the best times to do this road trip are from Mid-May to Mid-June and September to Mid-October. These are the best times in terms of weather for all areas of the road trip.
In the summer months, many stops along the way will be incredibly hot. Especially the destinations in and around Moab. Even Denver in the summer can be exceptionally hot as well. The mountainous areas of Colorado will be perfect to visit during the summer, however will have increased crowds and prices.
Outside of these times, from November to early May, weather can be unpredictable in the mountains of Colorado. Snow is not uncommon in the mountains of Colorado during these months, and actually many ski areas are even open still in Late May! Except disruptions and even the potential for road closures during these times. Some mountain passes will be closed during this time-frame.
Suggested Itineraries
The following are some suggested itineraries for getting from Denver to Moab in a variety of different routes. You can obviously pick and choose different spots and make your own as well.
Also be sure to check out our Denver National Park Road Trip Guide for more info and a way to see all Denver Parks efficiently.
Route 1: The More Direct Mountain Route
This is the more direct route of the options for the road trip. While this is not the exact direct route of 5.5 hours from Denver to Moab, it does stay closest to that route. However, we pick some really great stops and detours for you to explore and get the most of Colorado and the Rocky Mountains.
Hike through the picture perfect landscape of Maroon Bells
Soak in the hot springs of Glenwood Springs
Stand on the Cliff Edges of Colorado National Monument
Take a Drive up to the top of a 14er.
Route 2: Sand, Canyons, and Mountain Passes
This Route takes you through several amazing sites. This is not a direct route but you'll see the most along this route and the most scenic of the options provided. I love this option and it will take several days to a week to really see it all.
Highlights:
Take a drive or hike up the famous Pike's Peak
See Incredible Petrified Redwood Trees
Hike Along the highest sand dunes in North America
Experience the Dark Canyons along the Gunnison
Get up close to ancient Puebloan structures
Route 3: Mountains, Hot Springs and Fossils
I love this route with some very interesting spots along the north side of Colorado. However, I think unless you've done most of the spots in the other two, those would be better routes to experience Colorado and Utah.
Highlights:
Check out the Beautiful Peaks of Rocky Mountain National Park
Soak in the hot springs in Steamboat Springs
Explore the Canyons over the Yarra and Green River
Check out amazing Dinosaur Bones
See some of the best night skies in the Continental US
Where to Start the Road Trip
We wrote this guide starting in Denver. However, you can also start in Moab or anywhere else you want! The trip works just as well in reverse. However, getting to Moab is not as easy as we'll describe below.
Arriving to Denver by Air
The closest airport to Denver is Denver International Airport (DIA), located about 30 minutes drive outside of downtown Denver. The city is well connected to many domestic and international locations and generally the cheapest place to fly into for travel to the state.
Renting Cars in Denver
There are quite a few rental companies within Denver and at the Airport. We recommend checking prices on several sites like Kayak and Priceline both at the airport as well as within the city of Denver. I've found each place the cheapest at different times.
Getting into the city is possible via the light rail which runs from DIA to Union Station with several stops in between. Uber/Lyft are also available, but NOTE: Sometimes Uber/Lyft can be difficult to find late in the evening.
We also recommend checking sites such as Kyte, I've used them several times and they provide great service and delivery to your address in Denver.
Be sure to check prices whether you are doing a one-way or returning to the same address for all options as they can differ.
Arriving to Moab by Air
Flying into Moab can be expensive and schedule difficult as there are few options that service Moab (Canyonlands Regional Airport). United does have service from Denver and Delta provides service from Salt Lake City.
Car rentals are also difficult to procure and often expensive in Moab as well.
Other Options for Getting to Moab by Air
Salt Lake City: Salt Lake City Airport (SLC) is the easiest option for flight choices flying into Utah. And the best option for rental cars as well. Drive time from Salt Lake to Moab is about 4 hours (234 miles). We recommend that if you do this to spend time exploring great things to do in Salt Lake City.
Last Vegas: Las Vegas is not close to Moab, at about 7 hours (460 miles) from the city. However, Las Vegas has great connections and often cheap flights and car rentals. Also this is perfect if you are planning on exploring other National Parks including Great Basin NP, Zion NP, Bryce Canyon NP, Grand Canyon NP, and/or the areas like Hoover Dam, Page AZ (Antelope Canyon, Horseshoe Bend), Lake Mead, and Lake Powell.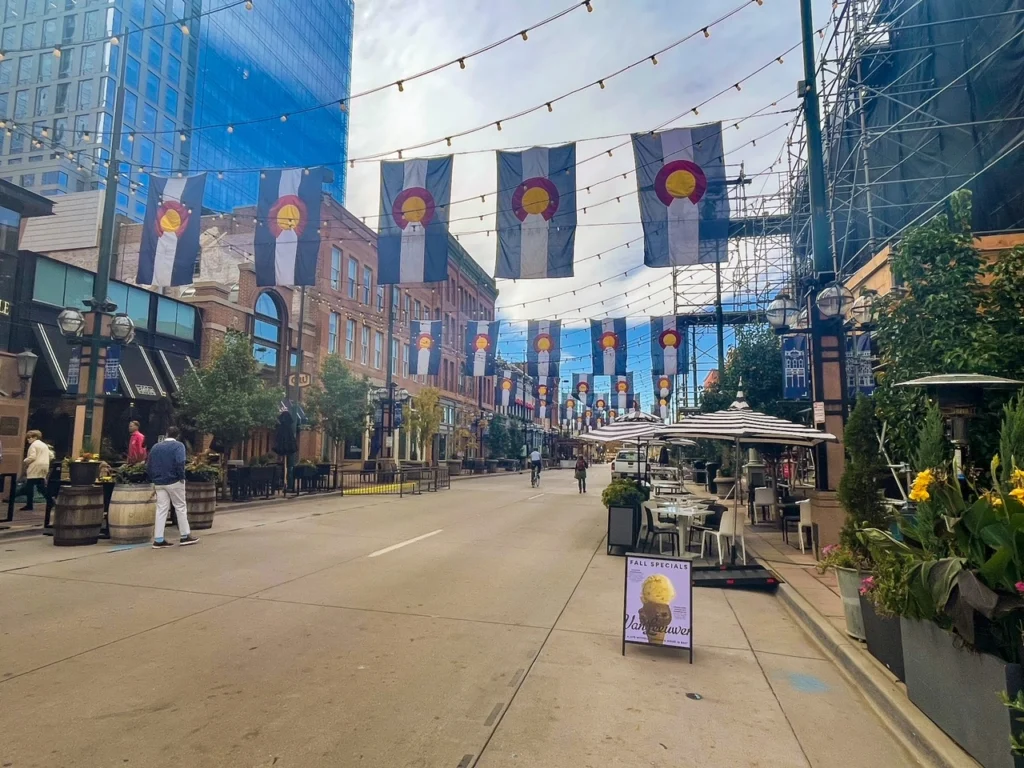 Denver
We start our journey where you'll probably fly-in; Denver. The capital of Colorado, Denver has an incredible assortment of things to do. While you may be restless to get your road-trip started, you should first spend a day or two experiencing Denver. It's worth exploring the Denver area and the nearby towns.
What to Do in Denver
Catch a concert at Red Rocks Amphitheater. Even if there's no show, you can enjoy exploring the park and even people-watch the folks with their crazy training regimens.
Explore the trendy RiNo (River North) neighborhood with its fun shops, good restaurants, and great street art.
Catch a Sports Game at one of the stadiums. Denver has some great sports teams.
Explore the exceptional Denver Art Museum. It's a really great space, and we definitely recommend checking out the American Indian artwork.
Get a surreal art experience at Meow Wolf – Denver.
WANT MORE: Explore our Best Things to Do in Denver
Where to Eat in Denver
Where to Stay in Denver
Detours from Denver
Boulder: My favorite of the towns near Denver. The small hip city has a fantastic downtown centered on Pearl Street. Be sure to check out our suggestions on Things to Do in Boulder.
Golden: The home of Coors has more to it than that. It's got a beautiful downtown with great restaurants. Also some fun hikes in the foothills including Table Mountain.
Rocky Mountain National Park: The incredible National Park is included within one of our itineraries. But if you don't go that route, a stop here is worth it. You'll need several days to see it all, but you can catch many highlights in a day.
Routes
From Here you Can go one of 3 ways or a mixture of stops between the routes. Descriptions of the routes are rbove.
Route 1: Denver to Moab via Grand Junction
This is the most direct of the various routes. It takes you from Denver along I-70 with sites in and around the highway. You could do the trip in 5.5 hours form Denver to Moab, but you'd be missing out on some amazing sites.
Our Suggestions are below.
Detour: Mount Evans
Added Time:
Located outside of Idaho Springs, Mount Evans is worth a stop if the weather is cooperating. The 28 mile road winds its way up over 7,000 feet to take you to the peak of this 14er at 14,130 feet. It has some spectacular overlooks and is worth it if you've not been on top of a mountain in the Rocky's before.
Due to popularity, reservations and timed tickets are required. Reserve on Recreation.gov
Mount Evans generally opens in late May and closes early October depending on weather.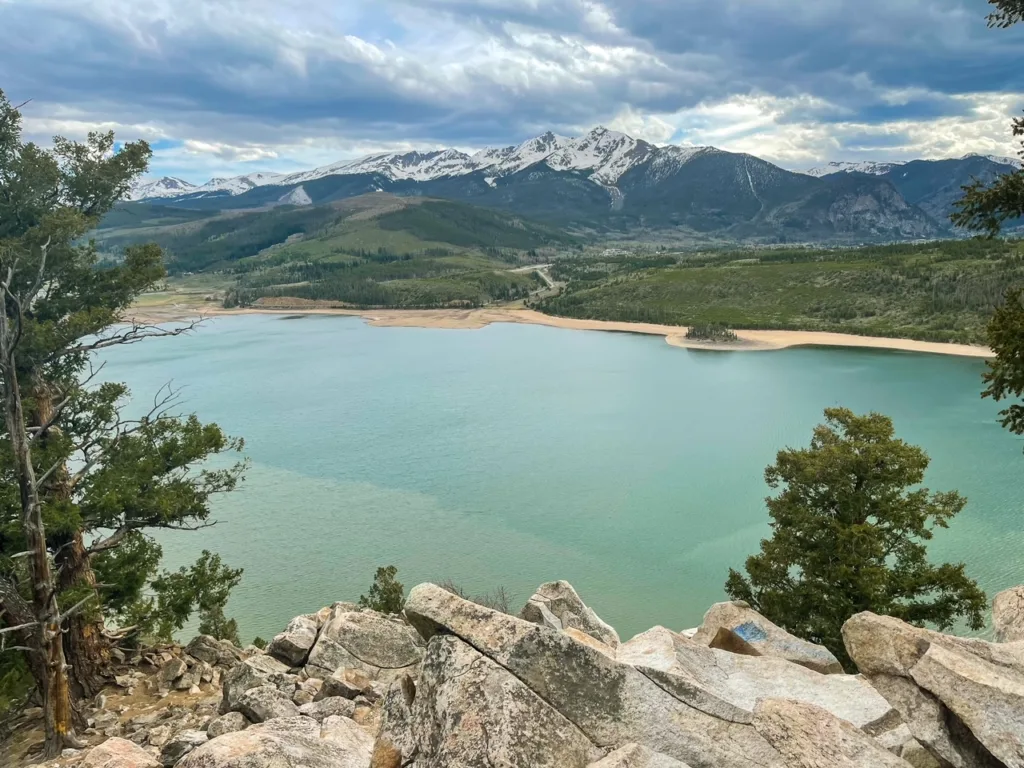 Silverthorne, Dillon, and Frisco
Distance from Denver: 67 miles (1 hr. 15 minutes)
The three towns around the Dillon Reservoir are a perfect spot to explore, eat, and even possibly stay the night. You'll have the ability to check out some great areas within the town or even check out local Breckenridge. The ski-town has a fantastic downtown, but we prefer staying in one of the above towns.
Things to Do in Summit County
Hike Buffalo Peak, one of the distinct peaks you can see when you enter this part of Summit county
Go Boating or paddle-boarding on Dillon Reservoir.
Explore the cute downtowns of Frisco and Breckenridge. Or take a 20 minute drive out to check out Vail.
Drive and walk around the Sapphire Point Overlook
Go skiing at one of the world-class ski areas. Some such as Arapahoe Basin often stay open until Late May/Early June.
Where to Eat
Bluebird Market is a great spot to please the entire crew. There's a great selection of options, fun games, and a cool vibe.
Timberline Craft Kitchen: lovely local favorite with great brunch and delicious comfort foods.
The Uptown On Main: Awesome spot with American fare on the cute Frisco main street.
Where to Stay
Hotel Indigo: I love this IHG option. It's got a great location next to Bluebird Market, super clean rooms, and great service. The parking garage overnight access is also clutch.
Frisco Inn on Galena: Love this B&B off Main in Frisco. Great location, food, and service.
AC Hotel by Marriott: Location isn't great, but good rooms, and easy on-off highway access. Plus Marriott points if that's your thing.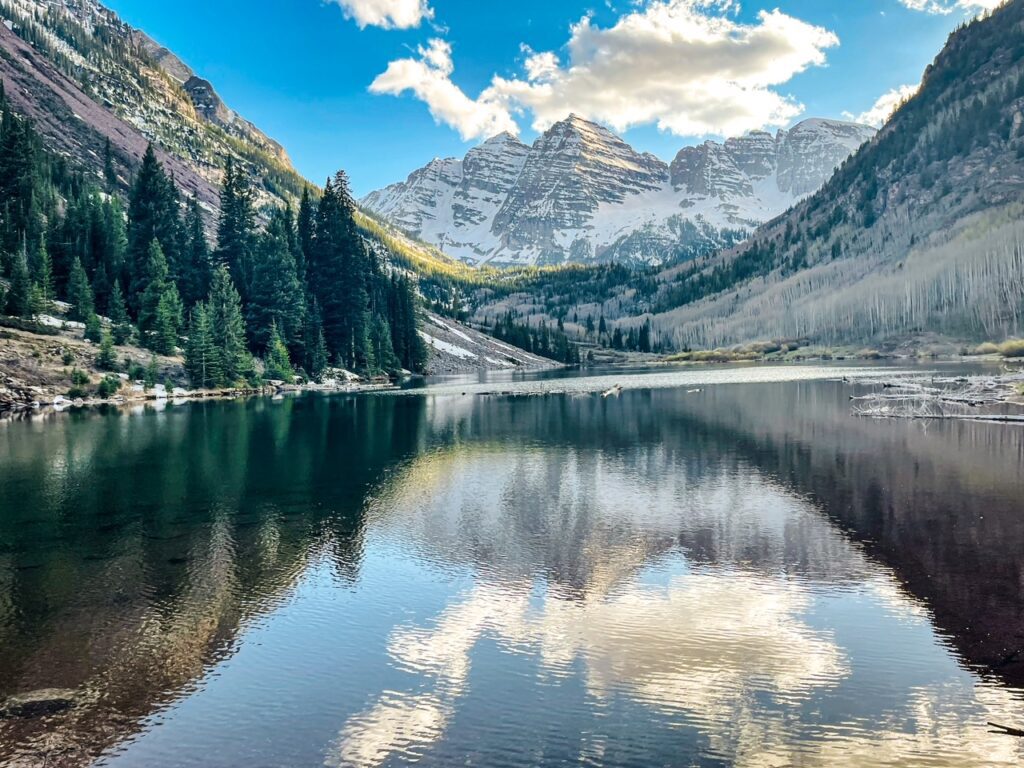 Glenwood Springs & Aspen
Distance from Silverthorne: 90 miles (1.5 hours)
Glenwood Springs is a perfect place to stop for the evening and explore the area. We recommend staying in the Springs and using it as a base to explore areas around it.
The cute town has a lot of great restaurants and shops and a few interesting sites in the area.
About an hour from Glenwood Springs is the town of Aspen. It's definitely worth a stop. In particular we recommend a stop at some of the areas around Aspen as well. You can stay in Aspen as well.
Things to Do in Glenwood Springs & Aspen
Go for a soak in one of the hot springs in Glenwood Springs. We recommend Iron Mountain.
Check out the gravesite of noted gunfighter Doc Holliday at Linwood Cemetery
Go for a walk or hike at the postcard perfect Maroon Bells. Follow our Maroon Bells guide on how best to plan your visit.
Go for a wander in the cute downtown of Aspen. One of the loveliest mountain towns in Colorado.
Check out one of the nearby ghost towns such as Ashcroft or Independence. Some ghost towns will require a high clearance vehicle to visit.
Where to Eat in Glenwood Springs & Aspen
The Pullman: Pricy and Popular spot with a great selection of pasta and entrees. Every time I pass this place it's always busy, so recommend reservations.
Slope & Hatch: Great tacos with good portioning.
Masala & Curry: Good Option for South Asian cuisine. Gets harder to come by once you leave Denver.
Mezzaluna: Aspen Italian restaurant with some good but pricey options. Service and food quality were excellent.
Where to Stay in Glenwood Springs & Aspen
Glenwood Springs Hot Springs Lodge: Great option if you plan to check out the Glenwood hot springs pool. Nice resort and walkable to restaurants.
Hotel Denver: Love this location next to the train station and restaurants
Courtyard by Marriott: Further walk to activities, but good option for clean rooms and Marriott Points. Or it's neighbor the Residence Inn
Grand Junction
Distance from Glenwood Springs: 87 miles (1.5 hours)
Located on Colorado's Western Slope, Grand Junction is the largest city in western Colorado. This formerly sleepy city has turned into a great destination for food, beautiful nature, and incredible outdoor adventure.
Things to Do in Grand Junction
Check out the great art galleries and shops in the historic Grand Junction downtown.
Go Mountain biking at nearby Powderhorn Mountain
Go hiking or biking at Grand Mesa and get both adventures and great views over the city.
Check out the Wild (technically feral) horses at Little Book Cliffs Wild Horse Range
Catch the sunrise or sunset at Colorado National Monument (below)
Where to Stay in Grand Junction
Hotel Maverick: Great Hotel, Clean Rooms, and excellent service. Also home to the Devil's kitchen above. Surprisingly affordable for the area.
Springhill Suites: Great for the Bonvoy Point junkie. Clean rooms, good service and location.
Tru Hilton: Stunningly clean hotel with immaculate rooms, good service, and good location. Hilton chain.
Where to Eat in Grand Junction
Devil's Kitchen: Our favorite spot, located in the Maverick Hotel. Good food.
Cafe Sol: Tasty, reasonably priced salads and sandwiches.
Bin 707 Foodbar: Tasty options, really good meat in particular. A bit pricey
Colorado National Monument
Distance from Grand Junction: 15 miles (30 minutes)
Located adjacent to Grand Junction, Colorado National Monument showcases some incredible landscapes of the American west. The road into the monument brings you up along the cliff over a beautiful canyon landscape. You'll see amazing rock formations, juniper trees, and expansive views over the landscape. There's plenty of hiking and camping adventures in the park. Even if you are short on time you should take the opportunity to take the scenic drive on rimrock road.
Things to Do at Colorado National Monument
Take in the scenic drive and the overlooks along Rimrock Road. Driving it will take you over an hour as it winds its way through the National Monument.
Hike Otto's Trail and see the unique rock formations. Including Independence Monument that is climbed every 4th of July
Take the Canyon Rim Trail along and see lots of great views. Be sure to continue past the bookshelf to the window rock.
Explore the Coke Ovens Trail, with its unique rock formations. You can view them from above or hike down for a better look
Where to Eat at Colorado National Monument
Where to Stay at Colorado National Monument
Colorado National Monument to Moab
Distance from Colorado NM to Moab: 116 miles (2 hours)
The scenery starts to change pretty dramatically. There are a few spots to stop off along the way and we recommend getting some photos of the landscape changing.
From here, you can scroll down to the end or click here to skip ahead to the section on Moab and activities in the area!
Route 2: Springs, Sand Dunes, Canyons & More
This Route goes further south taking in areas of Mountains, as well as some amazing National Parks in Colorado such as Great Sand Dunes, Mesa Verde, and Black Canyon of the Gunnison.
Colorado Springs
Colorado's second largest city, home to the US Olympic Committee and the Airforce Academy, has so much for visitors to explore in the area.
We recommend spending at least a full day or more in the area exploring Colorado Springs and things in the vicinity.
Things to Do in Colorado Springs
Where to Eat in Colorado Springs
Marigold Café & Bakery: Delicious bakery options as well as great savory meals as well.
Bird Dog BBQ: I'm told it's the best in the Springs, although I haven't tried others. Still excellent BBQ.
Where to Stay in Colorado Springs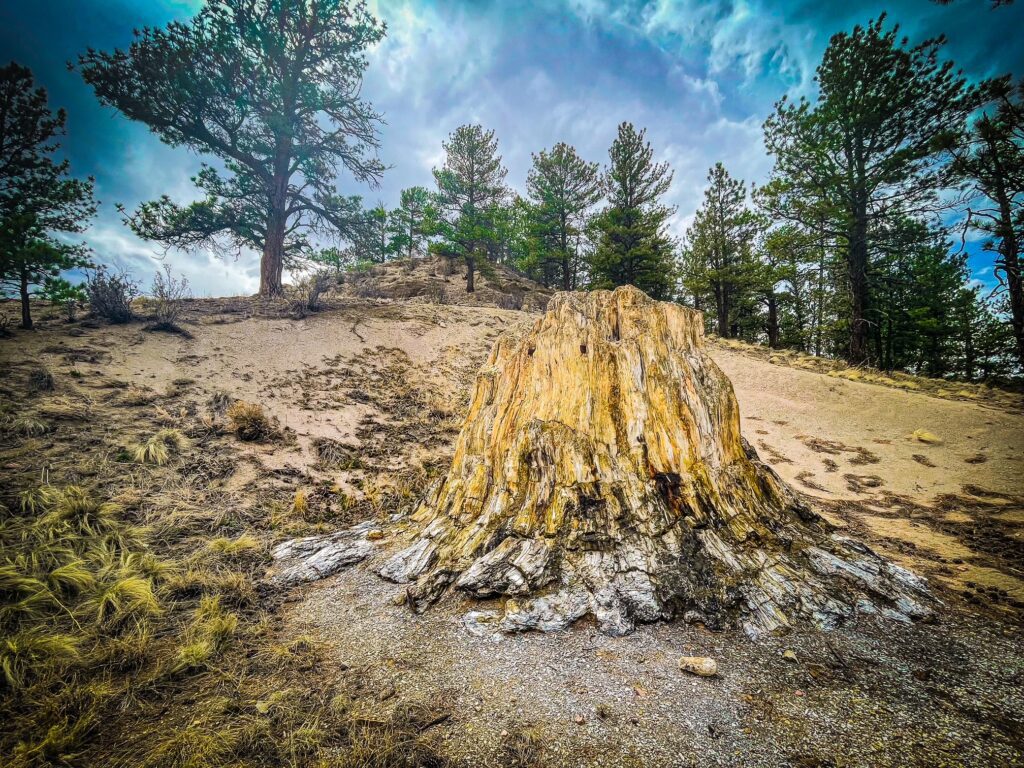 Detour: Florissant Fossil Beds National Monument
Time Addition: 1.5 hours driving + time on site (est. 2 – 4 hours)
Worth a quick side trip, Florissant Fossil Beds National Monument has beautiful trails, fossils, and petrified trees. It is one of the only places to see massive petrified redwood trees, something that feels certainly out of place in Colorado.
You can stop here and spend a couple hours exploring the park, the trails, as well as a historic homestead. The visitor center does a great job showcasing the various fossils found onsite. You won't really see these unfortunately on your hikes.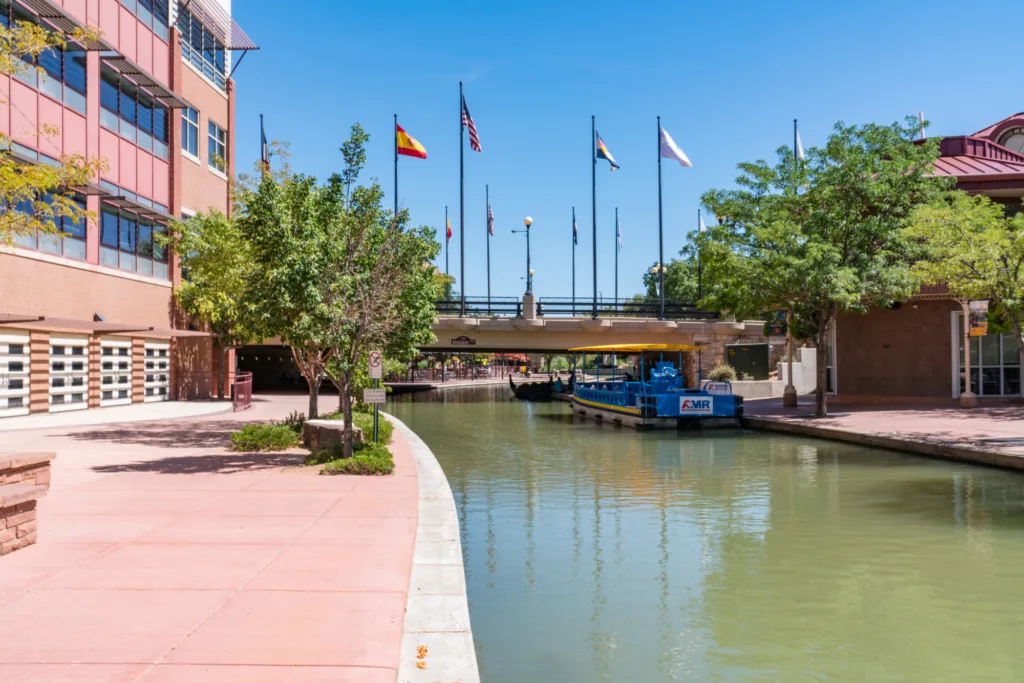 Quick Stop: Pueblo
Distance from Colorado Springs: 45 miles (45 minutes)
Pueblo Colorado is a great spot for a longer trip. But on this road trip, we think it's a perfect quick pit stop on the way to your other destinations. Located on the Arkansas River, the town has a cute downtown, some good restaurants and cafes, and beautiful outdoor activities.
Detour: Canon City
Time Added: 1.5 hours driving + time at location (est. 2 – 4+ hours)
Canon city, located about 1 hour from Pueblo is an outdoor mecca. And beyond that it's such a beautiful place to check out. The famous Royal Gorge Bridge is worth a view for its incredible feat of engineering. For those with more time, it's got a lot of activities to do in the area.
Things to Do
Great Sand Dunes National Park
Distance from Pueblo: 121 miles (2 hours)
The largest Sand Dunes in all of North America are shockingly in the state of Colorado. Great Sand Dunes National Park seems like it should not exist where it does, and yet here it stands; A beautiful dune field among the Sangre De Cristo peaks of Colorado.
You should plan to spend at least 2 or more hours in the park.
Things to Do
Hike up and Sled down the Incredible Dunes of the park
Go hiking in the mountain trails near the edges of the mountains. Just be careful of mountain lions!
Take a drive on Medano Pass. Note: High Clearance 4WD vehicles are required.
Where to Stay
Get a backcountry pass to camp under the stars on the sand dunes
Piñon Flats Campground: 88 sites; main campground of Great Sand Dunes NP. Located at the end of the road before it goes 4WD only.
Zapata Ranch: A destination unto itself. Plenty to do on the ranch in addition to visiting the nearby dunes.
Holiday Inn Express Alamosa: Standard Chain Hotel. Clean and well located with a free breakfast.
Where to Eat
Black Canyon of the Gunnison National Park
Distance from Great Sand Dunes: 190 miles (3.5 hours)
One of the most interesting parks in Colorado, the sheer, narrow walls of the canyon are impressive to see. The amazing part is the black walls are not the reason for the name, but instead due to the fact that many parts of the canyon see little sunlight (some as low as 6 minutes a day).
There are two areas of the park: the north and south rim. There is no way across within the park and requires a drive (1 hour) to access the other rim. Most visitors go to the South Canyon, and it is the more developed side of the park.
MORE?: Check out our Guide to Black Canyon of the Gunnison NP
Things to Do
Catch Sunrise and/or Sunset over the Canyon walls. Painted Wall, Chasm Point, Sunset View, and Exclamation Point are great options. Bring a headlamp
Hike out to Exclamation Point on the north rim and you'll see why it's an Exclamation indeed
Drive the North and/or South Rim and stop at the various overlooks
Catch the Stars. With clear skies and low light pollution, the National Park is stellar for stargazing.
Where to Stay
South Rim Campground: 88 sites; most popular campground in park. Reservations recommended.
North Rim Campground: 13 sites; more primitive than south rim site. First-come first-serve.
Holiday Inn Express Montrose: It's a good, clean hotel located close to the south rim of Black Canyon NP.
Stay Wise Montrose: We found the hotel to be decent, close to things, and also reasonably priced. For a spot to stay when you'll be out all day, it works well.
Where to Eat
Ouray and Silverton
Distance from Black Canyon of the Gunnison: 48 miles (1 hour)
The towns of Ouray and Silverton Colorado are located about 25 miles apart along the "Million Dollar" highway, so termed because it cost a million dollars a mile to build. The winding road is a dramatic drive through gorges and mountains and worth the jaw dropping views. The towns are amazing mining towns of yore with a quaint appearance and lots of outdoor activities to do.
Things To Do
Where to Eat
Where to Stay
Hot Springs Inn – Ouray: Great little Inn close to the Ouray Hot Springs. Further out of town.
Matterhorn Inn – Ouray: Great Location in the center of town, close to a lot of restaurants. Clean and well-maintained.
Grand Imperial Hotel – Silverton: Beautiful 19th Century Hotel with lovely rooms right in downtown.
Teller House – Silverton: Great option close to activities and reasonably priced
Detour: Telluride
Time Added: 1.5 hours + time at destination
Like many of the other mountain and ski towns, Telluride began life as a mining town. These days mining isn't the main draw, but the incredible mountains, ski area, and beautiful town are what bring the crowds.
Things to Do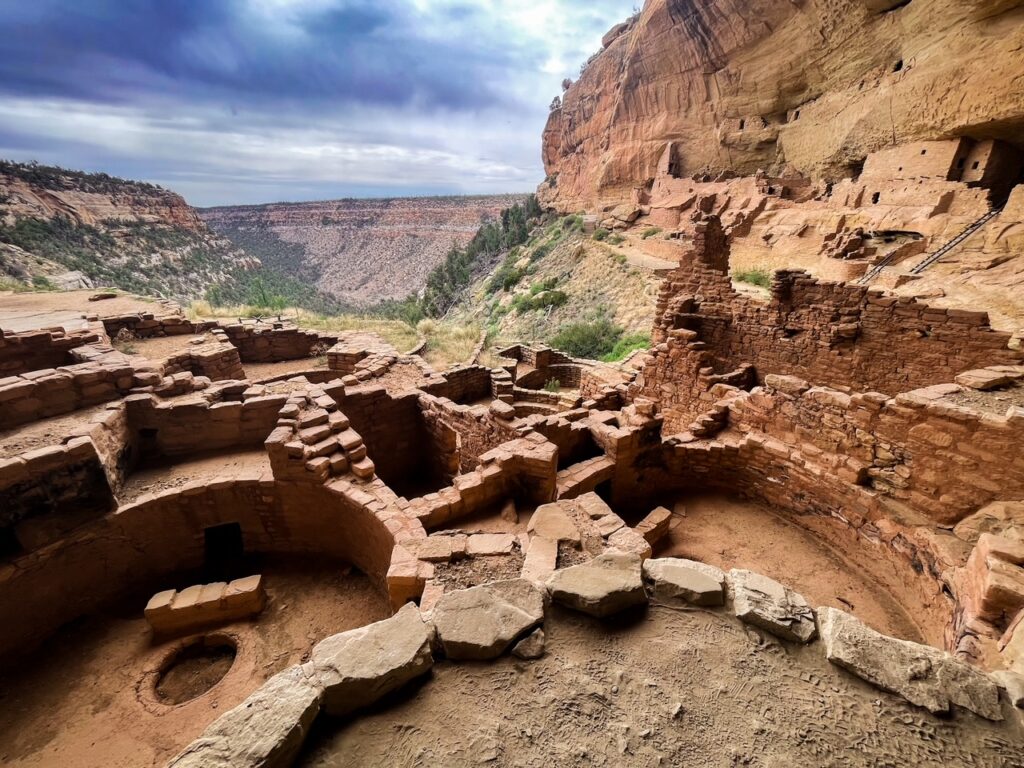 Durango & Mesa Verde National Park
Distance from Ouray: 71 miles (2 hours)
This southwest city is a perfect gateway to Southern Colorado adventures. There's so much to do in the area from hiking, biking, horseback riding, skiing, 4WDing, fishing, and so much more. Check out the hot springs, the ancient pueblos, good restaurants, and friendly folks in the areas in and around Durango. There's a few towns in the area, but we like Durango with its great restaurants and options given its distinction as the largest city in South Colorado.
Mesa Verde is a must visit if you are in the area. The ability to get close to these incredible cliff, pit and other historic dwellings is one of the best National Park experiences. You can even hike up and through some of the dwellings with ranger (booking required) which is the highlight of visits here.
MORE?: Check out our Guide to Mesa Verde National Park
Things to Do
Canyon of the Ancients National Monument: The under-visited National Monument has the highest known concentration of Puebloan artifacts.
Take a ranger-led tour of one of the cliff dwellings. Tickets are required. Check out our Cliff dwelling guide on what and how to visit.
Take a walk out to step-house. One of the best examples of cliff and pit dwellings and doesn't require a separate ticket!
Go for a soak at the redesigned Durango Hot Springs
Be sure to read our Guide for more things to do at Mesa Verde
Where to Stay
What to Eat
Far View Terrace: Mesa Verde NP. Located near the far view lodge. Offers cafeteria style eats/service in a nice little complex.
Spruce Tree Terrace: Mesa Verde NP: Located close to Spruce Canyon, the Archaeological Museum, and Spruce Tree House. Has a gift shop and restaurant/café. The food here is actually pretty affordable and quite good.
Taco Libre – Durango: Delicious Mexican selection and libations. Overall reasonably priced.
Himalayan Kitchen: Good selection of Indian and Nepali dishes. Really enjoyed the food at this place.
Absolute Bakery & Cafe: Popular Local spot for Breakfast and Lunch. Really good food and friendly service. Great Coffee too.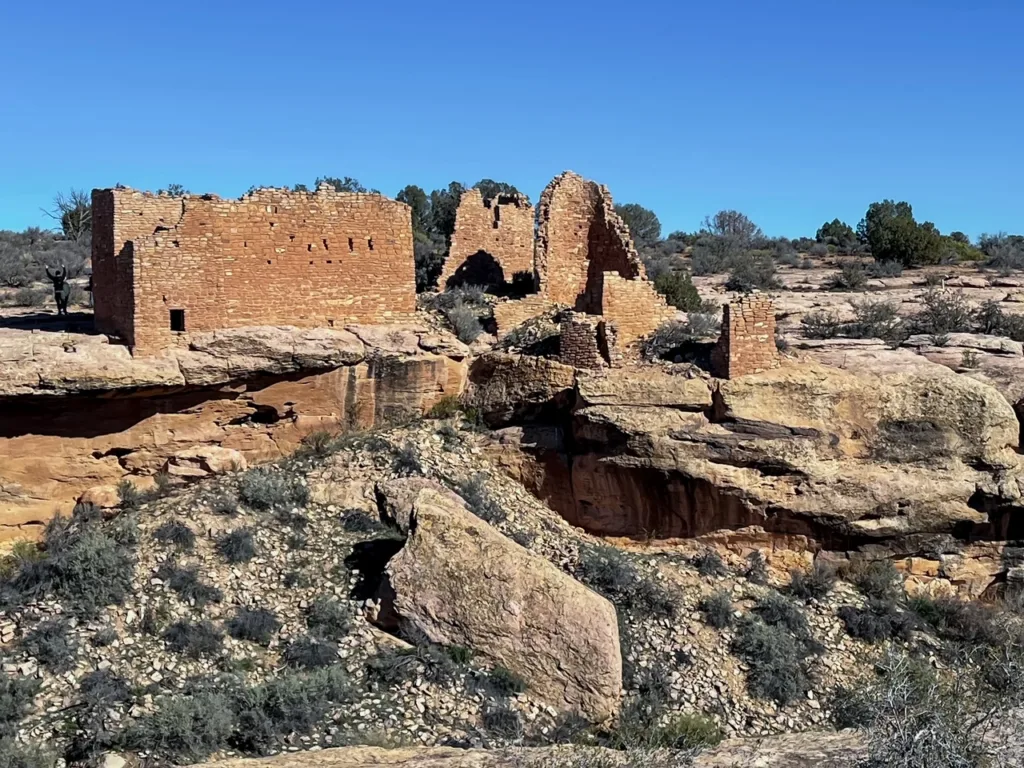 Detour: Hovenweep National Monument
Time Added: 1 hour driving + time on site (est. 1 – 2 hours)
Hovenweep National Monument preserves 6 historic Puebloan villages that date between 1200 and 1300 A.D. The site takes you along a canyon rim where you can visit various buildings and even wander into the canyon as well. Its relative obscurity and location make it a great place to avoid crowds and get close to these amazing structures.
Worth it mostly if you are a National Monument counter like myself. Especially if you are visiting Mesa Verde and/or Canyon of the Ancients above, you'll see similar types of buildings.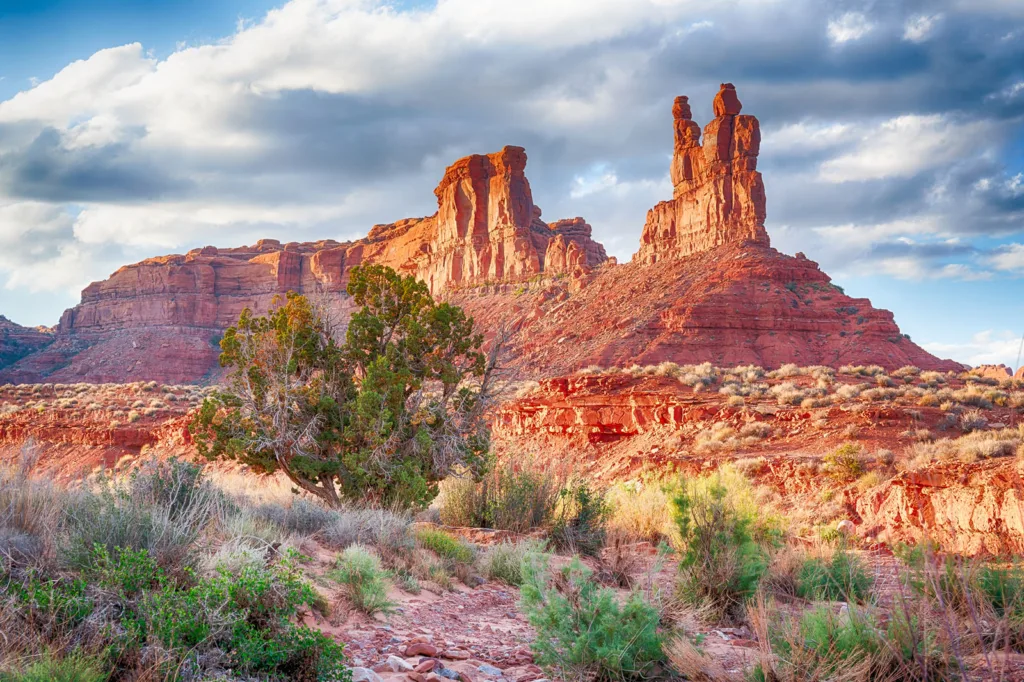 Detour: Bears Ears National Monument
Time Added: 3 hours driving + time on site
The Bear Ears National Monument protects over 1 million acres of land centered around a pair of buttes that look like "bears ears". The land and areas of bears ears have been sacred to many different tribal groups that have lived and traveled through these lands. The area is huge, and there's lots of incredible outdoor activities and places to explore. You can spend hours or days exploring the area and this is a destination unto itself.
Things to Do
Check out the beautiful rock formations in the Valley of the Gods
View Ancient Puebloan Cliff Dwellings along Comb Ridge
Bike through amazing desert landscapes
Take in gorgeous views from hikes in the mountains
Detour: Four Corners Monument
Time Added: 1.5 hour driving + time on site (est. 15 – 30 minutes)
In our opinion this is not worth the detour. However, given its prominence in culture and media, lots of folks ask about it. Four corners monument, is a native american managed site that is located on the border of Utah, Colorado, Arizona, and New Mexico. Visiting it reminded me of the Simpsons episode where they visit "5 corners" (a place that doesn't exist). Admission fee required.
Things to Do
Take Photos of yourself and travel companions in different states.
Shop various trinkets at the stores that line the four corners plaza
Get a navajo taco (indian fry bread with toppings) at one of the stands
Detour: Monument Valley
Time added from Durango: 3 hours driving + time on site (2+ hours)
Timed added with Bear Ears: 1.5 hours driving + time on site (2+ hours)
One of the most iconic views in America, Monument Valley is something that most of us have seen photos of but know little about. The site became famous through a variety of movies including Forrest Gump. The most iconic of the places is the mittens.
Fees: The monument Valley Navajo Tribal Park has an entry fee of $8 per person. Check this site for any changes or updates.
Things to Do
Get the iconic photo of the site features (from the visitor center)
Drive the scenic loop around the various monuments
Take a private tour to get closer to some monuments and visit less seen sites
Check out Mexican Hat and other nearby rock formations
Get the view from "Forrest Gump" along Highway 163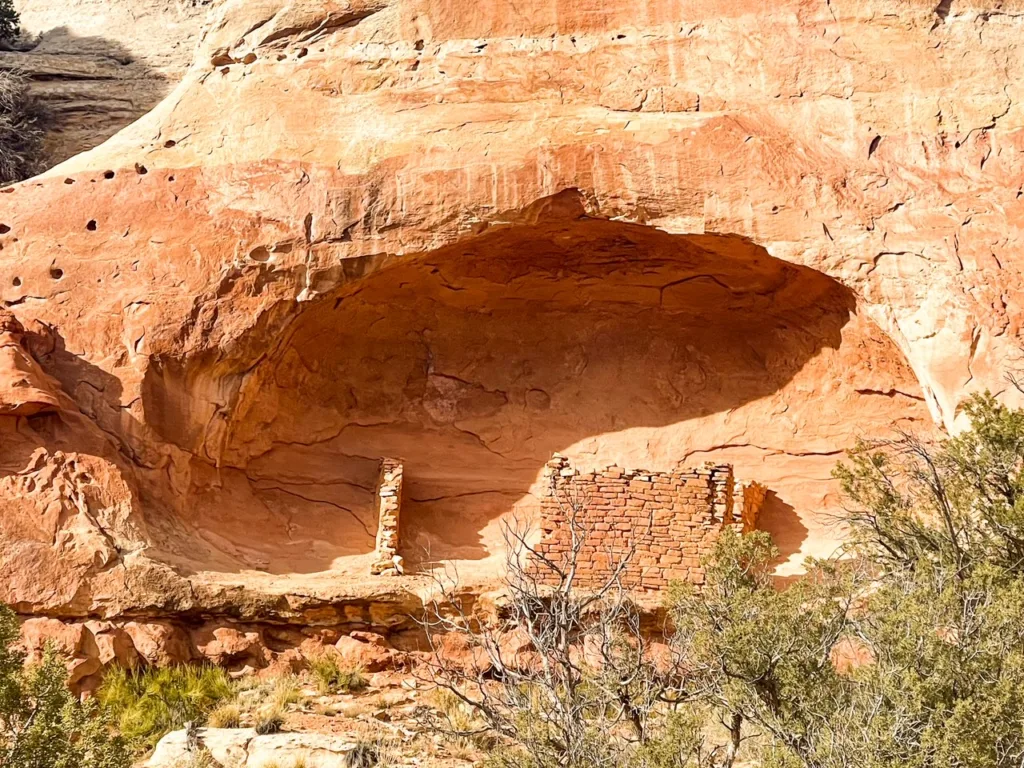 Durango Colorado to Moab Utah
Distance: 160 miles; 2.5 – 3 hours
The drive between Durango and Moab is quite scenic and incredible to watch the landscape change from mountains to deserts. You'll see lots of amazing rock formations and have opportunities to see pueblos, arches, and more.
We recommend checking out at least some of the Detours above. You'll be able to string some of them together so they won't seem as long.
After. Scroll Ahead after the next Route, or click here to skip to our section on Moab, Arches NP, Canyonlands NP, and more.
---
Route 3: Mountains, Hot Springs and Fossils
This route takes you through Rocky Mountain National Park and north along the upper part of Colorado. Through Steamboat Springs, Dinosaur National Monument before turning back down towards Moab.
This road trip is best for those who've done the sites on the other routes. Not to say this isn't a fantastic option, it's actually one of my favorites. It's just that the other routes pack in more highlights.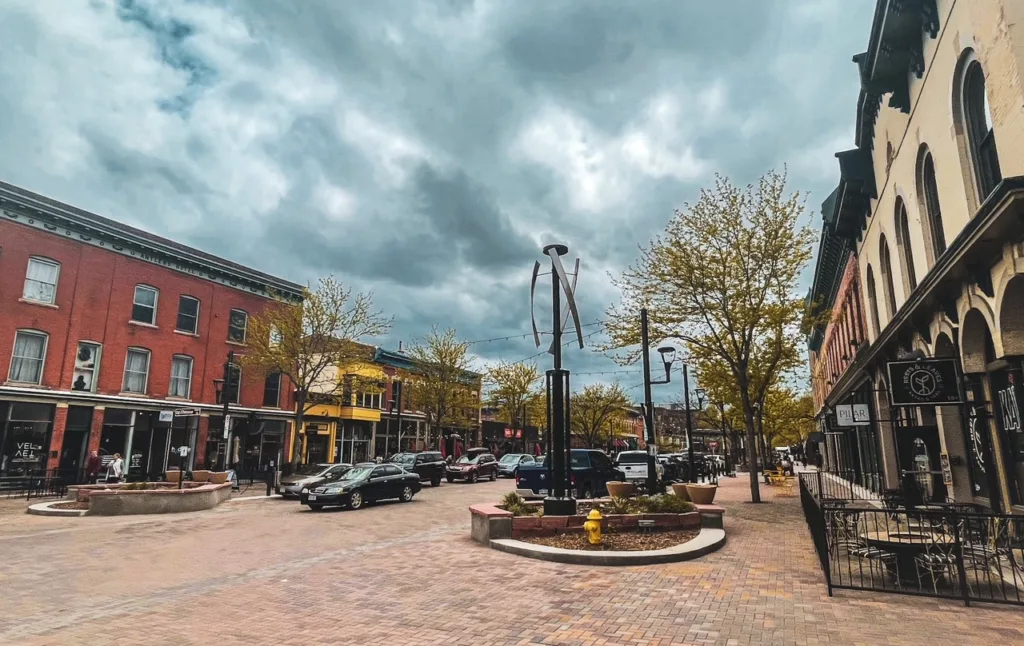 Detour: Fort Collins
Added Time: 45 minutes driving + time on site
There are for sure ways to get to Rocky Mountain National Park by missing Fort Collins. But if you have time, a quick stop here is definitely worth it. Even if for a bite or a quick stroll. Fort Collins is one of the larger Colorado cities, and a college town. There's a lot to do and affordable restaurants too.
Things to Do
Grab food, coffee, or shop in the historic downtown
Go Rafting on the La Poudre river
Hike and Explore the Beauty of Horsetooth Reservoir
Take a wander through the Spring Creek Botanical Gardens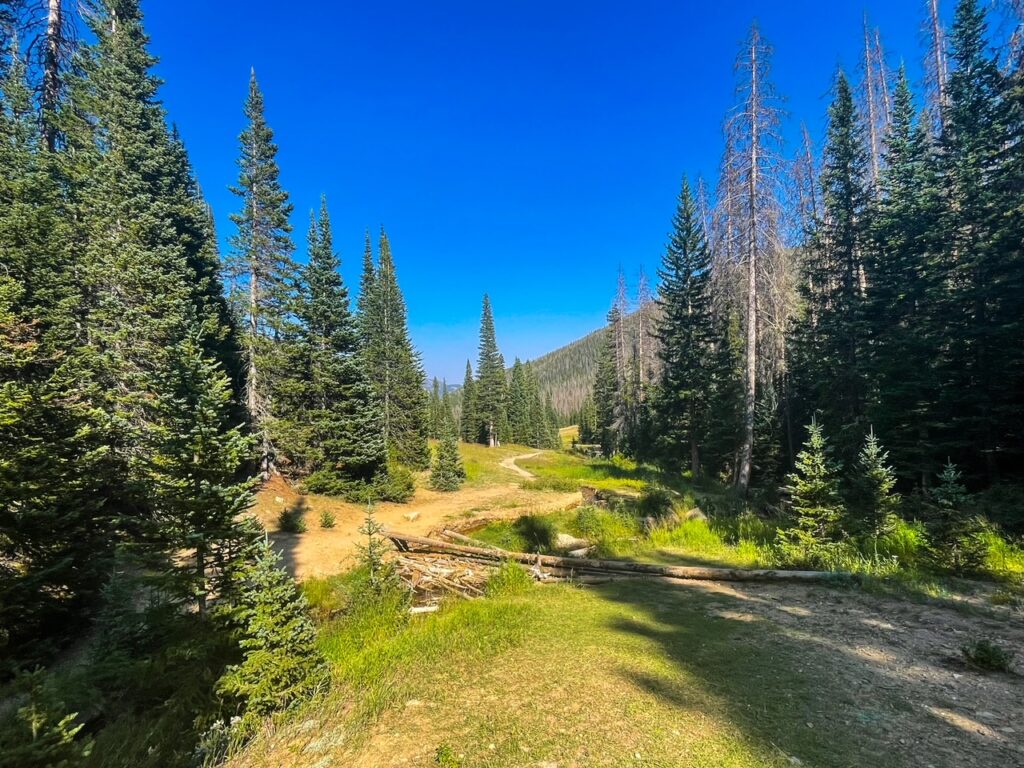 Rocky Mountain National Park & Estes Park
Distance from Denver: 68 miles (1.5 hours)
Established in 1915, Rocky Mountain National Park protects the incredible peaks, forests, and alpine lakes of this area of the Rocky Mountains. The park straddles the continental divide (the line that divides which way rivers flow) which runs the length of Colorado. At over 415 sq. miles, the park is huge, and there is no shortage of places to explore. It would take weeks or more to see everything, but even with a short time you can see many highlights in a day or two.
Much of the park is situated at higher elevations, so be sure to be cautious of altitude sickness if you are not acclimated. The highest point in the park is Longs Peak (14,259 ft) and the highest road passes over 12,000 feet.
Timed Entry Requirements
These days Rocky Mountain NP is very popular, so timed tickets are required for entry. And there's a separate pass for ones that include bear lake. You can enter outside of those times if you don't have a pass, but you won't be able to re-enter (if you leave) during these times.
Park Access: Access to the Park (no bear lake) between 9am – 2pm
Park Access+: Access to Park (w/ bear lake) between 5am – 6 pm
Things to Do
Catch the light and walk among the Ponderosa Pines at Bear Lake
Take the scenic drive of Trail Ridge Road, which crests over 12,000 feet as it winds its way through the park
Drive the one-way Old Fall River road, that follows a old route through the Rocky Mountains
Explore the beautiful building and grounds of Stanley Hotel, famous from the Shining
Take a hike to one of the many beautiful Alpine lakes such as Emerald Lake or Dream Lake
View Colorado Wildlife like Bighorn Sheep, Moose, Bears, Mountain Lions, Pikas, and More.
Hike out to a waterfall, such as Alberta Falls
Take a Horseback Ride through the Park. There are even two stables in the Park, Glacier Creek Stables and Moraine Park Stables. There are more options in Estes Park as well.
Climb up high via ferrata in Estes Park.
Where to Eat
Where to Eat
There are No Hotels inside Rocky Mountain NP, but there are 5 campsites (reservations required)
4 Seasons Inn: Beautiful lodge in an idyllic location along Fall River.
Inn on Fall River: This lovely lodge offers comfy rooms with views over the fall river.
Columbine Inn: Simple, clean motel style rooms. Overall pretty comfortable and close to activities.
Alternatively or for your last night, you can stay in Grand Lake (below) to get a headstart on your next stop.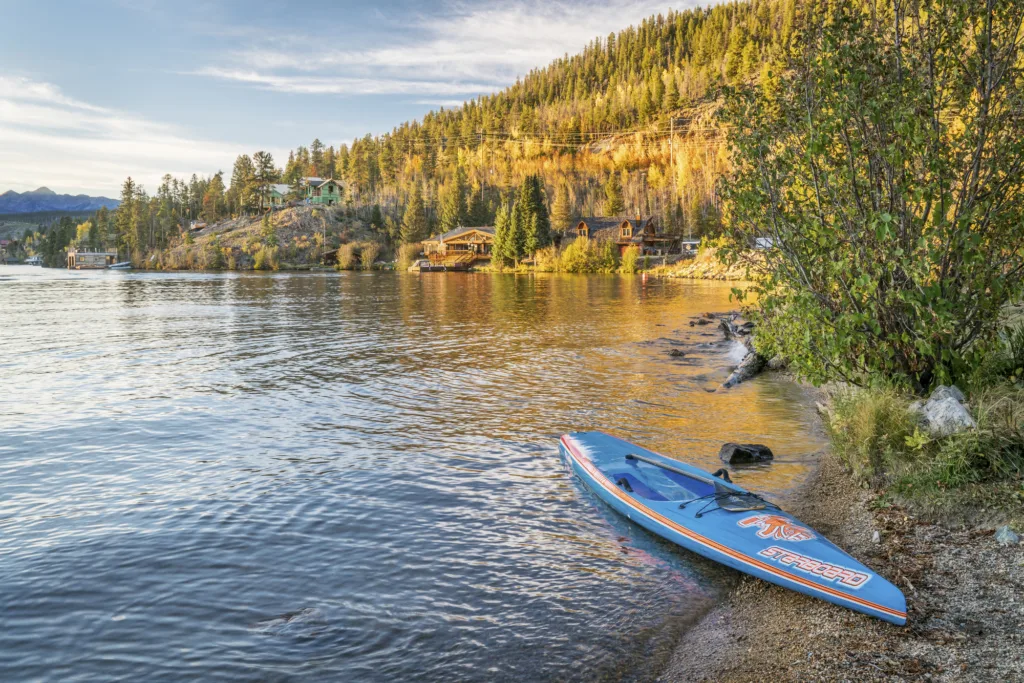 Grand Lake
Distance from Rocky Mountain NP: Outside west entrance
Sitting on the edge of Rocky Mountain National Park, Grand Lake is both a great place to stay for visiting the park as well as a destination. There's a lot to do in the area, and since we cover the National Park above, we want to focus on more things in and around the town.

Grand Lake is also a perfect spot to stay for visits to Rocky Mountain National Park, in particular for activities on the west side of the park.
Things to Do
Where to Eat
Where to Stay
Grand Lake Lodge: Excellent rooms. Conveniently located for the NP although not walking distance to downtown restaurants.
Timberline Inn: Located near Shadow Mountain Lake. Double, Quad, and Suites (with Kitchens) available.
Spirit Lake Lodge: Nice location near restaurants. Clean, comfy rooms.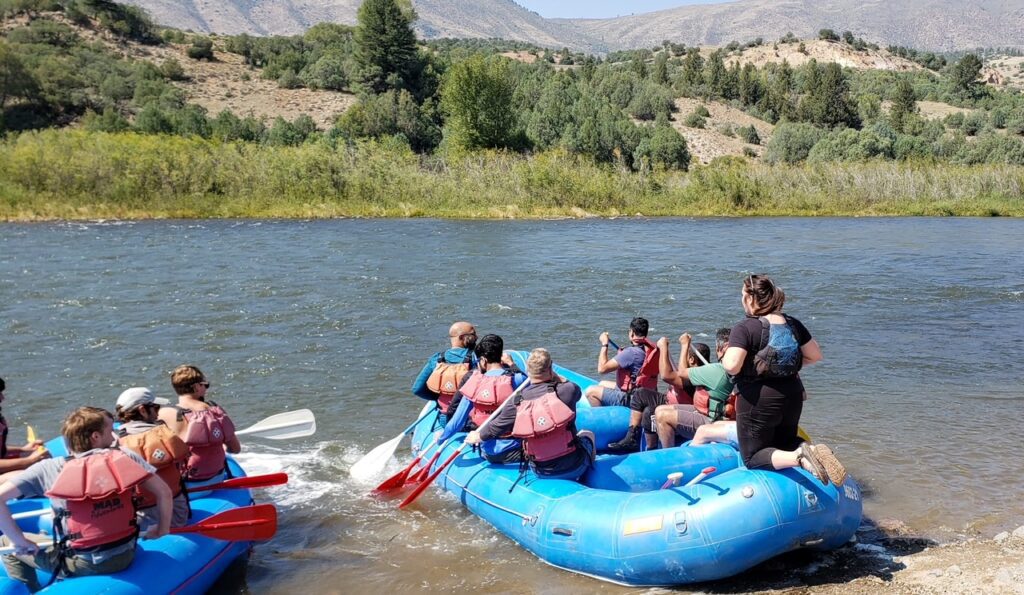 Quick Stop: Kremmling
There's not a lot to the town of Kremmling, but what it does have is several rafting outfits. Kremmling is a great point to book a rafting trip on parts of the Colorado River. There are several companies that plan tours, and they have half and full day options available.
There are a few in town and I've used Mad River Adventures and really enjoyed the trip.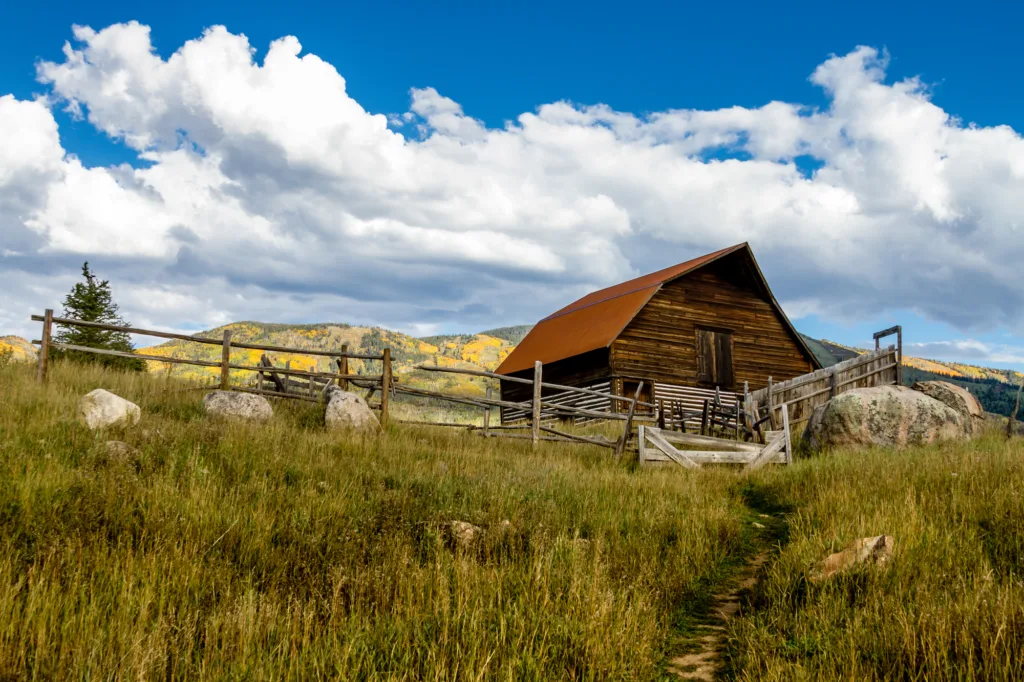 Steamboat Springs
Located in the stunning Yarra Valley, the town of Steamboat has always been a destination location. The town is famous for its skiing, outdoor adventures, and hot springs. It also has one of the best downtowns, with a lively atmosphere, good restaurants, and fun galleries and stores. There's a lot to do in Steamboat, and if your time permits you could spend days exploring.
Things to Do
Go for a soak in Strawberry Springs. If your car is not up for the rough road, there are shuttles available.
Walk, Eat, and Shop your way around the historic downtown.
Hike out to Fish Creek Falls
Go for a Hike along the Yampa River
Go Horseback Riding in and around nearby Mountains and National Forests
Hit the Trails on your Mountain Bike through the Yampa Valley
Where to Eat
Where to Stay
Bristol Hotel: Great Hotel Option in the center of things in Steamboat Springs downtown
Nordic Hotel: Budget Hotel Option close to the downtown action. First place I ever stayed in Steamboat.
Residence Inn: Outside of downtown a bit, but a great hotel option. And Marriott Points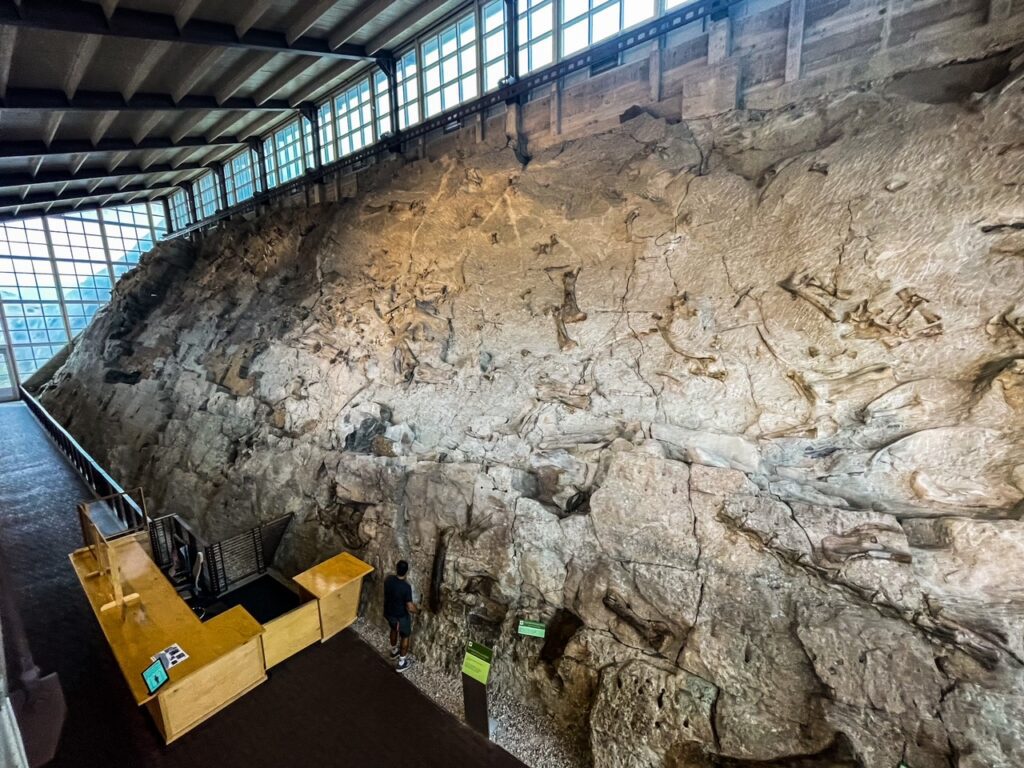 Dinosaur National Monument
Located on the border of Colorado and Utah, Dinosaur National Monument is a massive park with dinosaur fossils, imposing canyons, wild rivers, and lots of land to explore. The site has 4 entrances, but we'll focus here on the two main ones that will be on your road trip, the dinosaur quarry and Canyons entrance.
MORE?: Check out our Guide on Dinosaur National Monument
Things to Do
Check out the Incredible Dinosaur Fossils at the Quarry Exhibit Hall
Explore the area of Cub Creek and be sure to view the Petroglyphs
Take a drive along Echo Park Road (Requires High Clearance 4WD)
Go Stargazing in one of the darkest areas in the lower 48 states.
Go Rafting on the Green or Yampa river. Day and Multi-day trips are available with local outfits.
Take a hike along Harper's Corner and get some incredible views into the canyons.
Hike through quiet desert landscapes and a wash on the Sounds of Silence Trail
Where to Eat
Donnie's Cafe: Good option for basic diner fare. Good breakfast in particular. Hearty portions.
Antica Forma: Probably the best pizza in Vernal.
Swain Brothers: Pricier place with good steaks and other hearty options. Large variety of food choices
Where to Stay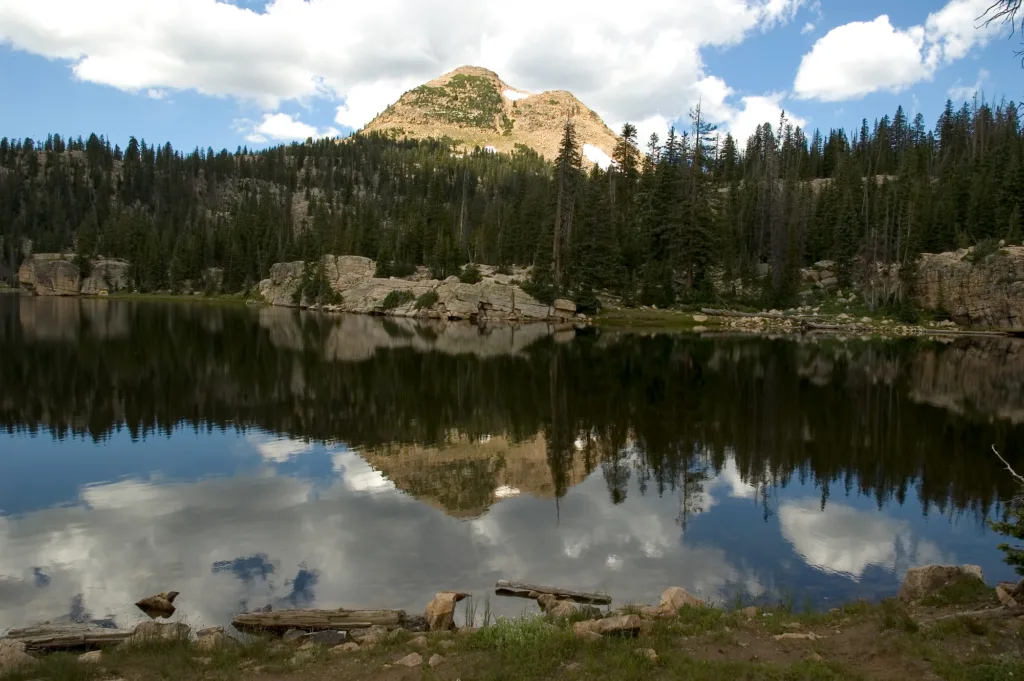 Detour: Park City
Added Time: 3 hours driving + time at location
The beautiful town of Park City is a skier and luxury paradise. With two world-class ski areas, Park City Mountain Resort and Deer Valley Resort, the area is famous for its outdoors, restaurants, film festival, and shops.
There's also a fair bit to do in the area as well as within a few hour drive of Park City too. You can spend as little or as much time here as you'd want.
If you are pressed for time, we'd recommend skipping it. There's a lot more to do and you can always make as its own trip.
Be sure to Check out our Day Trips from Park City for more inspiration!
Things to Do
Dinosaur National Monument to Moab
Distance: 190 – 240 miles (3 – 4.5 hours)
From Dinosaur National Monument to Park City you have basically two ways to go. You can head due south and travel through Grand Junction, or head west and south through Uintah and Ouray Reservation along several National Forests. There's no wrong way to go indeed. I like both routes for scenic drives and they are quite different.
If you head south through Colorado, check our information on Grand Junction and Colorado National Monument in Route 1 for information on things to do.
The trip through Utah is beautiful with national forests and several fossil areas. Many of these fossil areas such as Cleveland-Lloyd Dinosaur Quarry can be tricky to go to with unpaved roads and poor signage.
Or scroll down for our section on Moab and things to do beyond this trip.
---
Moab
Moab many years ago used to be a sleepy desert town. These days though it is known for being an outdoor Mecca. It really is quite an amazing place, and one of my favorite places in Utah. For those who love hiking, mountain biking, and 4WDing, you'll find so much to do in the area.
In addition there are two National Parks next to Moab, Arches NP and Canyonlands. There's a lot to explore in both places as well.
Things to Do
Get some jaw dropping view from Dead Horse Point State Park
Go on a 4WD adventure either with your own car or a local outfit
Do a Whitewater Rafting Trip on the Colorado
Explore one of the local Slot Canyons
Shop and Eat at quirky spots in Downtown Moab
Explore the best area Rock Climbing locations
Where to Eat
Where to Stay
Scenic View Inn: Located south of downtown. Good rooms and generally reasonable prices.
Radcliffe Moab: Great Rooms, with a good onsite restaurant. Not super walkable but has nearby restaurants. 
Best Western Canyonlands: Perfect location close to downtown attractions.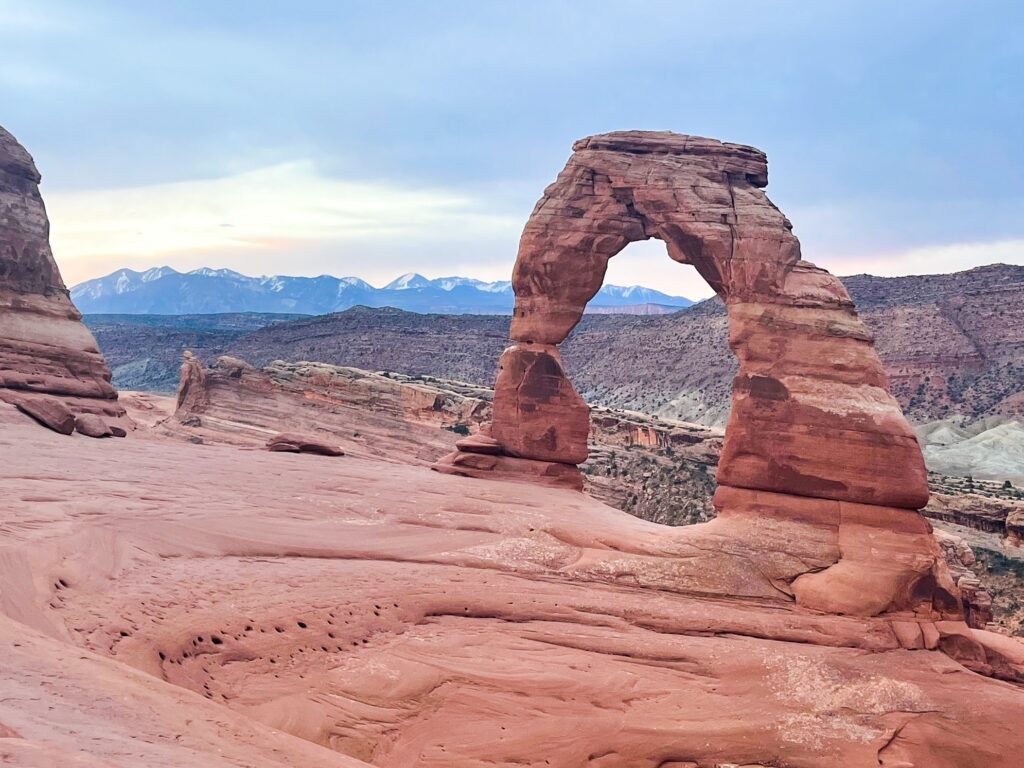 Arches National Park
Arches National Park may be smaller than other parks in Utah, but it packs a punch. It has the highest concentration of natural sandstone arches in the world. That's quite a feat. You'll maybe even be "arched out" by the time you explore. Also, the delicate arch, probably the most famous of the arches in the park (and adorns the Utah license plates) is a must.
Things to Do
Catch Sunrise or Sunset at Delicate Arch
Explore the Devils Garden trail, one of the Best in Arches
Get Lost in the imposing walls of Fiery Furnace
Check out the gravity defying Balance Rock
MORE?: Be Sure to Read our Guide on Best Hikes in Arches National Park!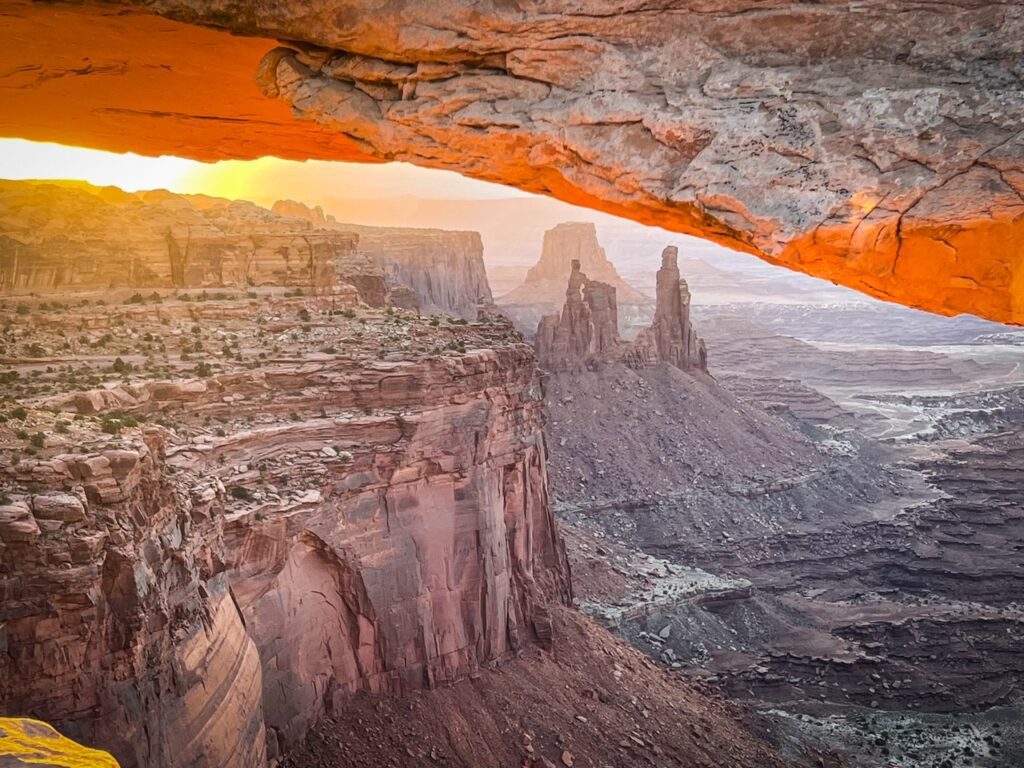 Canyonlands National Park
Most people only get to see a small portion of Canyonlands, but this impressive National Park is the largest in Utah. The park is divided into four areas, Island in the Sky, Needles, The Maze, and Horseshoe Canyon.
For much of the park you'll need a high-clearance 4WD, extra gear, and some know-how to get to many of the places in the park. Areas like the Maze do require a level of expertise to navigate. But other areas, such as Island in the Sky are perfect for all visitors, and have lots of amazing things to do.
Things to Do
Catch sunrise at Mesa Arch
View the Beautiful spires of the Needles
View the incredible petroglyphs at Horseshoe Canyon
Try to figure out origin of the Upheaval Dome
Explore the Maze if you have the vehicle and technical know-how
Take a scenic drive on Shafer Trail
Bike the incredible White Rim Road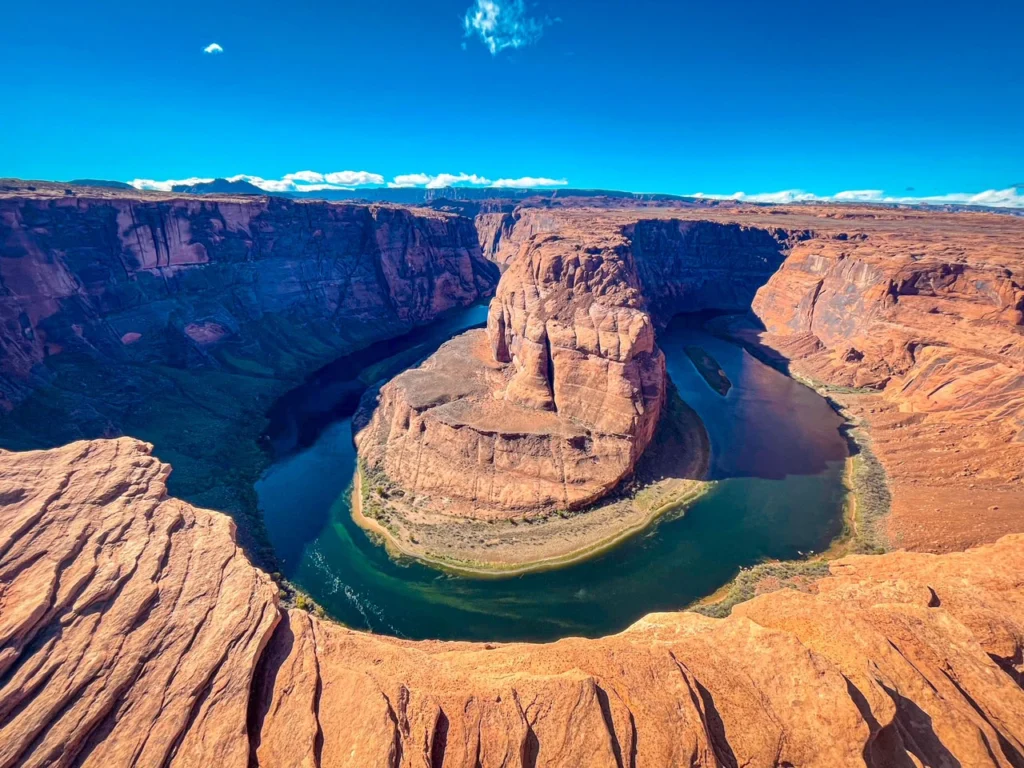 What to do Next?
I know many of you are doing this road trip as part of a larger trip across the United States. So there are probably other locations you are looking for too. We highlighted some of the best options and some things to do when you get there. We try to link where we have a written guide as well (more coming soon).
Zion National Park
Distance from Moab: 350 miles (5 hours)
Zion is the most famous of the Utah parks and for good reason. This incredible park is full of amazing adventures, views, hikes, canyons, and more. There's enough to fill up a few days or a week or more!
We recommend including this as part of a trip to Bryce Canyon NP.
Highlights
Take the heart pounding hike up and along cliff sides to Angel's Landing
Hike through the imposing walls and virgin river of the Narrows
Look across the canyon and valley from Canyon Overlook
Get the beautiful views from Observation Point
Escape the crowds exploring parts of Kolob Canyon
Bryce Canyon National Park
Distance from Moab: 260 miles (4.5 hours)
Bryce Canyon is famous for the various hoodoos within the canyon of the national park. You'll see hoodoos in some of the other parks such as canyonlands, however, nothing in the scope of Bryce however.
We recommend doing Bryce Canyon in Combination with nearby Zion National Park.
Highlights
View the amphitheater of hoodoos from Inspiration Point
Drive and and gawk along the southern scenic drive
Enjoy the stars in one of the clearest place to Stargaze
Get closer to Hoodoos along the Navajo Loop Trail
Take a short hike to the waterfall on Mossy Cave Trail
Great Basin National Park
Distance from Moab: 334 miles (5.5 hours)
Great Basin is one of the most beautiful places to explore in the state of Nevada. It has high alpine peaks, lakes, bristlecone pines, incredible cave structures, and even a glacier. There's a lot to explore in this area, and even get away from civilization with some of the darkest skies in the world.
Highlights
Explore the Beautiful cave structures of Lehman Caves
Take a hike up to one of several Bristlecone Pine Groves
Get a view of a serene Alpine Lake
View the only glacier within the state of Nevada
Hike to the peak of Wheeler Peak
View the Stars from a high alpine campground
Capitol Reef National Park
Distance from Moab: 156 miles (2.5 hours)
Capitol Reef National Park is one of the lesser visited parks and one of the most beautiful too. The main feature of the park is the large jutting of earth that makes up the center of the park, called a Waterford Pocket. This "earth wrinkle" is a striking rock formation that extends over 100 miles, which makes this park very long but not as wide too. There's so much to do in the park from the Fruita Historic District, to slot canyons, creeks, natural arches, and 4WD adventures.
Highlights
Take a hike through a slot canyon at the Grand Wash Trail
Hike out to the natural bridge at Hickman Bridge
View Petroglyphs at Petroglyph Panels
Stand on a natural arch at Cassidy Arch
Get Delicious Pie at Gifford House
See Incredible Rock Formations along Cathedral Valley Road
Salt Lake City
Distance from Moab: 234 miles (4 hours)
The capital and largest city in Utah, Salt Lake has lots of amazing things to do and explore in the area. You can explore world class museums, parks, see interesting wildlife, hike mountains, view crystal structures in caves and more.
Highlights:
Read More: Our List of Amazing Things to Do in Salt Lake City
Grand Canyon National Park
Distance from Moab: 300 miles (5 hours)
The Grand Canyon probably needs no explanation, but this incredible canyon is something everyone should see at least once. There are multiple places to view and explore this site. Most folks visit the South Rim, but the North Rim also has some incredible places to go.
This is a great spot to do in addition to other sites after your Moab road trip.
Highlights:
Hike into the Canyon on Bright Angel Trail
Complete the impressive Rim-to-Rim Hike
Spend the night in the canyon at Phantom Ranch
Get some Impressive views from Mather Point
Learn about the canyon at Yavapai Geology Museum
Page Arizona
Distance from Moab: 273 miles (4.5 hours)
For a small town it packs a lot in the area. Page is a perfect jumping off point for lots of activities in Glen Canyon, Vermillion Cliffs, Horseshoe Bend, Antelope Canyon and more. I had intended to stop here for a quick stop and ended up staying much longer myself.
Highlights
Catch the light off the incredible Horseshoe Bend
Get into the canyons at Upper or Lower Antelope Canyon
Head north and get lost among the backcountry of Vermillion Cliffs
View the incredible engineering of Glen Canyon Dam
Camp or get on the water in Lake Powell NRA
MORE?: Be sure to read our Guide on Best Things to Do in Page Arizona!
Las Vegas
Distance from Moab: 460 miles (7 hours)
The city that never sleeps. Or is that New York? Well Las Vegas has some insane things to do both in and around the city. I normally can't stand more than a few days here, but there's so much to do in and around the city.
Highlights:
Catch a Show at one of the many hotel casinos
View the Impressive Engineering of Hoover Dam
Go hiking in the nearby Red Rocks
Explore the Recreation at Lake Mead NRA
Yellowstone & Grand Tetons National Parks
These two incredible parks are some of the best to explore and quite a distance from Moab. We cover some great road trip ideas and things to do in either parks on our Salt Lake City to Yellowstone Road Trip and possibly continue on with our post of Road Trips from Yellowstone to Glacier National Park.
There's a lot to explore in those posts if you are heading that way!
Other Posts You May Like