With over 2,000 natural sandstone arches, Arches National Park lives up to its namesake. The park is one of the gems of the National Park system and pretty incredible place with all the arches found in such a small area.
Established in 1929 the park protects about 120 square miles of land (76,679 acres).
Table of Contents
Where is Arches National Park
Situated in eastern Utah, Arches National Park is located about 5 miles north of downtown Moab, Utah. The park is also about 230 miles southeast from Salt Lake City and 351 miles southwest of Denver, Colorado.
Arches experiences cold winters and very hot summers. The park is pretty popular seeing over 1.8 million visitors a year, but trailing Zion and Bryce Canyon in terms of visitors.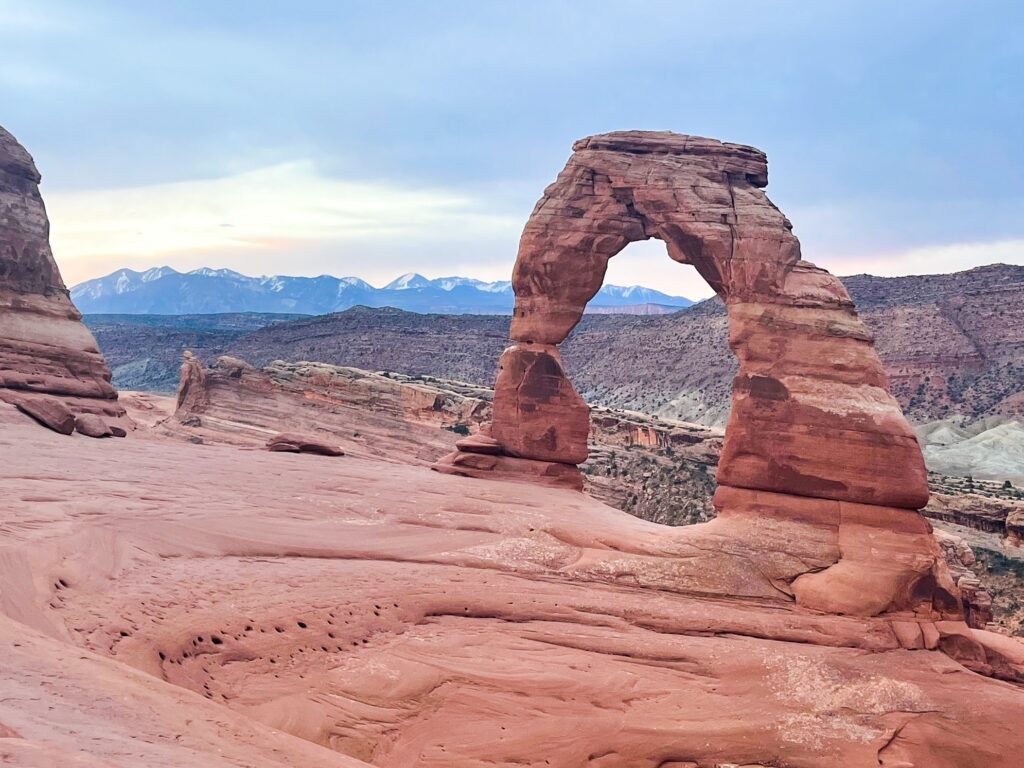 Where to Hike in Arches National Park
There are some amazing trails in Arches NP. Some of the most popular and must see destinations are included below.
Definitely the most famous of all the arches in the National Park. So much so, that it is featured on the Utah license plate.
There is a 3 mile round trip trail that leads you to the arch that is of moderate difficulty. It is Especially popular to hike Delicate Arch at sunrise and sunset.
If you are planning to go at either time, it is recommended to bring a headlamp as it can get really dark when the sun is down. Also be sure to look for reflectors with your lamp when walking.
There is also a Arches viewpoint a mile down from the parking lot. To be honest, it is difficult to see the arch well from there.
Devil's Garden Trail
One of the best trails in Arches National Park, the Devil's Garden trail takes you through several areas and around various "fins" to view quiet a few arches along it's trail. There are several easily viewable ones such as tunnel, pine tree, and the beautiful landscape arch.
For those with more time and willing to deal with a bit more strenuous hiking, there is opportunity to visit several more such as "double O arch", dark angel, and Navajo arch.
Sand Arch / Broken Arch Trail
The trail to Sand Arch is super quick only about a .4 mile round trip. But it's a lovely arch to see and a nice quick good trip. For those with a bit more time, the trail splits to visit broken arch which adds 1.2 miles to the overall trip.
Window's Trail
One of my favorite trails, the Windows Trail visits several different arches. The North and South Window arch as well as the Turret Arch.
The trail is a loop over about 1.1 mile and visits all three of these arches. There is alternative ways back to the parking lot via a primitive trail for those looking for a bit more isolation from other folks.
When to Go to Arches
Arches National Park is open year round, however some seasons are clearly better than others.
Winters in the Park can be very cold and do occasionally get snow. However, they also tend to be the least visited time for the park.
So if you want to possibly have areas of the park to yourself, Winter can be quite magical! However, since a lot of hiking is on slick rock, some areas may be closed or too dangerous to travel.
Spring and Fall tend to have the best weather. If you can manage going in early spring or later in the fall may give you a chance to visit the park with less crowds and still great weather.
Between May and September especially when schools are out, crowds tend to get a lot busier too.
Summers can get very hot with temperatures over 100F regularly. Also the parks tend to be very packed during summer as well with most families planning vacations then. If you go during the summer, be sure to plan ahead, bring lots of water, sunscreen, and proper clothing.
Other things to note
Weekdays are definitely less busier than weekends. If you can manage to go on a weekday you'll likely see less visitors. If you are planning to combine the trip with Canyonlands, I would recommend going there on Weekends as it is larger and gets far fewer visitors.
Between April 3 and October 3, Arches requires a timed entry ticket for the hours of 6:00 am – 5:00 pm. If you can manage to get into the park early you can avoid a lot of crowds on some of the more popular trails as well.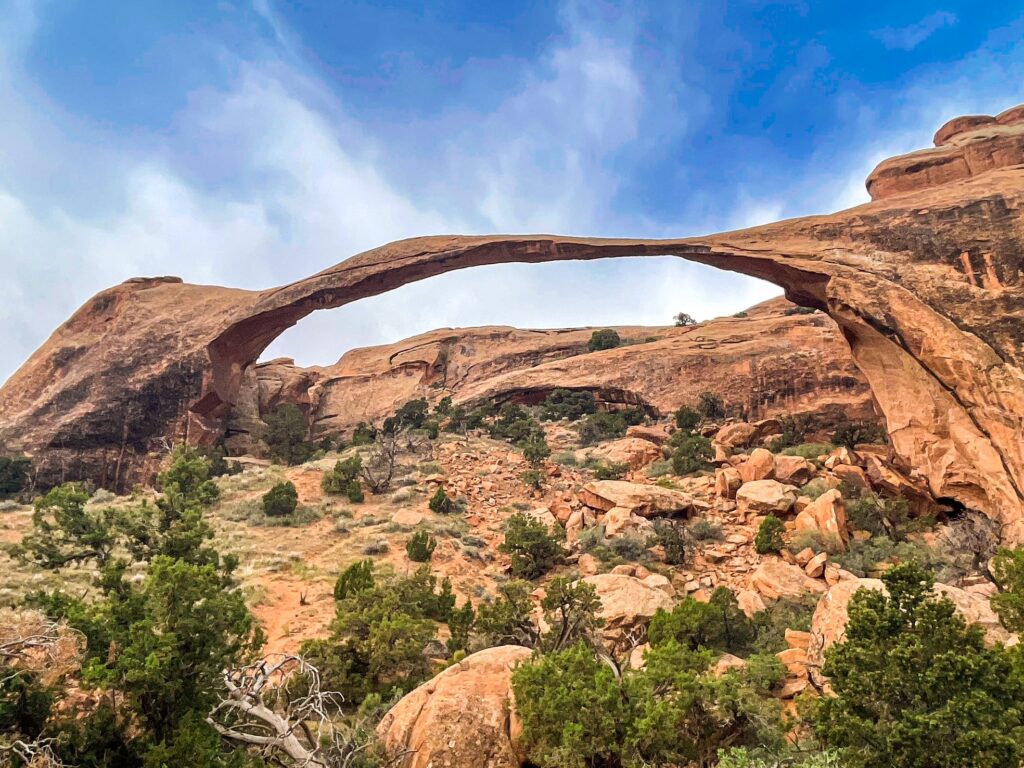 Best Sunrise and Sunset Spots in Arches National Park
In our opinion the best place for Sunrise and Sunset in Arches National Park is the Delicate Arch. The light is better actually during Sunset (and you get a view of the sun setting behind the arch). In terms of crowds, it is a great place to go during Sunrise.
If you do go during these times, please do bring a headlamp.
The trail can be easy to lose in parts. There are some reflector bars, but in my opinion definitely not enough and it can still be difficult to keep track of them all.
Where to Stay
Camping
Devils Garden Campground
This is the only campground located within Arches National Park. During the high season (March – October) you need to reserve the campground on Recreation.gov ahead of time. You could also find additional campgrounds outside the park near Moab or Canyonlands NP located south of Moab.
# of Sites: 51
Stay Length: You can stay for a maximum of 7 consecutive days at the site.
There are often evening Ranger programs in the campground Amphitheater within the campground area. These usually last about 45 – 60 minutes.
Hotels
The best place to find hotels is in nearby Moab Utah. There are actually quite a lot of options in town. A couple options are included below.
Located a bit south of the downtown area. The hotel is pretty quiet, clean, and reasonably priced. The hotel also has a pool area and included breakfast. It's not walking distance however to things in town if that is important to you. [Check Prices for Scenic View Inn]
A nice option in a great location close to restaurants and everything else downtown. Clean rooms, pool, hot tub, and breakfast included. The price is definitely higher than some other options for sure, but you get a good room in a great location so it's basically depends on what you are looking for. [Check Prices for Best Western]
Super nice Hilton located in the center of Moab. Feels like an oasis in the desert. Literally. Great rooms and service and a nice pool and fitness center. Overall a great option if you are ok spending a bit more $$. It is definitely on the pricier end of options, so you'll need to decide if it's worth it to you. [Check Prices for Hoodoo Moab]
---
Basic Information
Visitor Centers
There is one visitor center for Arches National Park located near the entrance to the park. The visitor center has small exhibits, information, bathrooms, and a store.
Address: Arches NP Visitor Center, Moab, UT 84532
Hours: Daily 8:00 am – 6:00 pm; Closed Christmas Day
Park Fees
Private Vehicle – $30.00
Motorcycle – $25.00
Per Person – $15.00 (not in a car)
Timed Entry Ticket – $2.00
Timed Ticket Entry for Arches
From April 3rd to October 3rd, Arches National Park has instituted a Timed Ticket Entry Program. Basically from the hours of 7:00 am – 4:00 pm, you need a ticket to enter the park based on a reservation made. The reservation gives you a 1 hr. period of time for entry. Once you are in the park though, you can stay in as long as you want. You can also enter the park outside those times without a timed entry ticket.
To Reserve: Visit the Arches Ticket Reservation Site on Recreation.gov
Reservations cost $2.00
Tickets are released in blocks 3 months in advance at 8:00 am Mountain Time
Jan. 10th – Tickets for April
Feb. 1st – Tickets for May.
Mar. 1st – Tickets for June
Apr. 1st – Tickets for July.
May 1st – Tickets for August.
June 1st – Tickets for September.
July 1st – Tickets for October. 
In addition, a block of tickets are released each night at 6:00pm MT for the next day. This gives those folks who didn't plan super far ahead a chance to get a timed entry ticket as well.
Also you can enter the park either before 7:00 am or after 4:00 pm and don't need a timed entry ticket.
National Park Stamp
There is a National Park (cancellation) stamp available at the visitor center near the entrance of the park
Website: Official NPS Site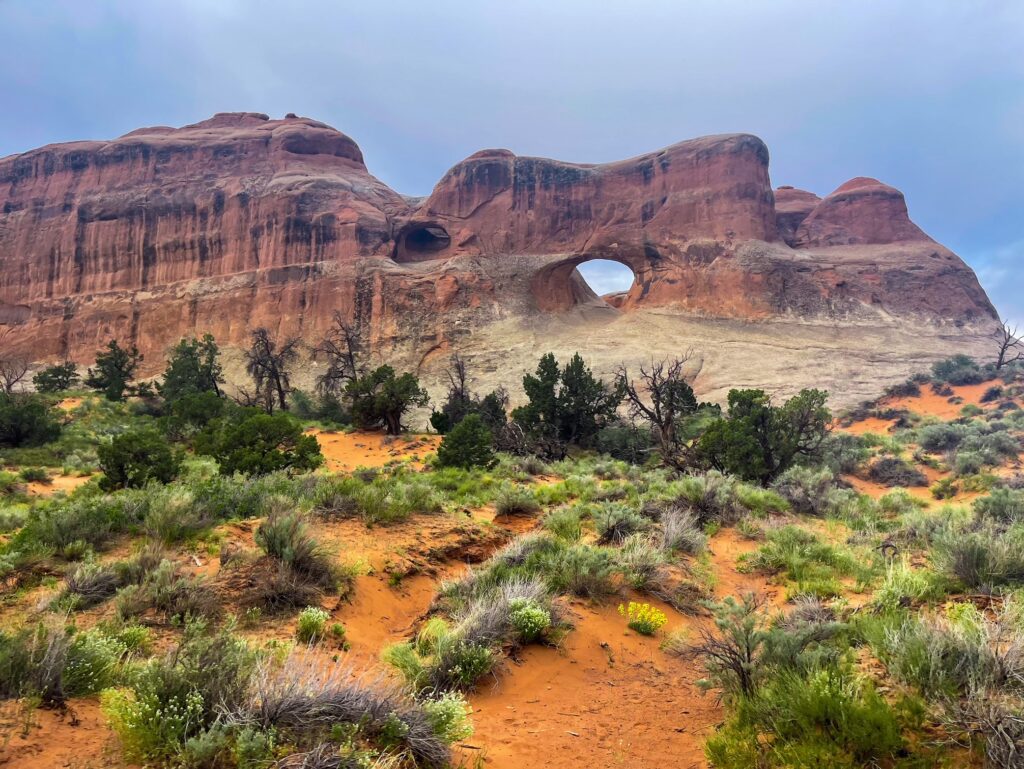 Getting To Arches
Arches is located in Eastern Utah and is easily accessible by road. There is an airport in Moab, however it is really small. Many people plan to fly into Grand Junction (114 miles | 1 hr. 45 mins) or Salt Lake City airport (240 miles | 3 hrs. 45 mins).
Driving to Moab is accessible from route I-70. From either east or west, take US-191 S towards Moab. The entrance to Arches NP is located a few miles north of Moab.
Other Posts You May Like