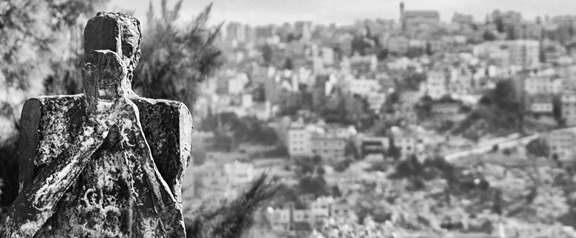 So it's day three of wondering where my water in my apartment is, and I'm fresh in need of a shower. So in case you are curious about the story lets see where I can start.
So after paying for water on Friday, my water was gone then on Saturday. After arguing with them in my broken Arabic on Sunday they plugged in a pump…which did nothing…and then plugged in various different apparently incorrect pumps as well. Mostly I spent the day running around trying to locate the maintenance guy to figure out why I still didn't have water. Today still no water, so I found the manager who said it would be fixed, and then later the maintenance guy as well.
He said there was an issue on the roof that I needed to see, but since he was doing work now too he insisted I follow him around on his rounds around the apartment building. After going up to the roof which has lots of tubs and random pipes snaking in every direction that seems to resemble closer to a Rube Goldberg machine than a competent plumbing design.
We found my supposed container. He proceeded to kick it several times to demonstrate that it was broken (I'm pretty sure that didn't improve the situation). He also kept insisting i pay for water (which i already did and kept insisting that I did).
Then in my broken understanding of his broken English he insisted I needed to get a car and go bring water here to fix the problem (not sure how this is going to fix the issue). He also said the problem was in the pipe and he needed to call the person to fix it but he hasn't been able to since he's out of credit on his mobile phone (sigh…).
I let him use mine so I can hurry the resolution along, and listening to him talk he had mentioned how it needed to be fixed and kept saying how I was American. He even insisted on putting me on the phone apparently to prove to the guy on the other end I was an American. Who knew my American accent apparently would come in handy.
We ended up heading back to my apartment to see that there was no water. He kept trying to explain to me the issue but of course my Arabic is not yet advanced enough to know the specifics of plumbing issues.
He left the apartment and then called me to the apartment near mine where I entered probably one of the filthiest apartments I have been in a long while…or maybe ever. Inside were a couple Jordanian (perhaps) guys sitting on a pair of stained mattresses on the ground doing shots of Jack Daniels. He tried to get them to translate for me as to why or what specifically is the issue.
"Ok so he needs you to buy him a box of ice" – the one guy apparently translated. "Umm what? like frozen water…ice? Why do i need to buy a box of ice?" – i asked even more puzzled now. He tried to figure out why i didn't understand the English word for ice and I kept trying to figure out why this problem is even more senseless. The conversation kept going in random directions and I was able to pick up bits and pieces and even ask enough questions in Arabic to get some answers I needed. But mostly they just kept insisted I join them on the mattress and do shots with them to which i had to consistently decline.
It even made the maintenance guy really uncomfortable on how insistent they were for me to drink w/ them (not a problem I imagined I would have run into in Jordan). He was like, "He's Muslim, he doesn't drink." To which they replied – "Oh no it's fine, you are allowed to drink with us, we are Muslim too" one of the sloshed students replied.
So 15 more Dinar down….and I'm not sure if I'm actually any closer to getting my problem resolved. At the very least it will be an interesting memory… And it made me realize that my Arabic while still horrible has definitely improved a bit.
**Update** So it seems the water problem has been fixed…thank goodness. The "fix" apparently worked. The owner of the apartment promises to return the money I paid so I'm hoping, hoping things stay fixed this way, but it's Jordan, and nothing works forever.