Bar Harbor on Mount Desert Island is one of the top spots to explore and visit in Maine. Known as the gateway to Acadia National Park, there's so much to explore in the area.
For those visiting, you should first take the time to explore the Acadia aspects on the island and in the area.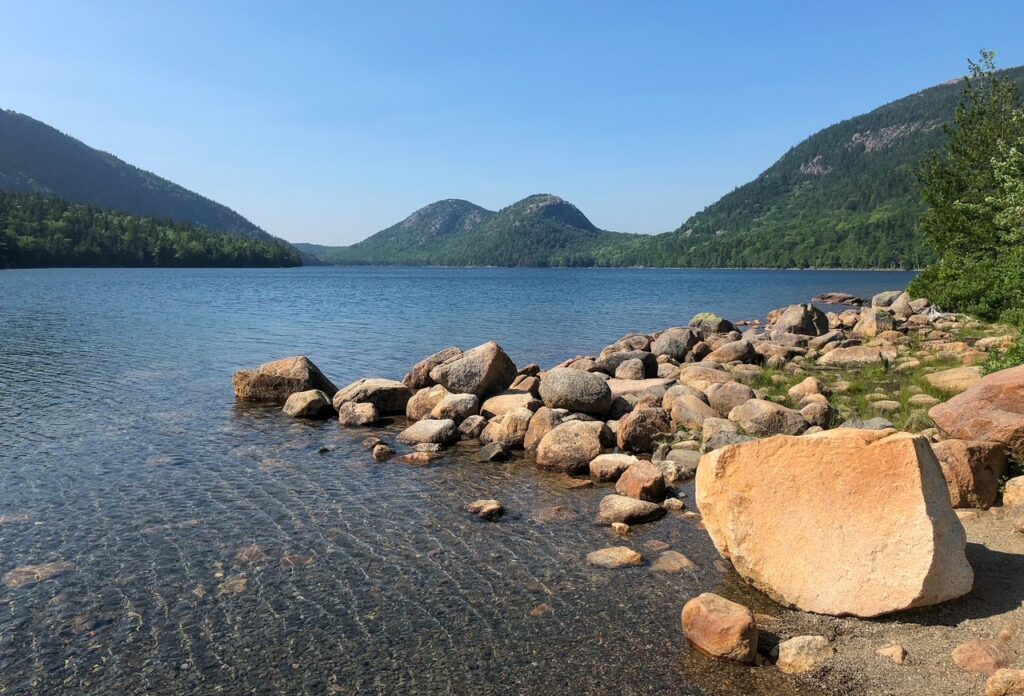 Highlights
Catch the Sunrise over Cadillac Mountain. Where you can see the first light of the day in the United States
Take a hike to heights at the Precipice Trail and/or the nearby Beehive Trail
Take a trip and a walk over by the Bass Harbor Lighthouse
Grab Lunch at Jordan Pond House and explore the picturesque Jordan Pond
Explore other great hikes including the Jordan Cliffs Trail
Relax with the family at Sand Beach
Take a hike at low tide along the Bar Island Trail
Shop and Eat among the stores in downtown Bar Harbor
Take a Lobster Boat tour in Frenchman's Bay
Sail or Sightsee along French Bay Island's
Walk along the Ocean Path and catch the waters of Thunder Hole
However, if you only visit the nearby attractions, you'll miss a lot of what to do both in Acadia National Park as well as in the surrounding area. All of the following places are possible for a day although most are also great candidates for overnight trips.
So read along to explore our suggestions for great day trips from Bar Harbor Maine.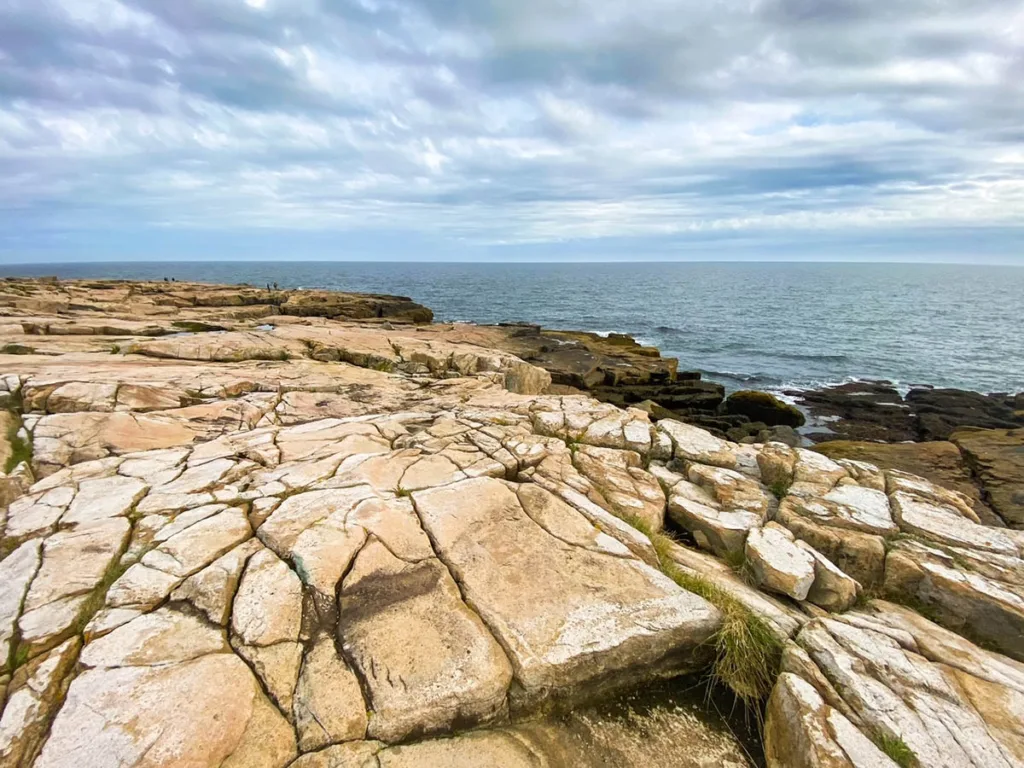 Schoodic Peninsula
Distance from Bar Harbor: 40 miles (1 hour)
Basically the only part of Acadia National Park not on an island (the main part is on Mount Desert Island). It's one of the lesser visited areas of the park even if its pretty easily accessible. The area feels quieter and more rugged. There's lots of wild coastline to wander and explore in the area.
Be sure to check out a few of the hiking trails. It is also a popular spot for cycling along the roads through the park. Within the park area is also the Schoodic Institute, which supports scientific education and research in areas that are important to Acadia National Park.
The peninsula is only an hour away from the main part of Acadia but it feels so much more remote.
Isle au Haut
Distance from Bar Harbor: 60 miles (1.5 hours) to Stonington; 45-60 mins ferry
The least visited part of Acadia National Park, Isle au Haut or "High Island" provides visitors with beautiful scenery as well as access to a community on part of the island as well. The island was donated by residents of the island to the government which is why so much remains protected to this date.
There are several miles of trails throughout the Acadia section of the island. There's also plenty to see across the island including a beautiful lighthouse on Robinson Point (1 mile from the Isle au Haut ranger station).
The island is also popular with biking which is a great way to get around the island and explore areas within the park.
The island is connected to the mainland by a year-round ferry. The ferry does seasonally stop at the campground on Isle au Haut as well (June – early Oct.). There is a limit on visitors and private vessel mooring so be sure to check with the visitors before traveling by private boat.
Bangor Maine
Distance from Bar Harbor: 48 miles (1 hour 15 minutes)
There's a lot to do in Bangor than I realized my first time through. Maine's 3rd largest city, it has fun museums, restaurants, and lots to explore and an easy day trip from Bar Harbor.
You can stand tall next to the large Paul Bunyan statue, pay tribute to the great writer Stephen King, wander along the Penobscot River and more!
I always manage to stop in Bangor for meals on any of my trips through Maine. There's a lot of fun places to eat, including Eagle's Nest (for delicious Lobster rolls), Timber Kitchen, and Thai Orchid.
Bangor has changed much over its industrial history. However, it still retains much of its old paper and timber industry and you'll find lots of artifacts and architecture that recall that old past. Even if you are short on time, it's worth a stop on your way to and from other destinations.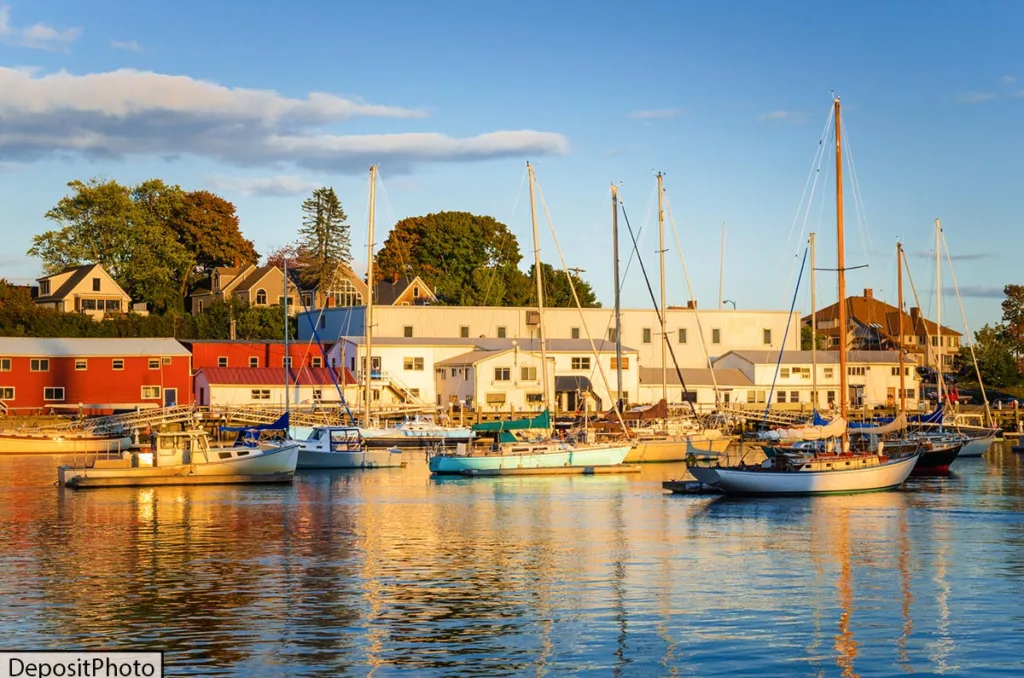 Camden Maine
Distance from Bar Harbor: 77 miles (2 hours)
Camden looks like the place you think of when you picture coast Maine towns. The historic downtown Camden is a perfect spot to head to explore, shop, and eat some great food. The town while small is still the perfect size to explore for a day.
The town has lots of great places to explore, from the old houses, to the port, to the cute little shops. There's also some great nature such as a hike up Mount Battie (with great views from the tower). Or you can drive to the top as well if you are not up for the hike!
Camden is also a great jumping off spot for tours of the bay as well. There are tours that will take you out on a lobster boat or ones that will tour around the bay to catch whales, see lighthouses, and just relax onboard.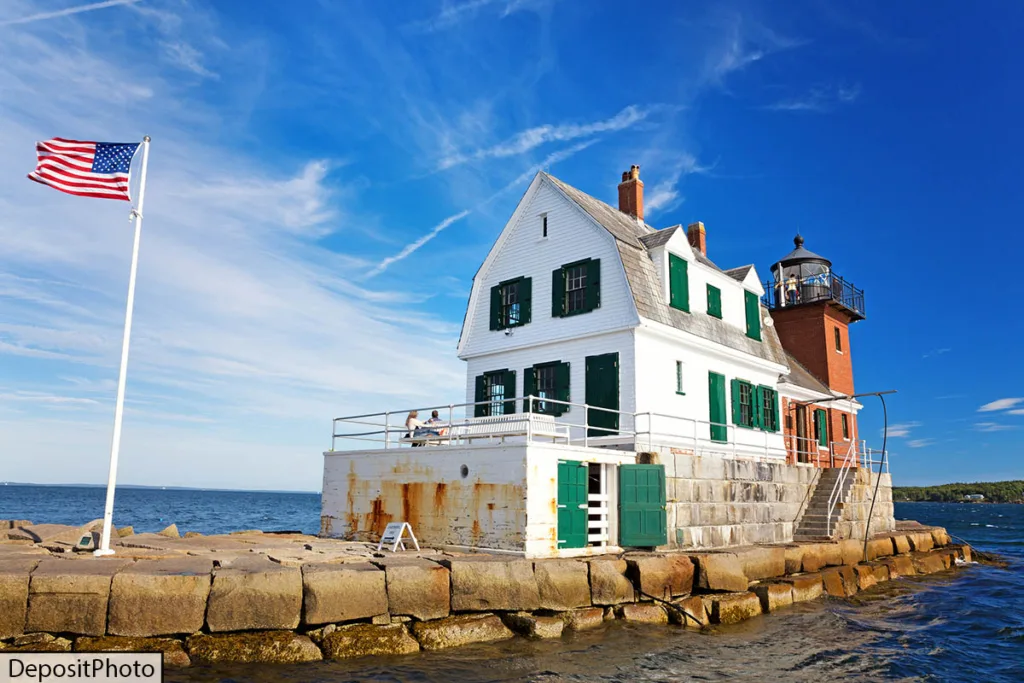 Rockland Maine
Distance from Bar Harbor: 85 miles (2 hours)
While not far from Camden Maine, Rockland can be seen as an addition to Camden or a destination itself. The beautiful town has a charming downtown as well as a lovely harbor as well. This is another spot to get some great local seafood as well as boat trips (lobster and scenic) in the chilly Maine waters as well.
The town also houses the Maine Lighthouse Museum which covers the history and importance of lighthouses, technology, and of course lighthouses in Maine.
Additionally, you can take a drive out and explore the Rockland Breakwater Lighthouse, built at the end of a long breakwater for the harbor. The 1902 lighthouse is managed by the city of Rockland and offers tours (the light itself is still managed/maintained by the Coast Guard).
Beyond these there are great restaurants, a seasonal farmers market, the Owl's Head Transportation Museum, hiking, and lots of festivals and town events to explore. There's plenty to do in Rockland for a day or even longer.
Lubec Maine (West Quoddy Head)
Distance from Bar Harbor: 103 miles (2.5 hours)
Lubec is a cute little village on the western most tip of Maine that's claim to fame is being the easternmost spot in the United States. Actually that distinction is for West Quoddy House, the lighthouse at the end of the United States.
This candy cane lighthouse is a fun place to explore. Funny enough even coming out this way your clock will go back and forth between Eastern and Atlantic time. There's several trails in the area and even a visitor center and gift shop at the lighthouse.
A bit before that you'll see a gift shop claiming to be the most western (it opened before the lighthouse gift shop did), which I think is a fun and cheeky advertisement.
There is an East Quoddy Head, however, that is further east on an island owned by Canada. There are opportunities to cross over to Canada, just be sure to have your passport handy if you are considering it.
Read More: West Quoddy Head Lighthouse Guide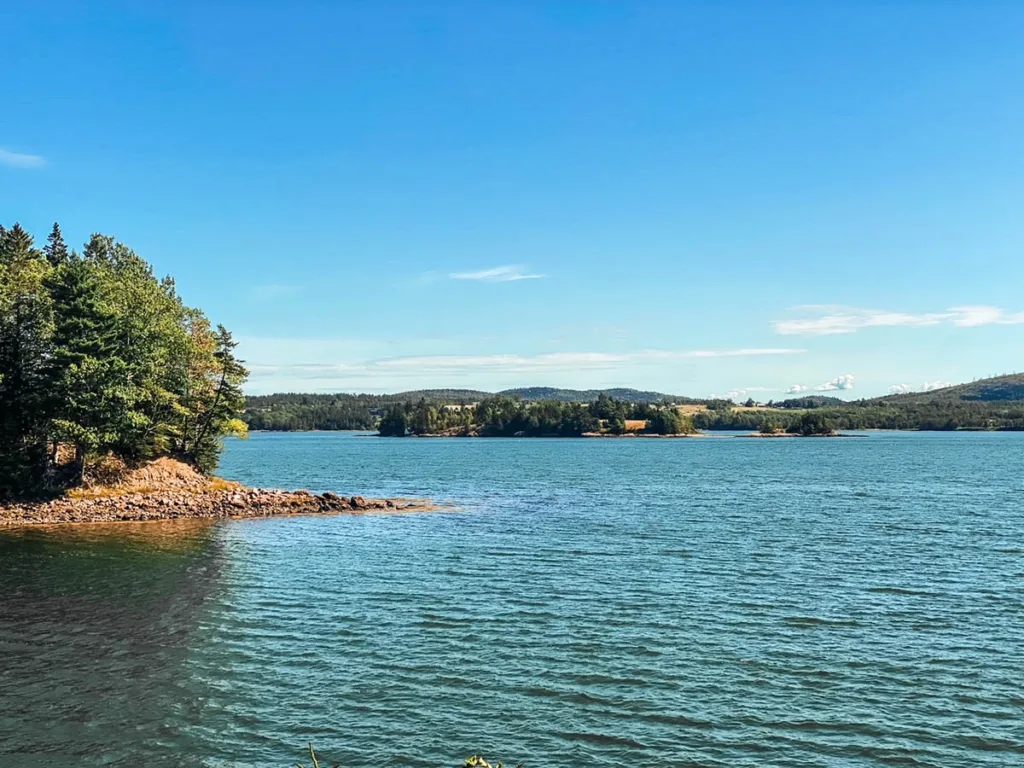 Calais Maine & surrounding area
Distance from Bar Harbor: 121 miles (2.5 hours)
Northeast of Bar Harbor there's quite a lot to explore in this part of Maine. There's the Moosehorn National Wildlife Refuge that is home to lots of local wildlife species such as bears, foxes, bobcats, and even the occasional moose.
The town of Calais is a cute little town that is on the border with Canada. It has some nice restaurants, as well as opportunities to do things across both borders.
Additionally, down the road is another National Park unit. Saint Croix Island is an International historic site that has information on both sides of the border as well as an island. You can only visit the island these days by private vessel (although it's no longer recommended). The island is an important site in French history in North America.
Katahdin Woods and Waters National Monument
Distance from Bar Harbor: 131 miles (2 hours 45 minutes)
For the National Park unit counters, Katahdin Woods and Waters National Monument is one of the newest national park service sites in the country.
The monument spans over 80,000 incredible acres of beautiful north Maine landscape. The park is a stone's throw from the highest point in Maine and Appalachian trail terminus (Mount Katahdin) but does not contain the mountain (that's in Baxter state park).
But it does protect some of the important forests, waterways, and wildlife of the region. Visiting the park you feel you are far from everywhere. And you have a great opportunity to see local wildlife like moose in the region.
The area does abut lumber forests, so you do need to heed construction and industry vehicles on some roads in the area.
Read More: Guide to Katahdin Woods and Waters National Monument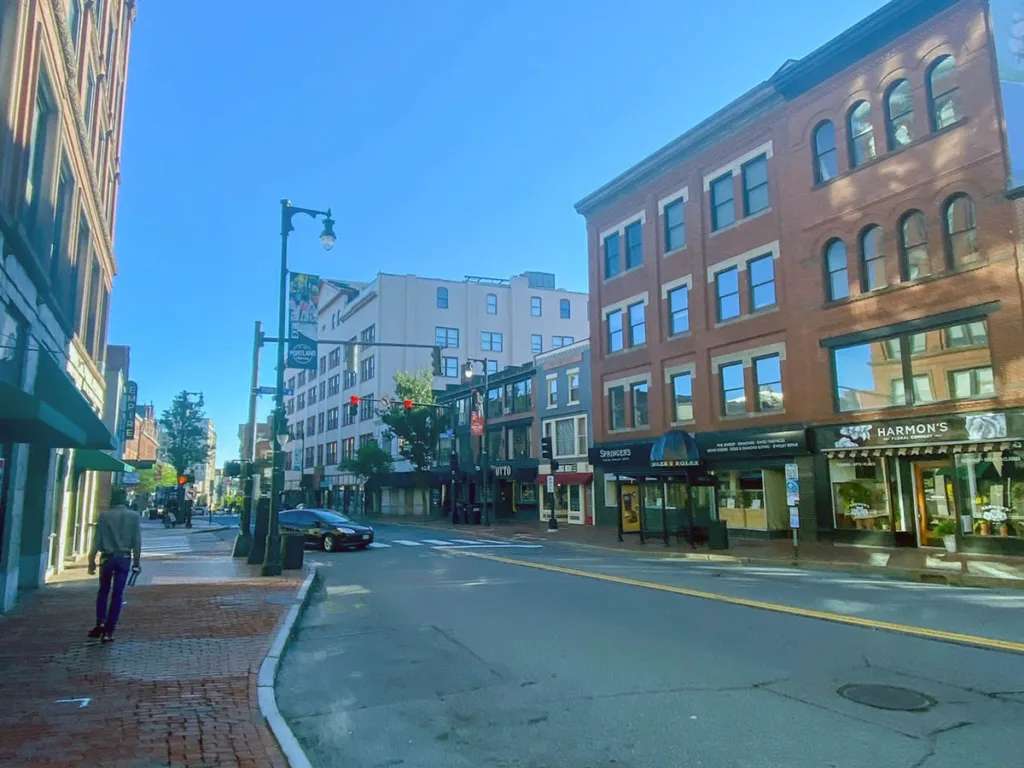 Portland Maine
Distance from Bar Harbor: 175 miles (3 hours)
The largest city in Maine, Portland has a lot to offer visitors to this old historic town. My favorite section of the city is the old Port district, one of the oldest sections of the city.
There's obviously the old kitschy souvenir and food stalls you see in tourist spots, but it also has some great restaurants and galleries as well. Plus the old cobblestone streets are magical to walk on among the myriad of historical buildings.
While you can get fresh seafood anywhere in Maine, I found the most mature culinary scene to be in Portland. Part of that comes from its size and of course its diversity in comparison to other neighboring towns and cities. Some excellent suggestions include DuckFat, Eventide Oyster, and Honey Paw.  
The town has a lovely waterfront area to explore. There's several lighthouses in the area including Bug Point, Portland Head, and Spring Point Ledge. You can take boats into the bay to see more lighthouses as well as wildlife and the rugged coastline. Or ferries to several islands in Casco bay.
You can top off your visit to explore several other museums in town including the Portland Museum of Art, Photography, Children's, and more. And take a stroll and explore the old Victoria Mansion, which is also a historic landmark and beloved Portland landmark.
For those staying longer, catching a show at Portland's theaters, exploring local art galleries, or checking out the music scene will surely keep you busy and entertained. There's so much to do in Maine's largest town for all age levels and interests.
Other Posts you May Like