There's something about Christmas in New York that is just special. Even if you don't celebrate Christmas or are a scrooge, it really is a special time of year in the city.
And for anyone who comes to the city, finding the best things to do during the holiday season is a must. Here's our list of things you should look out for during the holidays in New York City. Many of the following are free as well which is great in such an expensive city.
The Rockefeller Center Christmas Tree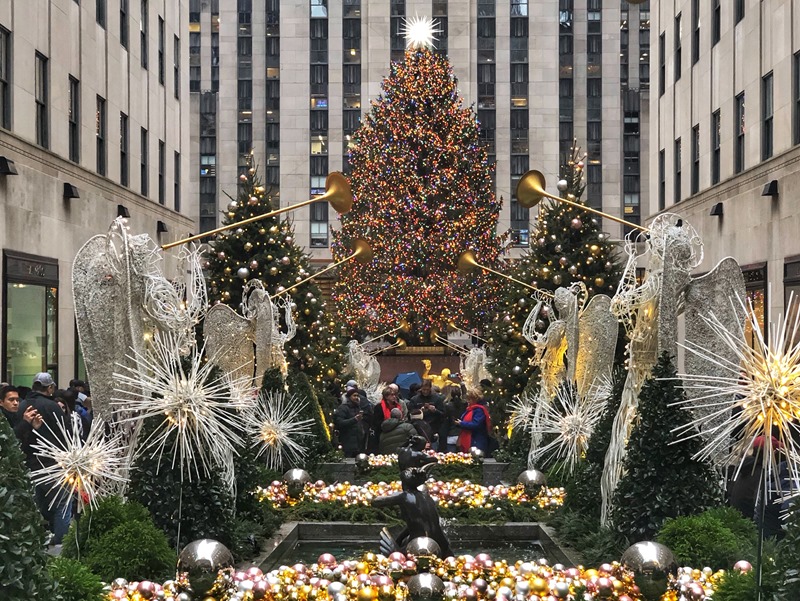 When you think of Christmas in New York, you are probably thinking of the Christmas Tree at Rockefeller Center. This iconic display has been gracing the center for over 80 years now, and tourists from all over know it from movies and shows featuring it. You can also ice skate on the rink below the tree (although its expensive ($25 dollars / $12.50 skate rental) and gets very crowded), drink hot chocolate rinkside, or just admire the view.
Tip: The plaza around the tree gets very crowded, try to visit off hours if you can (either really early or late, especially on a weekday).
Visiting Hours: 530am – 1130pm, Free
Department Store Holiday Displays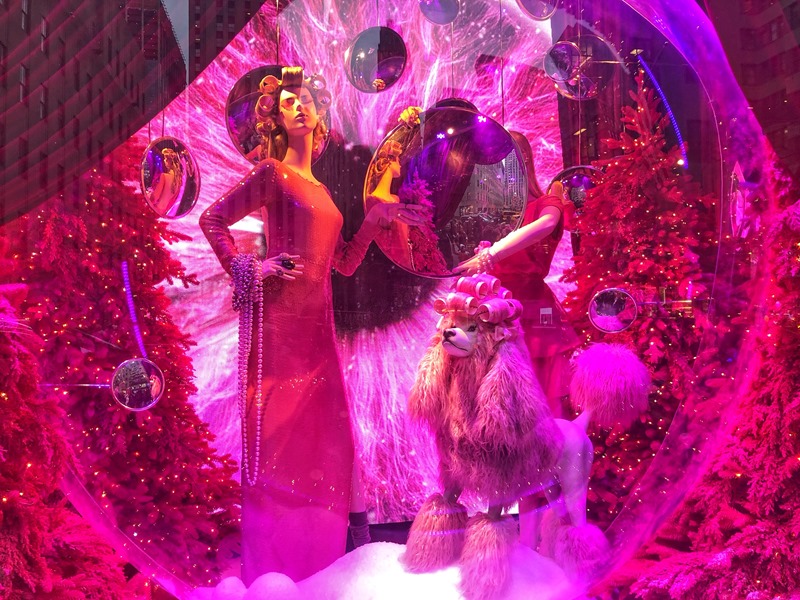 This is also one of those long standard traditions and well high tourist traffic area. Many of the long standing and high end department stores along 5th avenue have held beautiful and elaborate Christmas Displays. Some with interesting fashion displays, some telling various stories and lore. Many really are a work of art. Sadly this year with the closing of the Lord & Taylor store on 5th avenue they won't be hosting one of these large displays. But thankfully there are still others to still view during this time.
Ice Skating at the Various Rinks
Most people envision ice skating in Rockefeller Center among the giant tree and the statues. But for me, that's too crowded (and maybe a bit cliche?). I prefer either ice skating at the rink in Bryant Park or at Wollman Rink in Central Park.
Tip: The rink at Bryant Park offers free admission. They also offer skate rentals (for a fee) if you don't have your own.
Rockefeller rink Hours: 830 am – 10 pm
Rockefeller fees: $25-33 ($15 kids) / $12.50 Rental
Bryant Park rink Hours: 8am – 10 pm
Bryant Park fees: Free admission / $20 Rental
Wollman Rink Hours: Mon/Tues 10am-230pm; Wed/Thur 10am – 10 pm; Fri/Sat 10am – 11pm; Sun 10am – 9pm
Wollman fees: Admission $12-19 ($6 kids) / $9 Rental
Shopping at the Christmas Markets
I love wandering through the Christmas Markets of any city that I go to. New York does it fairly well (for a US city) and they have 3 different markets in Manhattan that are operating through the Christmas Season. Ones at Bryant Park, Columbus Circle, and Union Square. Each of them features various local shops as well as food vendors too. The one at Bryant Park additionally includes an indoor food area and an ice skating rink.
Tip: Visiting all of the markets is not really necessary as they all have many of the same vendors between them (I think they are operated by the same organization/company).
Bryant Park: 11am – 8pm (or later)
Union Park: 11am – 8pm (or later)
Columbus Circle Park: 10am – 8pm (or later)
The NY Botanical Gardens Holiday Train Show
Held annually, the Holiday Train show is one of those "must do" activities in New York. Visitors wander through models of iconic New York buildings (old and new) as model trains move past. Held in the Haupt Conservatory in NY Botanical gardens, guests get to experience the beautiful indoor greenhouse area as well as see these lovely annual displays.
Fun Fact: The same company who does the models here does the one in Washington DC as well.
Tip: Timed Tickets are required and come as part of the admission fee to the gardens
Read more here at our post about the Holiday Train Show
Christmas Carol on Broadway
Annually the Christmas Carol is the retelling of Charles Dickens Famous Tale of Ebenezer Scrooge, Ghosts of Christmas and More.
The Broadway show is a great performance held from November through New Years Day. It's only here for a limited time, so if you want to get tickets, it's something to jump on right away.
I've been able to get tickets last minute for the show, in particular through 3rd party sites. And if you can book really last minute you can often get them for discounted as well. It's worth checking out my Broadway ticket post on more information about getting tickets.
Even in the balcony section the views are great. And because there's action that even takes place in the audience areas (and in the balcony section) you can get some close views of some of the action that others may miss as well.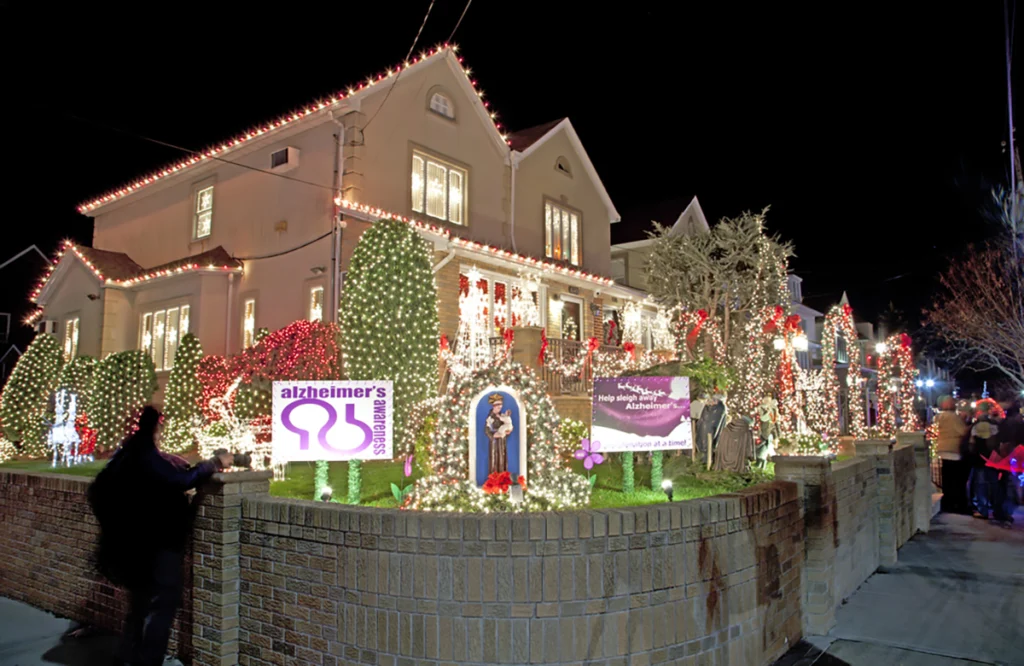 Dyker Heights Christmas Decorations
Address: Dyker Heights
Located in Brooklyn, Dyker Heights does Christmas unlike any other part of the city. They've become well known and famous both within New York as well as outside for their Christmas Decorations. I do appreciate that so many of the addresses in the neighborhood really get into the spirit.
The lights are generally from a few blocks in the center of the neighborhood (from about 11th to 13th Ave and 83rd o 86th St.). Be sure to go sooner rather than later after sunset as man of the houses will turn off lights from about 9 – 10 pm (to be respectful of the neighbors).
Lights generally go up from around Thanksgiving through early December and come down around New Years. Mid-December tends to be the peak of lights (and traffic). Go on a weekday if you can.
Holiday Lights at Bronx Zoo
Address: 2300 Southern Blvd, The Bronx, NY 10460
Tickets: Bronx Zoo Website
Annually, Bronx Zoo Lights up the Zoo with beautiful Light decorations for the Holidays. The holiday "Zoo Lights" are one of the most anticipated displays in the winter and at the Bronx Zoo.
Held from Mid November until Early January, the Zoo buts up a beautiful light display. You'll see animals, strings up light, lit up fountains and more.
The park lights up various different areas of the zoo with the lights, themed around the animals in the section. You'll see ones from Africa, North America, Asia, and more. While, the entire zoo is not lit up, there's actually still quite a bit to see and wander around. Be sure to check out every section, some of them are connection and others you need to return to the center to visit.
There's also various vendors open for hot chocolate, food, and more. The s'mores are probably the most popular, albeit a bit more expensive than they should be. But it's still a fun experience.
* * * * *
Other Posts You May Like